Tis the season for the holidays and adorable Christmas and winter-themed Instagram posts! Need some winter photoshoot ideas? Well, I've got you covered!
Santa, snow, hot chocolate, Christmas trees, cozy blankets, stockings, ornaments- they all say winter to me!
I've compiled a bunch of my own and others' photos to give you winter photoshoot ideas for the ultimate inspiration!
To keep things organized, I've divided these ideas into these categories:
Photoshoot Ideas with Presents
Snow Photoshoot Ideas
At Home Winter Photoshoot Ideas
City & Outdoor Winter Photoshoot Ideas
Crafty Winter Photoshoot Ideas
Car Photoshoot Ideas
Winter Travel Photoshoot Ideas
You'll find winter photoshoot ideas for couples, winter photoshoot ideas for friends, and winter photoshoot ideas for families sprinkled throughout this list!
So without further ado, here are 51 winter photoshoots that are perfect for Instagram!
Photoshoot Ideas with Presents
The holidays are the ultimate gift-giving time! So how about incorporating presents into your winter photoshoots? Here are 4 present-related ideas for you!
1. Go shopping for presents
With the way shopping centers decorate for the holidays, they're perfect for a holiday photo shoot!
(I'm also partial to Bath & Body Works since they have the best candles out there, which make for the perfect gifts!)
2. Wrap presents
For a cute holiday action shot, wrap some presents!
With the beauty of wrapping paper, ribbons, bows, etc., a present-wrapping photoshoot can be so pretty!
3. Exchange small presents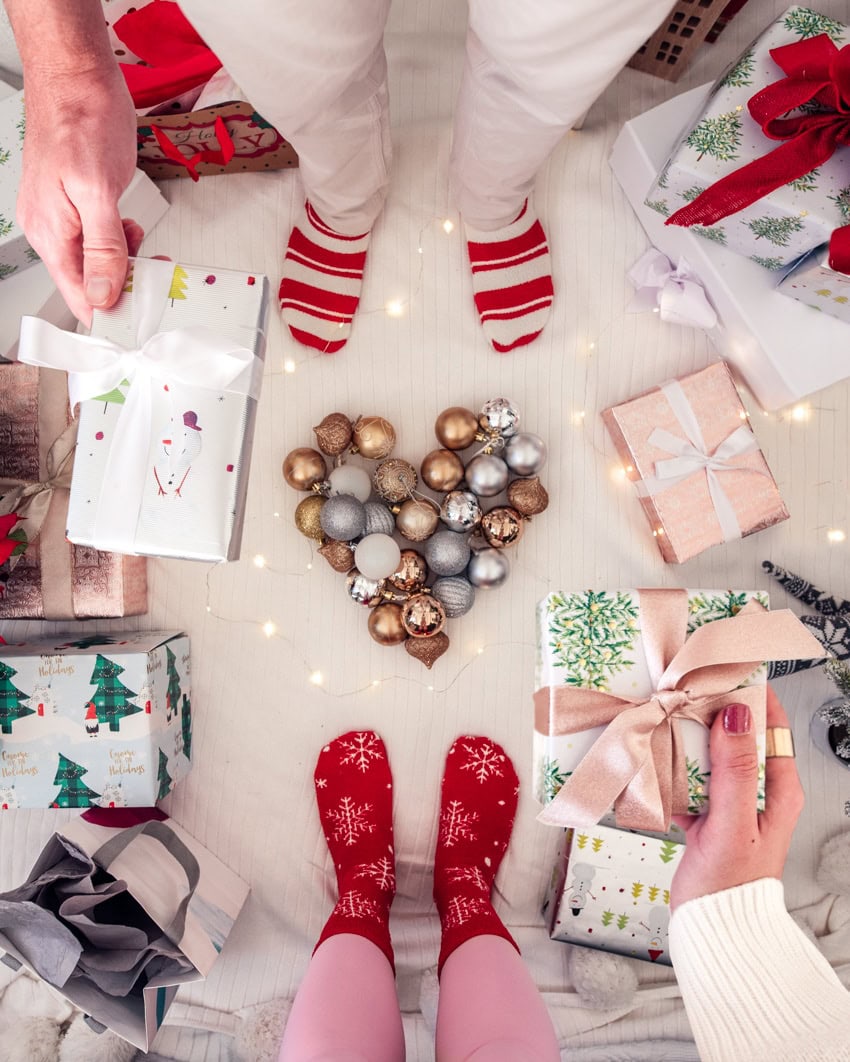 Use presents to decorate, and then exchange some! I decided on an areal photo (from above) showing the hubs and I exchanging cute presents.
With the ornament heart and lights surrounding our feet, this photo is a great winter photo for Instagram!
4. Hold a stack of presents
Stack some presents for another fun winter photoshoot idea!
You can do this photoshoot indoors or outside, all you need is a few wrapped presents to pull this one off!
Snow Photoshoot Ideas
If you live somewhere that gets snow or are planning a vacation to the snow, here are some great winter photoshoot ideas for you!
Snow is extremely Instagrammable since you can do so much with it! It also makes for a dreamy winter backdrop.
Here are 7 fun snow photoshoot ideas!
5. Create a romantic snow photoshoot
Bring a flowy skirt with you on a hike or wherever to add some whimsy to your photo.
Here is the skirt I'm wearing– it's the ultimate Instagram skirt! I bring it with me on every vacation because it instantly adds that fairytale feeling.
6. Throw snow in the air
Add some movement to your winter photoshoot by throwing snow up into the air!
Tip: You'll want to make sure you don't hold it too tightly in your hands, otherwise it'll clump together.
7. Go skiing
Skiing, anyone? (Or snowboarding!)
If you're hitting the slopes, be sure to grab a fun photo with all your ski gear!
8. Find a snow-covered road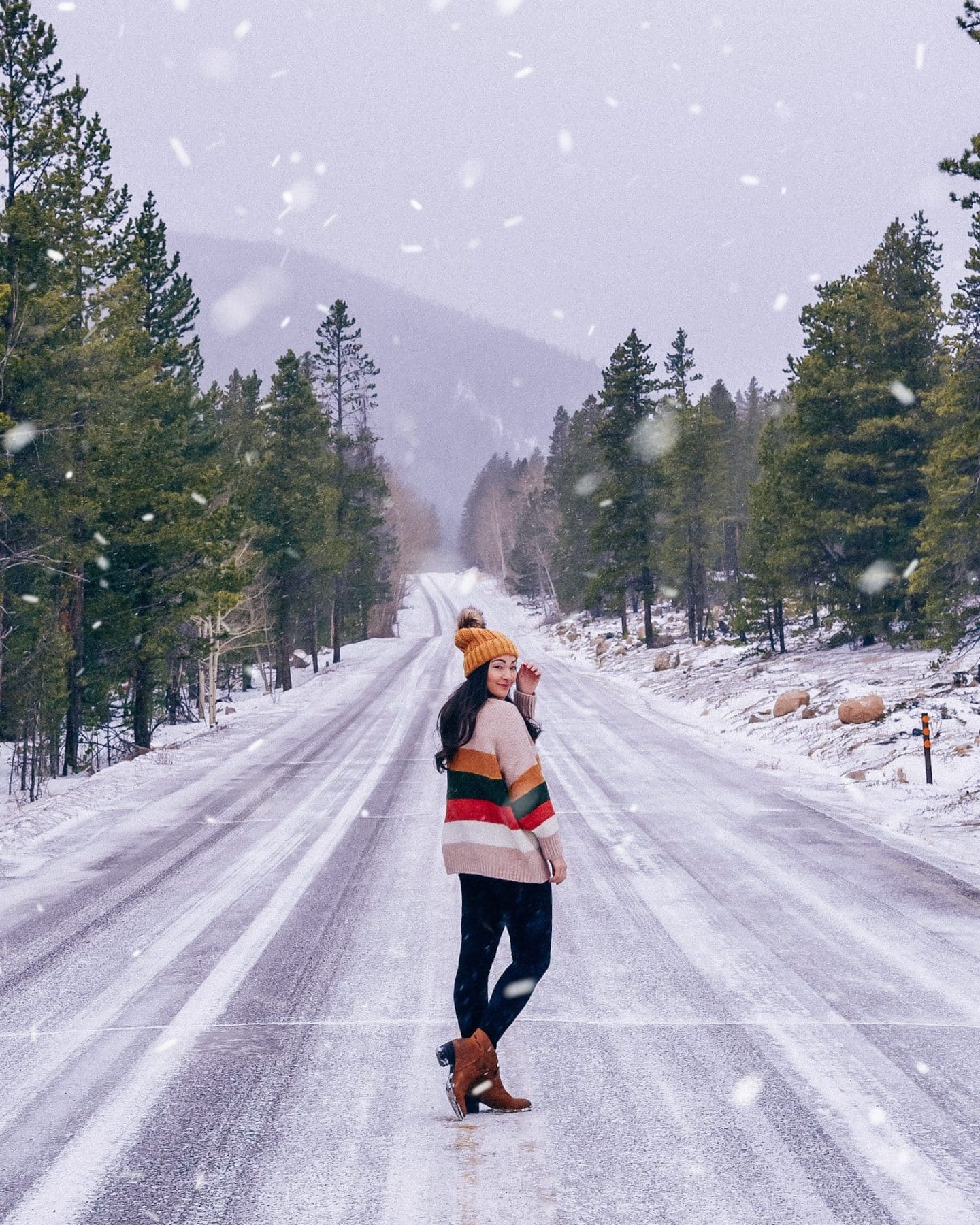 Stand in the middle of a snow-covered road lined with evergreens for some winter wanderlust vibes.
9. Make a snow heart
'Snow joke how cute this is! Create a heart out of snow for a precious snow photo!
10. Build a snowman
This will take some work, but it'll have you feeling like a child again!
Build a snowman and accessorize him for a fun snow photoshoot!
Bonus points if you can make him look like Olaf!
11. Hold a "giant" snowball
I love how creative this shot is!
Have your photographer hold a snowball in the foreground while you reach up in the background.
12. Kiss behind a snowflake
You can make or buy a giant snowflake to really accentuate the snow!
At Home Winter Photoshoot Ideas
I'm guessing most of this winter we'll be spending at home, so here are a bunch of great at-home winter photoshoot ideas!
They'll give you all the cute and cozy winter vibes, right from home!
13. Hang ornaments on a tree
Get a shot decorating your tree! With all the work you'll put into decorating, you might as well get a cute shot of you doing it!
Throw a bow in your hair to raise the cuteness level!
14. Toast in front of the tree
How about a toast?
Fill your mugs with marshmallows or hot chocolate to keep with the winter theme, and cheers to the season!
To step it up a notch, how cute is this cup spa for gingerbread men?! Use marshmallows for the "bath", a cup for the "tub", and throw some candy canes in there too!
15. Surround yourself with ornaments
I don't have this photo yet, but here's what I have in mind:
This shot will be from above with me *potentially* wearing a Santa hat. Ornaments will surround me from all around!
16. Create an epic platter of Christmas-themed food
Who doesn't like holiday foods?!
Not only do they taste good, but they're eye candy too! (Pun intended).
Grab your gingerbread men, hot chocolate, a slice of pie, candy canes, chocolate Santas, cinnamon sticks, walnuts, a pot of tea, or whatever else you can think of!
Here are the flannel shorts I'm wearing!
17. Get cozy in PJs
For super cozy vibes, dress in your Christmas pajamas!
You can't go wrong with some red plaid like this– it'll match your presents and holiday decorations.
18. Bring in your family and friends
Holidays are meant to be shared with loved ones! So how about getting your friends or family in a photo with you?
19. A Christmas kiss
Share a Christmas kiss with your love! (Mistletoe optional!)
To step it up another notch, have your spouse wear a Santa hat like this one and caption your post "I saw mommy kissing Santa Claus." 🙂
20. Write a letter to Santa
Continuing on the Santa kick, how about writing a letter to Santa?
21. Show off your front porch
If you've decorated your front porch for the holidays, show it off! You've put all that time and money into beautifying your front door, so go ahead and photograph it!
22. Show off your shoes