Whether you're stuck at home or simply want to try your hand at an at home photoshoot, these 44 ideas are sure to inspire!
Using some of my favorite props and things you've probably got lying around the house, I think you'll have fun with these photoshoots!
So grab your camera, your tripod, and whatever else you need to take a photo, because it's time to get creative!
1. Create A Book Frame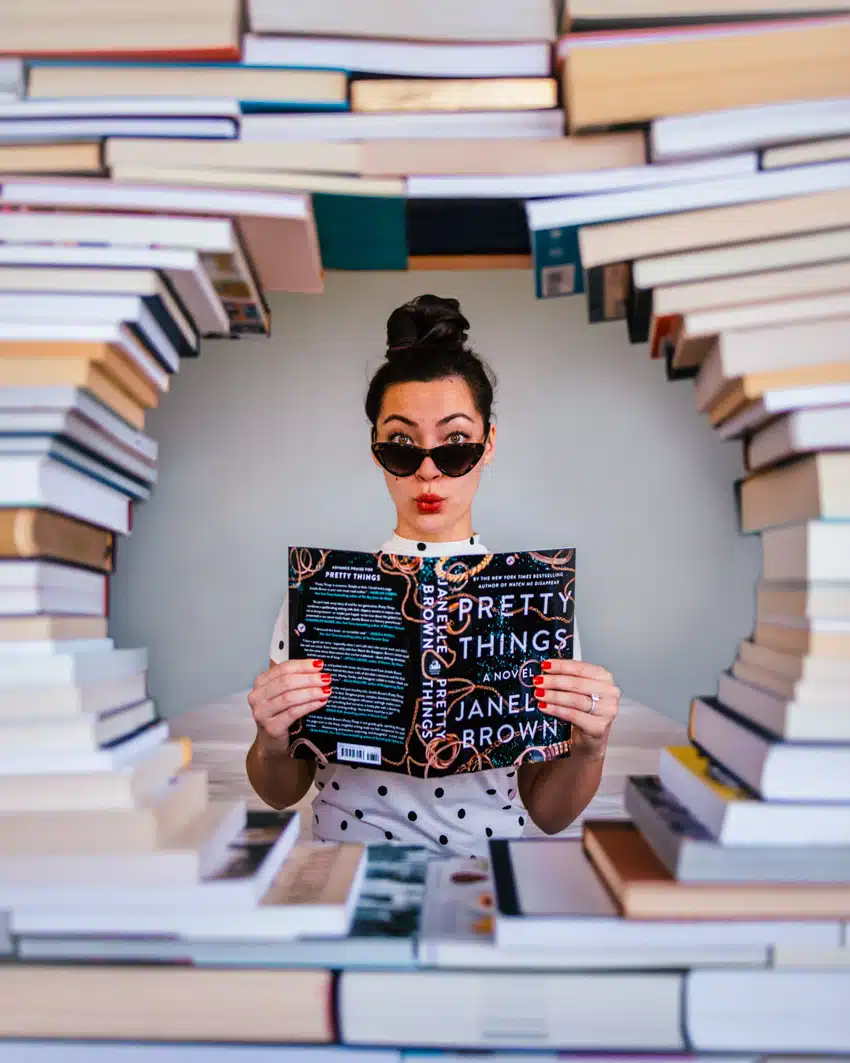 If you have a good book collection, use as many as it takes to form a frame around you! I used a medicine ball and stacked my books around it, slowly building inward until it created a fully formed circle! My husband and I removed the ball very carefully and the books stayed! Well… they stayed for about 20 minutes, which was enough time to get a photo. So make sure you snap away quickly to make sure all your hard work isn't for nothing! (Oh, and it sounded like an earthquake when my books came tumbling down!)
2. Set Up A Flower Bath
We've seen Bali's stunning flower baths all over Instagram, but how about trying your hand at crafting one? Tip: the flowers start sinking if they're heavy (like sunflowers) and get too waterlogged, so be careful to not displace them when you're getting in the tub! If you have a roommate or spouse living with you who can take the photo and help you, it might be worth it to set the flowers in around you once you're already in the tub!
3. Create A Spa In Your Tub
If you don't have that many flowers handy (or if creating a flower tub is too much work), how about creating a spa experience in your tub instead? Enjoy your favorite book while you soak if you need something to do with your hands! (I feel like my hands can get pretty awkward if I don't have a prop to work with!)
4. Show Your Roommate Some Love
Bring whoever you're at home with into a shot! This at home photoshoot idea is great for a best friends shot or a romantic photo with your spouse/partner! I added twinkle lights and took this photo by our fireplace for added cozy vibes.
5. Show Off What You've Been Baking
Being at home means plenty of time for hobbies! Baking seems to be many people's hobby of choice these days (at least it sure looks like it on Instagram!). If you've made something fun (banana bread, anyone?), why not show it off? Whether you photograph the end results or do a cute kitchen photoshoot, there are plenty of at home photoshoot options here.
6. Throw Stuff
Movement is always fun in photos! For this shot, you'll need a tripod and some photoshop skills. (Or you can use an app like PicsArt if you have no idea how to use Photoshop!). The general concept is that with the tripod keeping your camera in the exact same spot, you can layer together multiple shots to create the perfect photo. I took one photo of me posing in the photo above, with no paper flying. Then I threw paper in the area and Harrison used a quick shutter to rapidly capture the pages falling through the air. Finally, I stitched them together to create the final product!
7. Show Off Your Plants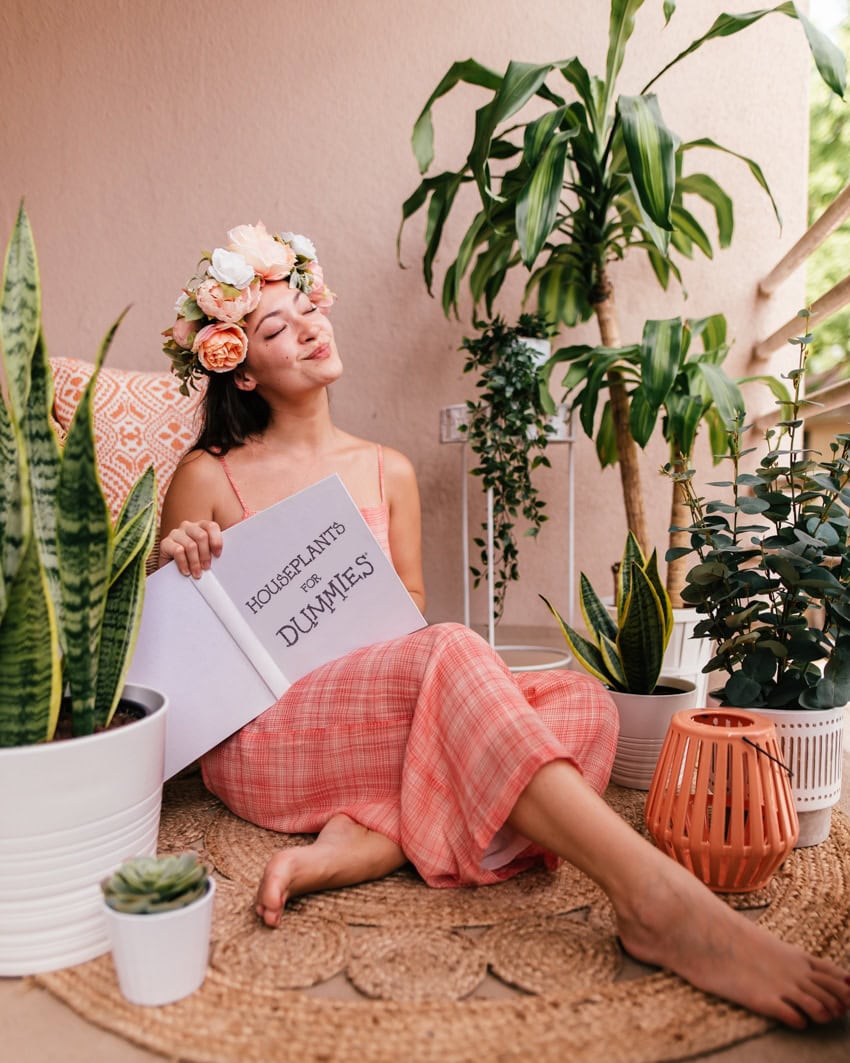 If you're a plant momma like I am, how about gathering all of your plants together for a photo? I added some fun to this by photoshopping my book to say "houseplants for dummies" since I don't have a green thumb and am shocked my plants are still alive! Bonus points if you can make a flower crown to wear- learn step-by-step how I made mine here!
8. Pretend You're Somewhere Else
Grab all of the trinkets you have that remind you of one of your travels and put them together for a photoshoot! I went Parisian-themed here with a beret, croissants, and other little details.
9. Pose With Your Pup
If you've got a pet at home, bring them into a photo with you! Animals are a hit on Instagram, so your post will probably perform even better than usual; it's a win-win!
10. Show Off Your Bedroom
If you've spent time decorating your bedroom, why not show it off? This is actually my friend's bedroom- how gorgeous is her mirror? It's this one from Anthropologie!
11. Make A Flat Lay Of Your Favorite Items
Create a pretty flat lay of your quarantine purchases- or really of anything you want! To make a good flat lay, make sure there is some sort of color coordination and a cohesive style.
12. Show How You Work From Home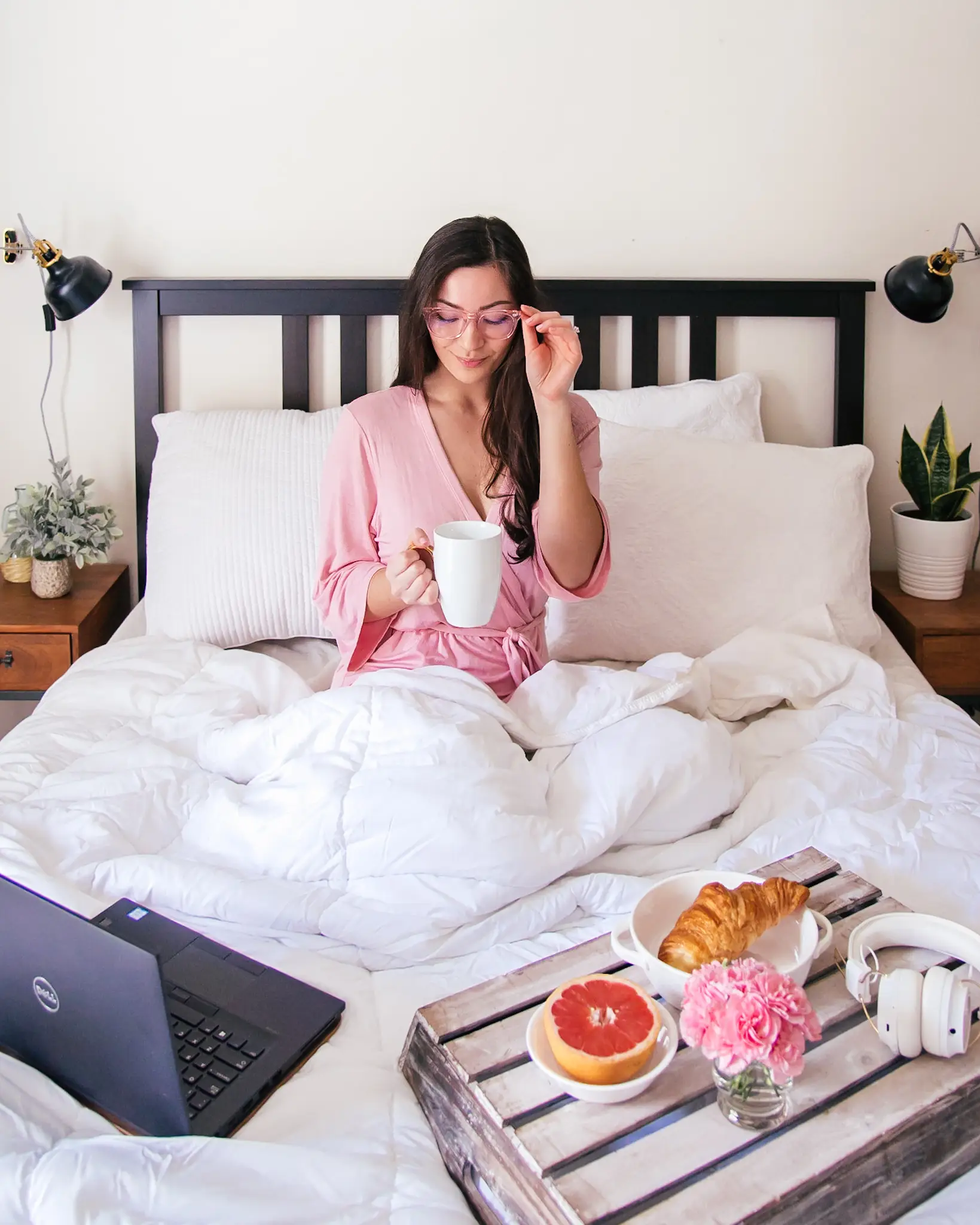 Or show how you wish you worked from home 🙂 I don't actually work from my bed, but couldn't resist the idea of doing so! (This was actually a sponsored post for the blue light blocking glasses I'm wearing and I love them! Linked them here!)
13. Relax Poolside (If You're Lucky!)
If you have a pool in your backyard or condo/apartment building, there are some great at home photoshoots you could do poolside. (I'm still counting this as being at home- it's a gray area, so I'm just going to go with it).
14. Change Up Perspectives
There are a few ways to change up perspectives in a photo. For one, try lying upside down. Another idea involves shooting from different angles to try out different perspectives. You can also take a photo then flip it sideways to make it look like you're walking on your wall!
15. Go For Glam/Retro Vibes
Channeled my inner Audrey Hepburn for this photo! 
16. Frame Your Face With Flowers
You'll notice throughout this post that flowers make for great at home photoshoot ideas! I created this shot for the shampoo and conditioner here, but you get the idea. Flowers are a great way to add some color and extra beauty to a photo, so they are the perfect prop!
17. Get Fruity
Like flowers, fruits also make for great props! So how about creating a whole spread of fruits or throwing some into the air? There's also the classic "hold something over your eye" shot that works great with most fruits. Throw in two cucumbers over your eyes to add that spa feel!
18. Create Art With Objects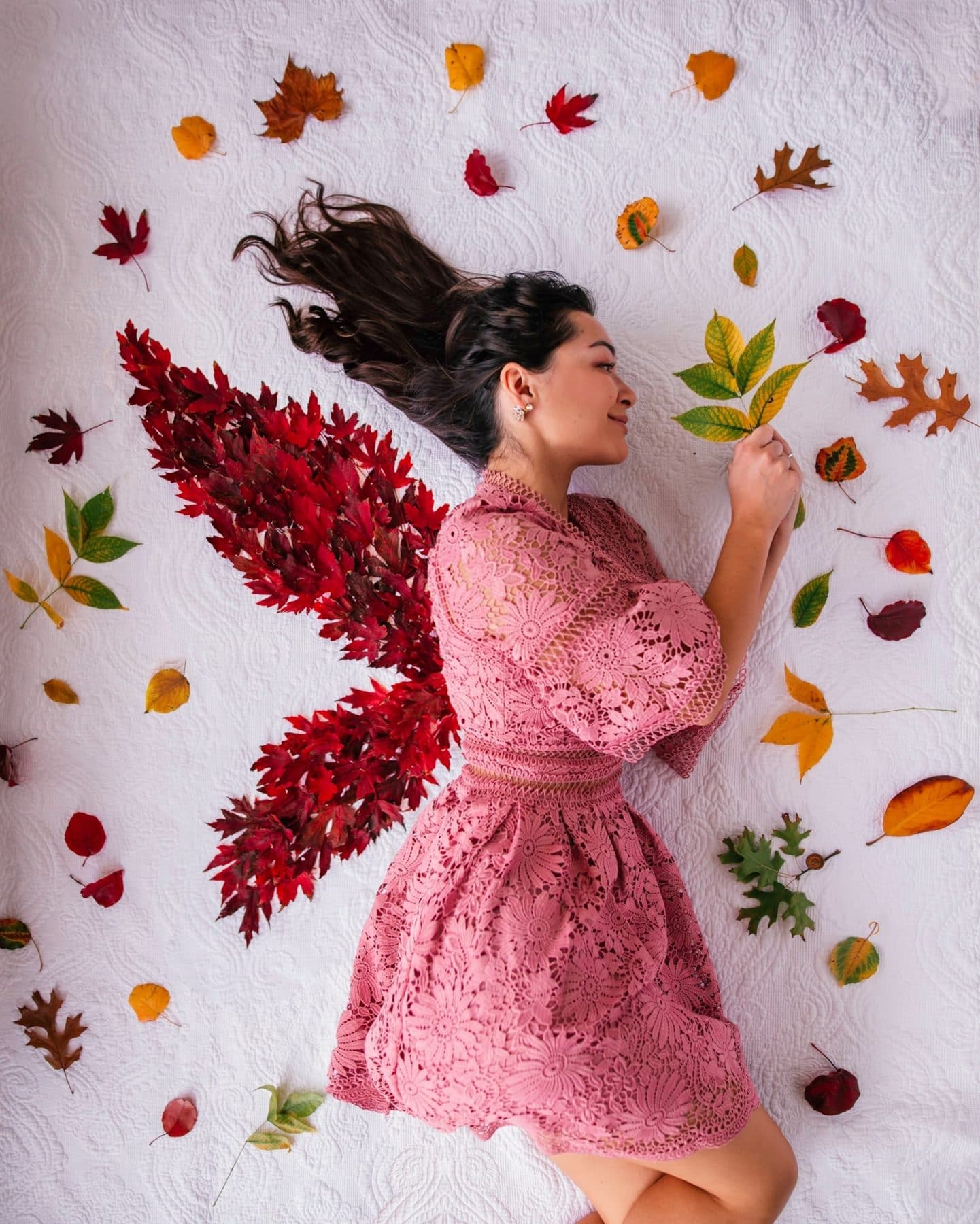 Form fairy wings (or somethings similar) for a creative and crafty Instagram-perfect photoshoot. I made fall leaves the focus of this at home photoshoot, but you can incorporate anything! Replace them with flowers for a spring/summer vibe, or ornaments come winter! (Moms- if you have babies, this is one of my favorite at home photoshoot ideas for babies, too!)
19. Add In Extra Hands
Remember the tripod situation I mentioned earlier? Yeah, the one where you take multiple photos and layer them on top of each other. That same technique applies here! This was a collaboration I did with a brand that provides top 10 lists. My theme for this photo was various aspects of "the new normal"- at home workouts, decorating my space at home, getting groceries delivered, etc.
20. Take A Photo Of Yourself In A Mirror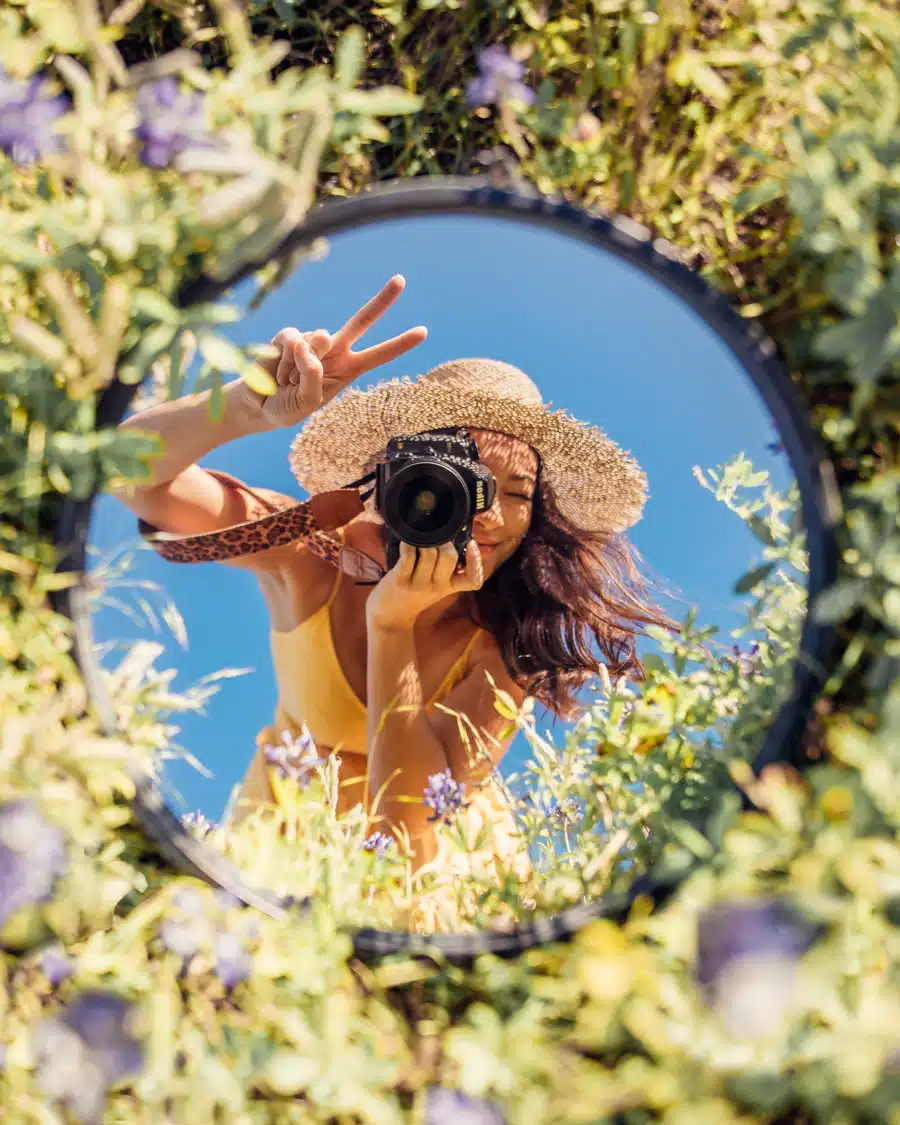 Mirrors make for very creative at home photoshoots! This is harder than it looks- you have to make sure that both the mirror looks good, you look good, and your background looks good. Try different angles until you find the shot you like!
21. Display Your Favorite Spa Products
One plus about being at home is all of the pampering and self-care you get to enjoy. For this at home photoshoot idea, show off your favorite spa products in a flat lay and frame them with flowers!
22. Do A Packing Flat Lay
You might be stuck at home, but that doesn't mean you can't dream about travel! (Or, you might be heading somewhere in which case this shot is both cute and practical!). Try to have things color coordinate to make this photoshoot a success. Tip: if you don't have a wide angle lens, pack on the floor next to your bed so that your photographer can stand on the bed above you.
23. Photograph Your Food
For all my fellow brunch lovers out there, create a luxurious breakfast/brunch in bed spread and photograph it before eating! Don't take too long, though! You don't want your food to get cold!
24. Picnic In Your Backyard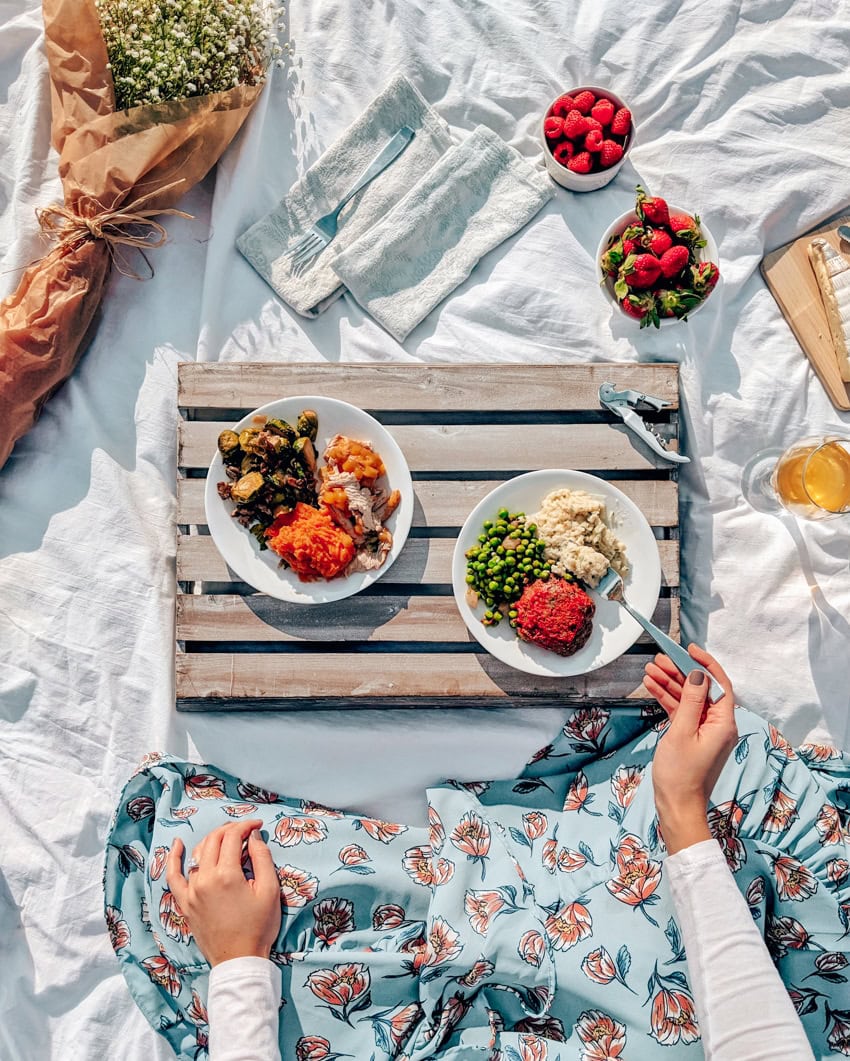 Along similar lines, how about photographing a picnic in your backyard? Tip: if your backyard isn't pretty (mine isn't), then you can take the photo from above instead of straight on! That way, the only thing people will see is your fun picnic spread! (You could also do the above shot inside if it's too hot/cold/rainy/windy out. No one will be able to tell!)
25. Show Off Your Wall Art
I got this fun map of LA as home decor and figured I'd turn it into a California-themed photoshoot!
26. Retreat To Your Car
A little Photoshop magic can go a long way! We took this photo in the driveway and added a photo I took when we were on a road trip into the background. (Remember, you don't need to know how to use Photoshop to do this- you can use a phone app like PicsArt to edit straight from your phone!)
27. Create A Magazine Cover
Get a glamorous shot of yourself and turn it into your very own magazine cover! Have fun with it- think of funny or relevant headlines and plaster them on your magazine. You can create the actual magazine using a phone app or by creating one on Canva.
28. Use A Bedsheet
Bedsheets are great props for photos. Whether you use one as a backdrop or crawl under one and take a photo from "under the covers" or make a blanket fort with them, they make for great at home photoshoots. You can also just cuddle up on your bed like Camilla here!
29. Play With Matches
I know, I know, you shouldn't play with matches. But how about for a quick photoshoot? Just think of all of the endless captions you could work with!
30. Take A Polaroid
Take a photo of your Polaroid for fun retro vibes! The camera I have is an Instax- in addition to being cameras, they make for adorable photo props!
31. Lay On Your Clothes
I get Great Gatsby vibes from this idea! (You know, the scene where he's throwing all of his nice clothes in the air?) @ofleatherandlace totally killed this shot! I don't have many "fancy clothes," but the more extravagant and dramatic your clothes, the better the photo!
32. Use Lace
The intricate, dainty details of lace become even more beautiful when combined with fun lighting and photography.
33. Show Off Yo' Face!