Looking for fall photoshoot ideas? Look no further!
Fall is here and I couldn't be happier! Cooler temperatures, pumpkin patches, colorful leaves, apple cider, cinnamon candles, and all the fall vibes! Not to mention the endless fall-themed photos all over Instagram!
This season is a photographer and Instagrammer's dream, full of color and fun photo spots! Well, I'm here to share all of my fall photoshoot ideas!
From pumpkin poses to photo spots, here are 37 fall photoshoot ideas to spruce up your photos!
Also, I hope you like puns, because you're about to read a lot of them! 🙂
1. Sit on a pumpkin
This is probably a no-brainer, but you can park you caboose on a pumpkin for an easy chair!
2. Throw a pumpkin in the air
Add some motion into your photo by throwing a pumpkin into the air!
Just be sure to not drop it! You don't want to turn your pumpkin into squash 😉
3. Use a leaf for a skirt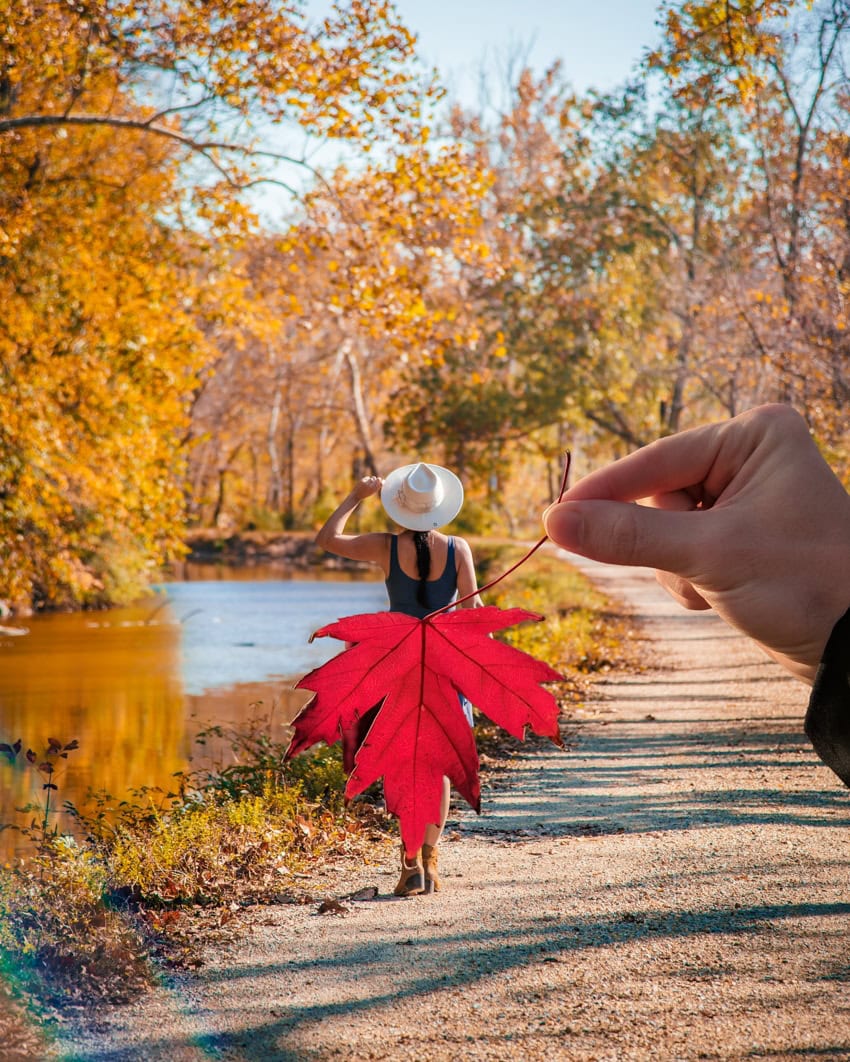 Throw some fun into your photo by using a fall leaf as a 'skirt'! The end result is unbeleafable!
4. Incorporate your Instax
If you have an Instax, you should grab a photo of you holding it in front of gorgeous fall leaves. Then, you can either photoshop in a different photo you've taken or actually take a polaroid with it and take a picture of that.
5. Kiss a pumpkin
Give 'em pumpkin to talk about!
Add some love into your fall photo by giving a pumpkin a kiss! (But please don't actually put your lips on it… I hope that goes without saying!)
If you're in Dallas and want to know where the best pumpkin patches in Dallas are, check out my post here!
6. Match the trees
Throw on a yellow dress, put a bow in your hair, and find some trees to match!
We got this photo using a zoom lens. That helps the trees appear much larger than they actually were!
7. Go for fairytale vibes
Go for Cinderella vibes by wearing a pretty dress while surrounded by pumpkins! What girl doesn't want to feel like a princess?! Or a hallow-queen? 😉
(The dress I'm wearing has sold out, but here is a very similar one!)
8. The pumpkin (eye) patch
The pumpkin (eye) patch makes for a very fun fall photoshoot idea! Grab a mini pumpkin, hold it over your eye, and pucker up for an Insta-worthy fall photo!
PS. These boots are perfect for fall! You can shop my exact shoes here!
9. Hold a pumpkin
One thing I sometimes struggle with is not knowing what to do with my hands. Well, holding a pumpkin fixes that problem in a pinch!
Just remember, these bad boys are heavier than you might think!
10. The pumpkin exchange
This is a perfect idea for friends or couples! Trade pumpkins and make sure to wear festive fall clothes, shoes, and stand on some leaves! Bonus if you can make that perfect heart out of leaves!
11. Be completely surrounded by pumpkins
This is one of my favorite fall photoshoot ideas because people just plain love pumpkins! In photos, especially! (I can definitely tell by how my Instagram posts perform in the fall… if there is a pumpkin in it, my engagement skyrockets!)
So if you're surrounded by pumpkins (and throwing one up, for added effect!), your shot will be golden! (Or, shall I say, gourden?)
12. Sit in a wheelbarrow
If you're visiting an apple orchard or a pumpkin patch and they have wheelbarrows, they make for excellent props!
Whether you have two people in it (one pushing, one sitting), or are in a solo shot, wheelbarrows make for fun fall photoshoots!
13. Lie down on pumpkins
This isn't comfortable and it's a major ab workout, but it makes for a creative fall photoshoot!
My friend came up with this idea since I was shooting photos for this shoe company and we wanted to show off the shoes.
I'm glad the end result was cool because it was one of the biggest workouts I'd done in a long time!
14. Shop at the farmers market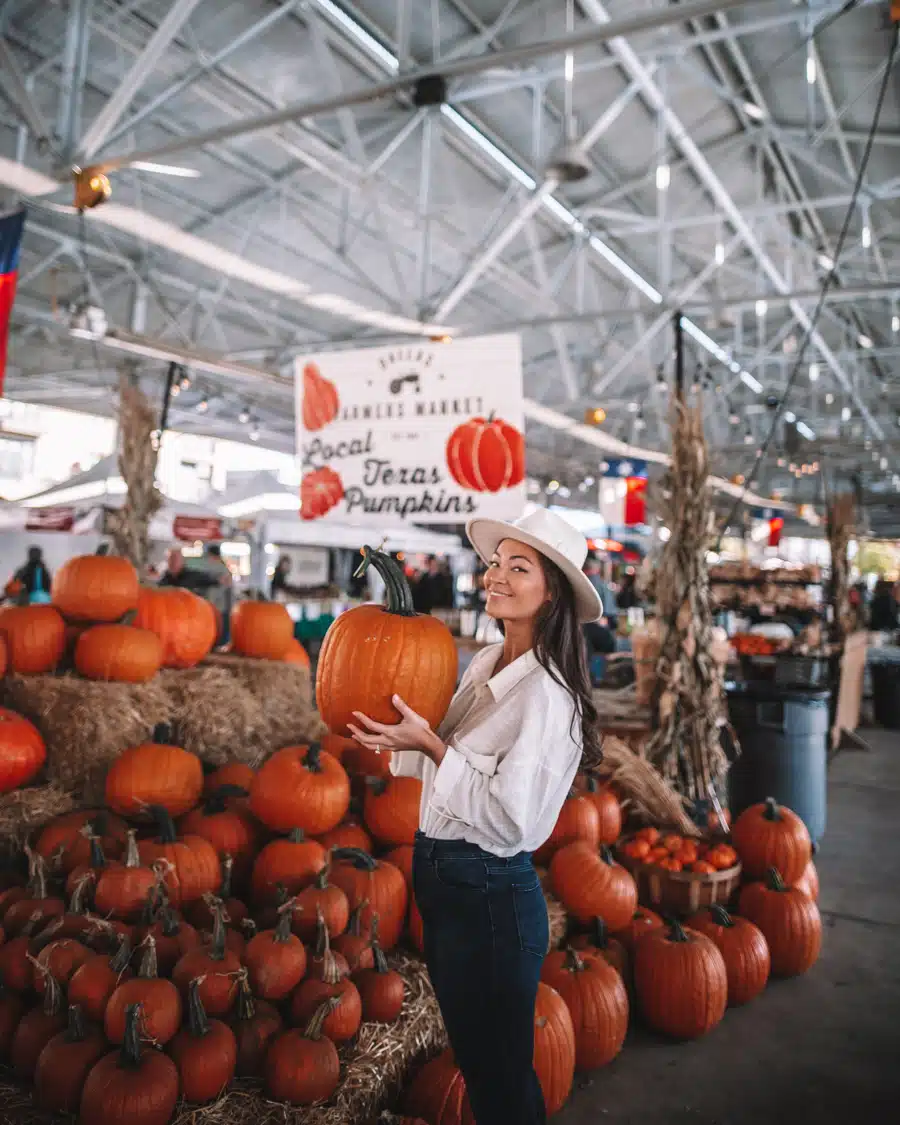 Almost every major city has a farmers market- and most small towns too, I'd assume!
Fall is the ultimate farmers market season, so grab your camera and head on over!
We got this photo at the Dallas Farmers Market, which is a must if you're visiting Dallas anytime of the year!
15. Find a fall colored road
If you find a road framed by fall leaves, you've hit the jackpot! A photo here will be pure gold!
Sit in the road, dance in the road, or just stand there! It's the fall colors that make your photo magic here!
16. Fall road trip vibes
Here is another great photo of a fall road, but this time from the trunk of your car!
A wide angle lens is best for a photo like this so that you can capture as much of the scenery as possible!
We added in the laptop screen and the background (another photo I had taken), so feel free to express your own artistic creativity!
17. Wander in a corn maze
Find a corn maze and wander through it! It's aMAZEing how many likes your photo will get!
18. Be framed by the corn
Framing makes for great photos, and here's one of my favorite fall photoshoot ideas when it comes to framing!
If you're wandering through a corn maze, find a spot where you can put your lens behind the corn. This way, you can frame the shot so that you're in focus and surrounded by corn!
19. Frame a photo with a heart cut out of a leaf
Bring some scissors with you for the next time you find a perfect fall leaf! You can cut a heart in it so you can frame your photo with it.
20. Visit an apple orchard
If you're fortunate enough to have an apple orchard around you, fall is the perfect time to visit!
Apple pie, apple cider, apple-scented candles- they all exude fall vibes! And an apple orchard does, too!
Hold an apple in front of your eye for the easiest Instagram caption ever… You're the apple of my eye!
21. Sit in a pumpkin patch
For an easy photo, how about just sitting and chilling in a pumpkin patch?
22. Incorporate high socks, candles, and twinkle lights
Three things that say cozy and fall! Using props is one of my favorite at-home fall photoshoot ideas. It's really the props that will make a home photoshoot feel like fall!
Here are some of the best props for a fall photoshoot:
23. The "follow-me-to" the pumpkin patch
I love a good follow-me-to shot! For a fun photoshoot that involves your photographer, have them reach out for you!
Grab their hand like you're leading them into the pumpkin patch, and then snap away!
24. Walk through a fall forest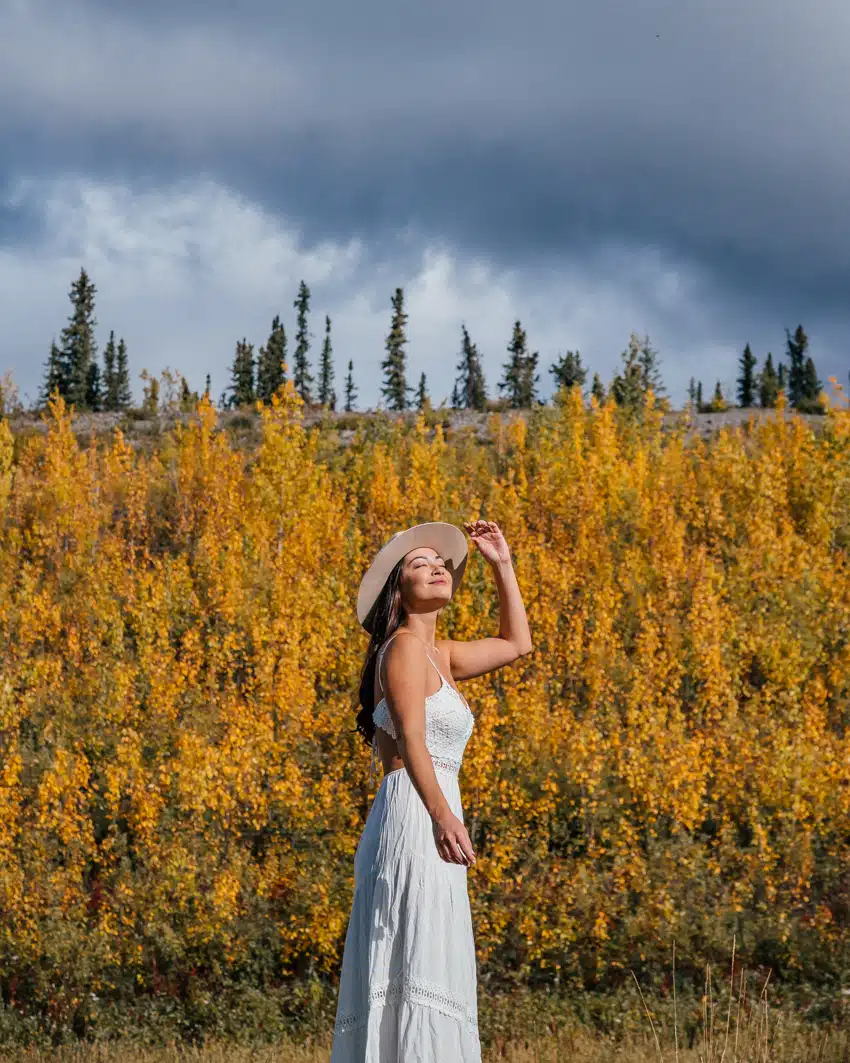 Or stand in front of one, basking in gourden hour!
We got this shot while on our Alaska road trip. (Which I recommend 1000%! You can see our full itinerary and get some Alaska wanderlust here!)
That is definitely a huge perk to road trips in the fall- you can just stop whenever you see some epic fall colors!
(Also, Alaska gets fall colors at the very end of August/beginning of September, so if you visit in late summer, you can start getting your fall content early! Have I convinced you to go to Alaska yet??)
25. Throw leaves up in the air
Gather up a bunch of leaves and throw them in the air!
TIP: Don't hold the leaves too tightly in your hands as you're gathering them! Otherwise, when you throw them, they'll all clump together!
26. Pose with your love
Of all the pumpkins in the patch, I choose you!
Steal a kiss behind your hat for the ultimate romantic vibes in a pumpkin patch!
27. Get lost in the sunflowers
Sunflowers are seasonal, oftentimes showing up in September and October. In fact, a lot of pumpkin farms have sunflower patches too!
Snap a shot in the sunflowers to combine two things that Instagram loves: flowers and fall!
28. The out-of-focus pumpkin backdrop
Pumpkins make for the perfect backdrop! And since hot drinks just say fall to me, this fall photoshoot idea makes for a great fall photo! Hold your cup up in front of some pumpkins for a great combo!
(Okay, okay, I know I said to hold a hot drink. Obviously, my drink is iced, but that's because Texas is way too hot in the fall!)
29. Get cozy by the fire
There is something so cozy about a campfire! If you're going camping, make sure you grab a photo by the fire or of the fire!
Alternatively, if you have a fireplace indoors, light a fire and set up some cozy fall vibes!
30. Show off your shoes
If you're someplace where there are pumpkins all over the ground, show them off with a cool shoe shot! It'll be just gourd-geous!
31. Create a fall-themed picnic
Or just incorporate a patterned blanket into your photo while holding a mug! We got this shot one morning in Dallas and there was fog on the water, it couldn't have been more perfect!
32. Show off your front porch
If you've decorated for fall and have a front porch you're proud of, why not show it off?
Unfortunately, I don't #apartmentliving, but fortunately, the neighborhood town hall does!
33. Make art from leaves
This is an absolute masterpiece! I can't imagine what I'd do if wind blew these away before I got my shot!
Here are more ideas that are so creative and perfect fall photoshoot ideas! Follow these girls on Instagram for more inspiration!
34. Make a leaf wall
Create an at-home photoshoot by collecting leaves and taping them to your wall!
35. Show off your fall home decor
Put on some cable knit socks and snap a pic of your perfectly decorated room for fall! I love how Helene has decorated for fall! She always has festive decor when the holidays roll around! And how perfect is that fireplace?!
36. A fall-themed movie night
Christine always has the best movie set ups- check out her page for more! This is such a great idea for both indoors and outdoors! (The outdoor version involves a screen and projector, picnic blankets, pillows, and the usual fall decor.)
Movie ideas: you can never go wrong with Hocus Pocus and Harry Potter!
37. Make a leaf crown
This is beyond brilliant! You can make a leaf crown in a similar way that you'd make a flower crown by following these steps here!
38. Use a smoke bomb (safely)
If it is safe to, use a smoke bomb to add some ethereal, whimsical vibes into your photos! Shaunie does it perfectly here- how dreamy is this photo?
This article goes over how to use smoke bombs safely for photoshoots!
39. Toast to fall
Here's a fall photo from Christine that I adore! With adorable pumpkin mugs filled with marshmallows and a sea of fall colors in the background, you get all the fall vibes!
Don't forget to complete the look with chunky sweaters!
40. Show off the perfect leaf
Last but not least, this car photo involves the simplest props: a perfect fall leaf, a pumpkin on the dash, and some cute shoes.
Park somewhere that is completely surrounded by fall foliage and snap a pic!
In conclusion…
I hope this post has inspired you to go out there and create some fall content!
And if you have more fall photoshoot ideas that I didn't cover, let me know in the comments! I'd love to hear them!
Happy photoshooting!
Jasmine
PS. If you found this post helpful, please share it to Pinterest! You can use either image below for easy pinning!