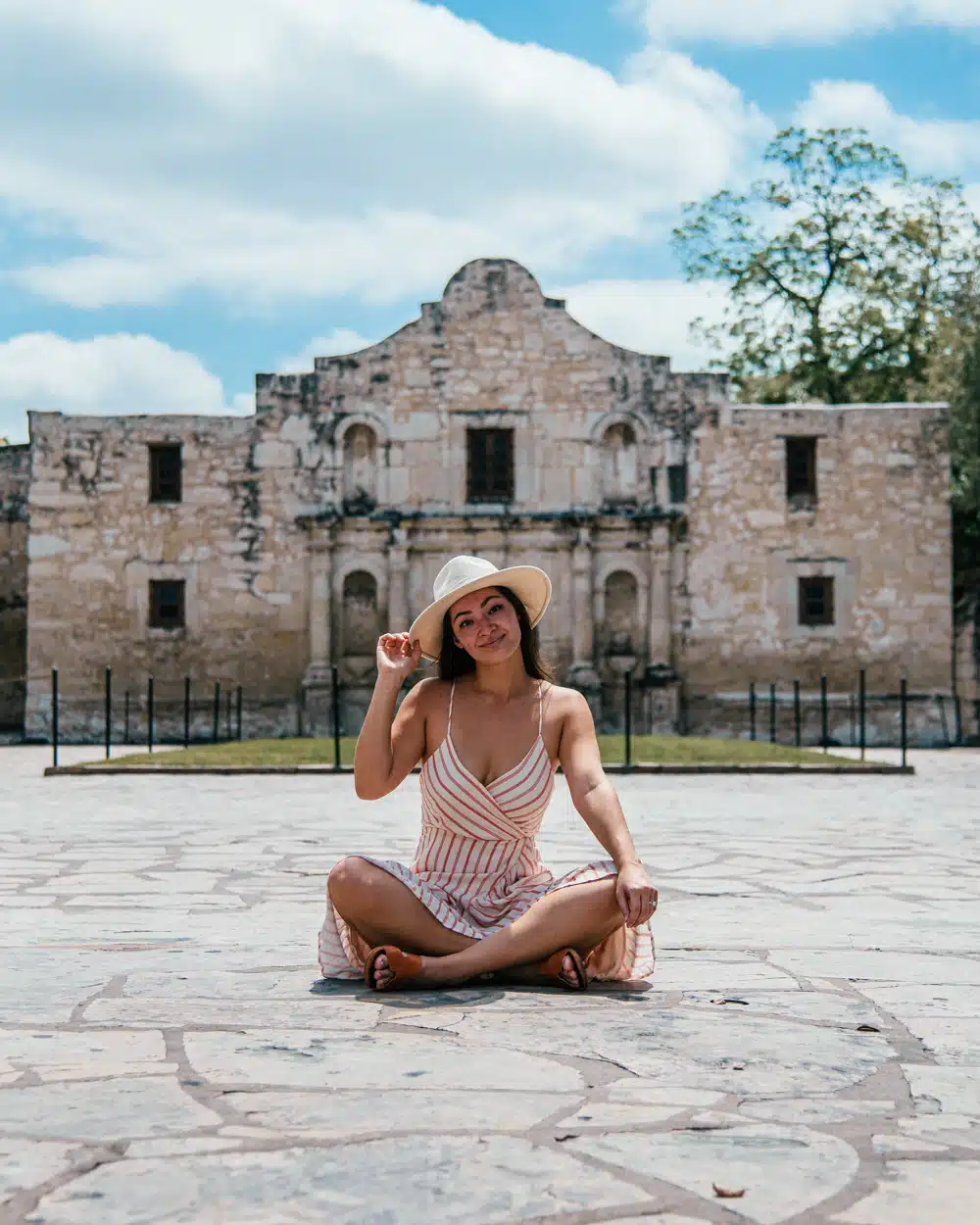 If you're considering the pros and cons of visiting Fort Worth vs San Antonio, you've come to the right post! These two Texas cities have so much to offer, though each offers different things. You'll find some overlap, of course, but here I hope to parse out what makes them unique.
We'll cover overall vibes, popular attractions, access to nature, and more!
Let's get to it!
Fort Worth vs San Antonio: Overall vibe
Fort Worth
Oftentimes, Fort Worth is overshadowed by its more populated, slightly larger neighbor, Dallas. However, Fort Worth is a city in its own right and is well worth visiting independently. That said, you can do a day trip to see the highlights of Dallas too! 
Fort Worth has a great western feel with a distinct history. When you visit this interesting city and talk to locals, you'll get a real sense of a much-loved city affectionately known as Cowtown. It's somewhere you can still enjoy small-town culture with all the modern conveniences of a large city.
While it is undoubtedly modern and vibrant, it's also got a strong cowboy culture, much more so than Dallas. So if you want an authentic Texas experience, this is one of the best places to go! 
San Antonio
On the other hand, San Antonio sits a mere 150 miles (2 hours 30 minutes) drive from the Mexican border. Latin culture is a substantial part of Texan culture because this part of the USA and Mexico have so much shared history (Texas was part of Mexico for over 100 years). Therefore, if you want to learn about this slice of Texas and even enjoy some Latino culture without leaving the USA, then it's definitely worth heading to San Antonio. 
It is also right next to the Texas Hill Country, one of my absolute favorite places in all of Texas. If you haven't been there yet, picture winding blue rivers, the occasional swimming hole, wildflowers come springtime, and charming Texas towns.
Specifically, right next to San Antonio, you'll find towns like New Braunfels, Boerne, Bandera, and Castroville. These Hill Country gems are within about an hour's drive of San Antonio. Head a bit further northwest and you'll reach Fredericksburg and its many Texas vineyards. I'll cover more about the benefits of being by the Texas Hill Country in the natural beauty section of this post!
All in all, both cities are well worth visiting and have their own distinct attractions. If you have time, you should see them both! However, if you only have time for one, it depends on what interests you most. To oversimplify it a bit: if you want more Texan cowboy culture, Fort Worth is a good place to visit. On the other hand, if you're more interested in Latino-influenced Texan culture, check out San Antonio. 
Fort Worth vs San Antonio: Top Attractions
Fort Worth
Many people spend a short time in Fort Worth before scooting over to bigger and more famous Dallas. Its proximity makes this area an especially fun place to visit in Texas since you get a mix of western feels with big city vibes.
However, there's plenty to do in Fort Worth itself! For starters, visit the Fort Worth Water Gardens. This is a picturesque spot with lots of manmade waterfalls. It's a great place to take some Instagram photos- check out my full list of Instagrammable places in Fort Worth here! 
I absolutely love the Fort Worth Botanic Garden- it rivals the Dallas Arboretum in beauty! And you can't forget the Fort Worth Zoo, which actually won Best Zoo in 2020 on USA Today's List. (The Dallas Zoo came in at #9.)
There are also plenty of museums in downtown Fort Worth. You might consider visiting the Fort Worth Cowboy Museum (a must to learn about Fort Worth's distinct culture!), the Kimball Museum of Art, or the Museum of Modern Art.
Then you have the Fort Worth Stockyards. It is a must for anyone visiting Fort Worth (or anyone visiting Dallas, I'd say!) Here, there are exciting events like the Fort Worth Rodeo, Billy Bob's Dance Hall (aka the world's largest honky-tonk!), and the Fort Worth Cattle Drive. It's also fun to just walk around here and feel like you are in a true cowboy town.
Nearby Dallas attractions
Of course, you can do a day trip to Dallas as well. While there's plenty to keep you entertained in Fort Worth, if you're visiting Texas from elsewhere in the country, it makes sense to see this city while you're here!
Some of Dallas's most famous attractions include the Sixth Floor Museum, which is dedicated to John F Kennedy (and the John F Kennedy memorial a few blocks away), Reunion Tower, the Zoo, and the Dallas Arboretum and Botanical Garden. It's also worth visiting Dallas to check out its food scene too! Check out this list of 101 things to do in Dallas for more ideas!
San Antonio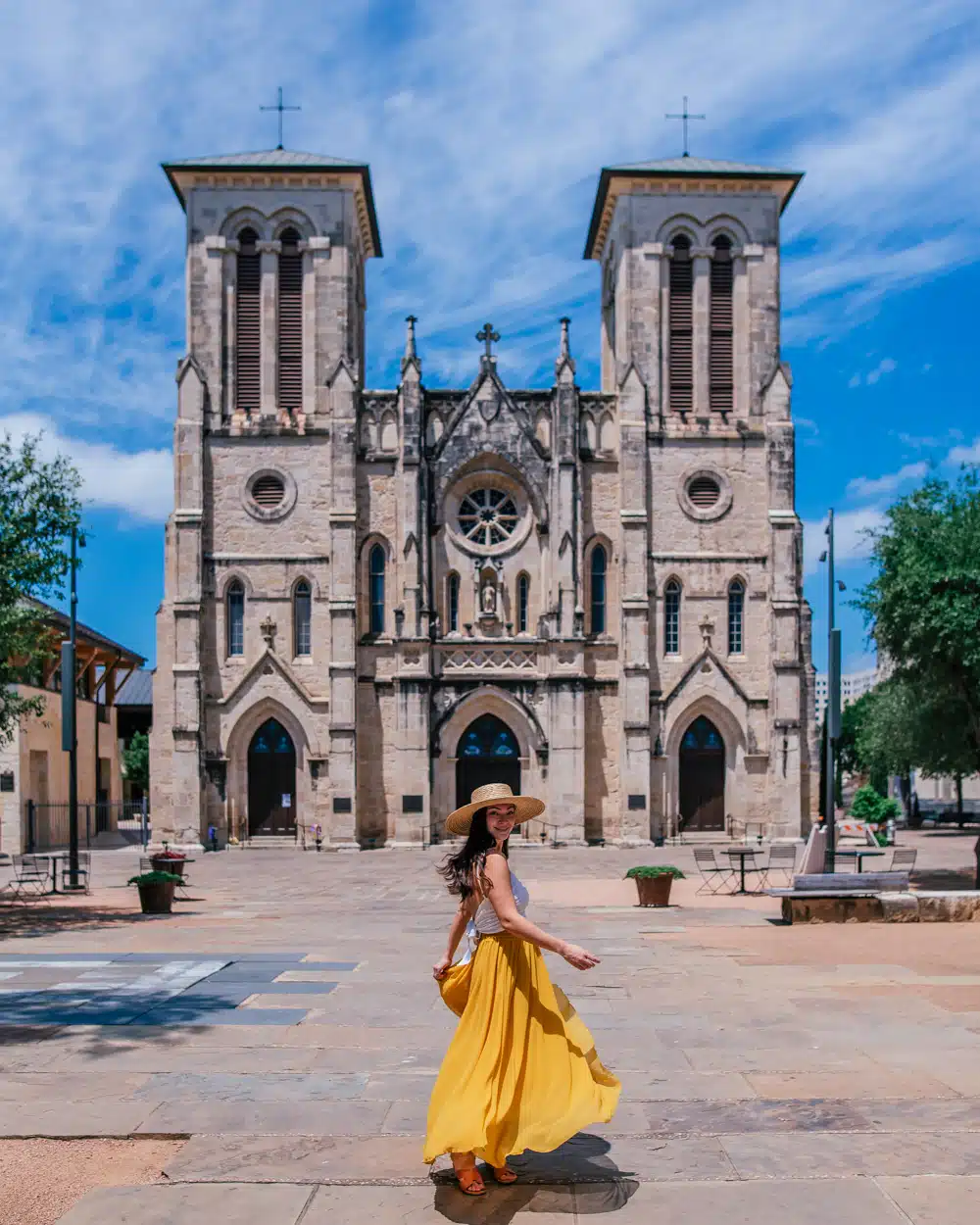 San Antonio is perhaps the most famous for its UNESCO-listed attraction, The Alamo. This is where Texas fought for independence from Mexico. It was originally a Mission building and then turned into a fortress. This attraction is a must-visit if you're interested in Texas history! 
You can drive the mission trail to visit all of San Antonio's missions.
The second most famous thing in San Antonio is the River Walk, which winds along the San Antonio River.
There's the San Antonio Art Museum, which has over 30,000 objects. The Pearl Brewery is an ex-brewery (it closed in 2001) and is now home to independent bookstores and the Pearl Farmers Market. 
It's also worth visiting the San Fernando Cathedral. This is the oldest church in Texas! It dates back to 1750, and it's a beautiful Roman Catholic church building that is nowadays the seat of the Archbishop of San Antonio. Try to visit it in the evenings if you can, when there is an epic sound and light show.
As well as all of these attractions, there are countless historic buildings and niche museums to visit in San Antonio.
In short, San Antonio is bigger than Fort Worth, which might make it seem like it has more attractions than Fort Worth. But Fort Worth's proximity to Dallas means that you won't get bored in this city either! 
Fort Worth vs San Antonio: Food
Fort Worth
If you're curious about the food scene in Fort Worth vs San Antonio, know that Fort Worth is an up-and-coming foodie city. Unsurprisingly, the city is most famous for "cowboy cuisine" which consists of lots of meat and a few BBQ'd vegetables with plenty of sauce! However, you'll also find several Tex-Mex and international cuisine options here.
Popular restaurants include Reata for cowboy-style food, Joe T Garcia's for Tex Mex staples, Angelo's for BBQ brisket, and H3 Ranch for authentic favorites. If you want to experience something a little more international, try the Cannon Chinese Kitchen, which serves lots of shareable dishes. And don't forget to stop at Melt for some delicious ice cream!
San Antonio
Unsurprisingly, San Antonio is one of the best places in the country to eat Mexican food. Some of these dishes are Tex Mex, some are authentically Mexican, and some – like puffy tacos – are a San Antonio creation.
There are also plenty of international restaurants in San Antonio.
Both cities are great foodie destinations. If you like Mexican fare, we recommend San Antonio, and Fort Worth is better for ranch-style Texan cuisine and BBQ. (Though you can find both styles of cuisine in each city, so food doesn't make a very big difference when comparing these Texas cities.)
Fort Worth vs San Antonio: Natural Beauty
Fort Worth
There are some great places around Fort Worth to enjoy nature. Besides the Fort Worth Water Garden, make sure that you check out the Fort Worth Botanic Garden, which is the oldest Botanic Garden in the state.
We've already briefly mentioned it, but in more detail, there are 110 acres of trees and plants to explore here, with over 2500 species to see. You can also visit the Fort Worth Japanese Garden, which is located in the Botanic Garden, though has an additional entry fee. This garden dates back to 1973 and has plants typical from Japan, including cherry blossoms and Japanese maples. 
There are more little spots of nature all around the city, like Trinity Park, which is home to a duck pond and fishing pier, with lots of trails and a miniature railroad. Even the St Stephen Presbyterian church has a slice of nature, with colorful flowerbeds. 
One of the coolest nature spots in Fort Worth is Airfield Falls- home to the largest waterfall in North Texas! (Though I should mention that that title isn't really saying much since there aren't many waterfalls in North Texas. It is still beautiful, though!)
San Antonio
Close to the city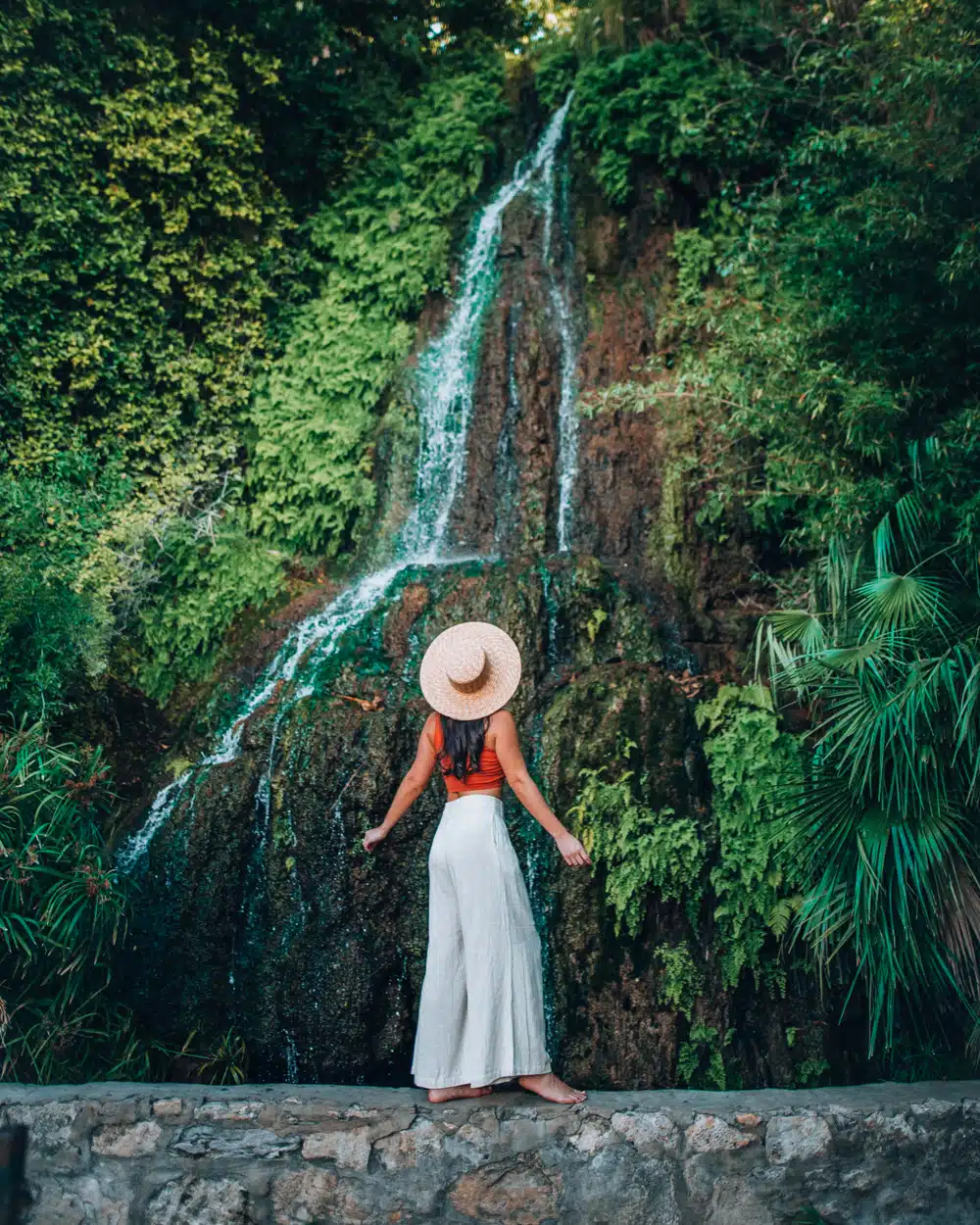 I'd argue that San Antonio and its surrounding areas have much better nature spots. Close to the city center, you've got places like the San Pedro Springs Park, the second oldest park in the USA which has epic natural springs. Then there's Brackenridge Park which has a lot of ancient history. Artifacts have been found here from over 11,000 years ago!
My personal favorite is the Japanese Tea Garden, which has an epic waterfall- right in the city! It's one of the best photo spots in San Antonio- you can check out this list for more Instagrammable places in San Antonio!
Also, don't miss the Friedrich Wilderness Park donated by Norma Friedrich Ward. This park is home to lots of wildlife and 10 miles of hiking trails.
San Antonio's River Walk encompasses a series of canals. This is a great nature dose just a short walk from the city center. You'll be able to stroll along the water and enjoy the beautiful subtropical trees. If you don't want to walk, you can always take to the canal in a boat!
Texas Hill Country
But best of all, you've got access to the prettiest parts of Texas in the Hill Country. Kayaking down the Medina River, swimming at Castroville Regional Park, and horseback riding around Bandera (the Cowboy Capital of the World) are my favorite things to do in this area!
Let's not forget the incredible caverns nearby. Whether you hit up the gigantic Natural Bridge Caverns or the much less touristy, less crowded, more small-town Cave Without A Name, both are fantastic options to cool off underground. You'll see stunning stalactites and stalagmites in both of these caves.
Next to Natural Bridge Caverns, you can do a safari tour from the comfort (namely air conditioning!) of your own car. You'll see zebras, giraffes, wildebeest, and more.
Both San Antonio and Fort Worth have some great nature spots. But because San Antonio has lots of places both close to the city center and surrounding it, it's hands down a better place to visit for those who want to enjoy the outdoors during their stay. 
Fort Worth vs San Antonio: Family-Friendliness
Fort Worth
This Texas city is a great place to visit with your family. Start at the Fort Worth Stockyards National Historic District, which has a petting zoo and a cattle-pen maze and is the perfect place for you and your children to learn about animals. To see even more animals, the Fort Worth Zoo is the oldest in the state and has more than 500 animals.
You may also want to visit the National Cowgirl Museum which details the lives of famous Texan women. Or you can enjoy all of the science-themed exhibits at the Museum of Science and History. This museum has an outdoor dinosaur dig! 
San Antonio
San Antonio also has lots of family-friendly attractions. Some of the best are Ripley's Believe it or Not, the Guinness World Records Museum, Tomb Rider 3D Adventure Ride, and Louis Tussauds Waxworks. These might be more interesting to older kids. If you promise to visit these at the end of your trip, you should be able to persuade your children to see the Alamo and other cultural attractions without fuss 😉
San Antonio also has a zoo, an aquarium, and a Legoland discovery center. These should provide entertainment for your children regardless of age! And if you have older kids, you can take them to the many parks within the city's boundaries.
San Antonio probably has more attractions for kids, but Fort Worth has plenty too. Plus there are more kid-friendly attractions in nearby Dallas too.
Fort Worth vs San Antonio: Cost
Fort Worth
The cost of visiting Fort Worth has risen in recent years, but it still is an affordable destination compared to many other cities around the country. The average price of a hotel room is around $130, which is less than the national average. Dinner will cost you around $15 at a cheaper restaurant and $25 at a pricier restaurant (per person, without including alcohol).
The Trinity Railway Express connects Dallas and Fort Worth, but I recommend having a car to explore this city.
San Antonio
You can get a sense of the travel costs of visiting San Antonio from the widget below.
This tool aggregates data from real travelers to give you a ballpark estimate of travel expenses in a given city.
In San Antonio, expect to pay around $110 for a hotel room – less than Fort Worth and quite significantly under the national average. A meal at an average restaurant will cost around $13 per person.
San Antonio is fairly easy to get around because the main city center is relatively compact. But to reach areas outside of the metropolitan area, I recommend having a car. Of course, you can also use Uber and Lyft, but that can get pricey quickly if you're doing a lot of driving around the city!
Although my research indicates San Antonio is marginally cheaper than Fort Worth, I didn't really get that sense after visiting both cities. They seemed comparably priced to me.
Fort Worth vs San Antonio: Safety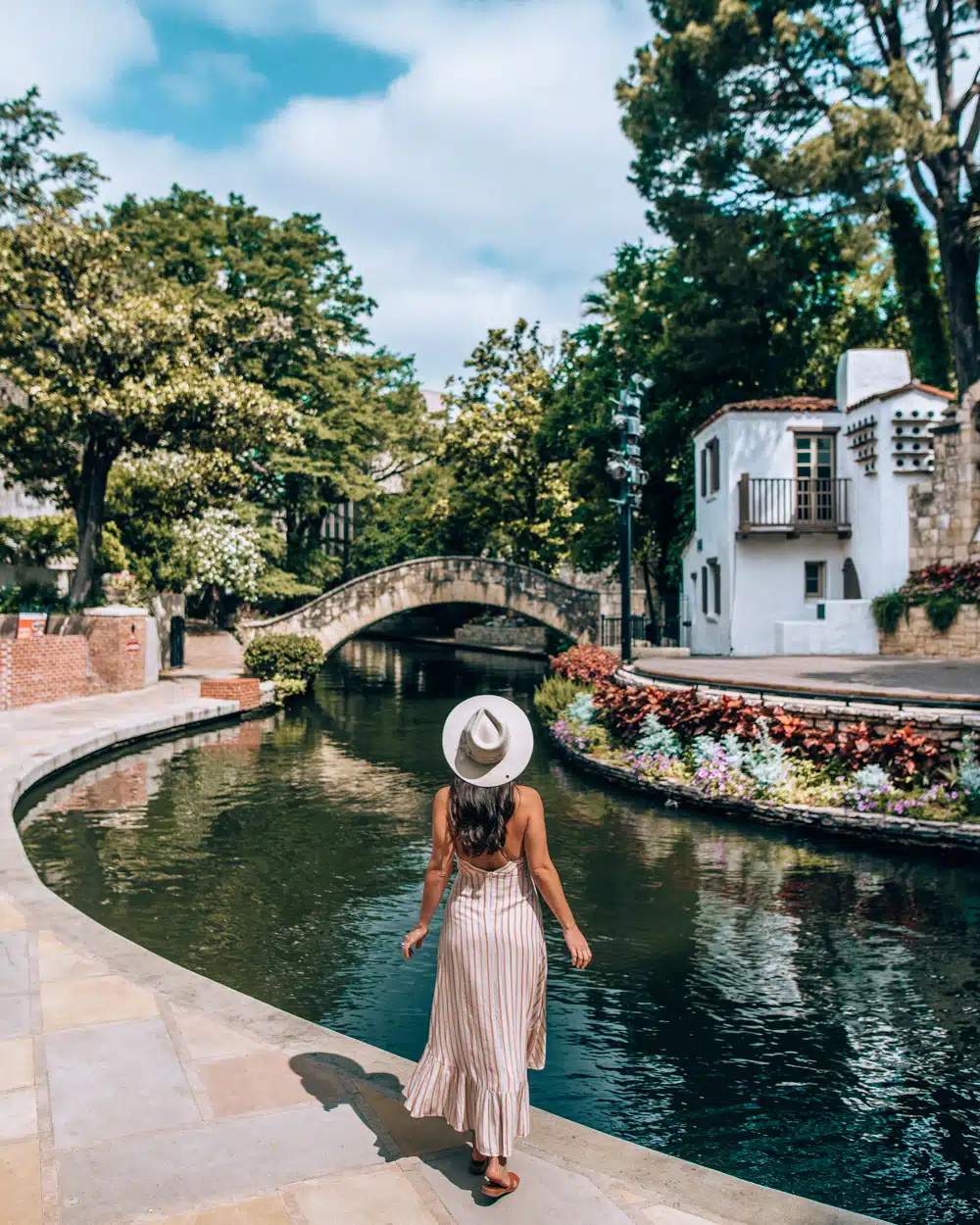 Like all cities, there are safe and dangerous areas of Fort Worth. Use common sense, and don't walk around alone after dark. It is well worth spending money on an Uber or cab to ensure that you get home safe!
San Antonio has a lower crime rate than Dallas. But again, it's worth sticking to brightly lit, known areas at night and taking a cab or Uber home if you're ever unsure.
Most visits to San Antonio and Fort Worth are trouble-free. Make sure that you take reasonable precautions in either place to have a safe trip! 
So, should you visit Fort Worth or San Antonio?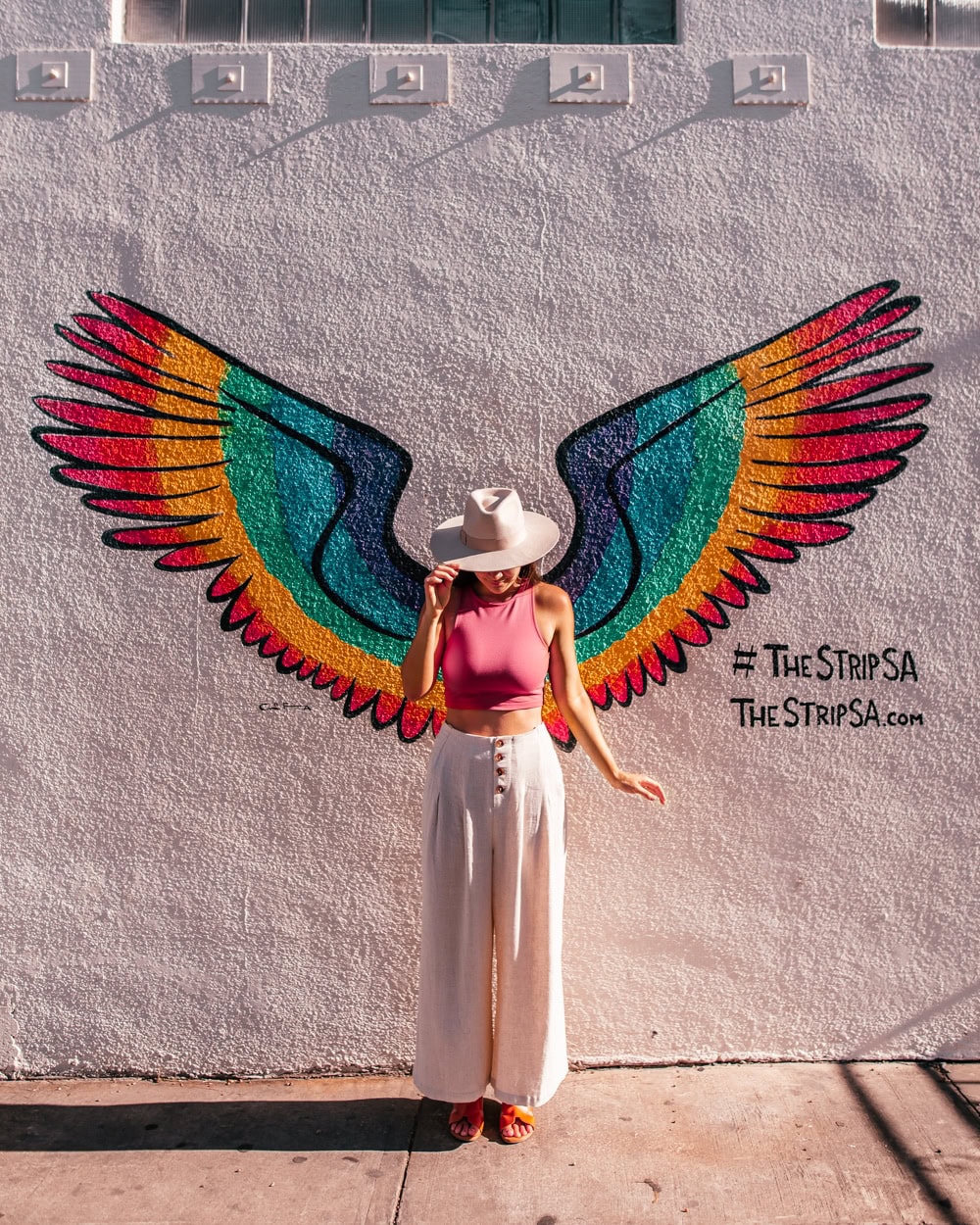 Well, when it comes down to it, you can choose based on preference. I'm oversimplifying things with the next two statements, but hopefully they are helpful:
If you're looking for that Texas western feel with access to a major city, Fort Worth is the place for you.
For more natural beauty and outdoor activities, with both Spanish and Mexican influences, I'd recommend San Antonio.
So, which would you choose?
Happy exploring!
Jasmine