Dallas has been my home since 2015 and in the past several years I've had so much fun exploring this city! Now I just want to share with y'all what I've learned! It's about time I created this guide to 101 things to do in Dallas!
Here's the thing: as a non-native, I feel like I have a unique perspective on the city.
I think it has allowed me to take a fresh look at all Dallas has to offer.
I'm all about finding beauty no matter where you are, and it has been a joy finding it locally.
So many people have asked for a list of things to do here, so it's finally time to publish my guide on 101 things you can (and should) do when exploring Dallas.
Of course, you'll want to check before visiting these places to make sure they're open.
I've divided these 101 things to do in Dallas into several categories:
Dallas Staples & Museums
Activities
Nature
Entertainment
Shopping
Events & Festivals
A Bit Further Out
You'll notice that I don't have a food section! Well, that's because there is just too much great food here in Dallas! Honestly, my recommendation is to just Yelp or Google search "food near me" for the best recs! (The one place I'd say you absolutely must visit is Bubba's in Snider Plaza. They are definitely a Dallas staple and their rolls are to die for!)
Without further ado, let's get to it!
Dallas Staples & Museums
The first category covers all of the Dallas staples. What I mean by that is museums, points of interest, etc. that are quintessential Dallas. They cover history, culture, and more!
(But speaking of quintessential Dallas, you don't get more iconic than the Dallas skyline! If you want to get a photo where I got the one above, head to the Margaret Hunt Hill Bridge!)
1. The Perot Museum
A fun natural history and science museum that is great for families! There are plenty of interactive exhibits at the Perot Museum.
2. Dallas Museum of Art
Located in the Arts District, the DMA is free for visitors and has rotating special exhibits.
3. Nasher Sculpture Center
The Nasher offers over 300 masterpieces throughout its grounds. It has both an indoor and outdoor collection.
4. Sixth Floor Museum
This museum chronicles the assassination of President John F. Kennedy and its aftermath and is famous for the evidence of the sniper found within its walls. It's also known as the JFK Museum.
5. Dallas Zoo
This 106-acre zoo is the oldest and largest zoological park in Texas. Check out exotic animals, feed giraffes, and follow gorgeous trails throughout the zoo! Learn more about it, including hours and ticket information, here!
6. George W. Bush Presidential Library
Visit the Bush Center on the grounds of Southern Methodist University and learn about the Presidency of George W. Bush. This Presidential Library is the second-largest in America!
7. African American Museum
The four vaulted galleries that comprise this museum feature exhibits and displays that explore the lives of African Americans.
8. Frontiers of Flight Museum
Located next to Dallas Love Field Airport, you can explore all things aviation-related at this museum. Don't leave without climbing into the cockpit!
9. Dallas Aquarium
The Dallas World Aquarium offers more than just sea-life. You'll also find marsupials, monkeys, sloths, and more!
10. Crow Collection of Asian Art
This museum is dedicated to all kinds of artwork from asian cultures. You'll find historical and contemporary pieces, and admission is free!
11. Southern Methodist University
SMU is a research university located in Dallas and the Park Cities. Take a stroll through the gorgeous grounds of this campus.
12. Reunion Tower
This iconic building in the Dallas city skyline offers great views of the city. You do need tickets to go up, so be sure to get some here beforehand.
13. Dallas Museum of Natural History
The Dallas Museum of Natural History was established in Fair Park in 1936 as one of the first natural history museums in the region. It has since merged to become the Perot Museum of Nature and Science- but has remained in its Fair Park location.
14. Museum of Biblical Art
This museum features art with a biblical theme, and emphasizes both Jewish and Christian artwork.
15. Bath House Cultural Center
The Bath House Cultural Center has 15-20 exhibits and offers over 200 performances, concerts, festivals, workshops, lectures and more each year.
16. Public Artwalk Dallas
The Public Artwalk is a 3.3 mile, free, self-guided tour through the Arts District.
17. Old Red Museum
A courthouse built in the 1890's houses the Old Red Museum with information all about the history of Dallas County.
Activities
Here are the best activities to do in Dallas. From sports to trolley rides (like the one pictured above!), these activities are definitely great things to do in Dallas!
18. Rangers game
Catch a Ranger's Game at Globe Life Park in Arlington.
19. Mavericks game
Watch the Dallas Mavericks play at the American Airlines Center.
20. Cowboys game
See the Dallas Cowboys play at AT&T Stadium.
21. Stars game
Catch a game of hockey featuring the Dallas Stars at the American Airlines Center.
22. M-Line Trolley
This free trolley tours McKinney Avenue all the way from Uptown Dallas to the Dallas Arts District. You can even track it on their website!
23. Top Golf
Practice your hits at the Top Golf batting cages, play some mini golf, or perfect your golf swing. And when you're done, get some food at the in-house restaurant and bar.
24. Bowl & Barrell
Combine dining and bowling at this upscale bowling alley located at the Shops at Park Lane.
25. Ice Skating at the Galleria
You can ice skate at the Galleria regardless of the season. The Galleria is a very large shopping mall- so do some shopping (or window shopping) afterwards!
26. Brewery Tour
Tour one (or more!) of the many brewery tours offered in Dallas.
27. Half Price Books
Check out one of the largest Half Price Books you'll find in America. The name says it all- you'll find a ton of discounted books here.
28. Dallas Heritage Village
Wonder what it was like to live in Dallas way back when? You can walk through preserved shops and houses at the Dallas Heritage Village.
Nature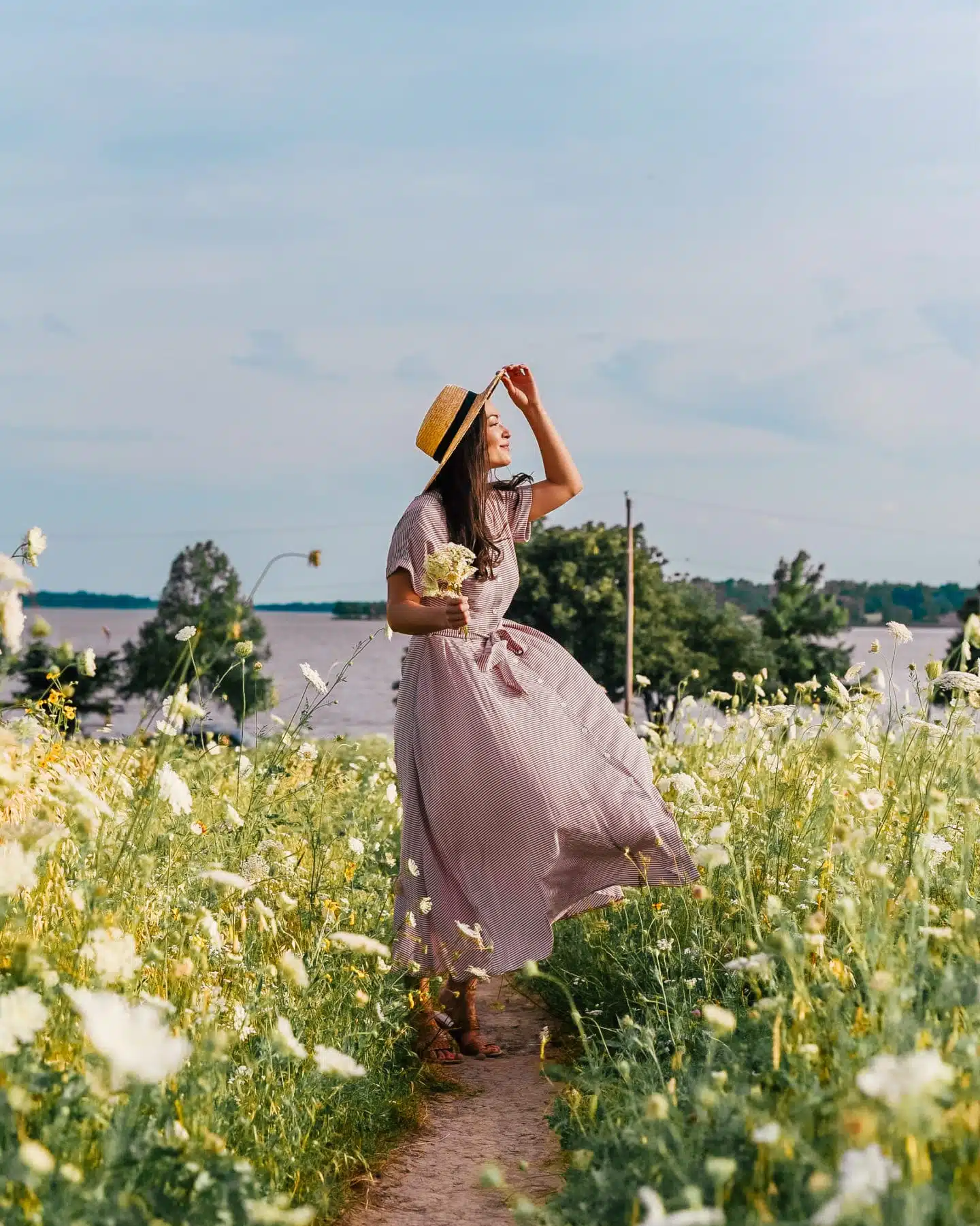 Nature in Dallas? Yup, and there's plenty of it! You might not expect a big city to have great nature, but with all of the parks and lakes here, you actually can find plenty! So exploring nature is actually one of the best things to do in Dallas! Here are the best parks and nature spots in Dallas.
---
---
29. The Dallas Arboretum
The Dallas Arboretum is a must when visiting Dallas. This 66-acre botanical garden sits off of White Rock Lake and rotates exhibits throughout the year. Learn more about it here!
30. Klyde Warren Park
Food trucks, gardens, running space, food tables- all right in the center of the city.
31. Turtle Creek Parks
The many parks that line Turtle Creek are a great place to stop at if you want a quiet place to see some gorgeous greenery. Read more about Turtle Creek Parks here!
32. Harry Moss Park
The Harry S Moss Park mountain bike trail is located along the bank of the White Rock Creek and runs for 5.5 miles.
33. Katy Trail
The Katy Trail is a jogging/walking/biking trail that runs from Victory Park up to Glencoe Park.
34. Goar/Williams Park
These two parks are across the street from each other in the Park Cities neighborhood. One features a gorgeous gazebo and fountain, the other has a scenic lake.
35. White Rock Lake
Visit the largest lake in Dallas! Bring your pet, a picnic, and the whole family. As a blogger, this is one of my favorite spots for photos! Learn everything you need to know about White Rock Lake here!
36. Reverchon Park
This park is great for activities with its basketball and tennis courts, baseball fields, pavilions, playgrounds, sand volleyball courts, and trails.
37. Hiking at Cedar Ridge
Take a stroll through the forest at Cedar Ridge. It offers over nine miles of walking trails with all levels of difficulty.
38. The Village Dallas
Explore the lakes and trails at the heart of this iconic Dallas apartment community. You'll find gorgeous landscaping and wildlife running around!
39. Dragon Park
Check out all of the unusual sculptures at this quaint urban park.
40. Main Street Garden
Main Street Garden is a 1.75 acre community gathering place located in downtown Dallas. It boasts fountains, public art installations, Wi-Fi, and a dog run among its many features.
41. Trammell Crow Park
Located off of the Dallas floodway, Trammel Crow Park has a great view of downtown, a lake, spacious fields, and quirky cow statues!
42. Trinity River Audubon Center
Check out this nature center at the heart of the Great Trinity Forest, a 120-acre preserve with five miles of trails.
43. Lakeside Park
Get ready for a lush, green wonderland! Lakeside Park features a lake, a dam that turns into a man-made waterfall, gorgeous landscaping, and small seating areas.
44. Caruth Park
Caruth Park is a great picnic spot with grassy areas, a playground, and a lake with a fountain. The park is surrounded by the gorgeous houses of University Park.
45. Texas Discovery Gardens
This 7.5 acre organic garden is located in Fair Park. The park features plenty of fountains (like this one), benches, a butterfly house, and more!
46. Fountain Place
Frolic through the fountains at Fountain Place, located in the heart of downtown Dallas.
47. Mutts Canine Cantina
The place to go if you've got a furry friend! Mutts Canine Cantina has a dog-friendly patio restaurant and bar, an off-leash park, and plenty of fresh air for your canine companion!
---
---
Entertainment
As a big city, Dallas has no lack of entertainment for you! Here are some great entertainment venues and quirky shops (like The Wild Detectives, pictured above) that'll keep you occupied! Whether it's a big concert or a local band, catching a show is definitely one of the best things to do in Dallas!
48. Granada Theater
The Granda Theater is located in Lower Greenville and is a live performance venue. While you're there, check out their restaurant, Sundown at Granada, for some great high quality and organic foods!
49. Alamo Drafthouse
The Alamo Drafthouse is a dine-in movie theater- they serve food while you're watching your movie. Be sure to show up 30 minutes early for fun videos on the screen (that relate to the show you're seeing) before your movie!
50. Truck Yard
Check out this retro patio-style dining area in Lower Greenville, complete with food trucks, live music, and a treehouse.
51. Pocket Sandwich Theater
The Pocket Sandwich Theater is an interactive live dinner theater for plays where you can (and are encouraged to) throw popcorn at the actors and the people around you!
52. Angelika Film Center
This classic movie theater in Mockingbird Station also shows independent and art films.
53. Winspear Opera House
Catch a musical or show at the Winspear Opera House, located within the AT&T Performing Arts Center. We've watched The Nutcracker and The Phantom of the Opera at Winspear Opera House- both were excellent!
54. The Rustic
This local venue in Uptown features an outdoor patio with great live music and food made with farm-fresh ingredients.
55. The Dallas Symphony Orchestra at the Morton H Myerson Symphony Center
The Morton H Myerson Symphony Center is located in the Arts District and features concerts year-round.
56. Magnolia Theater
This theater shows both independent and Hollywood films.
57. The Children's Theater
The Dallas Children's Theater puts on Broadway-like plays that are great for kids and families
58. Texas Theater
Watch a movie at the historic Texas Theatre, and get creeped out by its ties to JFK's assassin, Lee Harvey Oswald.
59. House of Blues Dallas
Catch some rock and blues tunes at this live music & restaurant venue.
60. American Airlines Center
Home to the Dallas Stars and Dallas Mavericks, The American Airlines Center also hosts events and concerts.
61. Music Hall at Fair Park
This performing arts center opened in 1925 in its Fair Park location. It features musicals, opera, ballet, and other events.
62. The Wild Detectives
This coffee shop in the Bishop Arts District offers a different kind of entertainment- books! Read a book while sipping on your coffee.
63. Kessler Theater
This small venue features a great concert space with a separate bar/ snack area. Check their website for upcoming performers!
Shopping
One thing that Dallas is famous for is its great shopping! (It's pretty evident to me as a Dallas-based travel blogger. Almost every other Dallas blogger is a food or fashion blogger!)
So it'll come as no surprise that Dallas is full of great shopping squares and districts!
64. Dallas Farmers Market
This is one of the best things to do in Dallas if you ask me! In fact, I frequently tell any out-of-towners that they need to visit The Dallas Farmers Market on a weekend. It has two main areas: The Shed and The Market. The Shed is an open-air pavilion that is open on weekends and offers fresh produce and handmade goods from local vendors. The Market is an indoor market with restaurants and local goods, open seven days a week. Learn more about it here!
65. Central Market
I know what you're thinking. She put a grocery store on this list? Yes, yes I did. This Texas grocery store chain makes food shopping fun and offers high-quality and gourmet foods! If it's your first time in Texas, you gotta get something fun from the bakery or prepared foods section at Central Market. Or at the very least, see how many varieties of apples they have!
66. Bishop Arts District
The Bishop Arts District is a fun, artsy neighborhood where you can shop for local goods at stores that line Bishop and Davis streets. Learn more about the Bishop Arts District here!
67. Lower Greenville
Lower Greenville contains great, hip restaurants that focus on healthy/organic foods, as well as trendy bars and shops.
68. Trinity Groves
It's like one giant outdoor food court! Take your pick of restaurant or shop, it has something for everyone!
69. Knox/Henderson
The Knox/Henderson area east of Greenville Ave has some great, unique restaurants and vintage shopping stores.
70. Deep Ellum
This hipster neighborhood features great eats, bars, and stores. This is the place to be for nightlife!
71. Snider Plaza
Snider Plaza has a homey vibe with its classic shops and restaurants that offer Southern Classics (Bubba's bread rolls are a must!)
72. Highland Park Village
This upscale shopping center is located in Highland Park, and was notably the first self-contained shopping center in America! It's also extremely Instagrammable.
---
---
73. NorthPark Mall
This mall has over 200 stores and restaurants, and as a large grassy courtyard with patio dining in the middle of the mall. Check out the rotating plant and art installations throughout it!
74. The Shops at Park Lane
The Shops at Park Lane is a fun and walkable outdoor shopping spot with a Whole Foods and plenty of restaurants.
75. Mockingbird Station
Mockingbird Station is an outdoor plaza located just off of the Central Expressway. It has a decent variety of shops and restaurants and also features the Angelika movie theater.
76. West Village
This gorgeous Uptown shopping center has plenty of shops and restaurants to try out.
77. McKinney Ave
If you love furniture stores, this is the place to be! It also has some great restaurants and Wild About Harry's, an iconic Dallas custard shop.
78. Inwood Village
Check out Inwood Village for great restaurants like Flower Child, Texas Scratch Kitchen, and Rise. Inwood Village also features the historic Inwood Theater.
79. Dallas Arts District
With fine dining options, shopping, and, of course, art & design studios, the Design District brings artsy fun to Dallas.
80. Swiss Ave Historic District
Drive through this residential neighborhood, the first historic district in Dallas, which contains homes from the early 20th century that have been fully restored.
81. Historic West End
This downtown district features the John Neely Bryan Cabin, Founders' Plaza, the Sixth Floor Museum, the Dallas Holocaust Museum, and more.
Annual Events & Festivals
82. State Fair of Texas
Held in Dallas every fall at Fair Park, this is the biggest festival in all of Texas! Get ready for some famous junk food and fun rides! Learn more about what you'll find at the State Fair of Texas here!
83. Earth Day
Pretty much the opposite of the State Fair (but held in the same location), expect eco-friendly vendors and foods at Earth Day at Fair Park.
84. Taste of Dallas
This summer festival at Fair Park features food samples, live music, chef demos, etc.!
85. Texas Veggie Fair
Texas's largest VegFest celebrates everything plant-based and is held at Reverchon Park. It is usually held in November.
86. Oak Cliff Mardi Gras Parade
This parade happens right by the Bishop Arts District around Mardi Gras every year.
87. Deep Ellum Arts Festival
Usually held in April, the Deep Ellum Arts Festival is a three-day event that will wow your senses. Check out hundreds of artists from all over as they display their artwork. This festival lines the streets and also features live music and food trucks!
88. Trinity River Kite Festival
Come to this free, fun kite festival for a day of outdoor adventures and kites flying high in the air. This festival is usually held in the spring or fall.
89. St Patricks Day Parade
This free parade marches down Greenville Ave around St. Patrick's Day each year. If you happen to be visiting during this time, check street closures ahead of time! I learned that the hard way during my first month in Dallas!
90. Chinese New Year
This celebration happens in the Dallas Arts District and is accompanied by fireworks, food trucks, and activities.
91. Plano Balloon Festival
Though not technically in Dallas, the Plano Hot Air Balloon Festival is worth mentioning! This event usually occurs on a weekend in the fall, check here for updated information! It's the only place you'll see a bunch of hot air balloons all at once in North Texas!
A Bit Further Out
92. Vineyards
Believe it or not, there are a few vineyards around Dallas! My favorites are San Martino Winery and Delaney Vineyards. These two spots have some vines growing on property!
92. Shangrillama
Yes, you can see llamas near Dallas! Learn more about Shangrillama here!
94. Lake Ray Hubbard
This 22,000-acre lake is one of the largest lakes in North Texas. Located just 17 miles from downtown Dallas, spend a day out in the sun at this gorgeous lake.
95. Rockwall Harbor
With a charming lighthouse and waterfront shops/restaurants, Rockwall Harbor feels like a whole new state!
96. Horseback Riding
Choose one of many places to horseback ride near Dallas. Popular trails can be found in Southlake, Pilot Point, Rockwall, and more. There is a place to go horseback riding near downtown Dallas, surprisingly. Learn about our experience at the Texas Horse Park here!
97. Lone Star Park Horse Races
Lone Star Park in Grand Prarie, TX is a horse racing and concert venue. Check online for the racing calendar and for upcoming events!
98. Coyote Drive-in Theater
This Fort Worth theater offers outdoor movies with a big, covered pavilion that serves food and drinks alongside your entertainment.
99. Monnig Meteorite Gallery
This museum is on the campus of Texas Christian University in Fort Worth. Let out your inner space geek as you join in on this interactive experience.
100. Fort Worth Water Gardens
This fountain oasis can been found next to the Fort Worth Convention Center. This urban park boasts gorgeous fountains throughout the year.
101. Fort Worth Stockyards
Step back into the Wild West as you explore these historic stockyards. Get a feel for history while you do some shopping, dining, and see some entertainment (like a cattle drive!). And be sure to check out the rodeo while you're here- it's a Texas experience you won't want to miss.
In conclusion…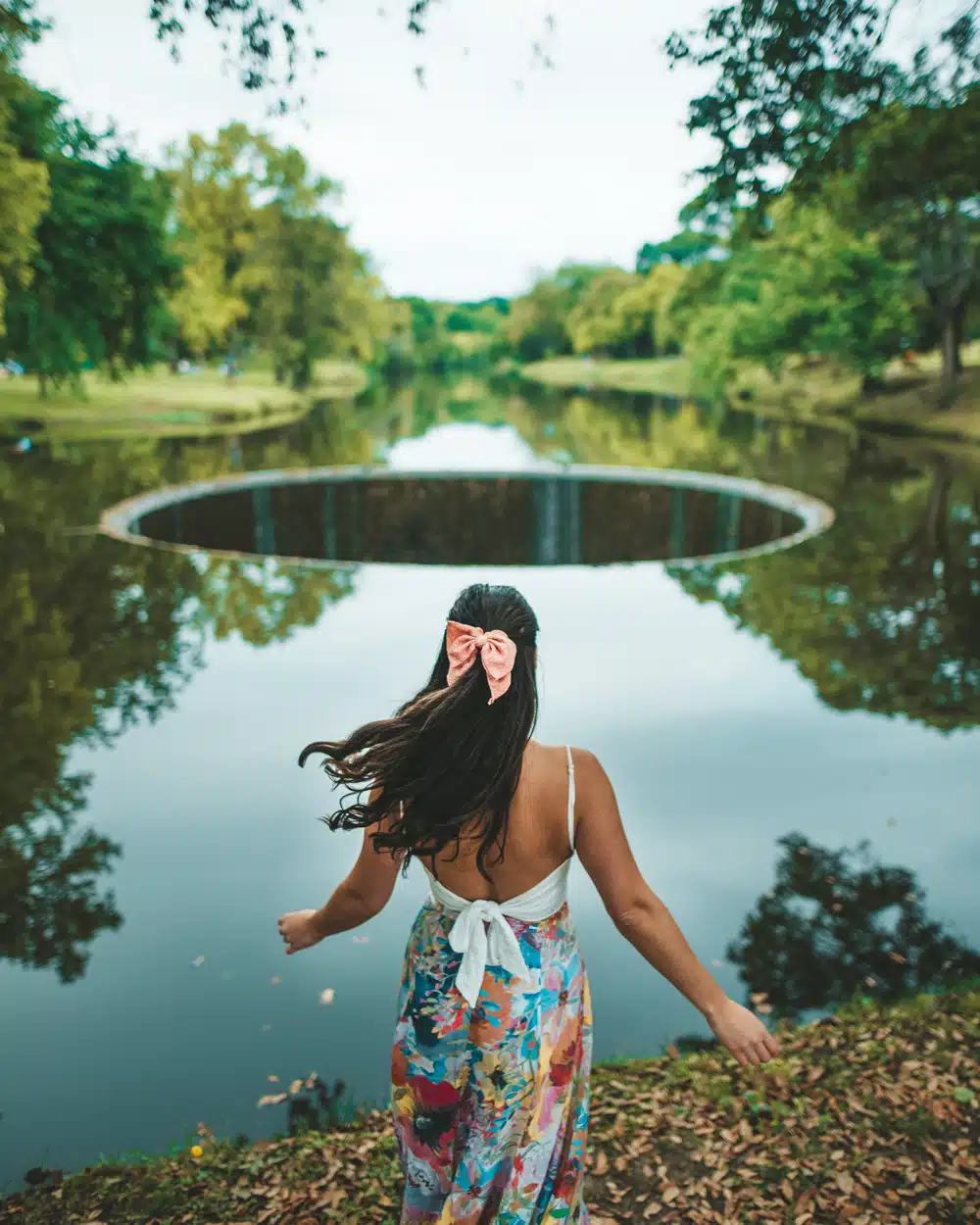 Phew, that's a lot of things to do in Dallas!
But the crazy thing is, I'm sure there are some that I forgot to include on this list! So if you're a Dallas local or know of something fun that deserves to be on this list, comment below!
Check out this post to see where you can find the spot in the photo above.
And if you have any Dallas-related questions (or if you found this list helpful!), let me know in the comments!
While you're on the topic of exploring the Big D, here are some more Dallas related articles:
Or just head straight to my Dallas archives here, where you'll find all of my Dallas related posts!
Happy exploring!
Jasmine