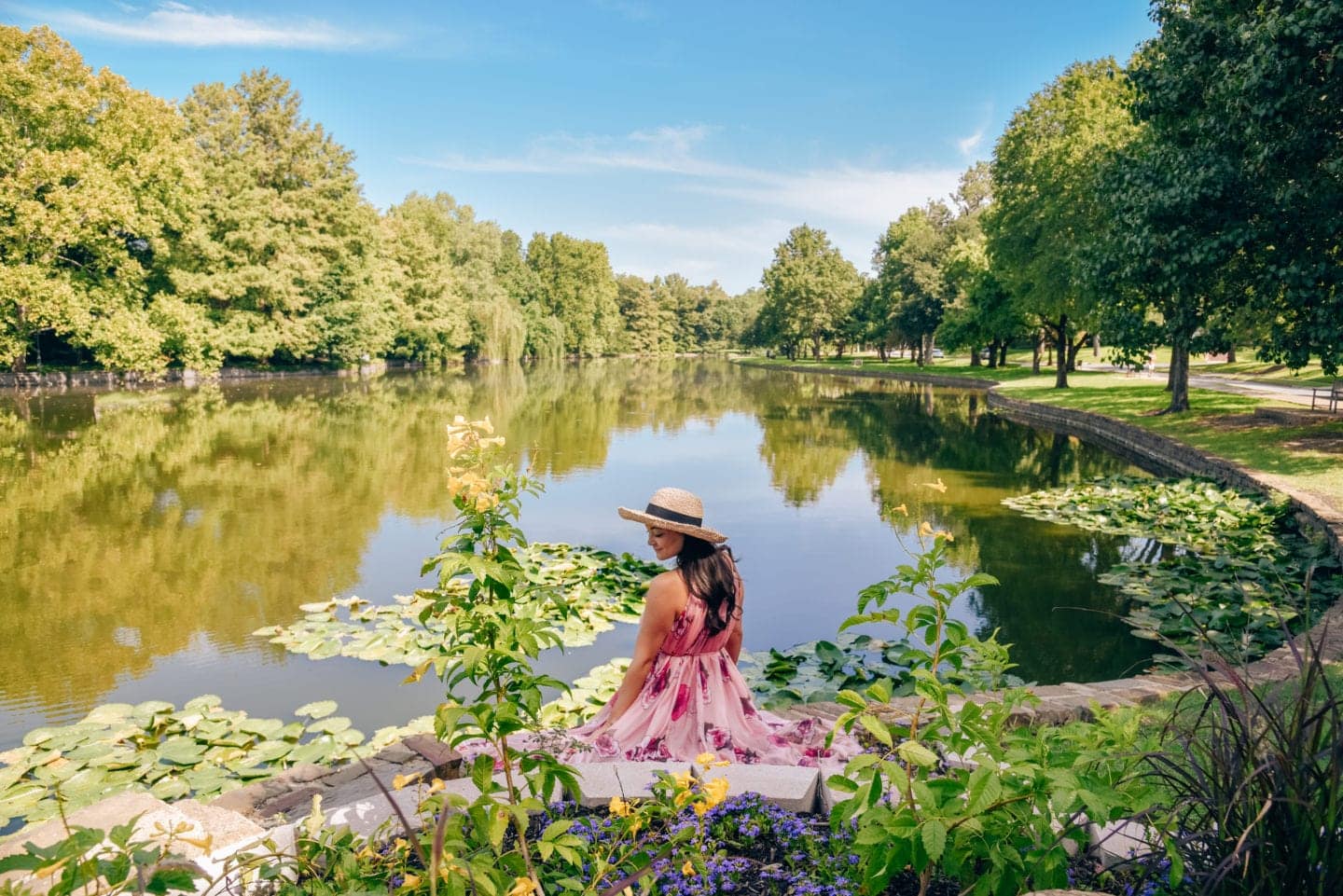 Looking for the most Instagrammable places in Dallas?
Well this post has been a long time coming!
I've lived in Dallas since 2015 and have been an Instagram Influencer since 2017.
Within that time, I've discovered plenty of places that have made it on to my Instagram because of their beauty.
But it definitely hasn't been easy.
Recently I've had the mindset that this city isn't very Instagrammable.
There aren't enough colorful houses or buildings, for one.
We aren't near mountains or the beach.
There's not a whole lot of nature.
But when making this post, I've realized there are plenty of gram-worthy spots in this city. You just need to look hard enough to find them!
The challenge is worth it!
It forces me to use my creativity muscle, and each new place I find brings me so much joy!
Sure, you could go through my Instagram and pick out the Dallas posts, but I figured I'd make it much easier for you!
Without further ado, I bring you the 53 most Instagrammable places in Dallas!
(Check out this post of the 24 most photo-worthy places in Fort Worth if you're exploring the greater DFW area!)
Map of Locations
Parks & Nature
1. White Rock Lake Docks
This is the biggest lake in the immediate Dallas area and it offers so many different photo opportunities! The docks at the lake are especially Instagrammable. If you're looking for Dallas Instagram spots, add this one to your list!
2. Around White Rock Lake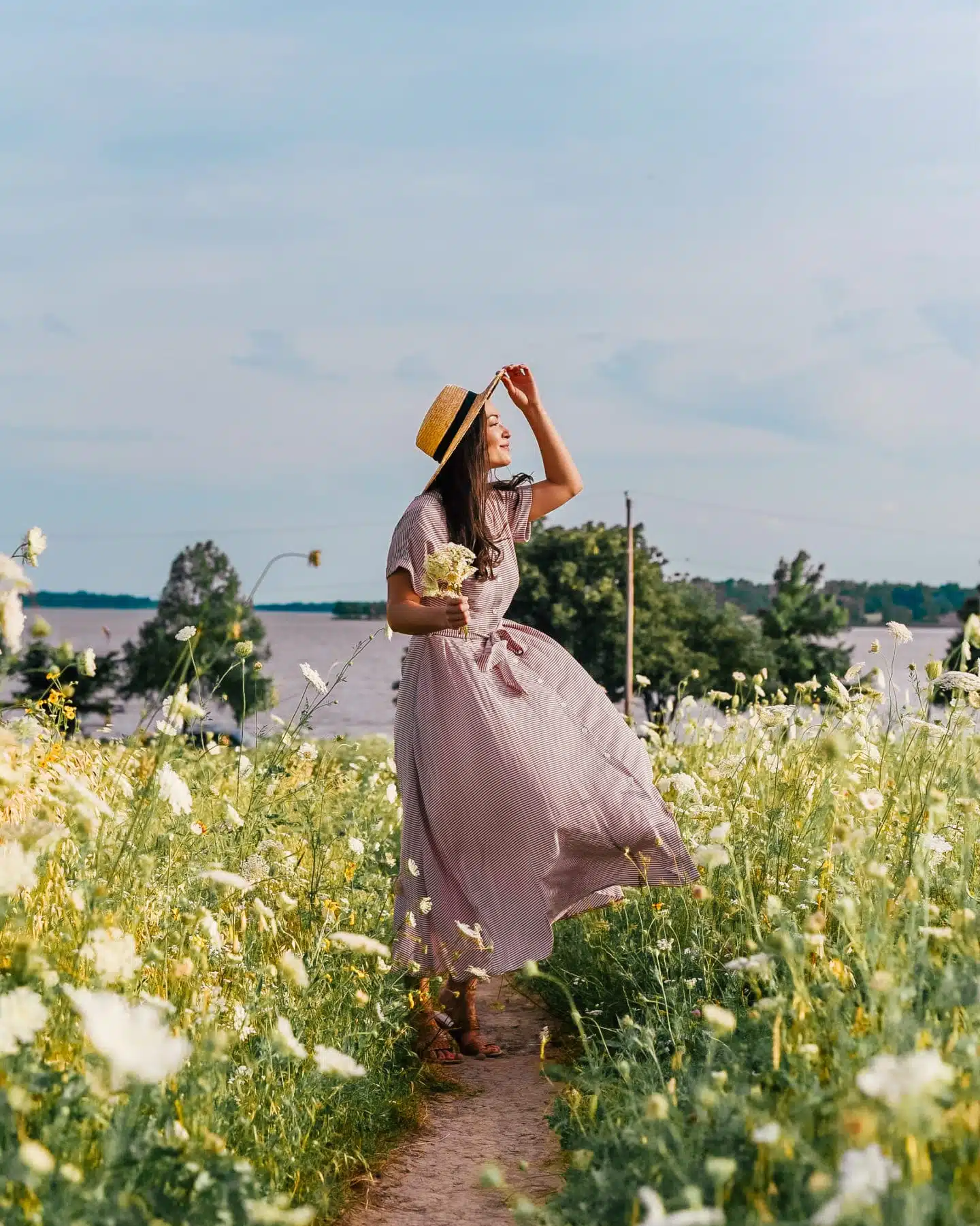 While you're at White Rock Lake, don't miss out on the potential for safari-like views!!
It requires a bit of location-scouting and vision, but this is definitely an Instagram-worthy place in Dallas! I'm actually right next to the road in this photo!
Winfrey Point
Winfrey Point is right around White Rock Lake and the grass here is always changing.
My favorites are when the little white flowers are in bloom or when the grass is tall like it is here!
You can read more in my guide to White Rock Lake.
3. Cedar Ridge Preserve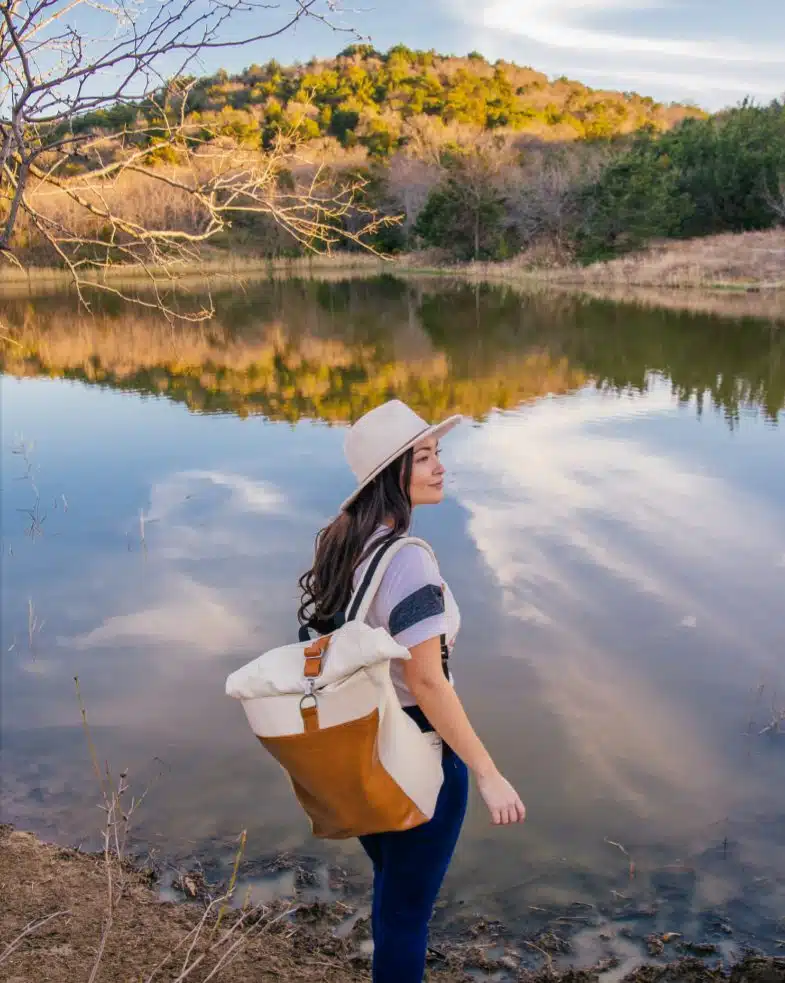 This is a recent discovery that I can't wait to return to! Cedar Ridge Preserve is free to enter and this spot requires a hike. How incredible is this view, though?
4. Lakeside Park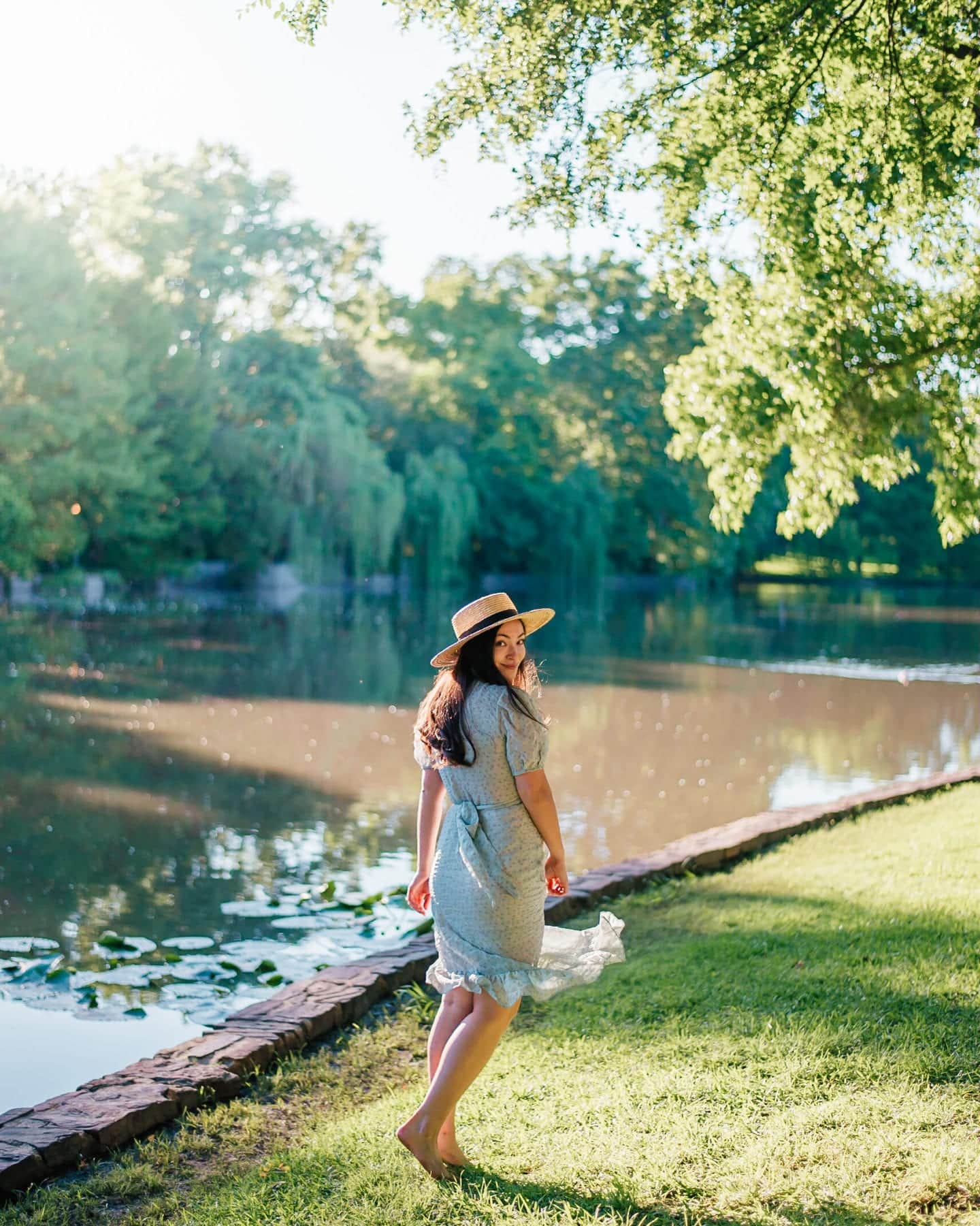 This is hands-down one of my favorite parks in Dallas and is also one of the most Instagram worthy places in Dallas.
My husband, Harrison, actually proposed to me on this bridge! Read this post to see all of the different areas of Lakeside Park.
5. The Dallas Arboretum
The Dallas Arboretum is one of my go-to places when finding a photo spot. And this reflecting pool is definitely my favorite spot at the Arboretum!
6. Flippen Park
This park has the prettiest gazebo in Dallas, hands down. Check out more here!
7. Turtle Creek Parks
See more angles of these beautiful parks on this post!
8. Trammell Crow Park
Trammell Crow Park has great views of the Dallas Skyline, but I'd recommend bringing a zoom lens so the city appears larger in the background.
Urban
9. Lovers Lane DART Station
I love the symmetry of this DART station! There is a crossing path that goes right over the train tracks which makes for great photos!
Just be safe and be aware of trains coming!
This is not a tri-pod safe place, in my opinion. People are constantly walking around this area not to mention the trains are constantly coming in and out).
10. Lemmon Lake railroad
I call this the Lemmon Lake railroad because we discovered it while looking for Lemmon Lake (which we never found).
The actual location of this railroad is on Simpson Stuart Rd. This is an active rail road, so be safe!
11. Mockingbird Station Pedestrian Bridge
When people think of Instagram worthy places in Dallas, they probably don't think of Mockingbird Station. But it actually has a ton of cute photo spots! My go-to is the bridge, which is where you'll find these stairs.
The University Crossing Trail runs right over the bridge, and the stairs are located on the south side of the bridge after it crosses Mockingbird.
12. Mockingbird Station Stairs
Looking for a pop of color on some stairs? Look no further! Just beware- DSLR photography is not permitted here, so shoot at your own risk! Or use a phone, and/or just keep an eye out for security.
13. The Crescent Hotel
The Crescent Hotel is especially beautiful during Christmastime when they're all decked out for the holidays!
14. Margaret Hunt Hill Bridge
This bridge blends incredible views of Dallas with the neat architecture of the Margaret Hunt Hill Bridge!
To get there, head towards Trinity Groves, turn onto Gulden Lane, then make a right into the parking lot before it veers left.
15. Flea Style
I love the colorful, pink murals outside of Flea Style!
When you're done shooting your photos, head inside to shop for some gorgeous clothing, accessories, and more!
16. Corner of Main and Ervay
Of all the Dallas Instagram spots, this one offers the most Parisian view! The architecture here is really what makes this spot Instagrammable.
17. Highland Park Village criss cross wall
If you need a statement background with a garden feel, this pretty wall does the trick!
18. Highland Park Village Stairs
These Spanish tile stairs always make for a gorgeous backdrop! You'll find stairs like these in a few places within Highland Park Village, but the ones pictured here are in the back across from the movie theater.
---
Shop the post

---
19. The Adolphus Hotel
I love the interior of the Adolphus Hotel! It is beautifully designed with eclectic vibes, rich leathers, and oriental carpets!
And the pool has a pretty cool side view of Dallas.
20. Stanley Korshak at the Crescent
This whole shopping area is absolutely beautiful! The high-end designer stores surround a pretty courtyard with gorgeous architectural details!
21. Highland Park Town Offices
There are several sections of the Highland Park Town Offices that are Instagrammable. For one, there's a Spanish tile fountain, right in the middle, while yet another shows off the cute style of the building itself.
The HP Town Offices Garden
If you want a more naturey vibe, the Highland Park Town Hall also has a garden. Here is the view overlooking the pretty green garden area!
22. The Beauty Bar Cherry Wall
This one can be a challenge to shoot if you're going during the daytime. If you want a front facing shot, where the wall is parallel to your camera, you'd actually have to photograph from across the street, since the sidewalk is narrow.
My suggestion: shoot this photo at an angle!
23. Museum of Memories
Look no further for the cutest pop-up museum in Dallas!
The interiors rotate with the seasons, so you never know what cute set up you'll find at the Museum of Memories!
24. Highland Park United Methodist Church
For the closest thing you'll find to castle vibes in Dallas, head to Highland Park United Methodist Church!
I'd advise not trying to shoot photos on a Sunday, since that tends to be its most crowded day! Of course if you want to go to attend church, by all means, head there on a Sunday! 🙂
25. Bishop Arts District murals
There are so many cute murals at the Bishop Arts District during their construction time (which seems to be going on forever!). Good for us though, because it means these murals are up longer!
26. Dallas Heritage Village
This place is unlike any other and so it definitely made my list of Dallas Instagram spots. You get to learn about the history of this city while seeing how people lived way back when! Learn more here!
---
---
27. The Dallas Farmers Market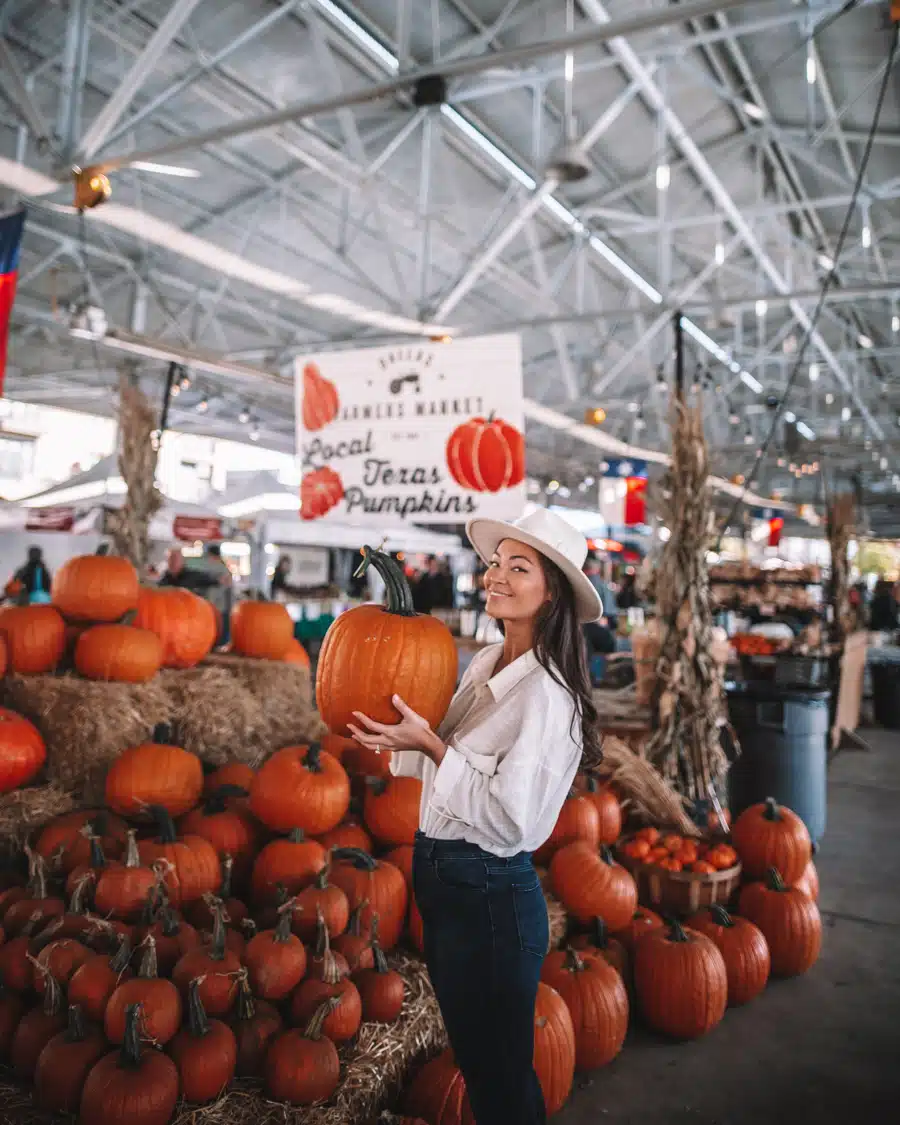 The Dallas Farmers Market is not just Instagrammable, it's also one of my top recommendations for things to do in Dallas! Go on the weekend when The Shed is open so that you can shop local produce!
If a weekday is your only option, you can still check out The Market, the indoor section of the Dallas Farmers Market. This section has several food stalls and shops.
28. West Village murals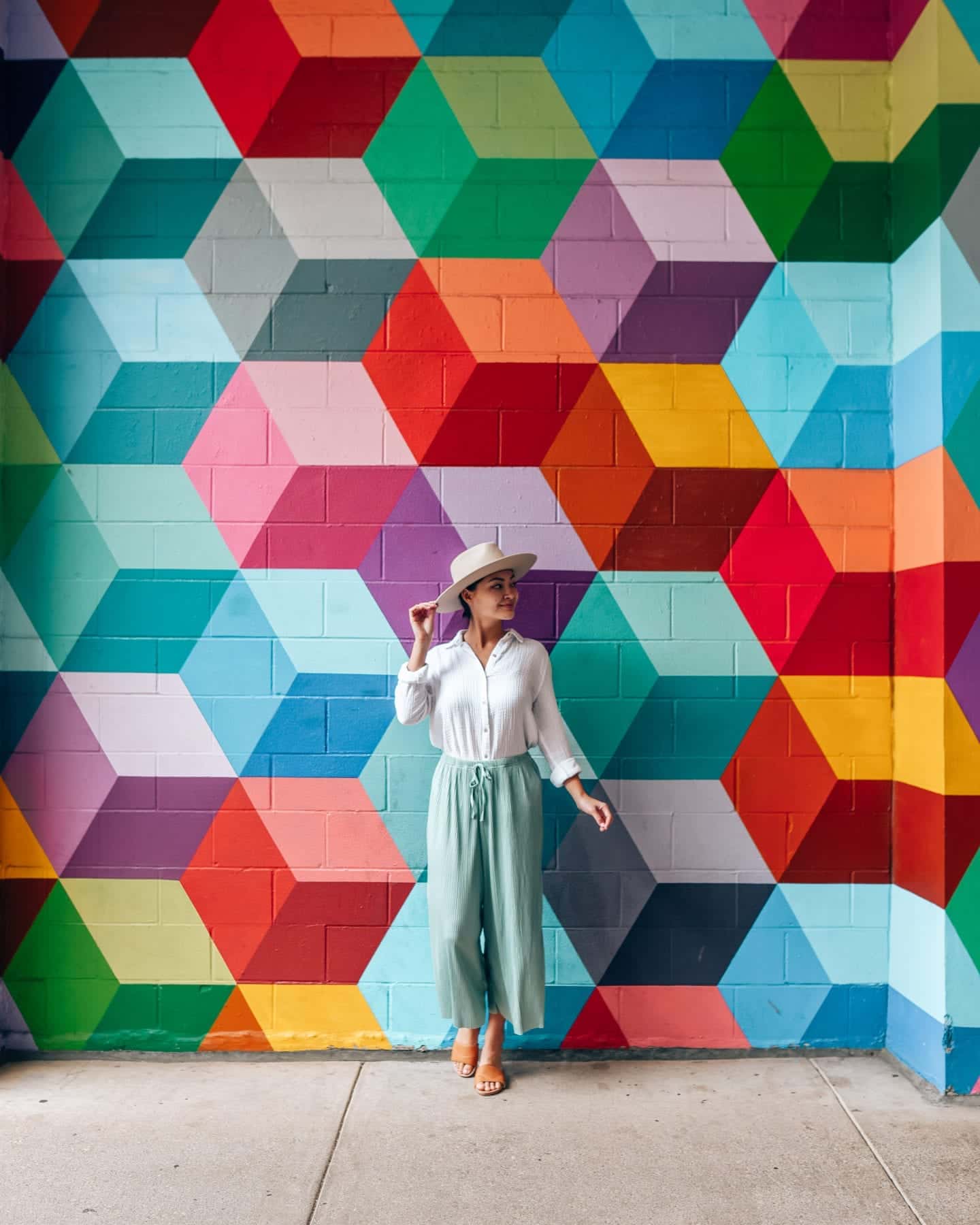 These murals are located in the West Village parking garage and are situated without any parking in front of them!
Score! That makes for a great photo, y'all!
I know people often turn to Deep Ellum when mural hunting, but the problem there is that there are so many murals blocked by parked cars!
Not a problem here!
The only thing is if you want to capture the whole mural on a phone or non-wide-angle lens, you'll need to keep an eye out to make sure cars aren't coming!
Restaurants
29. The Conservatory at the Crescent Hotel
Read about our staycation at the hotel here!
I love this restaurant because it is surrounded by tall glass windows!
30. Garden Cafe
This place did farm-to-table before it was cool. And how breathtaking is their garden??
31. City Hall Bistro at The Adolphus
The City Hall Bistro is located in The Adolphus Hotel, and they complement their food with some beautiful interiors! See more here!
32. Bubbas
While you're getting your 50's-themed shot at Bubbas, be sure to stop in for the most delicious biscuits and rolls.
33. Boulangerie