Looking for flower fields in Dallas?
Well, you're in luck!
Flowers show up seasonally throughout the year in Dallas, with the majority blooming in the spring and summer.
As an Instagram influencer, flower fields make for a gorgeous backdrop for photos, so naturally, I'm always on the hunt for them.
After living here for over 5 years, I feel I can safely say I've gotten a good handle on the best flower fields in and around Dallas.
I'll cover bluebonnets, tulips, sunflowers, and other flower fields near Dallas!
So without further ado, here are where you can find flower fields in Dallas, and when you should visit for the best blooms!
*Disclaimer: Please be careful to never trample the flowers! We want these beauties to last for everyone to see!*
Bluebonnets near Dallas
I'll start with our State flower: the Texas Bluebonnet.
Bluebonnets bloom in March and April, with the majority of bluebonnet fields in Ennis.
Ennis Bluebonnet Trail
Ennis is an hour-long drive from Dallas, but trust me, these gorgeous blooms are worth it!
Also, you might get a blend of bluebonnets and Indian Paintbrushes depending on when you go.
Check the Ennis Bluebonnet Trails website here before visiting to learn the current status of these blooms; they update the website every week with information.
Rules: No picking the flowers!
Sugar Ridge Road
You can find my favorite field alongside Sugar Ridge Road right by Ennis.
The first year I went, I went during peak season and it was full of bluebonnets!
But in 2020 I visited at the end of the season and found a bunch of Indian Paintbrushes mixed in with the bluebonnets here instead.
Read more about the Ennis Bluebonnets here.
Tulips Near Dallas
There's only one place near Dallas where you can see tulips in rows like the photo below, and that place is:
Texas Tulips
Tulips are the earliest blooming flowers in Texas, blooming as early as February!
There are two locations of Texas Tulips, one in Pilot Point and the other in San Antonio.
Since this list is focusing on flower fields near Dallas, I'll cover the Pilot Point location here.
Usually the tulips are in bloom from late February until early April, but this depends on the weather.
There is a $5 entrance fee at Texas Tulips, and each tulip stem costs $2.50.
The Texas Tulips website informs you about how many Tulips are in bloom so check it before going.
Read more about Texas Tulips here.
Sunflower Fields Near Dallas
Did you know there are multiple sunflower fields in Dallas?
Well- more like around Dallas.
But trust me, these are worth the drive if you want a photo with sunflowers! These fields are gorgeous, I hope you fall in love with them like I did!
Wild Berry Farms Sunflowers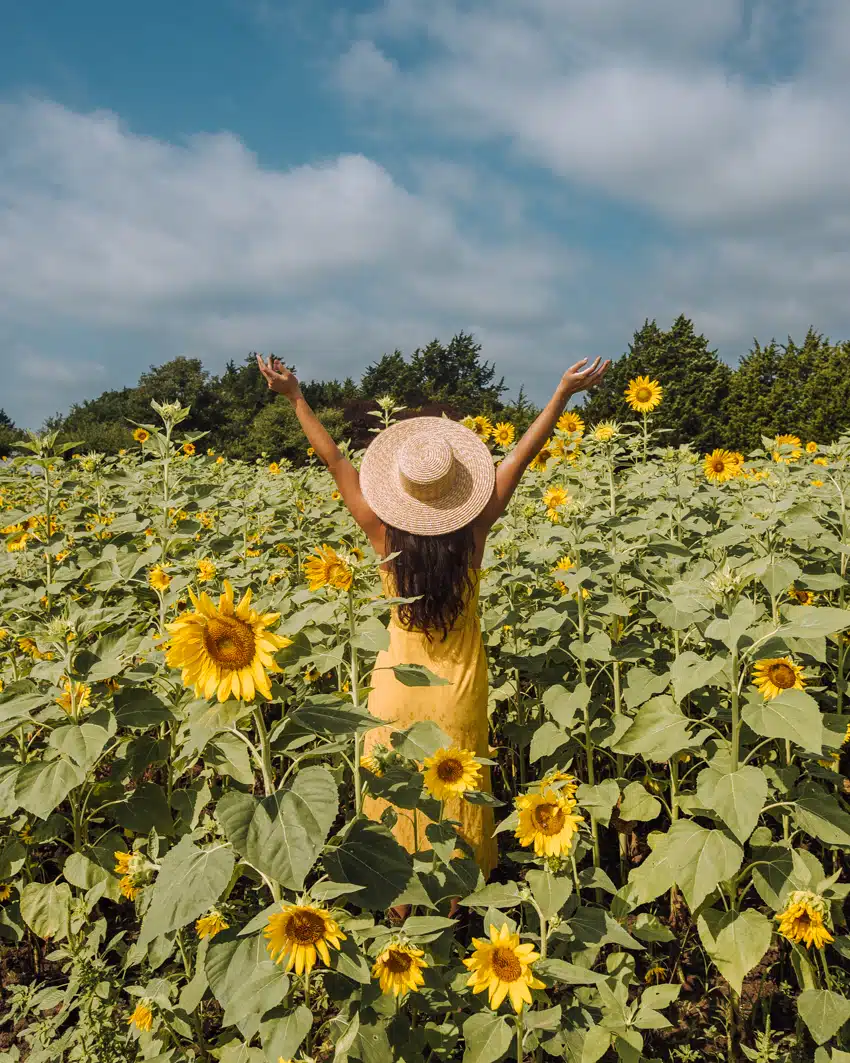 Wild Berry Farms is in Sadler, TX, about an hour directly north of Dallas. There is a $5 entrance fee to enter the farm, and each sunflower stem costs $2.
Bring scissors and a vase so that you can bring home your favorite sunflower stems!
Also, there's more to do than just see the sunflowers here!
You can go berry picking and look at the cute goats and other farm animals they have on-site.
Their sunflowers bloom in June/July and then again in October, but you can easily check their site here to check on the flower status before visiting.
Highway Sunflowers
There are not one but three great places along roads or highways where you'll find gorgeous rows of sunflowers.
About an hour south of Dallas in Hillsboro along Highway 35, you'll find the magnificent sunflower field pictured above. (Exact coordinates for this location: 32°04'39.5″N 97°06'18.1″W.)
It is literally right off the highway, so you just park on the shoulder and take a photo in front of the rows and rows of flowers here!
We visited on July 1st in 2020 and they were in full bloom.
You can find two sunflower fields right off of the highway in Ennis along Hwy 287, north of the Texas Motorplex.
And the last big sunflower field I know of is a full mile of sunflowers on Fiddlers Road in Whitewright, TX.
Be respectful of the flowers because these are private farms.
Yesterland Farm (mini sunflower season)
Come mid-September, Yesterland Farm in Canton has sunflowers during their opening weekend! They don't mention it specifically on their website but their Instagram has updates on the sunflowers!
Other flower fields near Dallas
I've covered bluebonnets, tulips, and sunflowers, and now it's time for wildflowers!
White Rock Lake wildflowers
White Rock Lake is in the heart of Dallas and is one of my favorite spots to shoot photos, whether there are flowers or not.
Starting in April or May, white flowers pop up in the fields of White Rock Lake, and they usually last until June.
For reference, this photo was taken at the end of May.
I'm not entirely sure what kind of flowers these are, but they are potentially Yarrow (according to an app on my phone).
Read more about what you'll find at White Rock Lake here!
---
---
Notable mentions:
While these aren't fields of flowers, they are still gorgeous places to look at flowers!
The Tyler Rose Garden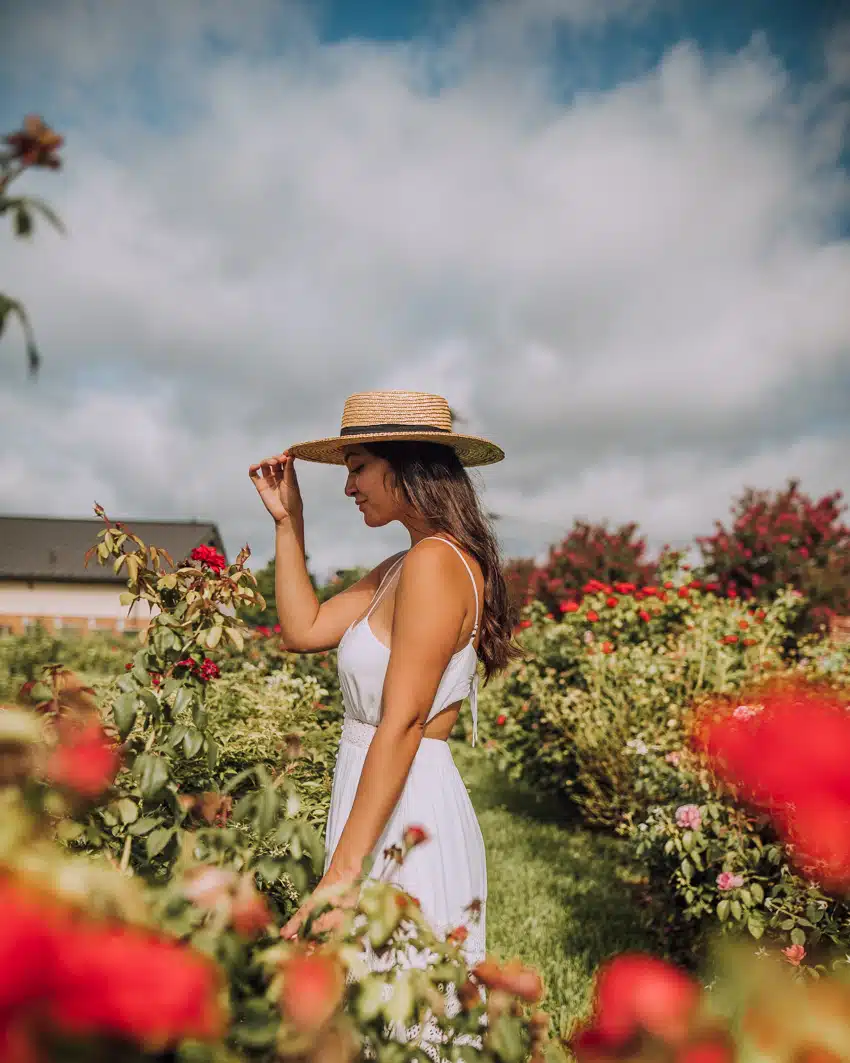 This is the largest rose garden in America and is rightfully located in "the Rose Capital of America" (aka. Tyler, Texas).
The roses are at their peak in mid-to-late May and October, but there are roses all year round in different areas of the garden. (For instance, I took this photo in July and found these bushes in bloom.)
And great news- it's free to enter!
Learn more about things to do in Tyler here!
Random flowers in Garland
We happened upon these wildflowers when we were at Firewheel Town Center at the end of June in 2019.
A few weeks later, even more were in bloom!
This location is pretty much purely if you need flowers to shoot in front of for a quick photo.
Why? Well, you're basically in a parking lot!
You can't tell, but right behind me in this photo is a small road, and in front of me is the edge of the parking lot for Firewheel.
The location is right by the intersection of Theatre Way and Horseshoe Drive.
Flippen Park
I dub Flippen Park "the most beautiful park in Dallas," and one reason why is because it is always perfectly landscaped!
For most of late spring and early summer, you'll see the flowers you see here.
They are behind the gorgeous gazebo at Flippen Park… check it out here!
The Dallas Arboretum
The Dallas Arboretum is full of flowers and beautiful fountains. It's worth visiting all year round!
There is usually some sort of theme, like tulips in the spring and 12 Days of Christmas in the winter.
Unless you have a membership, it costs $17 per adult to enter (you can see full admission info here).
It's also on my list of Instagrammable Places in Dallas, which you can see here!
The Fort Worth Botanic Garden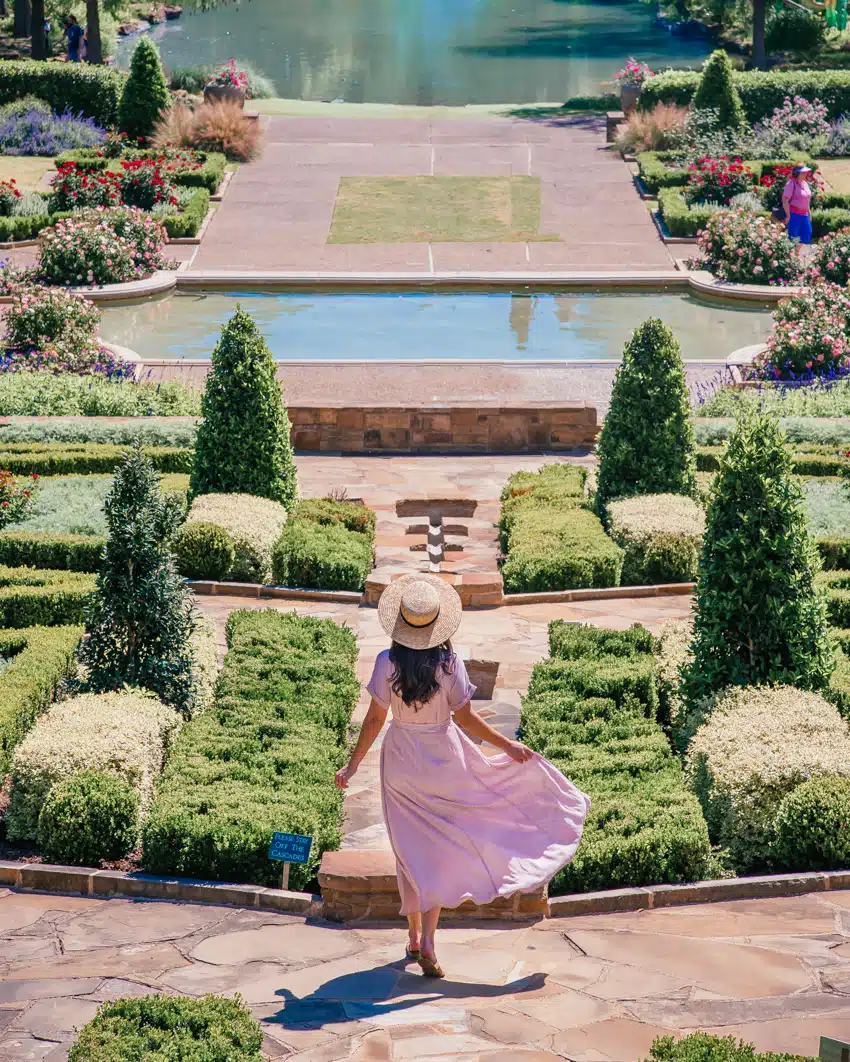 Established in 1934, the Fort Worth Botanic Garden is the oldest major botanic garden in Texas!
Be prepared to walk a lot as this garden is huge!
My favorite parts of the garden are the rose garden and the Japanese garden.
Admission is $12 for adults; you can see ticketing info and hours here.
Other seasonal crops
Flowers aren't the only things that bloom near Dallas! Here are some crops that grow around here that are also photo-worthy and fun to explore.
Blueberries
My favorite blueberry farm is Blueberry Hill Farm in Edom, TX.
With rows and rows of blueberries and a shop that sells delicious blueberry donuts, this place is a MUST!
Peak blueberry season is usually in June and July, but you'll want to check their site here before visiting to make sure the blueberries are ripe for picking.
There is also another blueberry farm in Tyler, the Tyler Blueberry Farm.
Pumpkins
Some of my pumpkin patches for pumpkin photos near Dallas are Halls Pumpkin Farm in Grapevine, TX, and Ruibals at the Dallas Farmer's Market (pictured above).
Both places usually set their patches up in September, but you can check their social feeds and websites to confirm when they're ready.
Check out my full guide to pumpkin patches in DFW here! It has 25 pumpkin patches on it, a map of their locations, and my favorite fall photo spots!
Vineyards
Here is a list of some fantastic wineries that have vineyards near Dallas:
Kiepersol Winery is my favorite! Absolutely beautiful but it is about 2 hours away near Tyler.
Hidden Hangar Winery in Denison
San Martino Winery in Rockwall
Eden Hill Winery & Vineyards in Celina
Delaney Vineyards in Grapevine
Vines in Texas usually start growing in mid-to-late March and aren't at their full thickness for a couple of months.
The vines stay green usually until October, so chances are good you'll see full vines from late May to early October.
In conclusion…
I hope you are excited to check out flower fields in Dallas!
Make sure you plan ahead to ensure whatever flower you want to see is in bloom when you visit!
And if you know of any flower fields that I haven't mentioned, please let me know in the comments!
Happy flower finding,
Jasmine
PS. If you found this post helpful, please share it to Pinterest! You can use any of the pins below for easy pinning!