In 2018, Harrison and I made an impromptu trip to Tyler, TX.
Equipped with a to-do list from my Tyler native friend, we tried to hit as many spots as we could in one weekend.
We ended up with a list of 12 things to do in Tyler.
After we got back from Tyler, I knew I wanted to share our list because of how incredible Tyler is- it's such a gem of East Texas!
There were obviously more things to do in Tyler than just my original list of twelve things, but I figured it would be a good starter list to share with you.
Little did I know that a bunch of wonderful Tyler natives would comment all of their favorite spots over the year- so many that I have now changed this post to be 30 things to do in Tyler!
I've divided them into the categories you'll see in the Table of Contents below.
And if you've been to Tyler and have someplace you love to visit that isn't on this list, comment below! I'll check it out on my next trip!
Map of locations
---
Parks & Nature
1. Explore the beauty of the Tyler Rose Garden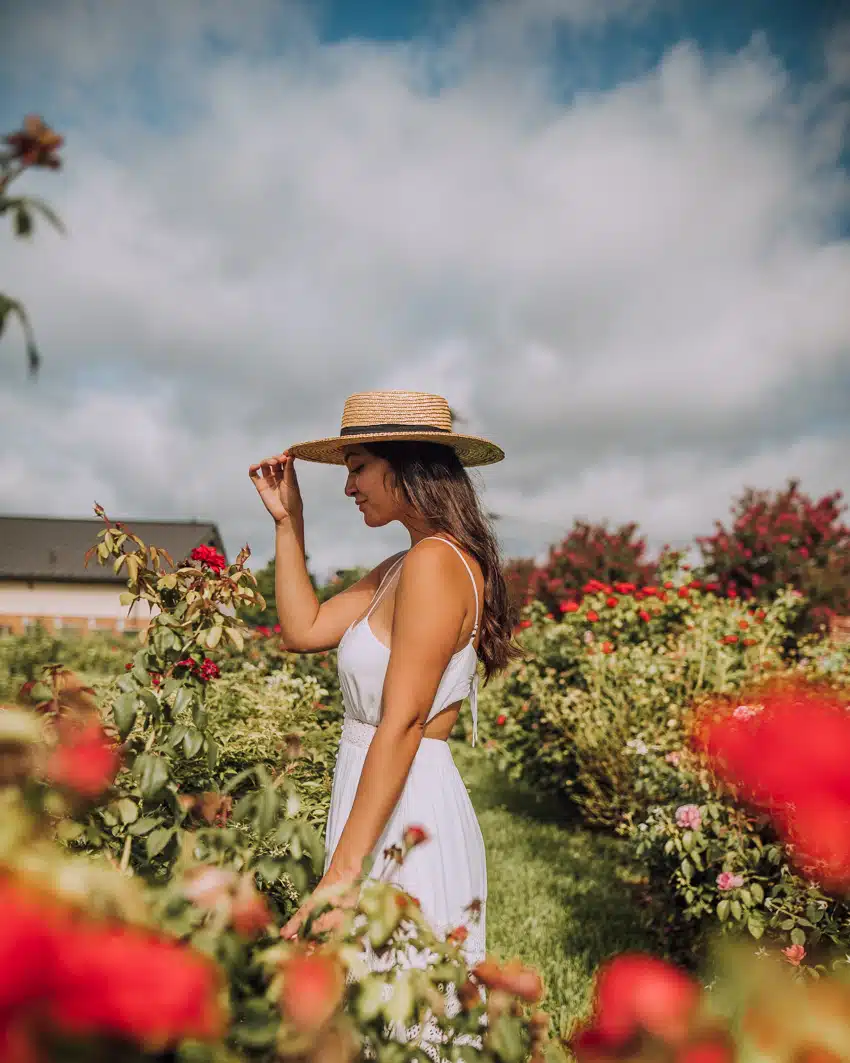 As the largest rose garden in America, you won't be disappointed.
Over its 14 acres, you'll find 35,000 rose bushes and more than 500 types of roses!
So take your time wandering through rows of roses and enjoying the beauty.
Peak rose season is in mid-to-late May and October, but the garden has various blooms year round!
Entry to the garden is actually free, and the garden is open daily from dawn to dusk.
While you're there, be sure to check out the Tyler Rose Museum and gift shop, both located inside the building that serves as a gateway to the garden.
The museum shares the history of Tyler's roses and the annual Rose Festival.
Check out all of the different features of the Rose Garden here.
2. See the view from Love's Lookout
If you're a fan of stunning views (but really, who isn't?), Love's Lookout in Jacksonville, TX has one for you.
Located 30 minutes south of Tyler, you can visit this designated overlook spot to take in some incredible views!
3. Drive through the Azalea Trails
I have to admit, we were kind of confused about the Azalea Trails.
We were expecting a walking trail through a garden or something like that.
What it actually is is a driving route through neighborhoods known for their gorgeous Azalea blooms in March.
You'll want to make sure you do the Azalea Trails when the flowers are actually in bloom, so be sure to check on their website before making the drive.
4. Pick blueberries at Tyler Blueberry Farm
This U-Pick blueberry farm is right up the road from the Caldwell Zoo.
If bushes weighed down with sweet, ripe blueberries doesn't sound like a U-Pick heaven to you, I don't know what will!
This kid-friendly farm opens in June and July for blueberry season!
Check out their website here to make sure they're in season!
While I haven't personally visited, I can't wait to check this out when they open for blueberry picking in 2020!
5. Or pick them at Blueberry Hills Farm
Here's another blueberry farm for you! This one is located in Edom.
Just like the Tyler Blueberry Farm, this is a seasonal activity (June/July) and it is a must!
We had so much fun blueberry picking at Blueberry Hills Farm in Edom, TX. Their country store is stocked with all sorts of yummy blueberry goods!
Don't forget to try their blueberry donuts/scones/muffins/fro-yo while you're there!
6. Visit Mrs. Lee's Daffodil Garden
Mrs. Lee's Daffodil Garden is located midway between Tyler and Gladewater.
From mid-February until roughly the end of March, Mrs. Lee's garden fills up with beautiful yellow daffodils!
The flowers bloom across 28 acres.
As you explore the 4 mile trail that takes you throughout the farm, the path leads you around two lakes, between wooded valleys, and circles a picturesque replica pioneer log cabin!
Call the gardens directly at (903)-845-5780 to check road conditions (they close when the roads are wet) and to make sure the flowers are in bloom!
And a tip from a Tyler native: while in Gladewater there are antique shops to explore, so be sure to stop by those as well!
7. Hike through Tyler State Park
The piney woods of Tyler State Park will submerge you in the beauty of East Texas nature.
Camping spots and over 13 miles of hiking and biking trails surround Tyler State Park Lake in one big loop.
If you don't want to camp out in a tent or RV, there are small cabins for rent!
There are designated swimming areas as well as plenty of opportunities for water activities: paddleboarding, kayaking, fishing, canoeing, etc.
You can rent a boat or bring your own! (Motorboats under the 5mph limit are allowed).
For all you fishers out there, you'll typically find bass, catfish, perch, and crappie in the lake. And as long as you fish from shore, you do not need a fishing license in a state park.
And you won't be totally roughing it here- their other amenities include a convenience store, picnic areas, and restrooms with showers.
Entrance fees:
$6 for adults
free for children under 12.
Read more about everything you need to know before visiting Tyler State Park here!
8. Go fishing at The Boulders
Whether you want to go camping, fishing, or boating, The Boulders at Lake Tyler is the perfect place for all of the above.
They have RV and camping sites as well as four cabins for rent, which you can reserve here.
You can also rent a pontoon boat or get any fishing gear you need at their main shop.
I woke up at sunrise to capture the shot you see above, and it was a perfectly quiet and beautiful morning on the lake- worth the early wake up call!
Activities & Events
9. Feed giraffes at the Caldwell Zoo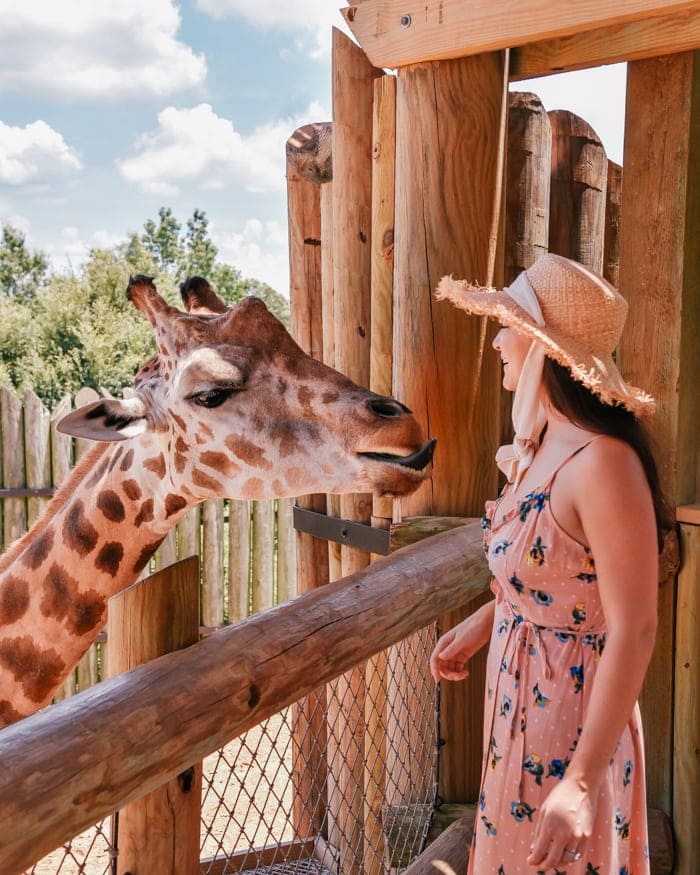 Even for being a relatively small zoo, the Caldwell Zoo in Tyler has a ton of animal variety!
When we visited, we even saw a white tiger!
The 85-acre zoo is incredibly manicured with clearly marked paths.
The best part is feeding the giraffes- for $5 extra you get 3 pieces of lettuce. It's worth it!
Entrance fees:
$14.50 for adults
$10.50 for ages 3-12
free for children 2 and under
You can read more about my experience at Caldwell Zoo here!
10. Go on a safari at Cherokee Trace Safari
Cherokee Trace Drive Through Safari is about 30 minutes from Tyler, and will make you feel like you are on a real safari!
The Cherokee Trace Drive Through Safari features over two dozen types of exotic and endangered species.
The animals live in open habitats similar to their native habitats!
Here are some of the animals you'll most likely see: camels, zebras, deer, bison, emus, llamas, and even a kangaroo!
As you drive through the park, you'll feed all sorts of animals over the 300 acre park.
A tip from a local: buy extra food! It's worth it to make sure you can feed all the animals you want!
Entrance fees:
$16.95 for adults
$11.95 for ages 3-12
free for children 2 and under
11. See big cats at Tiger Creek Animal Sanctuary
Tiger Creek is a big cat rescue just north of I-20. It is not only a great place to visit but such a worthy cause!
This preserve rescues lions, tigers, leopards, and more!
A tour here lasts about an hour; you'll learn all about how they feed and take care of their 35 big cats.
Entrance fees:
$20 for adults
$16 for ages 4-12
Free for children under 4
12. Do a wine tasting at Kiepersol Winery
This is by far my favorite vineyard in and around East Texas and Dallas!
It is stunningly beautiful when the vines are in bloom, with rows and rows of vines.
Whether you choose a self guided tour or a pro tour of the distillery, Kipersol offers great experiences among its 63 acres of vines.
Don't forget to finish off with a glass of wine or two! Read about our experience here.
13. Watch a Texas sunset
The reason why I love sunsets in Tyler, particularly, is there are so many good places to view them.
When you're driving through the countryside, you can see the most glorious sunsets as they touch the earth.
Way better than city sunsets if you ask me!
The photos above were taken in and around the restaurant Lago del Pino.
---
When you`re driving through the Texas countryside enjoying the glorious sunset view make sure you keep an eye on your work with Citrix VDI and Quick Books Hosting. Visit Apps4Rent now !
---
14. Stay at High Hill Farm
I wouldn't have found this place if it weren't for a comment on my original Tyler post!
With luxury bungalows, a gorgeous pool, a vineyard, restaurant that serves up locally-sourced dishes, and more, High Hill Farm is easily my favorite place to stay in East Texas.
In addition to their many amenities, there is so much to explore at High Hill Farm.
I followed their property map on a solo hike past the on-site vineyard and through the forest to a spot marked Sunset Point. As the sun streamed through the trees, I walked past stretches of pastures and listened to the birds calling.
Then, since it was in the hot July heat, as soon as I got back I jumped into the pool to cool off!
It was a wonderful way to spend the afternoon!
15. Let space amaze you at the planetarium
Hudnall Planetarium at the Earth and Space Science Center at Tyler Junior College will give you a new appreciation for our beautiful galaxy!
This planetarium was built in 1963- and was the first planetarium in East Texas!
It has since been renovated (in 2011) and now boasts the latest in digital projection technology!
The variety of shows at the planetarium are designed with different ages in mind, so check here to find the show that would best suit you!
16. Catch a show at the Cowan Center
The Cowan Center at UT Tyler offers a great variety of shows year round!
Here you'll find new Broadway hits and great performing artists every year.
Check out their website here to see what's playing right now!
17. Check out the annual Rose Festival
One of the things Tyler is most famous for is their annual Rose Festival in the fall.
This three-day event is held each year to commemorate Tyler's remarkable rose industry and history!
Mark your calendar! It is celebrated during the third weekend of October, and typically tickets go on sale starting September 1st.
Here are some tips from Amy, who grew up in Tyler:
"You'll find art and flea market booths at Bergfeld Park, Queen's Tea at the Rose Garden, and of course the Rose Parade.
The RF Coronation tickets are worth it to see the Ladies-in-Waiting, Duchesses, and the Rose Queen's gowns!"
Museums
18. Goodman Museum
Stop by this historic landmark while you're visiting Tyler!
Originally named Bonnie Castle when it was constructed in 1859, this house has deep roots in the Civil War.
The Goodman-LeGrand House features original furnishing, photographs, and other memorabilia from the 1800's!
This museum is open Tuesday-Saturday from 10am-4pm. Admission is free, but donations are suggested.
And stop by the McClendon House
The McClendon House, built in 1878, is another historic house in the heart of Tyler.
This living history museum is dedicated to the history of Tyler and contains memorabilia from pre-Civil War all the way up to WWII.
For a while before it was dedicated as a historical house in 1988, the McClendon House was rumored by local children to be the home to two witches… spooky!
Along those lines, here's a fun fact: if you have a group of 20 or more, you can arrange for a murder mystery game at the McClendon House!
If you're interested in setting up a fun murder mystery party, you can contact them here!
And of course, feel free to visit when they're open for a house tour! The McClendon House offers house tours on Fridays (12-4PM) and Saturdays (10AM-4PM).
House tour entry fees:
$7 per person
Free for children 12 and under
19. The Discovery Science Place
This place is a must if you have children!
Tyler's Discovery Science Place features over 15 interactive exhibits where you can learn all about… yup, you guessed it… science!
The museum often hosts special activities and events, so be sure to check their calendar here to see what's coming up next!
Regular hours of operation are Tuesday-Saturday from 10AM-5PM and Sunday from 1-5PM. (They are only open on Mondays during the summer).
Entry fees:
$8 for adults
$6 for ages 2-12
Free for children under 2
20. Tyler Museum of Art
Since its opening in 1971 the Tyler Museum of Art has welcomed almost 1 million visitors.
And it's easy to see why!
The Tyler Museum of Art, located at Tyler Junior College, houses around 800 remarkable works of art in its permanent collection.
Entry fees:
$5 for adults
Free for ages 12 and under
Restaurants
21. Feel like royalty at Lago del Pino
This is by far the most beautiful restaurant I have been to!
Lago del Pino is the perfect date night spot if you want to step it up a notch!
You can enjoy your dinner at this elegant restaurant while overlooking a gorgeous lake and acres of land.
I recommend sitting outside so that you can make to most of the views! There is often live music as well, which only adds to the lovely ambiance.
In terms of cuisine, Lago del Pino serves up Mexican and American fare, and my favorite dish is the salmon!
Book your reservation here!
22. Taste Tyler's first craft brews at True Vine Brewing Company
Tyler local Ali recommends True Vine Brewing Company as another incredible thing to do in Tyler: "They are Tyler's first craft brewery and their beers are amazing with a great location on Earl Campbell.
They have live music every weekend and awesome events every month!"
What started out as brewing 10 gallon batches of beer at home in their garage has become an epic space for beer, food, parties, and gatherings on Earl Campbell.
This location opened its door in March of 2018, and has since become a local favorite!
23. Get eclectic at The Grove
The Grove is a restaurant with some stunning interiors and exteriors!
It has a unique, whimsical set up with fun decor that will make you feel like you're in Alice in Wonderland!
They host yoga some weekends, have lawn games set up on their perfectly designed backyard space, and put on special events every now and then (check here to see their next event)!
You'll love the farm-to-table cuisine on their chef-crafted menu. Let me tell you… it is DELICIOUS!
Check out my post on both The Grove and Lago del Pino for more information.
24. Pair pie and coffee at The Foundry
Every town needs at least one hipster coffee shop.
The Foundry Coffee House is exactly that, and it's a wonderful option if you're looking to grab a latte in Tyler.
Tip from the locals: A must-try is the the chocolate mousse pie!
The pie actually comes from Emporium Pies in Dallas, and it pairs perfectly with a Foundry coffee!
25. Listen to live tunes at Fresh by Brookshires
Wait… she put a grocery store on her list?
Hold on, I know that's what you're thinking!
But this store is more than a grocery store; it's a local favorite and the Brookshires chain actually started in Tyler!
Unlike most grocery stores, Fresh by Brookshires often has live music and events going on.
And let me tell you- grocery shopping is much more fun with live music. Head over on a Friday or Saturday night when the weather is warmer, and you'll most likely get to listen to some really great live tunes.
On top of that, you can enjoy great meal options on their patio and there are two great playgrounds for kids to play on!
Combine that with great health-food selections and you've got Fresh by Brookshires.
26. Have a fiesta at Don Juan's on the Square
This lively Mexican restaurant has $1.25 tacos on Wednesdays!
But still check them out on other days- they've got daily specials, killer fajitas, and festive decor.
Their location (the square) is a fun place to walk around and browse various shops!
27. Try the seafood at the Black Pearl
This recommendation comes from Tyler local, Ginger:
Also located in downtown Tyler on The Square, the Black Pearl is "a fantastic place to have hand made craft cocktails, fresh oysters, and lobster rolls!"
28. Enjoy world-famous barbecue at Stanley's BBQ
I can see why Stanley's BBQ is world famous from this photo alone! How yummy does that barbecue look?
This mom & pop barbecue joint has been around since 1958, and has been recognized by Texas Monthly for their exquisite Texas barbecue.
They've got a great atmosphere; you can enjoy your barbecue on Stanley's outdoor patio with their weekly live music!
29. Stop for barbecue at The Country Tavern
Located near Kilgore, this is also a must-stop place for barbecue!
Since 1939, The Country Tavern has been welcoming its guests with tender meat and mouthwatering sides and desserts.
As soon as you pull up to The Country Tavern, the smell of Texas barbecue will fill your senses!
The food that follows will not disappoint- locals recommend the ribs and potato casserole.
30. Get some fajitas at Mercado's
This is a must if you like Mexican food! Located on Loop 323, Mercado's is a festive restaurant that locals insist you visit!
Trust me when I say the melted garlic butter they serve with fajitas is completely drool-worthy!
Top it all off with FREE soft serve at the end of your meal… does it get any tastier than that?
In conclusion…
I hope you can see just what an incredible place Tyler is!
And if you're a local with more info on hidden gems in the Tyler area, drop a comment below!
Safe travels!
Jasmine
PS. If you liked this post, please share it with others! You can use the images below for easy pinning!