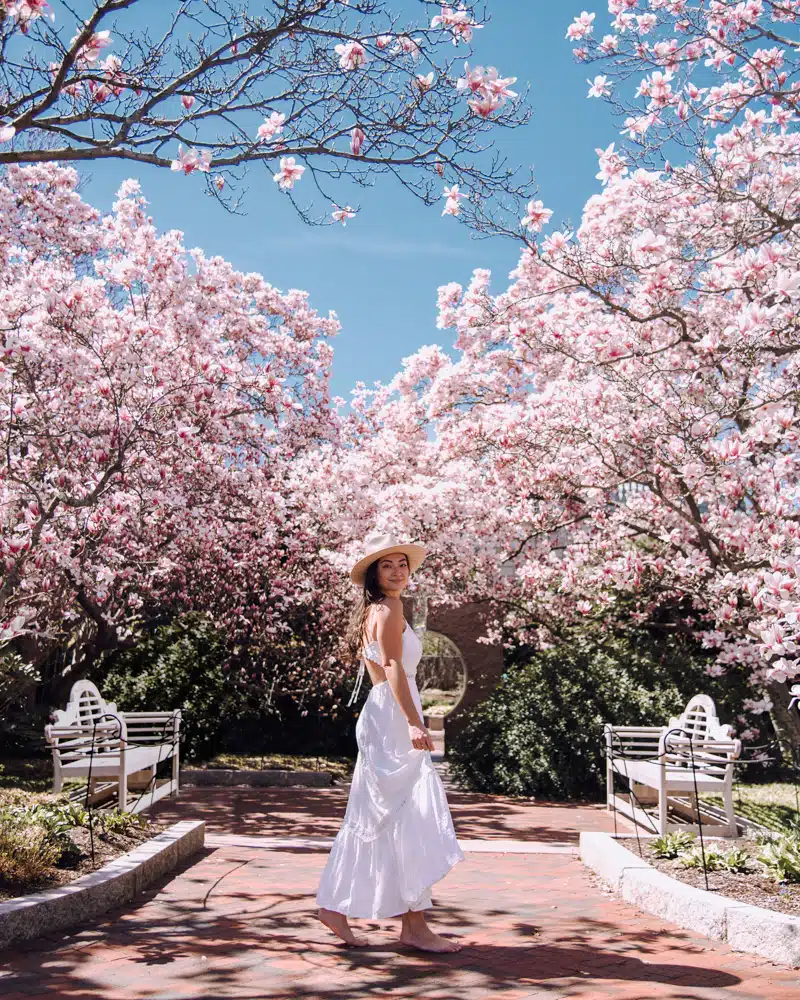 Growing up in the suburbs of Washington DC, the nation's capital has always been one of my favorite places in the US. Between the history and the political importance, there's just something special about it. As a photographer and blogger, I particularly enjoy how beautiful it is! There are so many Instagrammable places in DC, and I can't wait to share them with you!
Ironically, I've only taken a few photos in Washington DC, since every time I go home to visit, it mainly consists of family time. But this year, I'm planning several trips to show you DC from my point of view. With my camera in hand, I can't wait to go back this year to photograph all of the Instagrammable spots in DC that you'll find on this list!
In the meantime, here are a mix of Instagram photos and my photos, but check back in a few months to see all of my own photos!
I've organized these spots by location, and you'll find a map at the end of this post. That way, if you're staying in only one area of DC, you can see which spots you can walk to or visit close by. (The photo above was taken at the Enid Haupt Garden in March 2021, you'll find it at spot #15 on this list!)
With pandemic-related closures at the time of writing, I just want to emphasize that you should check each place you plan on visiting before you go to make sure they are open.
This especially applies to restaurants and museums. But most of these spots are either outside or beautiful from the outside, so even if they're closed, you could still get great photos!
Instagram Tips
Side note- here are a few helpful articles if you're looking to step up your Instagram game this year:
Alright, let's get to it! Here are the 51 most Instagrammable places in Washington DC!
1. United States National Arboretum
In the northeast of the city is the United States National Arboretum. There are some wonderful photography locations throughout the arboretum, especially The Capitol Columns, which make for some dramatic shots – especially late in the day when the shadows are long!
2. Union Station
Union Station is DC's answer to New York's Grand Central. The outside is a grand, imposing building, but the inside is the best place to get Instagram-worthy shots. Here, you can get your photo taken in its famous archways – just avoid the rush hour!
PS. Another spot nearby is Union Market- a great place in DC to enjoy local food. It features a cute heart mural on one of its walls! You'll also see a sign that says "Relax. Your Heart is Stronger Than You Think" etched outside.
3. Culture House DC
If you like funky, colorful Instagram photos, look no further than Culture House DC. While the exterior of this building is popping in bright colors and abstract designs, the inside is just as cool!
PS. Less than a mile away, you can also check out The Bridge at The Yards Park for a futuristic feel on your feed. As you walk through this bridge, you'll cross a few 3D circles, and will be able to play on the optical illusions to make great photos.
4. James Madison Memorial Building
The James Madison Memorial Building dates back to the 1970s and is a poignant memorial to James Madison. There are luxurious features inside and out, but I think that the endless-appearing columns are what make this one of the best Instagram spots in DC!
5. Library of Congress
If you love grand, old-fashioned buildings, look no further than the Library of Congress. The reading rooms look straight out of Harry Potter, and you'll be able to get some enchanting photos as you look down from the gallery! If it's closed due to the pandemic or otherwise, you can still get some awesome shots of the exterior!
PS. While you're in this area, check out the Capitol Hill rowhouses! I don't have a specific location for you, but it's fun to walk around the area and admire the quaint rows of houses. The Capitol Hill rowhouses make for a stunning addition to your Instagram with their brightly colored houses. You could either take a photo of them on their own or feature yourself walking down the street – either will look great on your feed!
6. United States Capitol
This government office is one of the most famous buildings in the country, so you must get a shot of it while exploring DC! Make sure to take it from the right angle to get the entirety of the impressive building in your shot.
7. US Botanic Garden
The huge US Botanic Garden has plenty of gorgeous Instagram opportunities. You could take photos of yourself with the many trees and plants, or get some close-ups of individual flowers. Also, make sure you visit with an empty SD card – you'll take loads of photos here!
8. National Gallery of Art
The National Gallery of Art has a grand, classical exterior, which is the perfect backdrop for any Instagram photos that you are taking in the capital! But step inside for even more Instagrammable photo spots in DC! With endless art, it just begs for photos.
PS. For another fun museum to photograph, the National Museum of Women in the Arts is grand both inside and out. The building has a stunning entrance hall with balconies, chandeliers, and an elegant staircase perfect for dramatic photos! Take a photo here and don't forget to stop and appreciate the art.
9. Pavilion Cafe
Located in the Sculpture Garden at the National Gallery of Art, you can get the ultimate Parisian vibes in DC by stopping at Pavilion Cafe with its adorable Metropolitain sign! Come wintertime, you can even go ice skating here on the large fountain-turned-ice-rink next to it!
10. Kogod Courtyard
Located in the shared space that contains the National Portrait Gallery and Smithsonian American Art Museum, Kogod Courtyard is an 'inside outside' courtyard, with plenty of trees and a futuristic ceiling. If you can get the place to yourself, you can get some epic photos here. Try going early in the morning to avoid the crowds!
11. Hirshhorn Museum
The Hirshhorn Museum is a DC art museum. While it looks quite bland from the outside, it's the inside that steals the show. Once you're there, you can take some awesome shots within the various art exhibits here!
12. Enid A Haupt Garden
The Enid A Haupt Garden features colorful shrubbery and epic magnolia blossoms that tend to bloom in mid-to-late March before the cherry blossoms in early April. Take shots among the gardens, and make sure you get at least one framed by this cool circular sculpture tunnel! By the way, the Haupt Garden is located at the next spot on this list!
13. Smithsonian Castle
The Smithsonian Castle was built in 1855 and is one of the most alluring buildings in the capital. With red brick and castle vibes, it's worth it to take some pictures with you outside the castle, as well as a few with the entire castle in the shot.
14. Smithsonian Museum of Natural History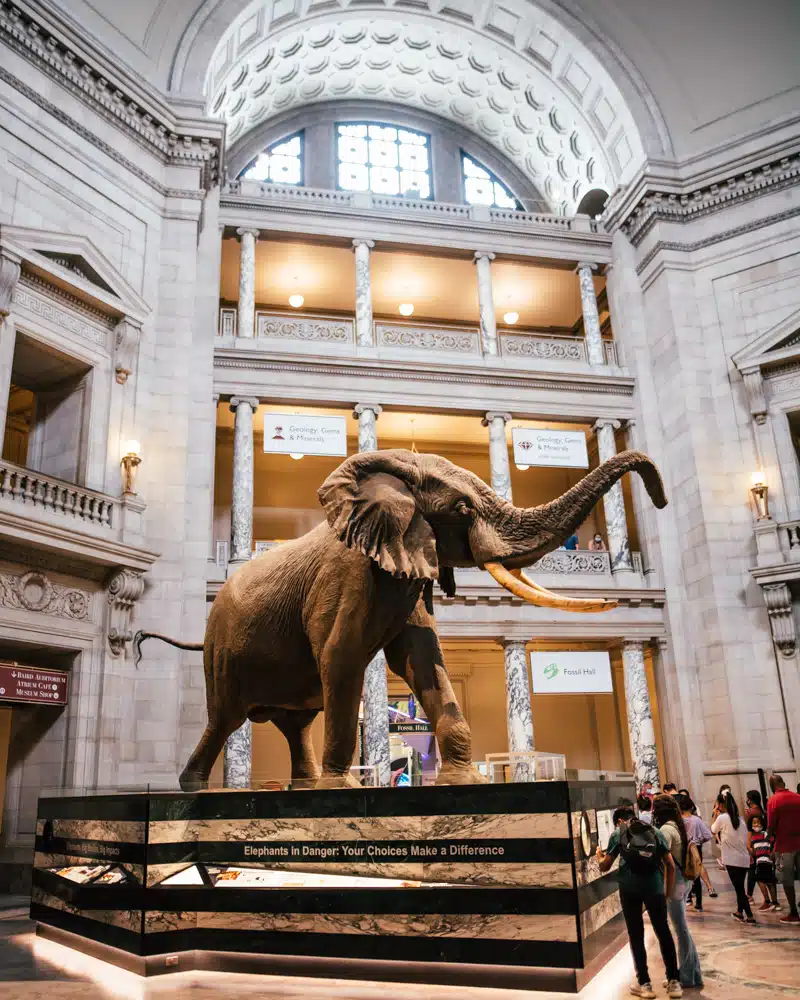 The Smithsonian Museum of Natural History is grand on the outside, but inside you'll be able to get a shot with a huge elephant and dinosaur! It's also my favorite museum in DC and contains all sorts of exhibits, including the Hope Diamond (yup, the famous necklace from The Titanic)!
15. Washington Monument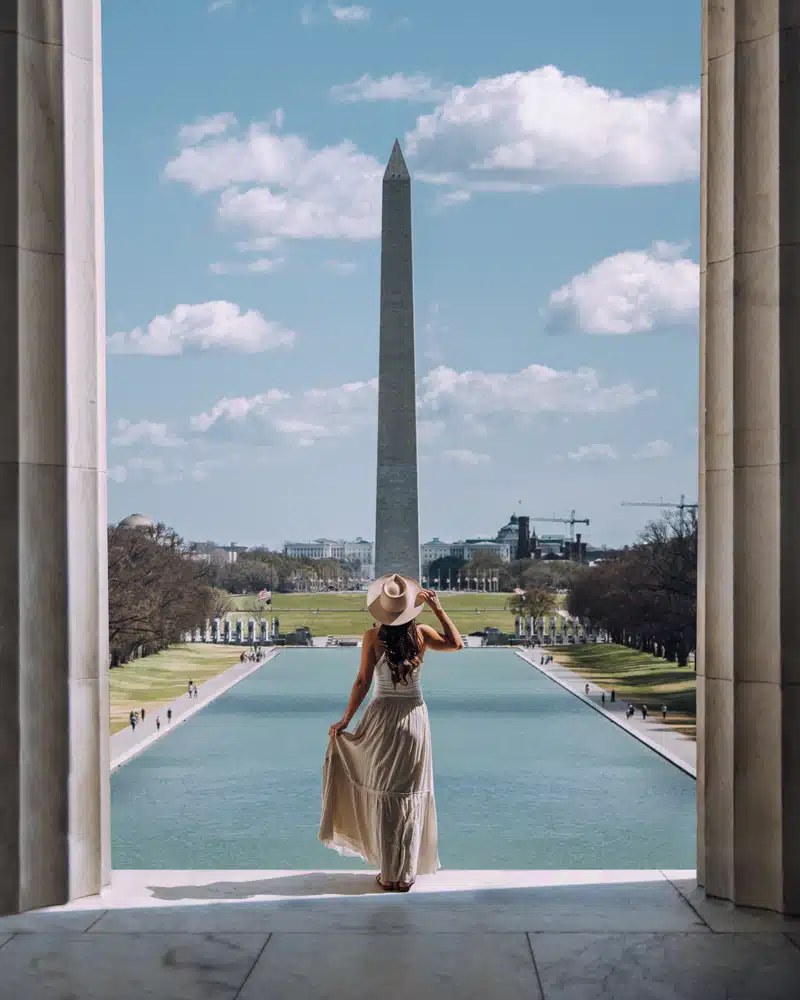 This famous obelisk looks over the reflecting pool and all of DC and is one of the most famous places to photograph in the capital! Better yet, capture a view of it from the Lincoln Memorial, like the photo above. #twomonumentsinone
16. Lincoln Memorial 
Washington D.C. is home to the Lincoln Memorial, a grand, classic building with Lincoln's statue inside. You can take a photo of the whole building from outside, or step inside and get some cool shots with the columns! I recommend walking around inside the whole thing. Even the back part has cool columns, and you'll find fewer people there. That's where we got the photo above.
PS. If you can, visit the National Mall in the fall! The National Mall is the whole area around the Washington Monument from the Lincoln Memorial to the US Capitol. Come fall, many trees in the area turn vibrant colors and offer an abundance of epic photo opportunities. Visit in the early morning if you don't want many people in your shot!
17. ARTECHOUSE DC
If you want to practice your nighttime and indoor photography, head to the ARTECHOUSE DC. Take a photo of the bright lights, and practice working with silhouettes here – photos from ARTECHOUSE will really add another dimension to your Instagram feed!
18. Officina DC
Officina is a classy Italian restaurant with a beautiful terrace in the Wharf location. They plate their food beautifully as well if you're looking to capture a flat lay or enjoy food photography!
PS. For another cool restaurant, visit Top of the Gate. This DC rooftop bar will give you an amazing view of the capital. It's definitely worth visiting during sunset hours to take the most epic pictures!
19. Tidal Basin (Especially during Cherry Blossom Season!)
<