Key West is the most southern part of mainland USA, and the entire area is synonymous with Floridian culture and nature. Expect palm-fringed beaches, beautiful nature reserves, and grand architecture as you explore and snap away. This guide to the most Instagrammable places in Key West will show you exactly what to capture while you're there!
I've organized these by location so they're pretty much in order as you walk, bike, or drive around Key West.
1. Smathers Beach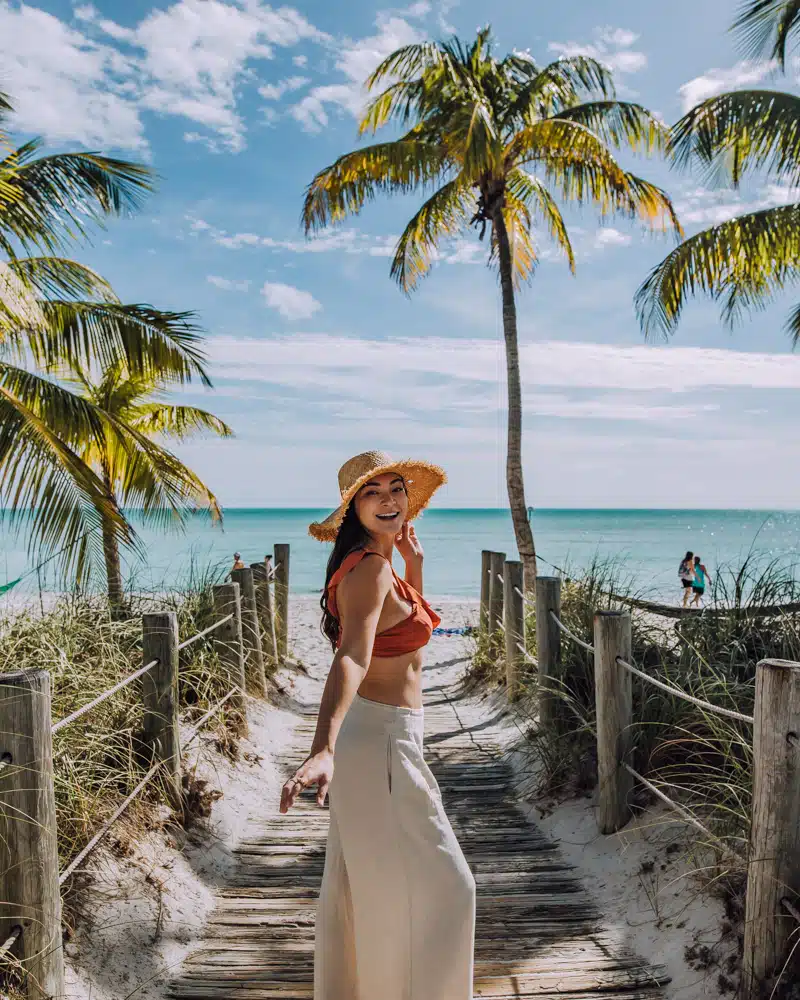 This beach is epic for long-exposure shots, at high or low tide. You'll be able to practice your daytime photography here, as there are plenty of things to photograph, including the beautiful tidal waters going out. But my favorite thing to photograph here is the adorable walkways from the sidewalk to the beach! There are a ton of these walkways up and down the beach, so there are plenty of options no matter where you park! Surrounded by palm trees, these walkways make Smathers Beach one of the most Instagrammable places in Key West!
2. Higgs Beach
A quintessentially Floridian beach, Higgs Beach is a small sandy bay lined with beautiful palm trees. This is the place to visit in Key West if you want shots of you basking under the trees! Visit during either sunset or sunrise for epic photos.
3. Casa Marina Key West
Casa Marina is one of those areas that's just made for epic photos. It's a large Key West resort with a beach, plenty of palm trees, and a stunning pool which is perfect for the foreground of photos, with the Key West coast as the backdrop. As far as hotels go, this one is one of the most Instagrammable in Key West! You can book your stay at Casa Marina here!
4. The Old Pier Behind Casa Marina
This pier is actually located right by Higgs Beach and is known as Higgs Beach Pier. The white wooden pier is reminiscent of times long gone, making for some incredibly instagrammable old-timely photos.
5. Southernmost House
As the name suggests, Southernmost House is a house right by the southernmost point of continental US. It is a historic mansion turned boutique hotel and has been the hotel of choice for five US presidents. With unique Victorian architecture and soothing pastel shades, a photo here will be a fantastic addition to your Instagram feed!
6. Southernmost Point Buoy
When you're at the southernmost point of the USA, you've got to get a photo to prove it, right? The concrete buoy marks this landmark spot clearly, so everyone will know where you've been! It's especially beautiful at sunset. As you might expect, this iconic place can get quite crowded, especially on the weekends. If you're visiting on the weekend, make this your first stop of the day to avoid long lines for this photo spot.
7. Southernmost Beach Cafe
With a lovely view of Southernmost House, Southernmost Beach Cafe is the perfect Instagram location for photos. Either choose the house as a backdrop or take a photo the other way around, in front of the Caribbean Sea's crashing waves. There is also a large chair at the cafe which makes for fun pictures!
8. The Raw Machine
The Raw Machine is a juice bar set inside a van. The blue and teal vehicle, with the logo on the front, is a great backdrop for fun, fresh Instagram pictures – and the food is pretty instagrammable as well!
9. Key West Lighthouse
The Key West Lighthouse looks epic against a backdrop of trees and sky. The brilliant white tower is a fantastic building to photograph if you want to practice your perspective. Get your photographer to take a photo while crouching down to get the whole lighthouse in the shot! Or, frame the lighthouse with the greenery around it as I did here!
10. Ernest Hemingway Museum
The Ernest Hemingway Museum is located in the former home of the novelist Ernest Hemingway. Built in 1851 in a beautiful French Colonial style, the Ernest Hemingway Museum is a lovely backdrop for a photoshoot. There is a $16 per adult entrance fee which you can book here!
11. Polydactyl Hemingway Cats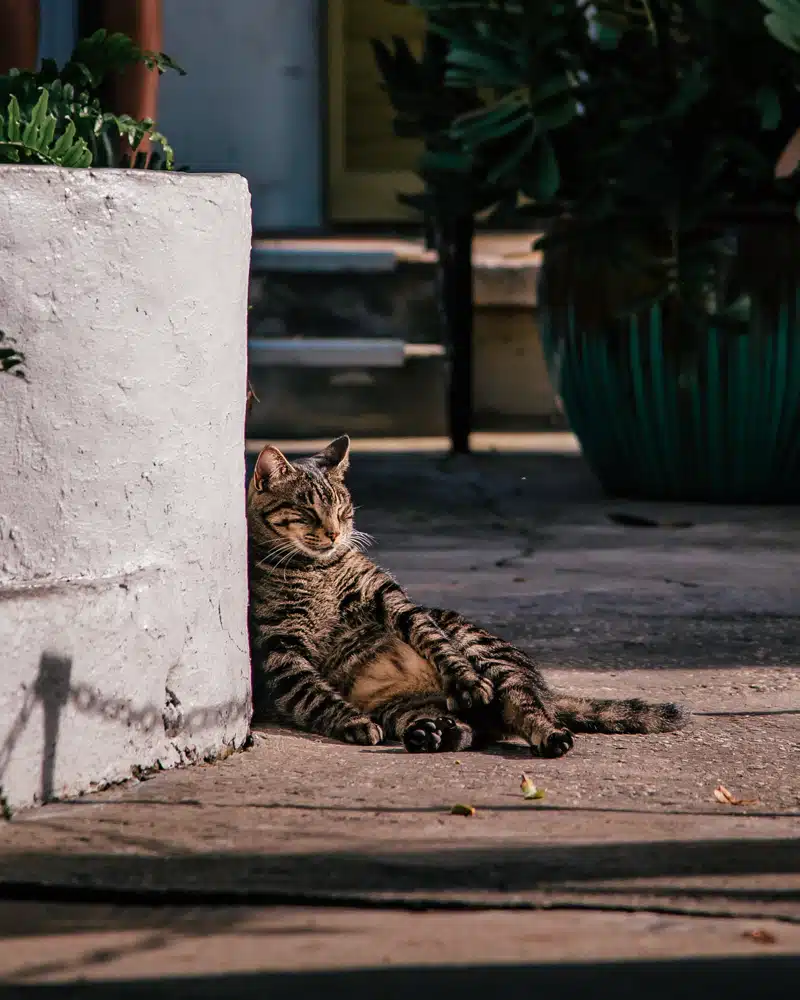 While you're at the museum, keep your eyes peeled for the many cats that call this place home! But more specifically, be searching for extra toes! These cats are descendants of Hemingway's white six-toed cat, Snow White. Whether you 'gram an adorable fat cat or specifically point out their unique features, animals always tend to be a hit on Instagram!
12. Rainbow Crosswalks at 801 Bourbon Bar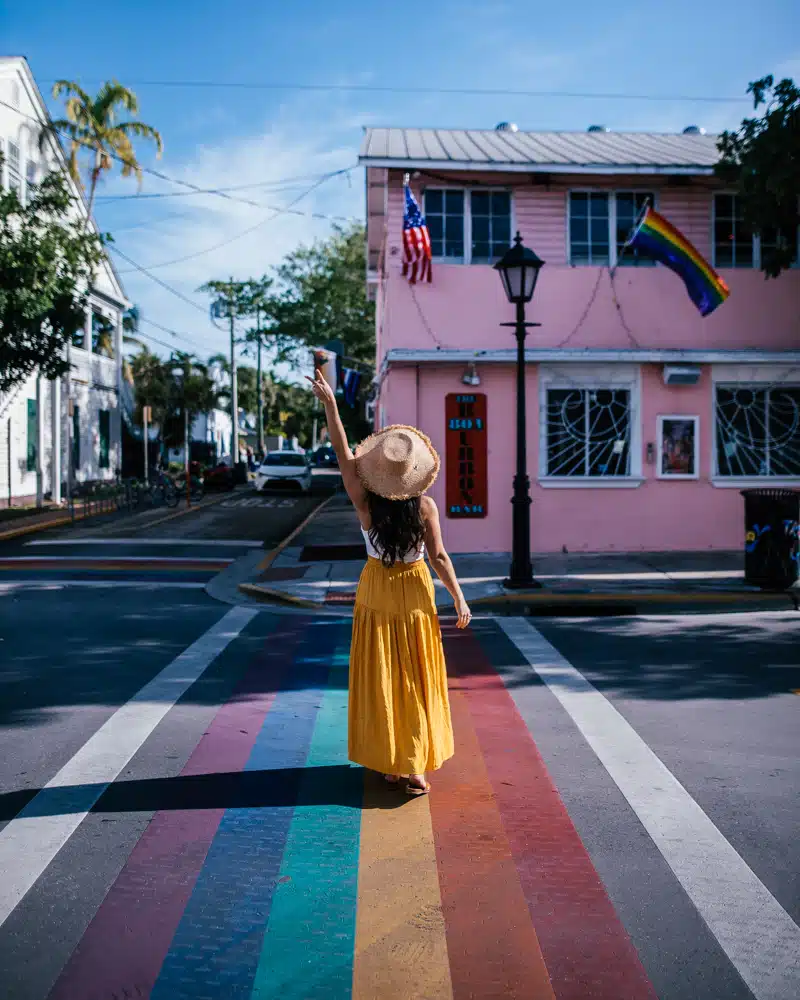 801 Bourbon bar is a bar on the corner of a street near Casa Marina. There's a lot going on here, especially at night, including lots of performers and other characters. If you aren't into night photography, visit during the day to take some photos of the unique Rainbow Crosswalks.
13. The Strand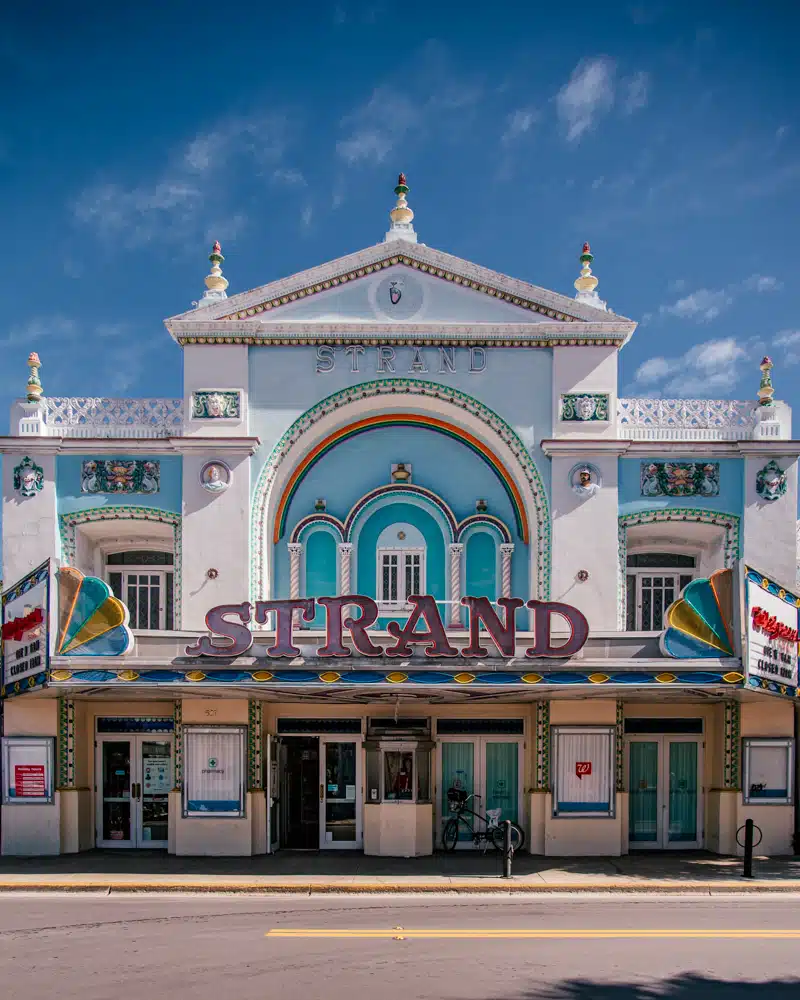 The Strand (or Wallgreens) is a theatre that illuminates at night. With neon lights detailing the name, as well as lots of detailing, it's a must-visit in Key West for anyone wanting to practice their night photography. The best time to visit is just after the sun goes down because the area can get quite busy with people later on in the evening. Take a photo here during the daytime if you prefer bright pastels instead of neon lights!
14. San Carlos Institute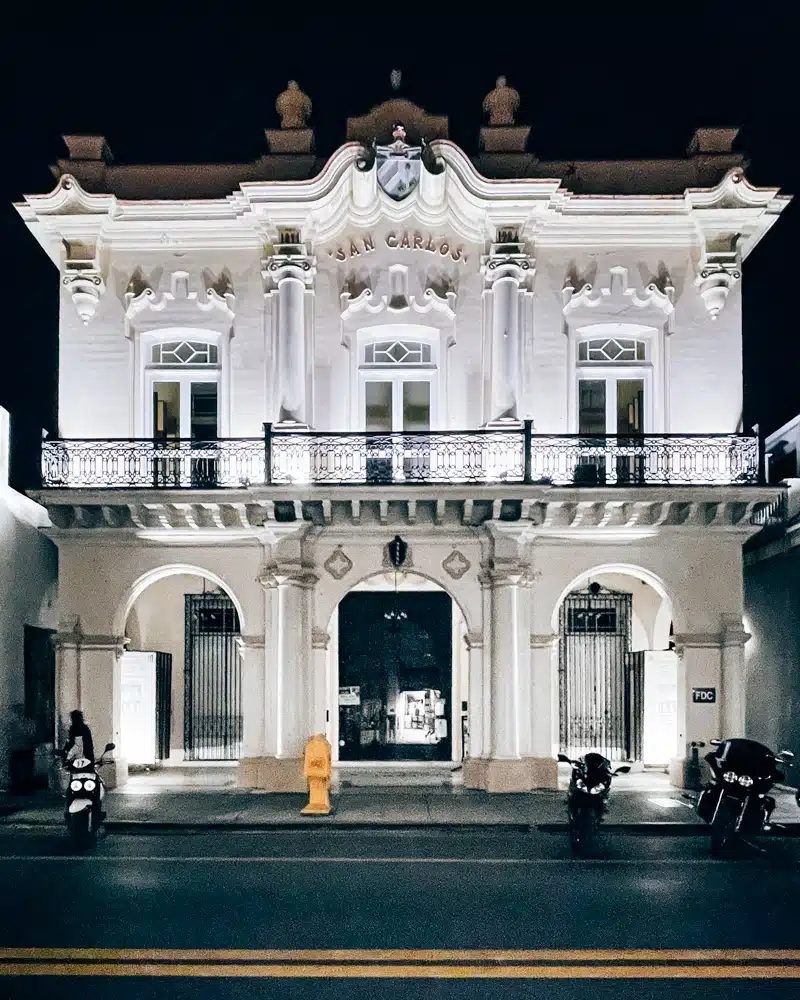 The San Carlos Institute is a Cuban museum all about the history of San Carlos. It has some beautiful features, including a large auditorium, which makes for some brilliant Instagram-worthy photos! Why did I get a photo at night? Well, the morning I came to photograph this, there was a food delivery truck (I'm talking huge semi-truck) blocking the whole building! But I happened to get this shot the night before. One more thing to mention about the San Carlos Institute- you should spend some time wandering around the museum as well! Who knows, you might find some interesting facts to write in your caption!
15. Mile Marker Zero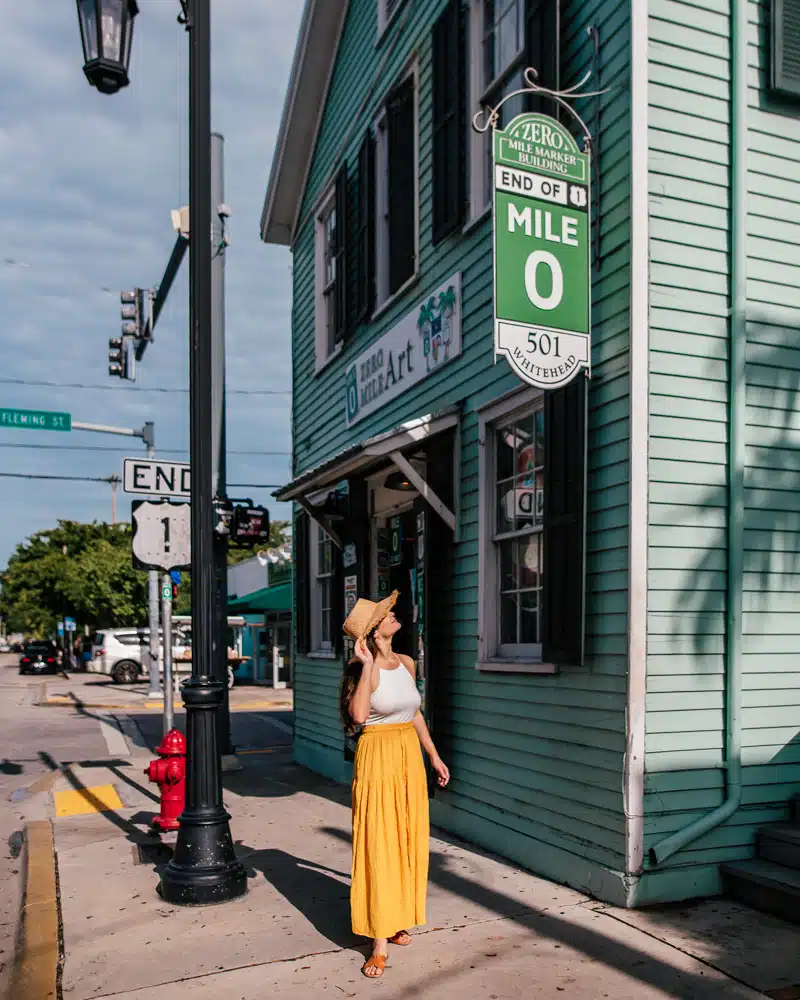 The mile marker zero sign is one of those photo opportunities that everybody has to get – especially if you're going on a road trip up Route 1 to Maine! Mile Marker Zero is located at the corner of Fleming and Whitehead Streets, and it marks the beginning of US 1, with a sign indicating that it is mile zero.
16. The Kapok Tree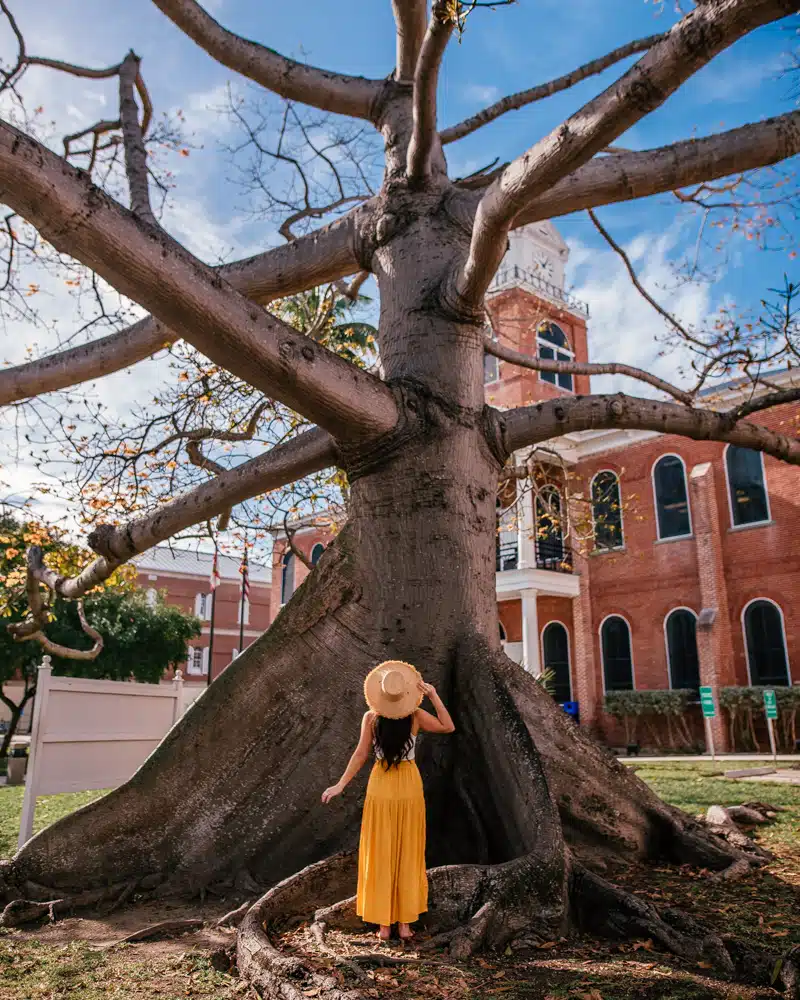 Directly across from Mile Marker 0, you'll find the Kapok Tree.
17. La Concha Hotel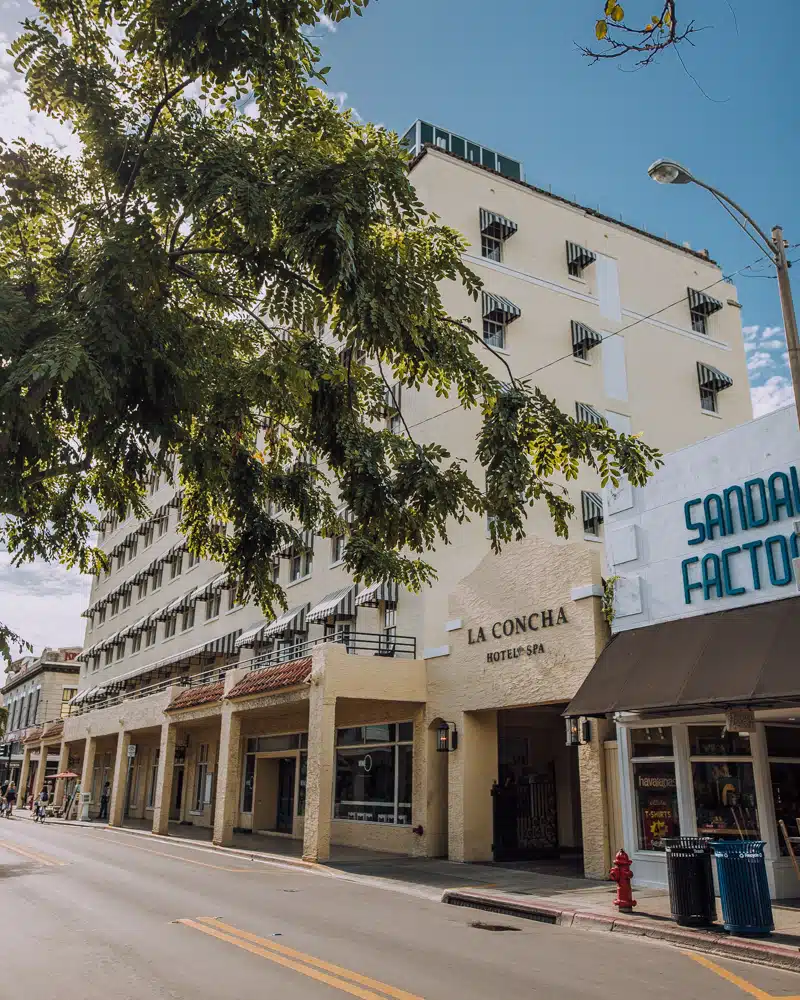 You won't find any skyscrapers in Key West, but La Concha Hotel is six stories high and is the tallest building in the area. If you stay here, from its many balconies you can look out over all of Duval Street!
18. St. Paul's Episcopal Church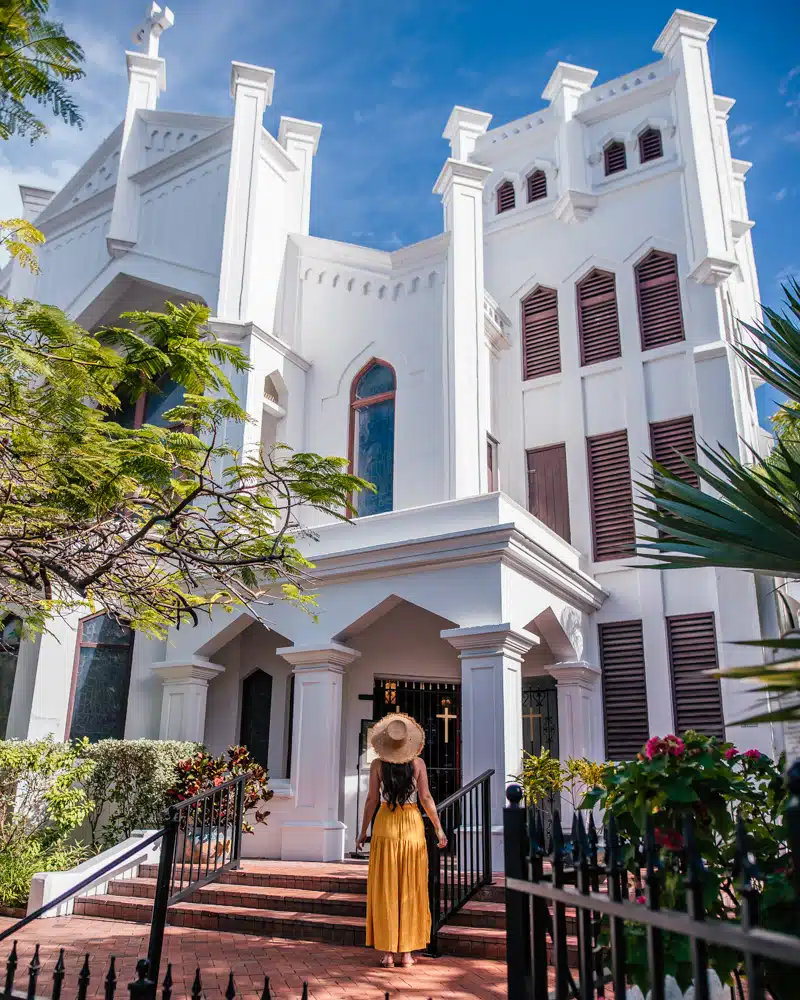 This beautiful church features a white exterior and tall towers; they perfectly contrast to the nearly always blue sky, making them an epic backdrop to any Instagram photos! The inside is beautiful too, but if you are taking any photos inside, make sure that nobody is praying.
19. Tropic Cinema Marilyn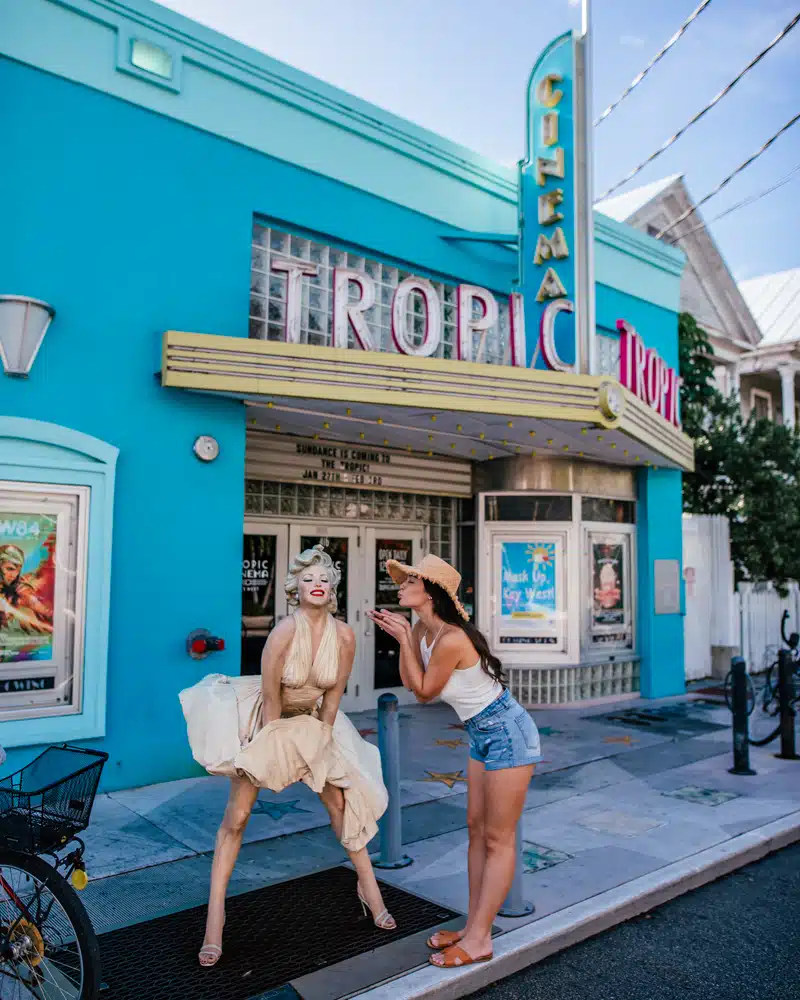 The Tropic Cinema Marilyn is a well-lit cinema with a statue of Marilyn Monroe out the front. It's great to come here in the evening when the cinema is all lit up in different neon colors, and you can get some fascinating shots from different angles. But I find that daytime shots emphasize Marilyn better if you want her to be your focus point! She's definitely one of the most Instagrammable features in Key West!
20. Lookout Tower at the Shipwreck Museum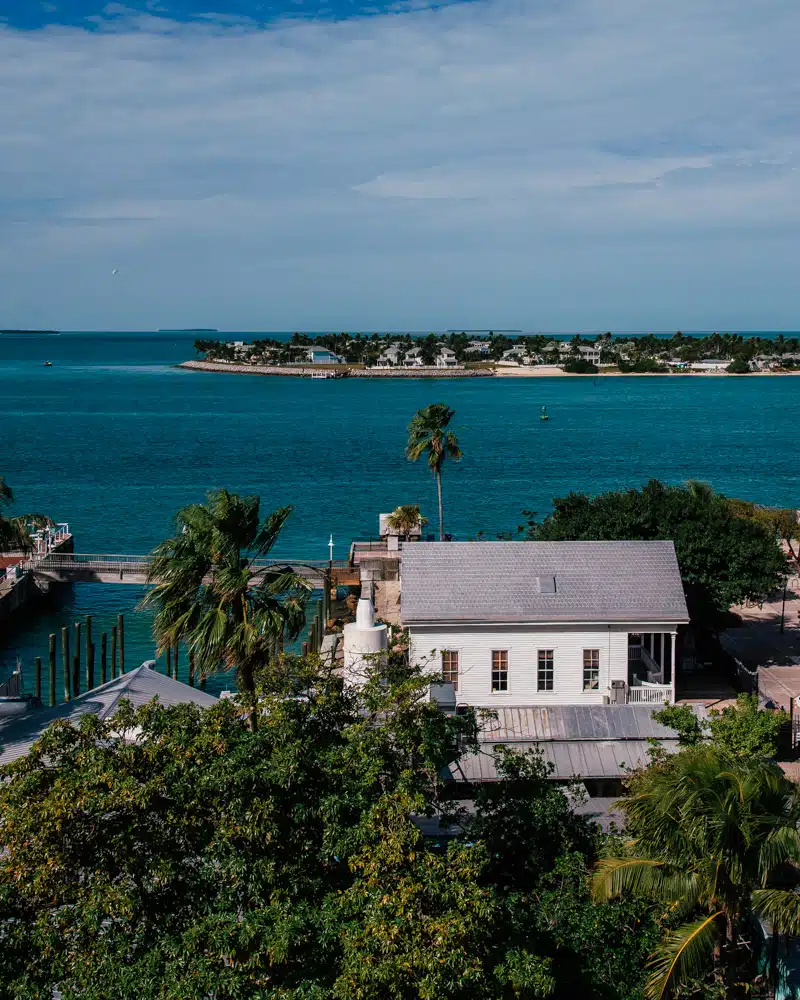 If you didn't make it to La Concha Hotel, you'll have another chance to get a bird's eyeshot from the lookout tower at the shipwreck museum. It's a slightly challenging climb to the top, so be prepared! You'll be able to take in the whole island from your vantage point at the top, making for some great photos. You also should leave time in your schedule to explore the Shipwreck Museum itself! It is full of fascinating information, and is worth the ~$16 entrance fee to the museum and tower! You save a bit by buying tickets online, and you can do that here!
21. El Meson De Pepe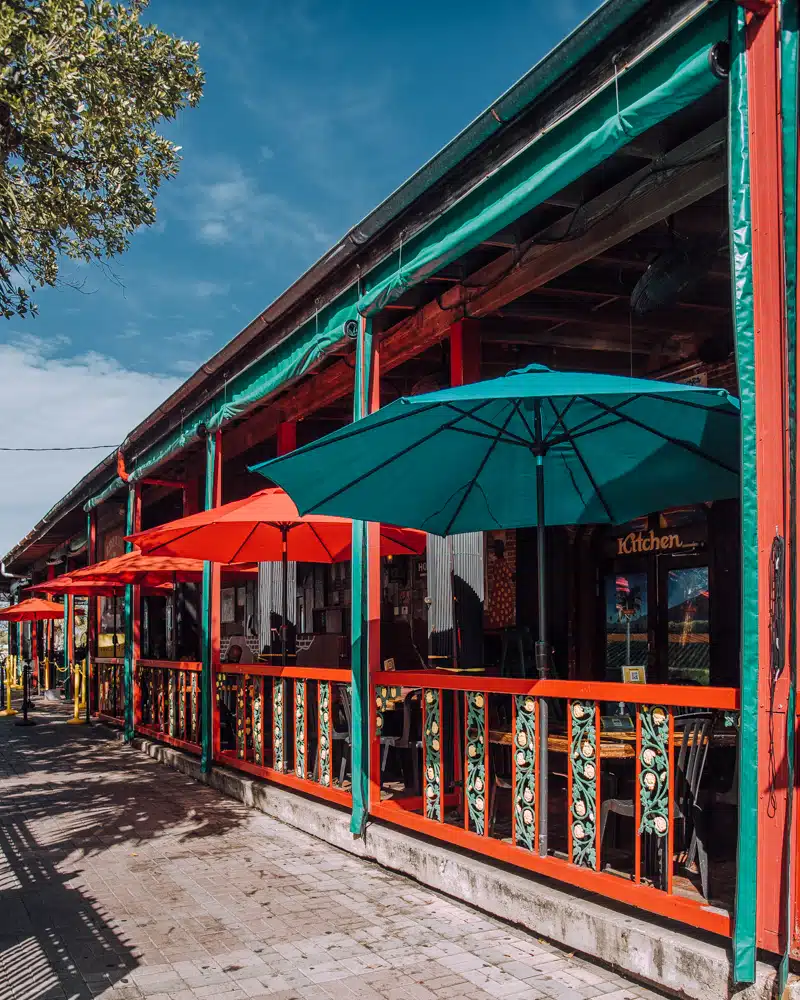 Just a few steps away from the ocean, this atmospheric restaurant is perfect for those 'dinner with a view' shots. Not only will you be able to get some great photos of the beach as the sun sets, but you'll have the chance to fuel up on delicious Cuban food and plenty of mojitos as you do so!
22. Art Worthy at the Marker Hotel
Art Worthy is a small outside gallery of 7 foot high sculptures. Each represents a part of the island's culture and history, and are supposed to welcome travelers and people coming home. Each totem is adorned in bright, popping colors, which will make your feed completely stand out!
23. Mural at Waterfront Brewery
If you want to take some under the sea photos without actually going under the sea, look out for this Living Reef Mural outside Waterfront Brewery. It is a large depiction of a reef, with animals like turtles, rays, and all sorts of fish. Definitely the most Instagrammable mural in Key West if you ask me!
24. Key West Mural
Another unique photo spot and cool mural is the Key West Mural at Cuban Coffee Queen. Mimicking a postcard, the mural says 'Greetings from Key West Florida' and is a great backdrop if you want to Whatsapp a photo to your loved ones, and of course for your Instagram feed. You could post this photo before any others from Key West, so people will know where the following photographs are from! (Yes, you could also use a location tag. But just go with me here!)
25. Fort Zachary Taylor
Predating the Civil War, Fort Zachary Taylor is built in red brick, contrasting to the brilliantly blue sea. There are ample opportunities for photos of the architecture itself, but you'll also be able to enjoy the brilliant tropical beaches surrounding it. My favorite spot, though, is the almost never-ending view of the many archways!
26. Charming Houses and Front Porches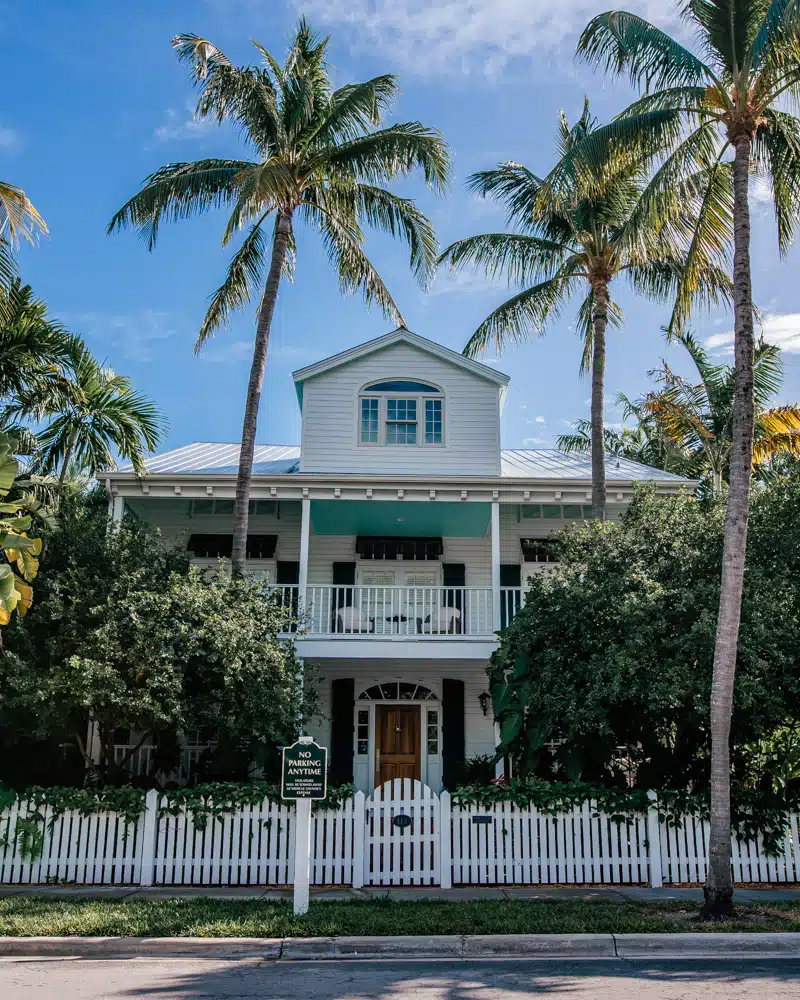 Floridan houses have a unique style of architecture, which is particularly noticeable in Key West. With Caribbean vibes and pastel colors, these houses make for incredibly Insta-worthy photos! Many of the homes are painted white, with large porches that their residents like to sit out on in the evening. If the residents don't mind, these houses make for wonderful photo backdrops.
27. Hens and Roosters Galore
One thing you'll notice while walking around Key West is the many feathered friends (or foes if you make them mad) who call Key West home! Yup- roosters and hens roam the streets here! Keep your phone or camera at the ready to capture a photo of these guys!
28. Flowers Around Key West
Flowers seem to always be a hit on Instagram! And good news- there are lots of beautiful flowers around Key West! Popular flower varieties include hibiscus, bougainvillea on the houses, and cordial sebestena, which was brought to the Keys from Cuba. You'll notice loads of these flowers while exploring Key West, so be sure not to miss a beautiful backdrop when you see one!
29. Eastern Dry Rocks
You can access the third-largest barrier reef in the world – and one of the USA's only reefs – in Key West. Eastern Dry Rocks is one of the best spots to snap some photos of marine life, due to the diverse range of species who live there and the water's excellent visibility. If you want to go snorkeling and use your underwater camera, here is the place!
30. Dry Tortugas National Park
The National Park is situated 70 miles west of Key West and can only be reached by catamaran or floatplane. On-site is a hexagonal fortress, which has plenty of Instagram opportunities, as well as lots of unique wildlife and birdlife. The beaches are a tropical paradise, too! Just check out that water color! If you've got time in your Key West itinerary for this excursion, Dry Tortugas National Park is one of the most Instagrammable places in Key West!
31. Seven Mile Bridge
If you have a drone, here is where to use it! Though this isn't in Key West per se, if you are driving across the Florida Keys to get to Key West, you'll drive over it! The view of Seven Mile Bridge (near Marathon Key) is a chance to take a truly unique photo. But if you have a drone, I highly recommend flying it as well! The Seven Mile Bridge stretches over the sea and is one of the longest bridges in the world, and pictures of it show the remarkable sight of a narrow road crossing the turquoise blue ocean!
Map of the Most Instagrammable Places in Key West
In conclusion…
Key West is a beautiful part of the country, and your Instagram feed will certainly reflect that after your trip!
Do you have more Instagrammable places in Key West in mind? Let me know what they are in the comments!
Also, if you're heading to Florida, here are some more posts you might enjoy:
Happy exploring!
Jasmine
PS. If you found this post helpful, please share it to Pinterest! You can use either of the images below for easy pinning!