Nestled in the Florida panhandle you'll find Rosemary Beach: a charming, beautiful beach town with plenty of things to do.
Rosemary Beach is the first beach along scenic highway 30a (which is usually more of a busy small town street than highway).
As you drive west on 30a, you'll pass Rosemary Beach, Alys Beach, Seacrest Beach, and Seaside.
Each of these beach towns has its own vibe, and I'd describe Rosemary Beach as charming, sophisticated, and architecturally beautiful.
And perhaps the best part is the brilliant white sand contrasted with the turquoise water- a slice of paradise on the Gulf of Mexico.
If you've never been to Rosemary Beach, prepare to be wowed.
And if you're a Rosemary Beach regular, you know exactly what I'm talking about!
You'll find vibrant colors, friendly locals, and that beachy, coastal feel.
Whether you want a relaxing beach vacation or an adventure, Rosemary Beach is the perfect destination.
So without further ado, here are 30 things to do at Rosemary Beach.
Map of things to do at Rosemary Beach
You can open this interactive Google map to see the locations of the things to do at Rosemary Beach.
Relax & Stay
The best places to stay and relax at Rosemary Beach.
1. The Pearl
First things first: you need a place to stay.
The Pearl is a remarkable, award-winning hotel a block away from the beach.
With top-notch service and gorgeous architecture & interiors, this 4-star hotel exudes luxury and class.
Featured in Southern Living, Conde Nast Traveler, and Travel & Leisure, The Pearl Hotel is known as one of the best hotels in Florida and the USA.
Intrigued? Book your stay in one of The Pearl Hotel's 55 rooms here.
2. Rent a cottage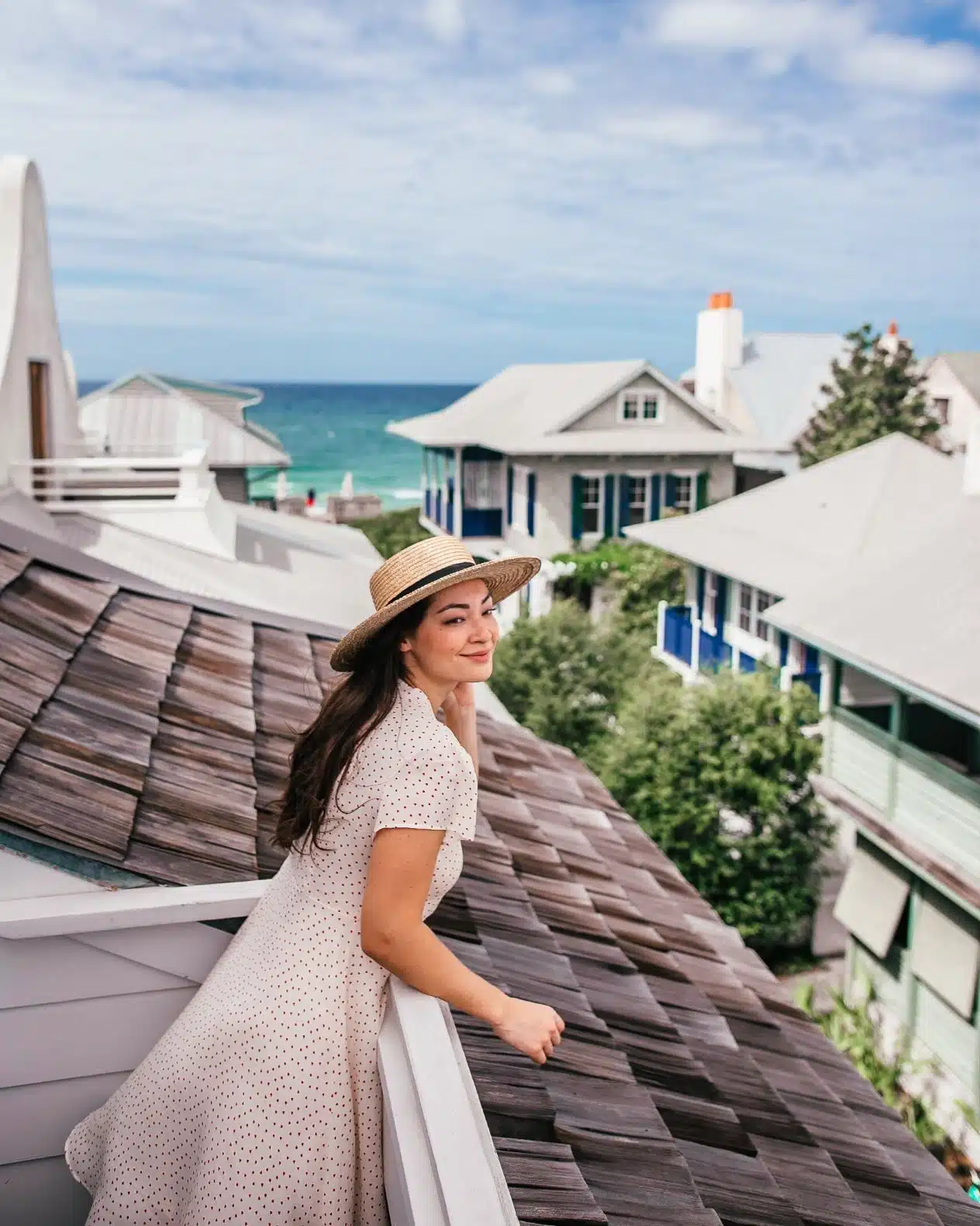 Shop my outfit here! (The skirt has built in shorts- perfect for biking around Rosemary Beach!)
If you're not staying at The Pearl, the most common thing to do at Rosemary Beach is to rent a house.
The cottages/houses in Rosemary Beach are straight out of a Southern Living magazine (I'm not kidding- some literally have been featured in Southern Living).
With gorgeous pastels, remarkable architecture, and exquisite attention to detail, pretty much every cottage in Rosemary Beach is picture perfect.
There are several options in Rosemary Beach, and you can find a great house through the Rosemary Beach cottage rental site.
For a more affordable option:
We stayed at the Villas at Seacrest Beach and loved our place. (The name is pretty misleading, since this neighborhood of cottages is much closer to Rosemary Beach than Seacrest Beach.)
Since it's technically not Rosemary Beach, as it's right on the other side of the Rosemary Beach boundary line, the price was about a third of what we saw in Rosemary.
Search this map to see some great options for your stay in Rosemary Beach:
3. Vivo Spa & Salon
If vacation means relaxation and pampering for you, then check out Vivo Spa & Salon.
Located on the second floor in Barrett Square, Vivo Spa & Salon is one of the best spas in 30a.
Whether you want a couples massage, facial, full body treatment, deep tissue massage, this is the place to go.
Nature
Beautiful parks & nature near Rosemary Beach.
4. Eden Gardens State Park
Eden Garden State Park is full of beauty, much like its name suggests.
Spanish moss drapes over winding branches of the Live Oaks that live on the 163 acres that comprise the park.
Built in the 1800's, the stately Wesley House is the focal point of Eden Garden.
Though the park is open daily from 8am until sunset, hours are limited if you want to take a tour of the house.
Visit between 10am-3pm Thursday-Monday for a house tour; they give tours on the hour.
Don't forget to bring $4 cash per vehicle for the honor-system parking fee (bring exact change!).
5. Timpoochee Trail & Deer Lake State Park
The Timpoochee Trail runs all along the side of 30a.
It is an 18.6 mile bike trail that is paved and fairly flat, stretching from Inlet Beach all the way to Dune Allen.
If you're biking the trail from Rosemary Beach, along the way you should stop by Deer Lake State Park, pictured above.
At Deer Lake State Park you can follow the easy boardwalk path that crosses over the sand dunes until it reaches the beach.
Deer Lake State Park also contains the rare coastal dune lake that gives it its name.
Bring $3 cash (again, exact change) for the honor-system parking fee per vehicle.
6. Topsail Hill Preserve State Park
Covering 1,640 acres near Santa Rosa Beach, Topsail Hill Preserve State Park offers plenty to do.
It borders 3 miles of ocean and contains gorgeous sand dunes- some of which peak at over 25 feet!
With 209 campsites and 32 cabins, this state park is also a great option if you like to go camping.
It has lakes, hiking trails, sand dunes, and amenities like a gazebo, snack shop, picnic areas, and even tram service to the beach.
For day use it is open from 8am to sundown, and there is a $6 honor-system entrance fee per vehicle.
Activities
Fun activities to do at Rosemary Beach.
7. The beach
Hopefully heading to the beach goes without saying!
Rosemary Beach is a stunningly gorgeous beach with white sand and turquoise waters.
(The photos above were actually taken just down the road at Laguna Beach, but the sand at Rosemary is even whiter as you can see in the very first image of this post!)
You can bring your own chairs and umbrellas or you can rent them at the beach.
If you do plan on renting, get in line as early as you can to make sure you can snag a group of chairs.
Note that access to Rosemary Beach requires a code to enter and exit the beach; wherever you're staying should provide an access code and/or a wristband for access to your communities' amenities.
Also, if they are present, be sure to heed the flags on the beach- they warn against specific things like rough waves or currents.
8. Bamboo Bicycle Company
Bicycles are the most common form of transportation here.
Although Harrison and I ended up walking everywhere local instead of biking, we would have loved to have bikes.
I highly recommend renting bikes especially if you plan on doing most of your activities locally.
Also, each bike rental company has options for children whether that's an attachment to your own bike or a smaller bike (with or without training wheels) for your kids.
At Bamboo Bicycle Company you can rent a bike for day use or for as long as you want.
They have great add-on options for families with small children as well.
They deliver the bikes to wherever you're staying, free of charge.
Bamboo Bicycle Company prices start at $30/day or $65/week, and they also have beach gear and baby gear (jogging strollers, etc.).
If you're staying in Seacrest Villas, Peddlers 30a is another bike shop with prices that start at $20/day.
9. Water activities
While you're vacationing at the beach, check out the variety of water activities you can do.
From kayaking to stand up paddle boarding, there is no shortage of water sports at Rosemary Beach.
Here are a few rental options for you:
10. Shopping
Rosemary Beach is incredibly walkable with stores and restaurants all over the place.
Stop in to one of the many shops to browse for swimwear, beachwear, toys, home decor, souvenirs, and other fun items.
Almost every store here is a local business, so definitely be sure to stop in and show these small businesses some love!
11. Blue Dolphin Tours
If you are looking for an epic water adventure, make a reservation with Blue Dolphin Tours.
While they are not located in Rosemary Beach per se, they are just a short drive away in Panama City Beach.
They take you out on a 2 hour tour to find the resident pod of wild bottle-nosed dolphins that frequent the area- and then you can actually swim with them!
Book a few days ahead of time to make sure there is a boat available for you and your crew. (For a holiday weekend, make your reservation at least a week in advance).
Blue Dolphin Tours is great if you want a small group size on a smaller boat.
But here are some other cheaper options that also depart from Panama City Beach:
12. 30A Farmer's Market
Every Sunday from 9am-1pm the 30a Farmer's Market comes to Rosemary Beach.
Located at 28 N. Barrett Square, you can shop for produce, snacks, local goods, souvenirs, and more.
13. Beach bonfire
Did you know you can rent a bonfire at Rosemary Beach?
A ten-person bonfire costs around $250 and up depending on where you book and what you want included (there are options to add s'mores, chairs, tiki torches, etc.).
A bonfire is a great way to celebrate your vacation with friends and family.
Let me paint the scene for you: flames light up the sky at dusk as you sink your bare feet into the flour-soft sand at Rosemary Beach.
You take a beautiful stroll through the sand and smell the sweet marshmallow-scented aroma around you.
Kids run around with flashlights searching for crabs while you enjoy the company around you.
I hope you can see just how a beach bonfire makes for a memorable night at the beach.
All year you'll be looking forward to another round of memories next summer!
Here are some places where you can rent a bonfire:
14. The green
The green is pictured on the right hand side of this photo.
It's right across from Main Street and is a large open space that is great for kids to run around and play.
Some nights feature live music, others have fun Rosemary Beach-sponsored pop ups like a balloon-making artist.
15. Rosemary Beach Racquet Club
Tennis players: the Rosemary Beach Racquet Club is for you!
Whether you want to play for fun, get lessons, or participate in a tournament, you can do it all at this top tennis destination.
An individual day pass starts at $25.
Also, if you've booked your stay through the Rosemary Beach Cottage Rental Company, you get free court time included!
16. Alys Beach
Alys Beach is right next to Rosemary Beach, just a bike ride away.
It's a premier luxury beach town that looks like Mykonos, Greece instead of the Florida Panhandle!
Don't believe me? Check out this drone footage we captured!
Picture-perfect white cottages (more like mansions) adorned with ivy line cobblestone roads.
One thing to keep in mind: exclusive beach access is for Alys Beach residents only.
17. Curate30a
Curate30a Art Gallery is located along the Rosemary Beach Main Street and features gorgeous art.
Their art is carefully selected by pros and features both up-and-coming artists and nationally-recognized artists.
If you're a fine art aficianado, Curate30a offers exclusive shows and live painting to connect you to the art in new ways.
Stop in between 11am-9pm for a pressure-free look at the gorgeous pieces they showcase.
18. Golf
For those who enjoy the sport, golfing is the perfect vacation activity.
Some of the best resorts I've stayed at feature top-notch golfing, and people travel to them specifically for that.
Although I'm not a golfer, if you love golfing, you'll love Rosemary Beach.
There are not just one but three great golf clubs around Rosemary Beach:
19. Peddlers Pavilion
Peddler's Pavilion, right next to Rosemary Beach (walking distance away), boasts great food, shopping, and live music.
In fact, Peddler's Pavilion is at the entrance of Seacrest Villas where we stayed.
It has a bunch of cute beach shacks some of which are pictured above that feature great food and boutique items.
You'll find clothing, jewelry, a chicken salad place, a pizzeria, and a donut truck to name a few attractions.
And stop by at nighttime for live music under twinkle lights with a festive ambiance.
20. Watch the sunset
Don't forget to stop and relax on your beach vacation!
One of the best ways to do this is to enjoy the sunset.
Head down to the beach to watch the sky change colors and be reminded of the beauty of nature.
Our nephews enjoyed collecting seashells along the water while the adults watched the sun go down together.
Dine
Here are the best dining options in and right around Rosemary Beach.
I recommend always making a dinner reservation in Rosemary Beach well in advance of your stay.
Harrison and his sister tried to make a reservation a couple of days in advance of our trip, and every place they called was booked through the month!
Oftentimes in the summer there could be a 2-3 hour wait if you visit a restaurant after 6pm!
21. Havana Beach Bar & Grill and Rooftop Lounge
Not only is the food here wonderful, but so are the views.
Havana Beach Bar & Grill, located in the Pearl Hotel, has beach views and is in the heart of the action on Main Street.
Try the Summer Berry Salad- it is phenomenal!
You can also head to the rooftop lounge for a cocktail (or two- it is vacation after all!) with a gorgeous beach view.
22. La Crema Tapas & Chocolate
La Crema Tapas & Chocolate has some incredible food- some of my favorite in Rosemary Beach.
Known for their tapas and chocolate (hence the name), you can stop in for a light meal or a feast- it's up to you!
We ordered the crab cakes, fish tacos, and molten lava cake a la mode.
Trust me when I say there was not a single crumb left on our plates!
23. George's at Alys Beach
George's is in Alys Beach and serves up delicious coastal cuisine with a global flair.
Book a reservation ahead of time, this place gets crowded quickly, even at lunch!
24. Raw & Juicy
Raw & Juicy is also located at Alys Beach, just a bike ride away from Rosemary Beach.
If you're looking for a lighter breakfast, they have great smoothies and healthy breakfast options.
For instance, I ordered the Antioxidant Smoothie (maqui berry, blueberries, strawberries, goji berries, banana and oat milk… yum!) while Harrison chose the strawberry banana smoothie.
We paired our smoothies with a buttermilk biscuit breakfast sandwich.
You can enjoy your meal in their beautiful restaurant or on their plant covered patio.
25. Cowgirl Kitchen
Located right on Main Street, Cowgirl Kitchen is one of the relatively more affordable dining options in Rosemary Beach.
We ordered takeout one night and enjoyed it with our whole family back at the house.
They've got great pizza and salads- we ordered the Margarita pizza and the CK taco salad with shrimp.
26. Amicis & Amigos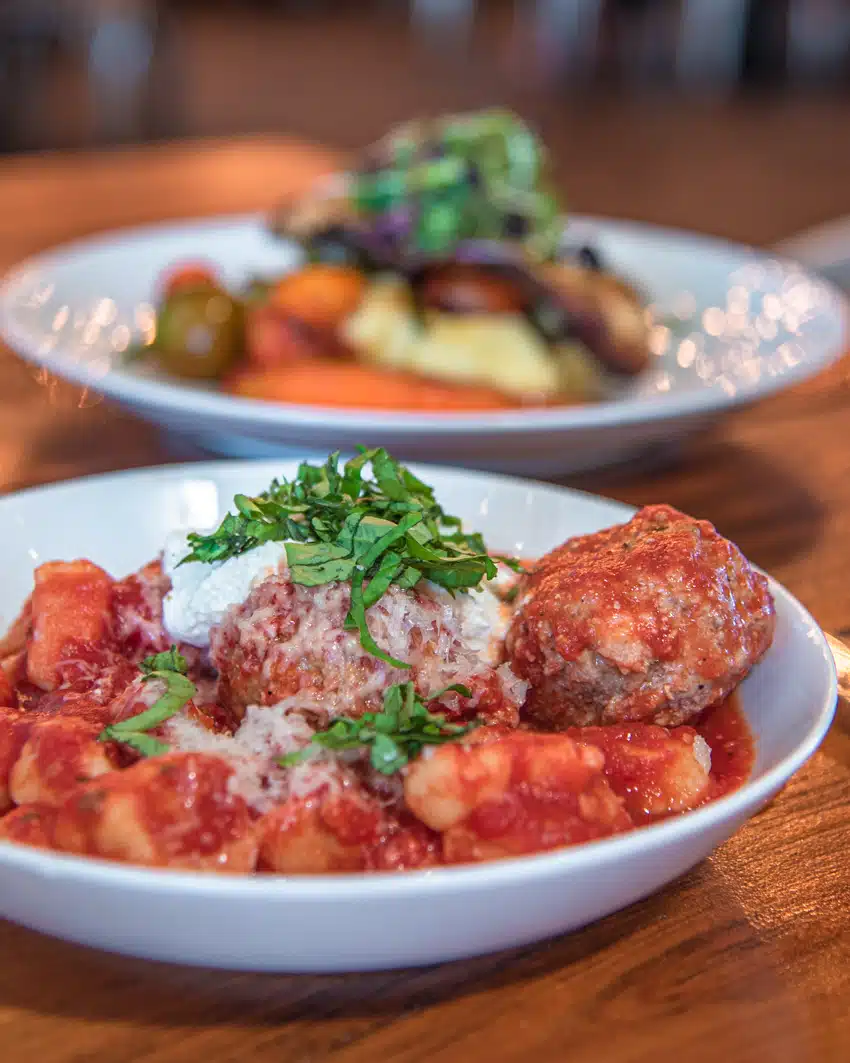 Amigos and Amicis are two sister restaurants- one Mexican and one Italian- that share one big space.
They are located right where 30a intersects with Highway 98, and often have less of a wait than the restaurants directly in Rosemary Beach or along 30a.
Because of that, we ended up eating there one night when everything else was booked- and were so glad we did!
Their cocktails are delicious and their homemade pasta is fantastic!
27. The Summer Kitchen Cafe
This place was so good we ate here twice!
The Summer Kitchen Cafe has a much more laid back vibe compared to the other restaurants you'll find at Rosemary Beach.
Their crab cakes are divine, as are their fries and burger.
(They actually have my husband's favorite burger in Rosemary Beach of the restaurants we tried- and at a price that won't break the bank.)
The Summer Kitchen Cafe also serves great coffee and drinks which you can easily order at the bar.
It's conveniently located at the end of Main Street near the beach.
28. Restaurant Paradis
When you're by the ocean, you simply must add fresh seafood to your diet, and Restaurant Paradis does just that.
This upscale seafood restaurant serves up coastal fine dining made from carefully selected seafood and locally sourced ingredients.
Though we didn't dine at Restaurant Paradis, I've heard great reviews of this place and knew I had to add it to this list!
Restaurant Paradis requires a reservation, so be sure to call in way ahead of time (I'm talking days ahead of time) to make sure you get one.
29. 30a candy shops
Vacation is one of the times where calories don't count, right? 😉
You'll find some great candy shops in Rosemary Beach, namely the Sugar Shak on Main Street and the Sweet Peddler in Peddler's Pavilion.
We have young nephews who adored these two shops- I think it's easy to see why!
30. Ice cream shops
In a similar vein, vacation always calls for ice cream!
Both of the candy stores I mentioned serve up ice cream, and you can also find ice cream (and other yummy treats) at Smallcakes Cupcakery and Creative Crepes.
In conclusion…
I hope you can see just how incredible this slice of paradise is!
From its coastal charm to all the things to do at Rosemary Beach, it's a perfect vacation destination.
And if you're looking for more charming vacation locations, check out these gorgeous places in the USA:
If you've been to Rosemary Beach and have more recommendation on things to do (or if you just wanna say hi!) leave a comment below!
Safe travels!
Jasmine
PS. If you found this post helpful, please share it to Pinterest! You can use any of the images below for easy pinning!