Heading to the white sandy shores of Panama City Beach? You're in for a treat! With crystal clear waters, powdery white sand, state parks, and piers, there are so many great Instagrammable photo spots in Panama City Beach. Here I'll cover the best of them!
And if you're looking to step up your Instagram game, here are some more posts you should check out:
Let's get to it! Here are the 20 best photo spots and most Instagrammable places in Panama City Beach, Florida.
1. Shell Island
This 7-mile barrier island is completely undeveloped, giving you the prettiest, most pristine sand in the area.
Here's the catch: it's only accessible via water! But don't worry, it's easy to get there. You can sign up for a jet ski or boat tour that stops at Shell Island, which is what we did. Alternatively, and more easily, you can ride the Shell Island Shuttle.
This shuttle boat departs from St. Andrews State Park every half-hour from 9am to 5pm in the summer. (They still run in the spring and fall, but with shorter hours and less frequency.) Round-trip tickets start at $21.95 per adult, and you can purchase them here.
(Wearing this swim suit– it's my all time favorite suit!)
2. St. Andrews State Park
Speaking of St. Andrews State Park, it's the next Instagrammable Panama City Beach photo spot on this list! With giant rocks, a pier, crystal clear waters, and frequent dolphin sightings, this is a great place to take photos!
3. Marina behind The Grand Marlin
Looking for great food with a view? Make a reservation at The Grand Marlin, located right on the marina. Afterwards, walk out back to see this Instagrammable Panama City Beach photo spot. There's just something fun and classy about a picture with boats in it! Bonus points if you're there for sunset!
4. FINNS Island Style Grub
This place serves up the yummiest tacos in Panama City Beach. Whether you want to put a food shot on your Instagram or photograph the fun surfer vibes here, FINNS Island Style Grub is worth visiting. (Don't forget to also grab a smoothie from the Barista Bar- they are also delicious!)
5. M.B. Miller County Pier
M.B. Miller County Pier is another great Instagrammable place in Panama City Beach. There's just something so neat about the architecture underneath a pier. The lines give cool focal points to your photo, and when you add in the turquoise waters here, it's a match made in photographer's heaven!
6. Pier Park
Pier Park is one of Panama City Beach's biggest attractions, with 124 shops, a Ferris Wheel, and close proximity to the beach. The next few Instagrammable spots in Panama City Beach are located right at Pier Park, but keep your eyes peeled for more! Beachy store fronts and colorful buildings abound here!
7. Ron Jon Surf Shop Surfboards
These surf boards are too cute not to take a photo of!
8. SkyWheel
The SkyWheel is a fun way to look out over almost all of Panama City Beach! Located at Pier Park, the wheel turns around a few times and stops for a few minutes at the top on your last spin. If you're afraid of heights, you can also get a photo outside of the SkyWheel, capturing the whole Ferris Wheel in your shot.
9. Coco Locos Drink Paradise
You'll have to shell out $13+ bucks for a cute pineapple drink, but there's no denying that it's an adorable drink from an adorable beach shack! Coco Locos Drink Paradise makes for a very Instagrammable drink stop in Panama City Beach. We ordered the Fruit Passion and it was very yummy!
10. Russell-Fields City Pier
After stopping at Coco Locos, bring your fun drink down to the beach and get a shot under the pier! The City Pier is right across from Pier Park, so you can hit this Panama City Beach photo spot while you're in the area.
11. Rainbow Houses
Colorful places make for great photo spots, and these are some of the most Instagrammable colorful houses in Panama City Beach! You'll get picture-perfect coastal vibes from these rainbow houses! There is a whole row of them, so there's bound to be one without a car in the driveway that you can photograph. These pastel-colored houses are located just west of Pier Park right off of Front Beach Road.
12. Conservation Park
How stunning is this beautiful park? Definitely one of the best photo spots in Panama City Beach because of how different it is from anything you'll see at the beach. The cypress trees here are remarkable. There are 12 different trail routes here that vary in length, from .6 to 11 miles long. The spot you see here will be on your right as you walk toward the Cypress Pond.
13. Laguna Beach
We came to Laguna Beach early one morning to visit what seems like one of the quieter beaches in the area. (Unconfirmed if that is fact or not, it could've just been because we were there in the morning). Since no one was around, we flew our drone and got this cool shot!
(Wearing this swimsuit– it's flattering on every figure!)
14. Carillon Beach Entrance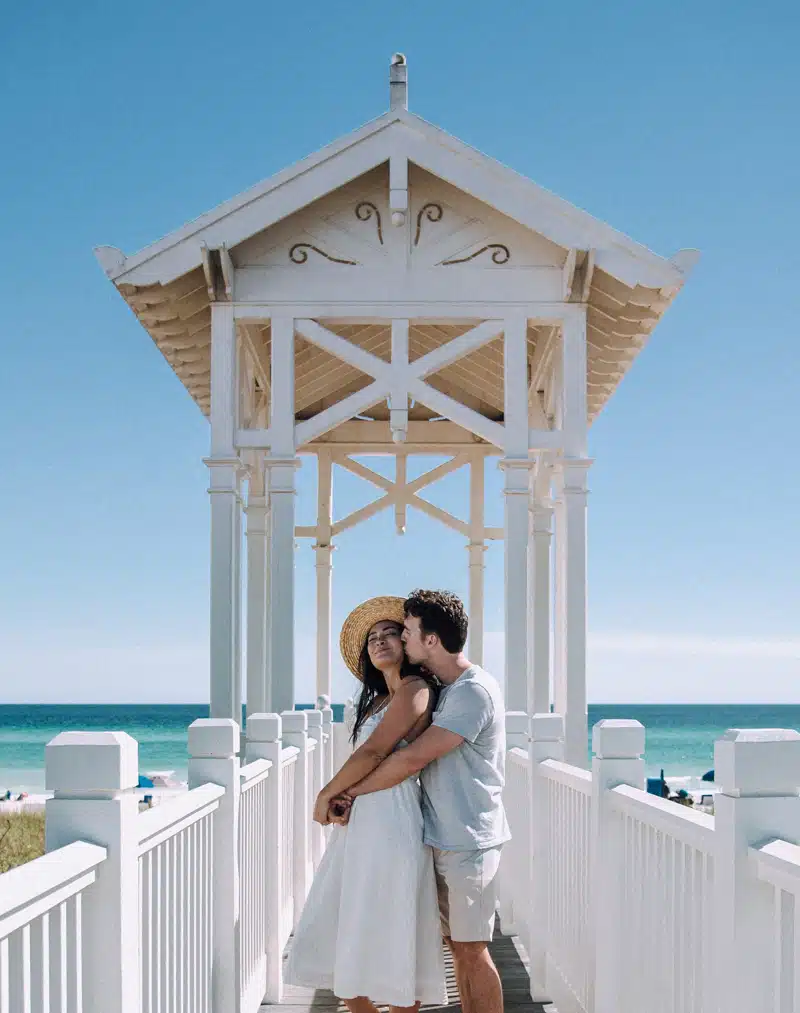 This adorable beach town is towards the very end of Panama City Beach on its western side. There was a long line of cars to get in at the main entrance when we tried to visit, so we skipped that and parked at the Carillon Beach Resort Inn and walked. (You can't drive into the community from the Inn's parking lot). The roughly 5-10 minute walk to the beach entrance pictured above (it's Walkover 7 right by the intersection of Beachside Dr and Lakefront Dr) was short and so charming. We were surrounded by the cutest beach houses that felt like they were straight out of Southern Living Magazine! And just how adorable is this beach entrance? Definitely one of the most Instagrammable photo spots in Panama City Beach!
15. Camp Helen State Park
How cool is this leftover pier at Camp Helen State Park (or, at least, I think that's what it is!)? Surrounded by water on three sides of its 180 acres, Camp Helen is a unique Florida State Park. Lake Powell, Florida's largest coastal dune lake, is its largest border. There's a $4 per vehicle entrance fee that you'll leave in the park's honor box. Also, keep in mind that there's about a .7 mile (one-way) walk through sand (ie. harder than a paved path) to get to the wooden beams pictured above.
16. Firefly
This restaurant does a great job of brining the outdoors inside. Appropriately named Firefly (how dreamy are those lights?) you'll want to book this spot ahead of time, especially if you plan to visit on a weekend. Other than the dreamy lit-up tree inside, Firefly serves up delicious food as well. How delicious? Well, they've served the Obamas and their signature grouper dish was served to US Olympians at the London Games!
17. Boat or Jet Ski Tour
Doing any sort of water tour is bound to be Instagram-worthy. We did a jet ski tour with Lagoon Pontoon which was a ton of fun. The only downside photo-wise is that you can't really get a photo of you jet-skiing. Instead, you can pack your phone (or your camera if you're brave) in the dry bin, and take a photo once you reach Shell Island. For photos while you're on a tour, I recommend opting into a dolphin catamaran tour or this sunset cruise!
18. A Beach Sunset
Sunsets always seem to crush it on Instagram, and Panama City Beach has some incredible ones. So, use this tip: if you're planning dinner right around sunset, make sure to book a beachside restaurant. That way, you're already in a prime sunset location! Just be sure to tell your waiter that you're going to take a photo of the sunset- so they know you're not dining and dashing or have decided to eat elsewhere! That is exactly what we did when we ate at Runaway Island. A couple of other great beachside restaurants are Hang Five and Schooners.
(Wearing this $30 outfit from Amazon– it's my go-to set for travel and lounging!)
19. A Beach Shot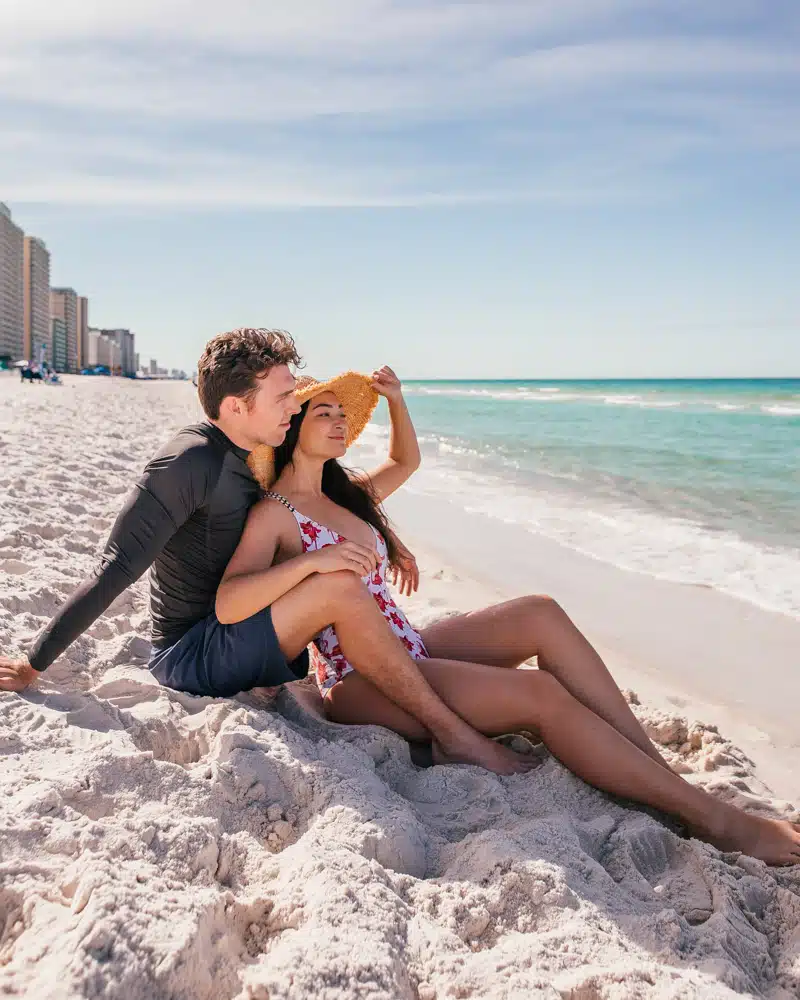 Don't forget about a classic beach shot! But try making it visually interesting by bringing your travel buddy in the shot, or trying a new pose! You can check this post for ideas on how to pose for Instagram photos!
20. Hotel Balcony Shot
Chances are, you'll be staying at a hotel on the beach, so how about capturing some balcony views? Whether you're on a high up floor or right next to the pool, you're bound to get an Insta-worthy photo. We stayed at the Holiday Inn Resort and I captured this from our balcony right before sunset.
PS. See that lazy river in the photo? We went around it four times- it was my favorite thing about staying here!
21. Bonus: Wildlife
This isn't a photo spot or an Instagrammable place, but you should keep an eye out for wildlife while in the area! Whether you're getting a photo of dolphins, mantees, birds, crabs, or anything else, they're bound to be Insta-worthy! We happend to capture this pretty fella on camera while visiting Camp Helen State Park. He was just chillin' in the water right next to some toddlers, totally unfazed. You go, bird.
In conclusion…
Well, there you have it! The top Instagrammable places in Panama City Beach, Florida. Which one are you most excited to visit? Let me know in the comments!
And if you've visited Panama City Beach and know of more great photo spots, let me know in the comments! I'd love to visit next time I'm in the area!
Also, if you're visiting Florida, here are some more posts you might enjoy!
Safe travels,
Jasmine
PS. If you found this post helpful, please share it to Pinterest! You can use either image below for easy pinning!