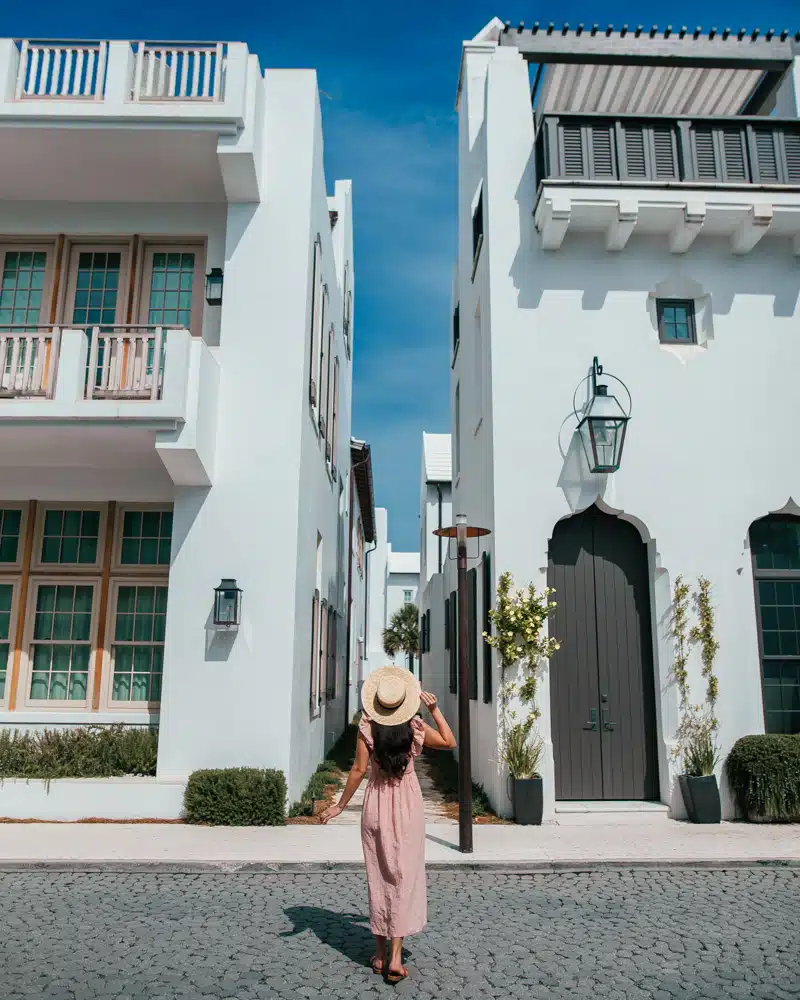 Dreaming of travel and trying to find it domestically? I feel ya! Well if you're seeking sunshine, here are the 50 most beautiful places in Florida to add to your list!
I've organized these by region so that you can check out all of the most beautiful places in Florida that are close to where you want to visit!
Whether you're heading to the:
Florida Panhandle (Pensacola, Panama City Beach)
Northeast (Jacksonville, Gainesville)
North Central (Orlando, Gainesville)
South Central (Tampa, St. Petersburg)
Southwest (Fort Meyers, Naples)
Southeast (West Palm Beach, Miami)
Keys (From Key Largo to Key West)
… this list of beautiful places in Florida covers them all!
Let's get into it!
Map of the Most Beautiful Places in Florida
Here's an interactive map that you can open in Google Maps. I've color coded the pins on the map based on region.
Alright, without further ado, here are the most beautiful places in Florida!
1. Destin
Located in northwestern Florida, Destin and Fort Walton Beach make for the perfect family-friendly spot.
Its pristine waters and powdery white sand are a great place to soak up the sun. You can enjoy the resorts, golf courses, aquariums, and museums in Destin!
2. Gulf Islands National Seashore
The sea is calling! Enjoy the clear water, nature trails, and marine wildlife at the Gulf Islands National Seashore.
The seashore has 160 miles of coastline along the Gulf of Mexico in Mississippi and Florida you don't want to miss.
While you're there, stop at Fort Pickens for the stunning arches pictured above!
3. Eden Gardens State Park
This beautiful state park in northwestern Florida has 163 acres of historic land. A must-see focal point is a renovated two-story mansion from 1897.
Visitors can wander the gardens, fish at Tucker Bayou, and enjoy a picnic on the grounds.  
4. Grayton Beach State Park
Grayton Beach is one of the most highly rated beaches in the U.S. Not only is the coastline amazing, but it also has a stunning forest and lake to visit.
The park has incredible sunsets, excellent campgrounds, and world-class fishing. The photo above is at Longleaf Pine Forest at Western Lake in the state park.
5. Seaside
Seaside is a charming beach community best known as the setting of Jim Carrey's show, The Truman Show. This picturesque town has excellent biking, surfing, and waterfront dining options.
Visitors can stay in cute seaside cottages and enjoy summertime live music.
6. Alys Beach
Are you in Santorini or Florida? At Alys Beach, you won't know the difference!
This Mediterranean-inspired village will transport you around the world. You can take a stroll down its palm-tree lined streets and indulge in the relaxing beach lifestyle.
The very first photo in this post is from Alys Beach as well!
(By the way, if you like my photos, you can see exactly what's in my camera bag here!)
7. Rosemary Beach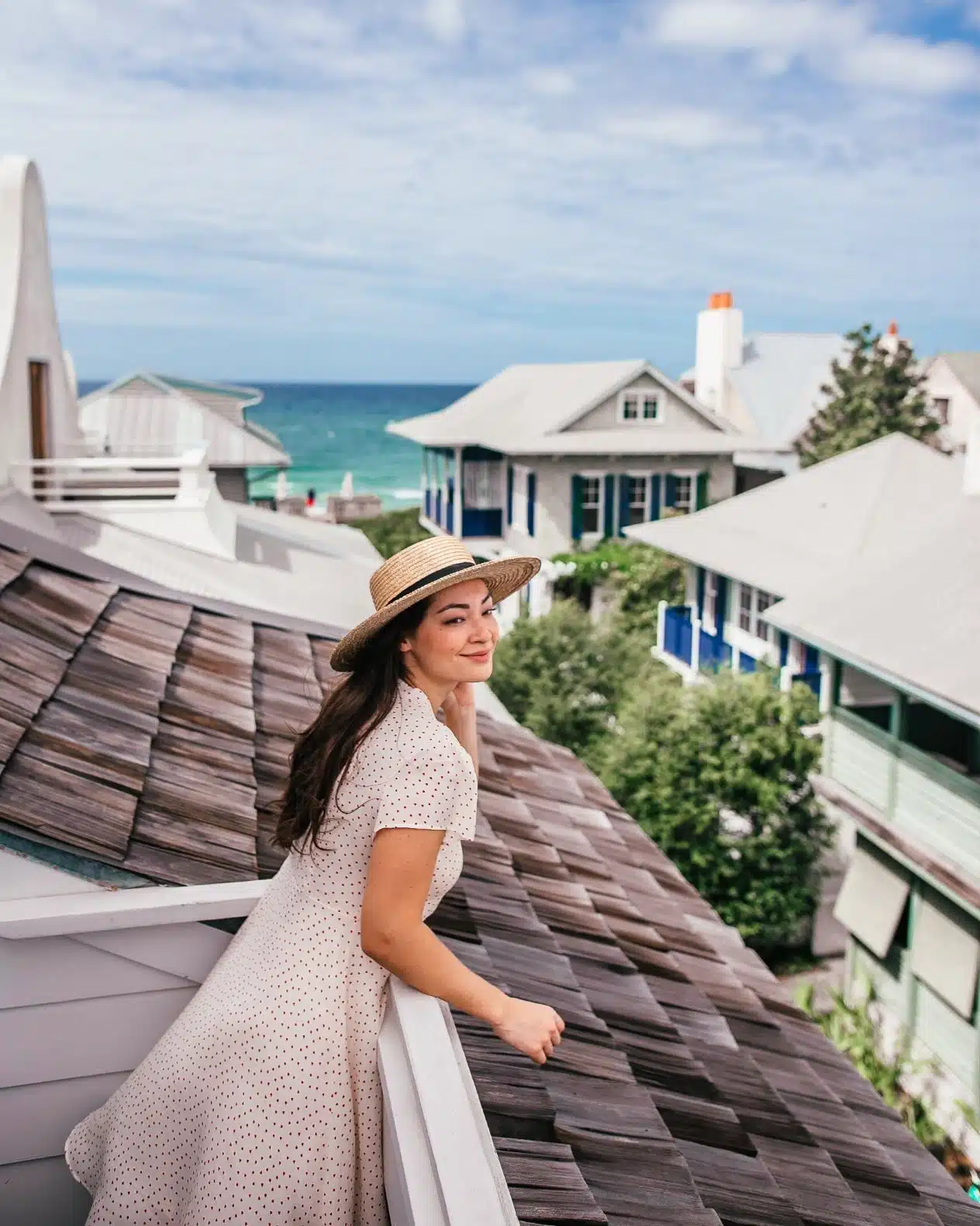 Considered one of "America's Most Romantic Small Towns," Rosemary Beach is an exciting getaway. It is a mix of immaculate beaches and stylish architecture.
The town center has a "French Quarter" inspired theme with plenty of outdoor dining and boutiques. It's one of my favorite places for a luxury family getaway, and one of the most beautiful towns in Florida!
You can check out the 30 best things to do in Rosemary Beach here!
8. The Pearl Hotel
The Pearl Hotel at Rosemary Beach is a stunning oceanside getaway. It offers guests a five-star luxury experience with its striking architecture and lavish amenities.
You'll have no shortage of fine-dining, relaxing spa time, and beach entertainment at this hotel.
Also, how charming are their black-and-white beach umbrellas? This was on the cover of Southern Living Magazine one month, so naturally, I wanted to recreate the shot with our drone when we visited!
9. Panama City Beach
You can enjoy Panama City Beach at any time of the year. The sun is always shining here, with an average of 320 sunny days.
Its 27-miles of award-winning coastline are perfect for sunbathing, visiting piers and parks, and watersports.
10. Falling Waters State Park
Nature lovers will be impressed by Falling Waters State Park's 74-foot waterfall. The falls are the highest in Florida! It's only a short trek to see the falls from two observation platforms.
You don't want to miss this stunning sight- definitely one of the most beautiful places in Florida!
11. Amelia Island
If you adore the beach but not the crowds, you'll love Amelia Island. The island has stunning nature, including marshes, greenways, and rivers.
Outdoor sports enthusiasts can enjoy guided kayaking tours, nature trails, and fishing trips at this island paradise.
12. Boneyard Beach
For those looking for an experience devoid of resorts, condos, and bustling cities, Boneyard beach is the place for you.
The beach has a unique aesthetic. The driftwood tree trunks littering the beach give it an iconic "elephant graveyard" appearance.
13. Atlantic Beach
Atlantic Beach is a bit more tranquil than other beaches in Florida. It is very well-maintained and not usually too crowded, so it's easy to relax.
You can enjoy stunning sunrises in the morning, go surfing, and enjoy beachside restaurants.
14. St. Augustine
St. Augustine, the nation's oldest city, is steeped in history. Spanish explorers founded it in 1565, and its architecture and old-world charm reflect its heritage.
The city's cobblestoned streets have numerous cafes, bars, and shops people can explore!
15. Madison Blue Spring State Park
If you love swimming and you love nature, you'll love Madison Blue Spring State Park. The state park is home to USA Today's #1 rated swimming hole in the United States! A lush green forest surrounds this tranquil swimming spot.
16. Ichetucknee Springs State Park
This 2,669-acre park is home to diverse wildlife, crystal-clear springs, and the six-mile Ichetucknee River.
Visitors love warm-water tubing and snorkeling in the swimming holes and lakes. Animal lovers can find wild turkeys, beavers, and softshell turtles in the park.
17. Devil's Den Prehistoric Spring
The Devil's Den Prehistoric Spring is a gem that will transport you back in time. It is truly a beautiful Florida spring and is a must if you're in the Gainesville area.
To reach the spring, you descend into an underground cave filled with stunning rock formations. You can either scuba dive or snorkel in the spring.
Also of mention, just six minutes away, diving enthusiasts are in heaven at the Blue Grotto Dive Resort.
The cavern's 100-foot deep pool is crystal clear and a perfect 72 degrees Fahrenheit year-round. Divers can see undisturbed rock formations that are almost entirely in their natural state!
18. Three Sisters Springs
The Three Sisters Springs is the winter home of migrating manatees. Visitors can take eco-tours to see these beautiful sea creatures from mid-November to late March.
Other activities that you can do at the springs include boating, swimming, and fishing. It's part of the Crystal River National Park Refuge, which has incredibly clear waters, hence its name. The entire refuge is truly one of the most enchanting and beautiful places in Florida!
Crystal River National Park Refuge focuses on protecting the endangered Florida Manatee. It preserves the last remaining undeveloped manatee habitat.
If you want to see these precious creatures, there are numerous boardwalks in the park.
19. Rainbow Springs State Park
With about 100 acres of wetlands to see, the Rainbow Springs State Park is a stunning natural wonder.
Its river is home to various fish, plants, and wildlife. The park has 11 different natural communities that visitors can explore.
20. Mount Dora
For laid-back country living, head to Mount Dora. Its charming downtown area has country inns, outdoor cafés, an old railway station, and wineries.
If you want to find some unique items, there are plenty of fascinating antique and collectible stores.
21. Blue Spring State Park
With 51 campsites and cabins, this state park is a recreation lover's playground.
Visitors can go scuba diving in caves during spring and summer and have picnics. In winter, you can visit the manatees who make this park their home.
22. Disney World
Disney World is a magical place, no matter what age you are. The entertainment complex offers nearly 25,000 acres of entertainment at its four theme parks and two water parks.
Disney Springs just outside the parks offers shopping and dining.
The most Instagrammable place here is, hands down, Cinderella's Castle!
23. Kennedy Space Center
Head to the Kennedy Space Center for an "out of this world" experience. You can visit the "Space Shuttle Atlantis" exhibit, take a simulated space ride, and "train like an astronaut."
The most photo-worthy spot here, in my opinion, is the Rocket Garden pictured above!
Don't forget to check out the Astronaut Hall of Fame!
24. Caladesi Island State Park
If you want somewhere with more nature than people, visit the Caladesi Island State Park.
This pristine island is home to sea turtles, gopher tortoises, shorebirds, scallops, and sand dollars. It's the perfect place to picnic and enjoy kayaking trails.
25. Clearwater Beach
As its name implies, Clearwater Beach is a remarkable place with pure water. You can enjoy the small-town next to it and the Clearwater Marine Aquarium.
Its family-friendly accommodations, exciting beach life, and delicious restaurants make this an ideal destination.
26. The Dalí (Salvador Dalí Museum)
You are in for a treat at The Dalí if you are a fan of the artist. The museum houses the most extensive collection of his art outside of Europe.
Its exterior is as whimsical and vibrant as Dalí himself!
27. The Don CeSar
The Don CeSar Hotel is a legendary beach getaway that has hosted famous and notorious figures. Its iconic pink building sits on top of sand dunes next to the beautiful Gulf Coast, and is one of the most beautiful hotels in Florida!
Visitors can enjoy world-class dining, retail, and spas.
28. Pass-a-Grille Beach
Home to the aforementioned Don CeSar, Pass-a-Grille Beach is a town and a shoreline at the southern end of St. Pete Beach. Pictured above you have The Hurricane, an adorably colorful seafood restaurant.
The town is charming and relaxed. You can take a pleasant stroll through its outdoor art market, play tennis, or unwind at the beach.
29. Fort De Soto Park
This beautiful park in the Pinellas County Park system has five interconnected islands.
Fort De Soto has a unique ecology in its mangroves and wetlands. You can kayak or explore the beach and see its birds, sea creatures, and wildlife.
But some might argue that the most beautiful part of Fort De Soto is its beautiful palm-tree lined road!
30. Anna Maria Island
If you want to get away, Anna Maria Island is an outstanding tranquil destination for you. Strict regulations preserve its charming historic buildings and businesses.
Let go of all your stress on the pristine beaches and explore this quaint island.
31. Ca' d'Zan