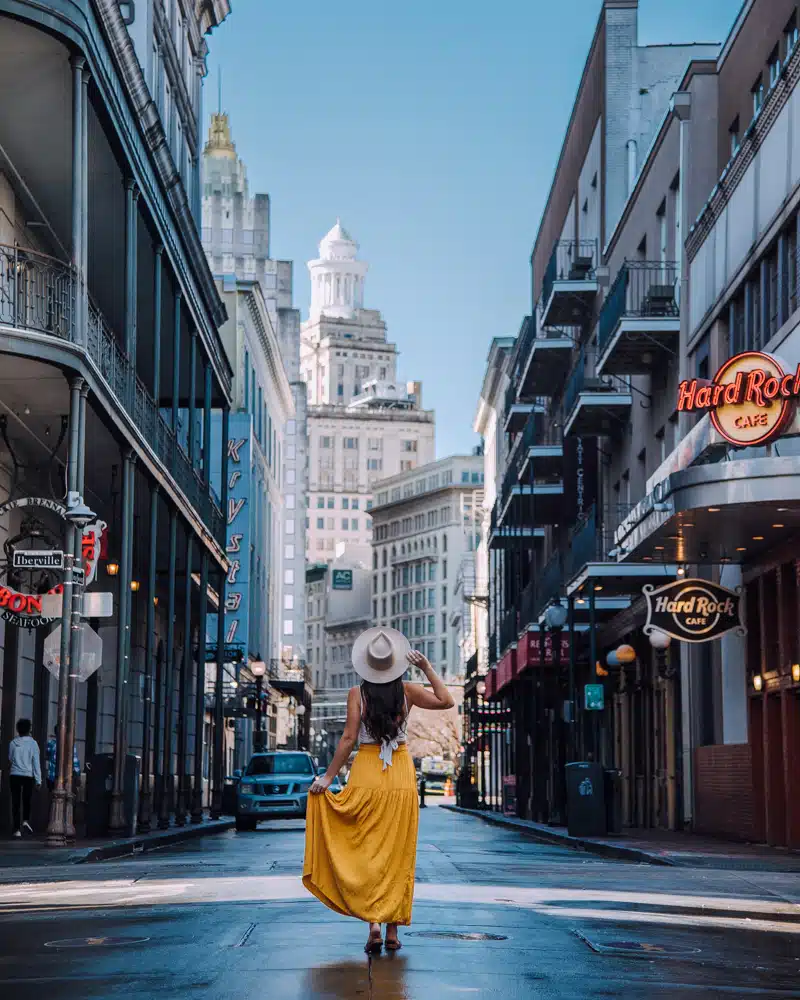 Heading to New Orleans? Get ready for a vibrant city with lots to love. There are so many Instagrammable places in New Orleans and I can't wait for you to see them!
From the charming corners of the French Quarter that will have you feeling like you're in Paris, to adorable cafes and New Orleans-inspired murals, the whole city is full of stunning photo spots and views!
You can see all of these photo spots below.
But I also made a video of my time in New Orleans showcasing some of its most Instagrammable spots!
[If you don't see a video below, you may need to disable your ad blocker.]
Here are what I'd consider to be the best of them!
1. French Quarter (New Orleans' most Instagrammable area!)
A New Orleans (NOLA) trip wouldn't be complete without stopping by the world-famous French Quarter. It's easily the most Instagrammable area of New Orleans and contains a bunch of the spots on this list!
This neighborhood is the perfect Instagrammable destination because of its iconic architecture and infectious charm.
Its multi-level cast-iron balconies perched on bright red brick buildings are a quintessential New Orleans aesthetic.
The best photo ops are on its magnificent street corners; I'll list my favorite corners a bit further down on this list!
For the exact photo spot in the photo above, head to 614 Royal Street.
2. Jackson Square and St. Louis Cathedral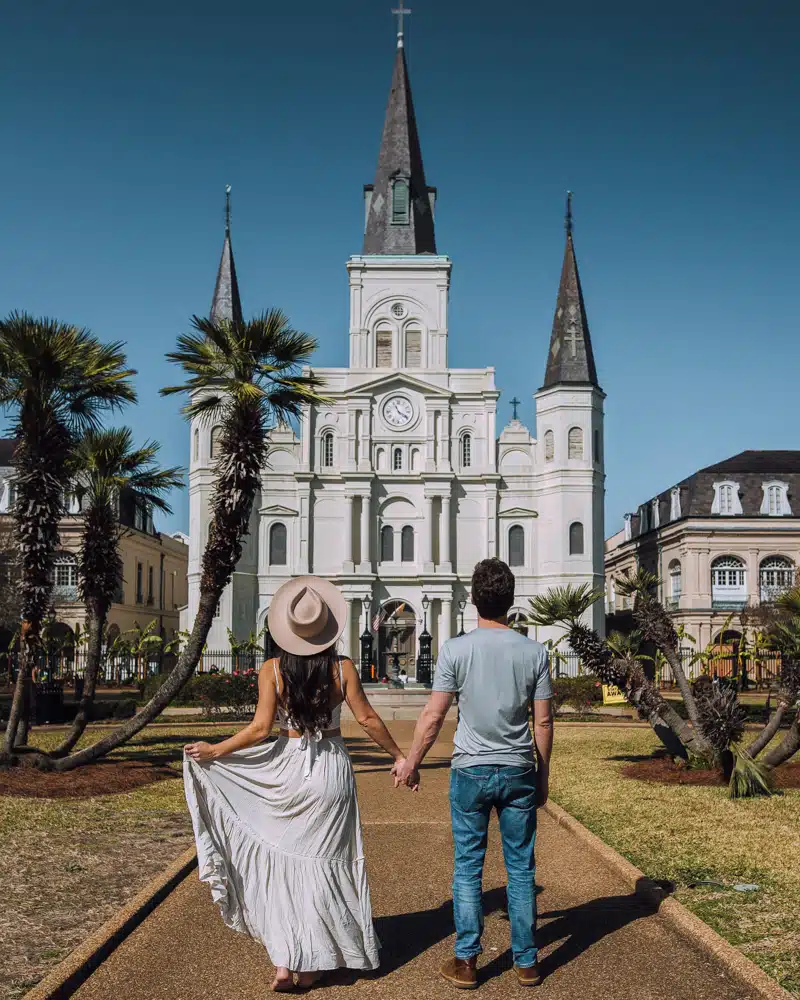 Jackson Square, with the whimsical St. Louis Cathedral in the background, will make you feel like you're in a fairy-tale. It's easily one of the most Instagrammable places in New Orleans!
This square is usually a hot tourist spot, so arrive there early if you don't want crowds in your photos.
Couples love this spot for engagement or wedding photos.
Even if you're single, you'll leave with some great pics and memories!
3. Washington Artillery Park
On the other side of Jackson Square you'll find Washington Artillery Park. From here, you can get another great view of the St. Louis Cathedral!
I added a retro edit on this photo because it just felt right with the horse-drawn carriage rolling by!
4. Café Du Monde
One classic treat you need to try in NOLA are beignets from Café du Monde.
This deep-fried fritter dusted in powdered sugar is not only delicious, but it is incredibly photo-worthy.
While this café has locations worldwide, you should visit the original one located on Decatur Street in the French Quarter.
This location has been running continuously since 1862!
5. The Chloe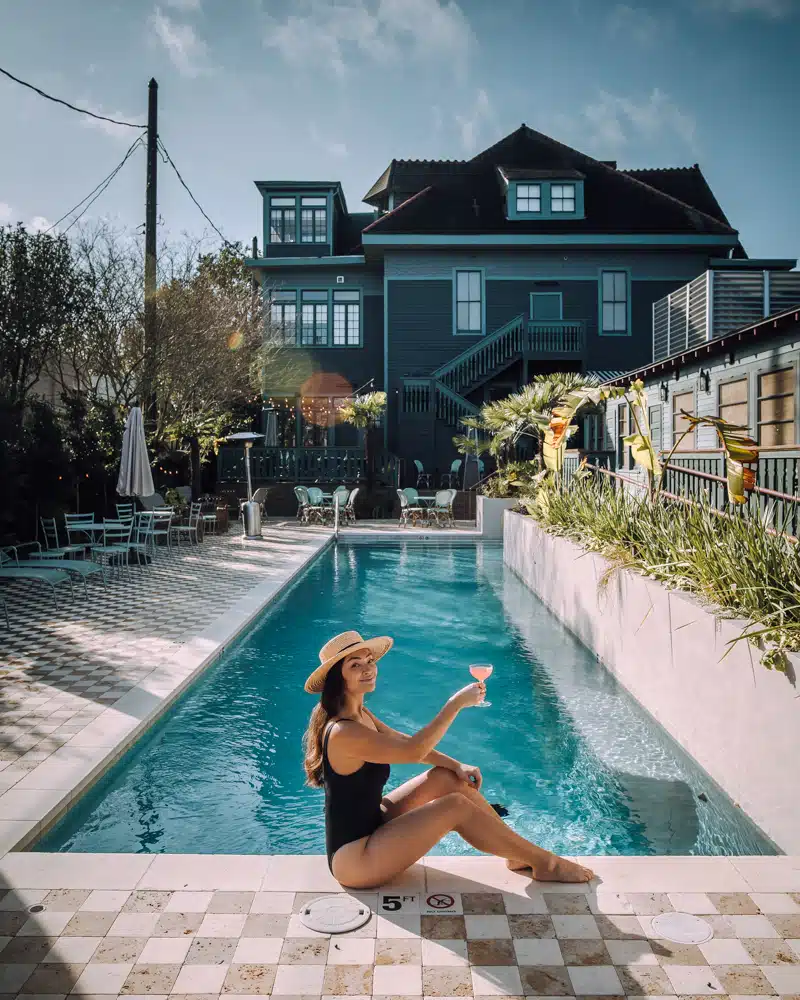 The Chloe is a hotel, restaurant, and bar all mixed into one space. It's by far the most Instagrammable hotel in New Orleans, but you'll want to stay here regardless of whether you're looking for pretty photos!
Featured in Southern Living magazine, this hotel embodies southern hospitality, which we got to experience firsthand! The Chloe is the first hotel by restauranteur Robert LeBlanc, and as such serves up the most delicious cuisine! A gourmet, made-to-order breakfast is complimentary- and the biscuit breakfast sandwich is a must!
Whether you're visiting to dine at their restaurant or stay at their hotel, you can take some beautiful pictures on the porch of this green converted mansion.
Or, if you're staying here, take a photo poolside (their pool is heated in the winter and is perfect for a relaxing swim after a long day of walking!). While the building is historical, the inside is ultra-modern and chic, blending whimsical vibes with vintage finds.
A huge thanks to The Chloe for hosting us! You can book your stay here!
6. Tableau
If you want to sample typical New Orleans cuisine in a beautiful spot, then head over to Tableau.
The restaurant has delicious food and lovely views of its central courtyard and Jackson Square.
Be sure to snap some pics in the colorful and charming courtyard with string lights, a fountain, and a beautiful façade. You can also simply get a photo of the charming Paris-like patio along its side!
7. Bourbon Street
As its name implies, Bourbon Street is one of the premier party streets in NOLA. Neon lights mark its countless iconic bars.
Not only will you get amazing photos on this street, but you'll have a great time doing so. Bourbon Street has non-stop excitement and is the life of the New Orleans party scene.
But if you don't want crowds, the best time to head to Bourbon Street is in the early morning before the street wakes up. We went on Sunday morning and found the streets as empty as you see here!
This exact photo spot is at Bourbon Street and Iberville Street.
8. Orleans Street and Bourbon Street
The intersection of Orleans Street and Bourbon Street exudes strong New Orleans vibes.
While many places in the city look similar to this intersection, what makes this area unique is its perfect cathedral view.
This narrow street with charming architecture frames the back of the cathedral perfectly and provides excellent Instagram opportunities.
Since there were a bunch of cars parked on the left side of the street when facing the cathedral, I decided to get a photo here at an angle. The colorful buildings really pop if you have a zoom lens!
9. Bourbon Street and St. Ann Street
This spot is just a block further down on Bourbon Street and offers one of the most iconic street photo spots in New Orleans. If you Google "Bourbon Street," chances are the first images you see will be right from this spot! Of course, that makes this location a must as one of the most Instagrammable streets in New Orleans.
You'll want to zoom in for this photo so that the city in the background and all of the colors of Bourbon Street appear larger! I used my 24mm-120mm lens fully zoomed in here.
10. Royal Street and St. Peter Street
One of the most iconic balconies in the French quarter is on Royal Street and St. Peter Street.
In fact, the intersection of these two streets is one of the most photographed corners in the city, which obviously makes it one of the most Instagrammable places in New Orleans.
Pose at this intersection for some iconic pics! People will immediately know where you are when you post your fabulous Instagram photos from this New Orleans landmark!
11. Royal Street and Dumaine Street
If the Royal and St. Peter Street intersection is too crowded, head north on Royal Street for an equally gorgeous balcony! You'll find a bunch of Amelie-inspired shops here. It's fitting, seeing as how the French Quarter really does feel like Montmartre, Paris!
PS. The photo in Instax polaroid camera is at a location further down on this list! And you can get an Instax here!
12. Napoleon House
Experience old-world New Orleans at the Napoleon House. This landmark, which has been around for nearly two centuries, is right in the NOLA French Quarter.
Initially, the exiled leader Napoleon Bonaparte planned on sheltering here. While this plan never materialized, it remains a delightful and lively locale to this day.
Nowadays, you can dine at this Creole cafe and take some stunning photos in its charming courtyard!
13. Brennan's
A pink building? Of course I had to add it to my list of Instagrammable New Orleans spots! Brennan's, a bubblegum pink restaurant, stands out among the sea of historic brick buildings on Royal Street.
Its façade, which has white doors and green shutters, makes for a spectacular photo backdrop.
Even the restaurant its self is very photogenic! Its pink, blue, and white tile tables provide excellent photo ops for their colorful cocktails.
14. Café Beignet
As you've probably realized by now, beignets are a NOLA favorite! Café du Monde isn't the only place to get this sweet treat. Another classic Instagrammable spot in New Orleans is Café Beignet.
This joint has an adorable storefront with an iconic green and white awning and a classic sign. You'll probably see a very similar photo being sold in the many art galleries in the French Quarter. Create your own by snapping a photo of this charming cafe!
Of course, you've got to sit down and enjoy a beignet, too. Pro-tip for optimal photo lighting if you're taking a photo of your food inside is to sit by the doors!
15. Exchange Alley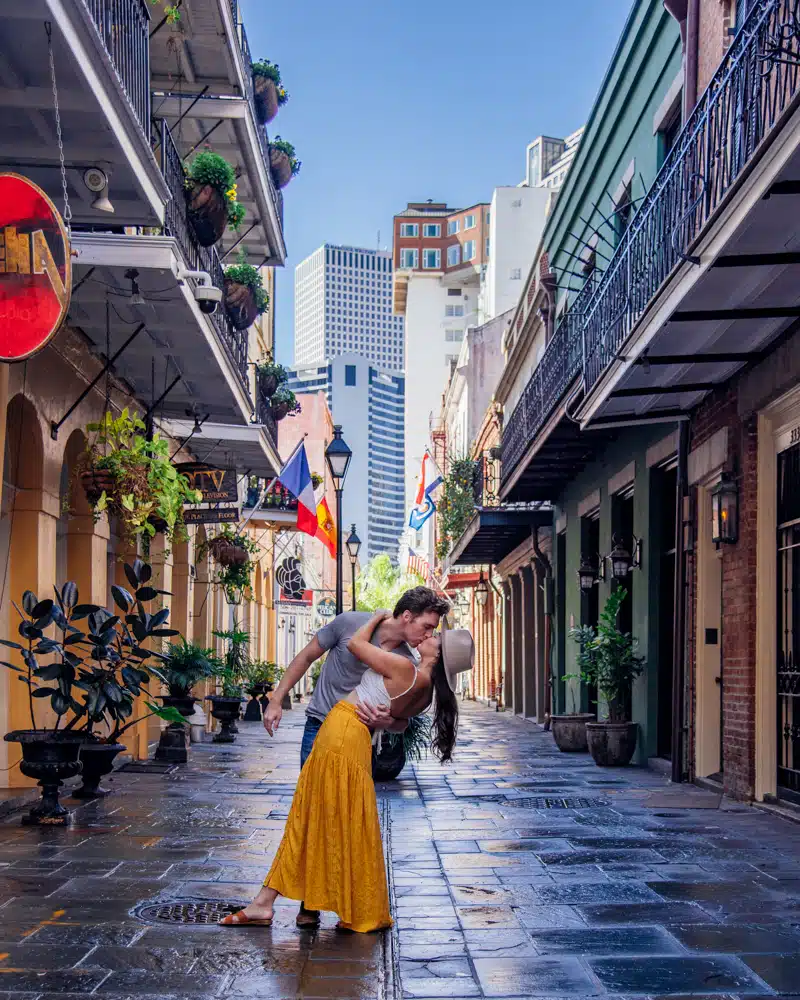 Exchange Alley is a narrow pedestrian street from 1831 that is one of the early birthplaces of jazz.
Today it retains its old-world charm and is a cute little alleyway that is a spectacular photo spot. There are charming historic buildings and plenty of young palm trees to frame your photos.
We visited on a Sunday morning before the shops opened and found it completely empty!
PS. Check here for my 15 tips on how to take the perfect Instagram photo!
16. Carousel Bar and Lounge
Have you ever wondered what it would be like to have a drink on a carousel? Probably not, but after visiting the Carousel Bar and Lounge, you'll wonder where this place has been your whole life!
Sitting at its revolving bar with hand-painted chairs is a one-of-a-kind experience.
Stop here for a drink, and you'll leave with some unique Instagram pics.
17. Felix's Sea Food
Visit in the morning for some dreamy lighting on the many plants hanging above Felix's Restaurant & Oyster Bar!
They get watered in the morning so be careful to not stand directly underneath if you're visiting then- you might end up very wet!
18. Be NOLA Kind Mural
This fabulous purple, blue, and yellow mural will brighten your day. You can find this cheerful mural in the French Quarter set against a brick wall. To find this exact location, you can simply navigate to Deanie's Seafood Restaurant, right by the intersection of Dauphine and Iberville.
The positive message on this mural will put you and your followers in a good mood and remind everyone to "be NOLA kind."
19. "With Love from Nola" Neon Sign
This super cute mural in the Canal Place atrium screams "Instagram backdrop." It is a moss wall that has "with love from NOLA" plastered on it in neon pink.
It's located near the Saks Fifth Avenue entrance. When you've finished, you can hit the shops in its mall!
20. Copper Vine
Copper Vine serves up tasty food and drinks in a chic environment. You can find all sorts of photo-worthy southern classics with a twist here, including chicken fried duck and cornbread waffles, shrimp and grits, and crab meat deviled eggs.
Bonus if you enjoy it out on their plant-covered patio! You can see just how lush it is in the photo above- and that's just from the outside!
Also, don't forget to try some of their famous wine. It is a gastropub, after all!
21. Bar Marilou
If you are looking for a photo-worthy bar with some ambiance and a great aesthetic, look no further. Bar Marilou checks all those boxes and more.
Enjoy a craft cocktail or French-inspired cuisine while sitting on one of its tiger-print barstools or tufted couches. Don't forget to snap some photos while doing so!
22. Warehouse District
This sophisticated and artistic neighborhood has many beautiful details. It is an eclectic mix of 19th century paved stones, modern rooftop pools, and delicious food. It is also home to African-American artist Clementine Hunter's work.
You'll have no shortage of photo spots in this district where historic charm meets modern sophistication.
We got the photo above at St. Charles Avenue and Lafayette Street, right across from Lafayette Square.
23. Josephine Estelle
Josephine Estelle serves up Italian meals in a gorgeous space. With a charming patio on the outside and green velvet booths and palm print wallpaper on the inside, it's photo-worthy both inside and out!
24. Auction House Market
This bright and airy food hall is an excellent destination for some tasty treats and cute photos.
You can find everything from craft coffee to fresh seafood at the Auction House Market.
It has perfect soft lighting throughout, so you won't have to worry about any funky shadows.
Pro tip: even the bathrooms at the Auction House Market are Insta-worthy!
25. Flamingo A-Go-Go
Flamingo A-Go-Go is an all-around fun experience no matter what time you visit. You can start celebrating and having a good time in the morning if you want to!
This eatery offers bottomless brunch and endless photo opportunities.
Everything from the food to the flamingo-themed décor can jazz up your Insta feed. Don't forget to snap a pic at the cute flamingo mural on its exterior wall! A wide-angle lens or setting your iPhone to the .5 wide-angle setting is best for a shot here!
26. Jack Rose
Jack Rose embodies the celebratory spirit of New Orleans through its vibrant space and tasty food and drinks.
Located in the Partchartrain Hotel, this restaurant pulls out all of the stops with its extravagant décor, with no space in the eatery left uncovered. Take pictures with stunning chandeliers and ornate wallpaper as a backdrop!
But for the most stunning spot (at least it is in my book!), snap a photo of the part of the restaurant with cascading plants hanging from the ceiling. Isn't it so dreamy? Definitely the most Instagrammable restaurant in New Orleans to me!
27. Greetings from NOLA
This iconic, larger-than-life mural is part of a series of similar murals nationwide painted by artist couple Victor Ving and Lisa Beggs. If you snap a photo here, it is like adding a stamp to your Instagram "passport." 😉
The NOLA version has many of the city's iconic sights and logos painted into it so that you get the full New Orleans vibe!
(By the way, you can learn my 31 tips on how to improve your Instagram here!)
28. Garden District
Some of the most historic homes in NOLA are in the Garden District. You'll find no shortage of 19th-century mansions and beautiful gardens to share with all of your followers on Instagram.
While in the area, don't forget to visit all of its unique shops and spooky cemeteries.
29. Commander's Palace
You won't miss Commander's Palace, a bright blue restaurant with a striped awning, located at the heart of the Garden District.
Instagrammers love using this spot as a backdrop and then staying to eat some great food. The interior is also photo-worthy, with cheerful balloons at every table!
This NOLA institution has been serving countless guests since 1893.
30. Prytania Street
Prytania Street in the Garden District is full of stunning houses and beautiful live oak trees.
But keep going down Prytania; it has endless things to do and places to see. It is an Instagrammer's paradise because it has excellent street art and murals.
One of the top ways to see this street is by bike or scooter.
Don't forget to stop at the Milton H. Latter Public Library (housed in a mansion) with a very photogenic solarium.
31. St. Charles Avenue
St. Charles Avenue is a wide tree-lined residential boulevard that is one of the Mardi Gras parade routes. If you visit during that time, you'll have a wonderful experience.
You can also snap some great photos next to ornate mansions and historic cable cars, and visit Loyola and Tulane Universities.
32. Charles Streetcar
All aboard the oldest continuously running streetcar in the world! This lean, green (it actually is green) cable car machine has been in operation since 1835.
This historical streetcar is definitely an Instagrammable New Orleans gem! You'll find many paintings/drawings/photographs of the streetcar framed by live oak trees in New Orleans many art galleries.
Since it is still running, you can snap some fantastic photos on this living piece of history! It only costs $1.25 (at time of writing) to hop on this exciting streetcar and explore the area.
We got the photo above with my zoom lens (notice a trend here? I used my zoom lens a ton in New Orleans! You can see what's in my camera bag here!) to magnify the live oaks as the streetcar passed by.
The exact photo location here is on St Charles Avenue near the Third Street intersection.
33. Sucre
Ready for a tasty dessert with a great backdrop? Head to Sucre and you'll get just that!
Clean lines, bright whites, and pops of pink greet you at this yummy dessert spot on Magazine Street.
34. Audubon Park