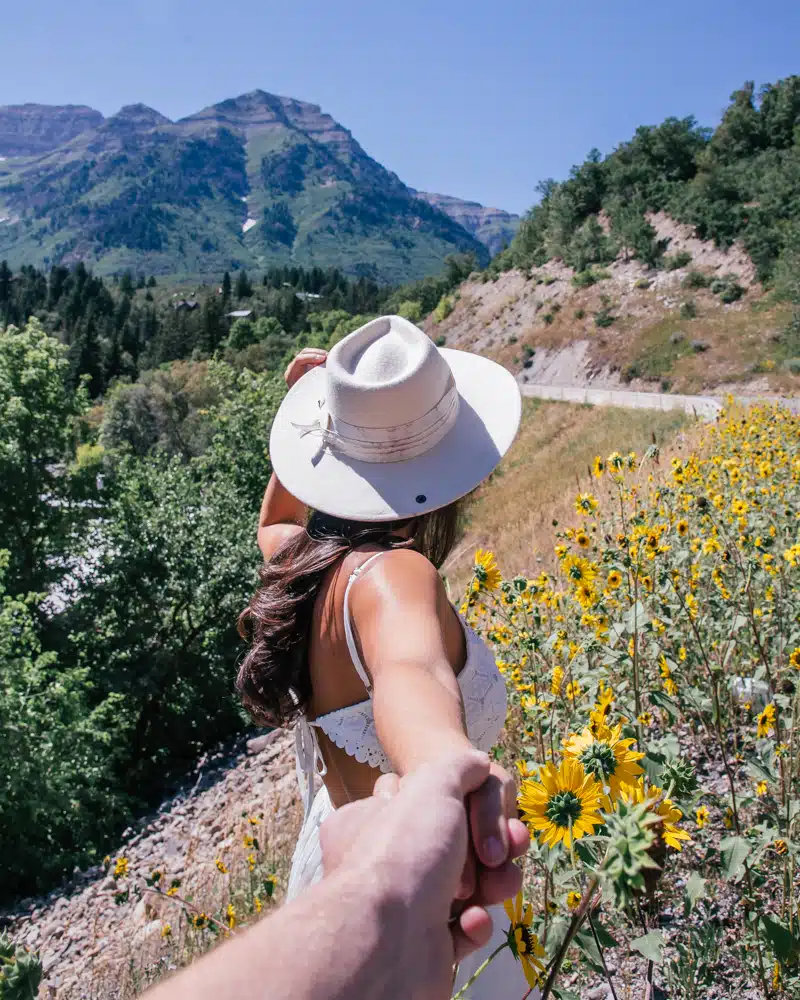 The beauty of Salt Lake City is that it has a wide variety of photo-worthy places. Looking for a chic, urban shot? Salt Lake City has it. Want stunning mountains? You'll find them here, too! In this post, I'll cover the most Instagrammable places in Salt Lake City so you don't miss a thing!
We are planning another trip to Salt Lake City in the fall, so check back for updated photos with my own content! I can't wait to capture photos at each of these places!
And if you want photo tips on how to take the perfect Instagram photo, check out this post!
(PS. We got the photo above at number 20 on this list!)
1. Downtown Salt Lake City
Capture everyday shots of downtown Salt Lake City; city walks are free and sights are varied. From photos in front of historic buildings to the cobblestone roads around the East Side, you can take a year's worth of postcard shots. Be creative!
Bonus points if you have a drone and can capture a photo of all of Salt Lake City's downtown buildings in one shot!
2. Ensign Peak
No album is complete without an aerial shot! Take a hike up to Ensign Peak for sprawling views over the entire downtown. Pose like a yogi or stare wistfully into the sunset; you can even shoot a time-lapse at night. It takes about 20 minutes to reach the top, perfect for a quick afternoon activity.
3. Capitol Hill
One of Utah's most prominent landscapes is the historical building at Capitol Hill. It's home to the Utah state governement and you can memorialize the historic building by posing at its front steps. (Or inside when it reopens- it is currently closed to the public for the pandemic). When you're done admiring those pillars, stroll over to Memory Grove for even more pictures. More about that next!
4. Memory Grove Park
The bold white columns here give me all the historic Greek vibes. They make for an epic photoshoot background! Monuments at Memory Grove Park commemorate Utah's veterans, and fountains, paths, and greenery cover the park.
5. The Gateway
Gateway Mall is a portal to photo opportunities. Bright graphic walls add bursts of color to your Instagram feed while pop-up experience events create fun and unique backgrounds. (For more tips on how to improve your Instagram this year, check out this post!)
The Gateway is generally open from 10AM to 10PM, but if you're taking photos outside, you can visit whenever!
You can find the colorful stairs above at 180 400 West Street just north of the Wiseguys Comedy Club. They change what's painted on them every so often, but you're bound to find something beautiful!
6. Temple Square
There's a convenient ledge built around the manmade pond in front of the headquarters of The Church of Jesus Christ of Latter-day Saints, letting you capture the striking building perfectly. The ivory stone and three spiked towers make for a beautiful fairytale setting. It's one of the most Instagrammable places in Salt Lake City if you ask me!
Temple Square is no longer just the Temple itself, but a downtown 35-acre area with several historic sites. There's plenty to see!
7. The Roof
Romantic evenings or just a "treat yourself" meal will find you at The Roof, a restaurant that gifts you with a stunning view over Temple Square. Floor to ceiling windows let in plenty of natural light and unobstructed photo opportunities. Be sure to reserve ahead of time as they're quite popular for couples!
8. Cathedral of the Madeleine
The Cathedral of Madeleine has every classic cathedral feature – gray stone turrets, majestic towers, gold-leafed ceilings, and stained glass. Even if you're not in the photo, it's worth capturing the gorgeous details of its vaulted halls.
They're open from 7AM to 9PM if you want to see inside the cathedral.
9. Eva's Bakery
It's two-in-one at Eva's Bakery. Freshen up in the morning with a cup of delicious coffee and a baked good before snapping a shot with their stunning storefront. The blue boulangerie exudes Parisian vibes in the middle of Utah! It's definitely the most Instagrammable cafe in Salt Lake City!
10. Book Mural
Where my bookworms at?
If you're a book lover, this mural is a must-take shot. Start at the 222 Main Street building (you won't miss the 222 over the glass door) and head to the south end. Enter the small, alley-way-like passage and follow through to a private looking courtyard.
Bring some fake glasses along if you don't have real ones to complete the vibe! 😉
11. The City-County Building
Salt Lake City has some spectacular architecture, and the Salt Lake City Town and County Building won't disappoint!
Whether you're flying a drone or are take a phone photo, you're bound to get a good shot of this Hogwarts-esque building!
12. Trolley Square (especially at Christmas)
The red brick buildings at Trolley Square are striking on their own, but can you imagine what it looks like during Christmas? Fairy lights and Christmas decorations add a merry charm to the place. Come in seasonal outfits for super cute, urban vibe photos.
13. The City Library
The City Library is such a unique location! From its wide glass windows to the sweeping arch of pillars, there are plenty of corners for you to photograph. Head inside if you fancy some fun shadows and lighting thanks to the open square windows! It's also six stories high, so you're bound to find some great photo spots.
14. Cactus and Tropicals
Add a pop of color and nature to your Instagram feed with a sweep through the greenhouse of Cactus and Tropicals. While a garden store, walkways bring you through orchids, ficus jungles, bubbling fountains, and an outdoor nursery.
They're open from 10AM to 6PM every day except for Sunday, when they're open from 11AM to 5PM.
15. Finca
Foodies will fall in love with Finca's moody and flowery aesthetic! The leather-backed chairs, a beautiful bar, and curtained booths take you into another century. Take photos of a table loaded down with Spanish tapas, or pose with a craft cocktail in hand. Better yet, reserve one of their infamous booths for the ultimate Instagram photo.
16. The Living Room
The Living Room isn't an actual living room – it's a lookout point where hikers have put together chairs, a TV set, and remote control to make it like one! These are the perfect props for you to pretend like you're watching Salt Lake City on the TV.
The trek is 4 miles round-trip and is relatively close to the University of Utah.
17. Bonneville Shoreline Trail
Currently comprised of 100 miles and still growing, the Bonneville Shoreline Trail is a treasure trove of natural sceneries. Take your camera along as you walk along the dried-out ancient lake between Idaho and Nephi. While the trail is free, be aware of the private properties it crosses paths with.
18. Tunnel Springs Park
For lovely and soft photo vibes, drop by Tunnel Springs Park. The hills change color between seasons, green during spring and golden during summer. There are even patches of wheat taller than the average person!
19. The UP House