Looking for the best photo spots around San Diego? You're in the right place! Here I'll cover the 47 most Instagrammable places in San Diego!
My husband, Harrison, and I visited San Diego and compiled this list in preparation!
Having gone to college in Los Angeles (before my blogging years), we've gotten to explore some of southern California. And as an Instagram content creator since 2017, I've come across and saved a bunch of San Diego photo spots! That, combined with quite a bit of research and tips from friends, brings me to this list!
Check out the list below to see our photos at all of these Insta-worthy photo spots!
And if you're looking for tips on how to take the perfect Instagram photo, check these out!
Note: Don't forget to check before visiting these spots for any pandemic-related restrictions!
1. Greetings from San Diego Mural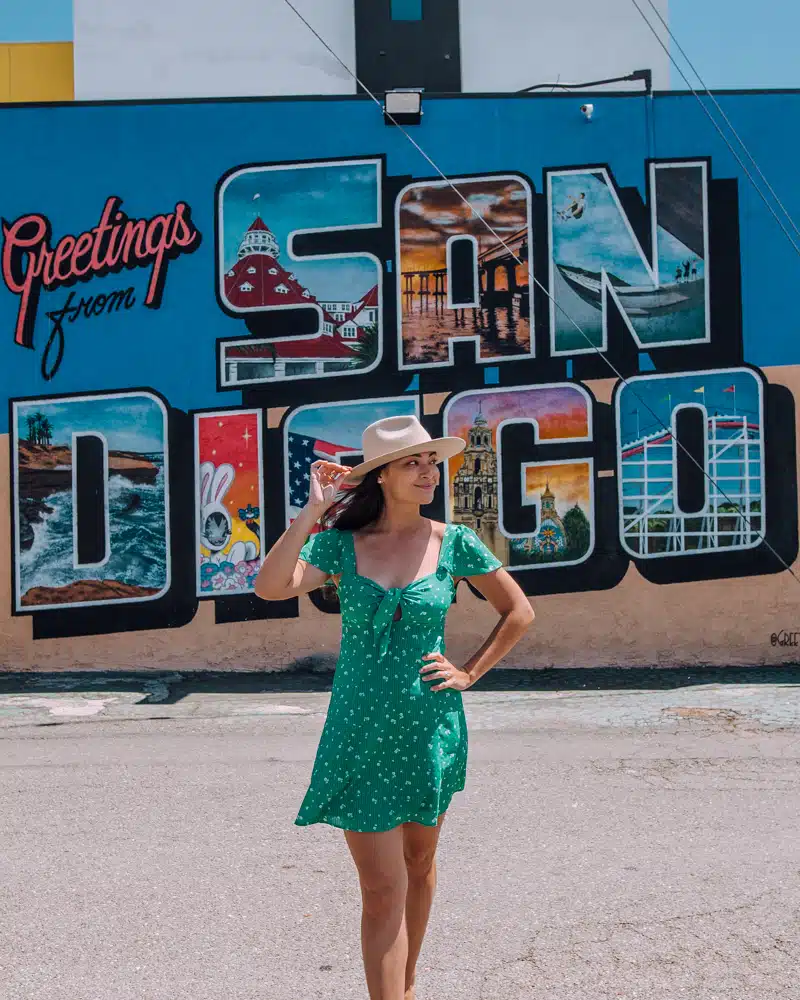 What better way to capture your visit to San Diego than to pose in front of the "Greetings from San Diego" mural?
This iconic wall art has many of the city's most famous sights painted into its letters. It is a fun, eye-catching piece that will spice up your Instagram.
2. Holy Matcha
Not only are the top-notch matcha drinks delicious, but the setting for this tea shop is also charming.
This shop's pink, green, and gold color scheme with tropical leaf printed walls is adorable.
You'll come for the delicious drinks and snacks but leave with some fantastic photos.
3. Artelexia
Artelexia is a Mexican craft store that radiates beauty inside and out. Its colorful "You Are Radiant" mural outside is a popular photo spot. The mural is vibrant, with every color of the rainbow on it.
Don't forget to check out the cute, one-of-a-kind crafts inside too!
4. Pigment
Not only is Pigment a great place to pick up some cute gifts for you and your friends, but it is also a very Instagrammable place in San Diego!
The store has ultra-cute backgrounds and a super chic three-toned pink mural outside the North Park location.
5. North Park Plant Nursery
With a ton of plants in bloom, the North Park Plant Nursery is a very cute photo spot in San Diego! While you're there, buy a succulent to add some photo-worthiness to your home!
6. Communal Coffee
This community-minded, local coffee shop is also very photogenic. The outside is a charming garden with ample seating and an attractive backdrop.
On the inside, it is part café and part flower and gift shop. It is all around very adorable and Instagrammable.
7. Balboa Park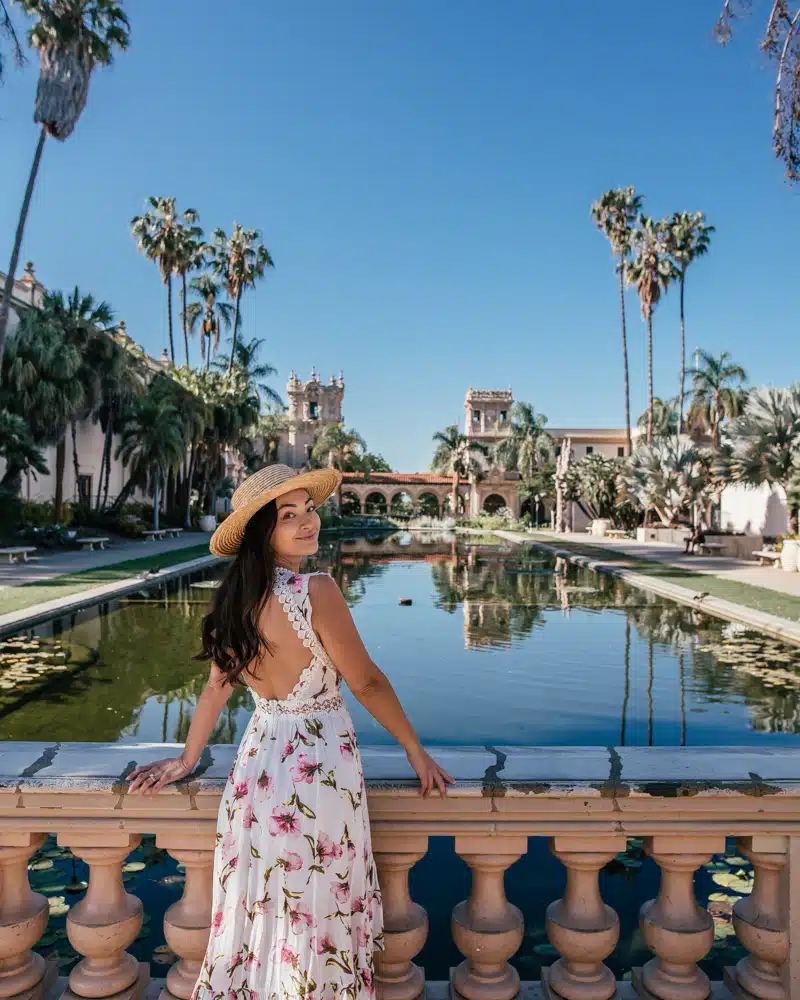 Balboa Park is one of the most Instagrammable parks in San Diego!
While you're there, don't miss the lily pond! This reflection pool is not your average little lily pond. It is a photogenic spot located in Balboa Park with the beautiful Botanic Building as a backdrop (which is also a fantastic San Diego photo spot).
You can have an enjoyable day walking around the park, snapping some epic photos for your Instagram feed.
8. Old Cactus Garden
Located in Balboa Park, this place deserves its own spot on my list of Instagrammable places in San Diego!
Cacti are super photo-worthy, and that San Diego sunshine will give you the perfect lighting for an epic photo.
(PS. Check out this post on how to pose for Instagram photos!)
9. Café Madeline
Want to feel like you're Emily in Paris? Head over to Café Madeleine for some immaculate Parisian vibes and food.
This quaint spot is the #1 spot for French food in the city. Your followers will think you are in Paris, but you're actually in San Diego!
The red awning is at their South Park location. Their North Park location is also cute, but is navy and doesn't have the same patio vibes.
10. Kindred
Kindred is a gem of a spot — serving delicious vegan fare, weekend brunches, and smooth cocktails.
The décor here is eclectic and fun. Its feel is a blend of modern, feminine, and vintage, with fun art pieces mounted on its colorful walls.
11. Hotel del Coronado
Hotel del Coronado is one of San Diego's most famous buildings. This remarkable building is right on the beach.
Both the interior and exterior are exquisite and photogenic. Marilyn Monroe even shot a movie, "Some Like it Hot" here in 1958. Today, you can explore the grounds and snap some amazing photos.
12. You and Yours Distillery
This fresh and hip distillery serves up refreshing hand-crafted cocktails made with spirits produced in-house.
Groups of 4-10 guests can take private tours and experience a guided tasting. Individual tastings and cocktail classes are also available. You'll love this place's tasty drinks and Instagrammable setting.
13. East Village Murals
If you walk around East Village, you'll find a ton of beautiful murals. Each of these is hand-painted by local artists and often features local subjects.
A great starting point to see these art pieces is at Genteel Coffee Shop, which has its own indoor mural.
14. The Nolen Rooftop
The Nolen is a swanky rooftop bar with modern and classic cocktails. You can find exquisite views of Petco Park and Coronado on top of this 14th-floor bar.
The interior of this spectacular eatery is picture-perfect. It has an ultra-contemporary aesthetic and glass look-out points on the rooftop deck.
15. Morning Glory
Morning Glory is a breakfast diner with a modern, art deco twist! Both the food and the décor are impressive, with an abstract morning glory light fixture framing its main entrance.
A must-try, Instagrammable dish is the Japanese souffle pancake, which looks like a fluffy cloud on your plate!
16. Cloak and Petal
You won't be able to tell if you're in an art gallery or a gastropub at this Little Italy hotspot. This Japanese restaurant has illuminated Cherry Blossom trees and a modern Japanese-inspired design.
The food and drinks are works of art that you'll want to document.
17. Spruce Street Suspension Bridge
Locals love this hidden spot in the Banker's Hill neighborhood. Spruce Street Bridge is 70-feet over the canyon below.
This charming bridge has an intricate cable design and plenty of trees surrounding it, making it the perfect Instagram-worthy backdrop for your photos.
18. Art Nails
This pink and blue building on the corner of 6th Ave and Pennsylvania St. is a fun and unassuming Insgrammable spot in San Diego! I saw this spot on @palmtreesandpelligrino and knew I had to include it on this list!
On one side, it's a nail shop, but round the corner, and you have a picture-perfect backdrop for your photos, complete with art deco design and cute cacti.
19. Better Buzz Coffee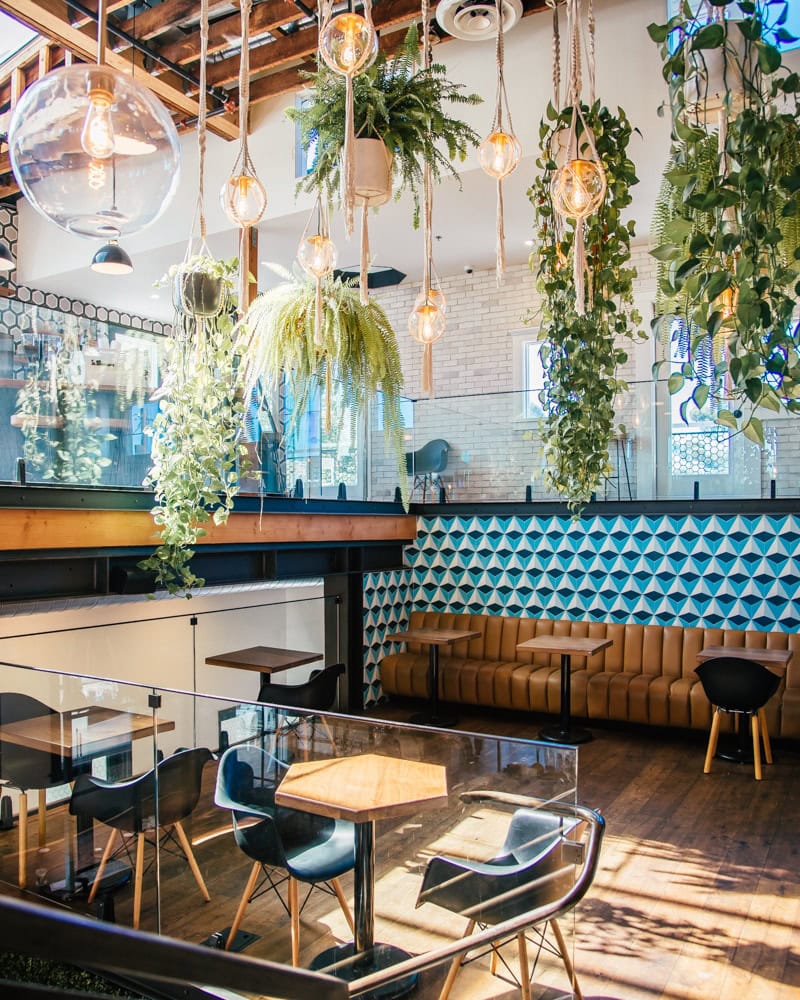 This bee-themed café and eatery has un-" bee"- lievably delicious food and drinks 😉
The whole space has a beautiful and modern honeycomb-inspired design that will give you a perfect Instagram food or drink photo. There's a "life's better buzzed" mural you can take a coffee photo in front of, too!
20. Maison en Provence
This spot is perfect if you're looking to add florals into your Instagram feed! With stunning hydrangea bushes, you'll feel like you've been transported to France!
You'll need to play with angles and color for this shot, but as long as you go with a vision, you'll be able to capture something beautiful here!
Don't forget to stop in to buy all the French goodies your heart could desire!
21. Coral Tree Tea House
Located in Heritage County Park, this historic Victorian Tea House is a great Instagram spot and a delicious place to have afternoon tea.
The tea here is not just an average to-go cup of tea. It is a full experience, complete with tea sandwiches, scones, petite desserts, and salads. Definitely an Instagrammable cafe in San Diego!
22. Old Town San Diego
Old Town San Diego pays homage to the city's Mexican-American roots. Its charming streets and buildings make you feel as if you have gone back in time.
You can stroll through the area's lush gardens and historic buildings and snap some astonishing photos. Don't forget to try some delicious Mexican food!
23. Moniker General
Moniker General is a gorgeous lifestyle, home goods, eyewear, custom furniture, and gift retailer next to the Moniker Coffee Co. and the Moniker Cocktail Co.
It has a carefully designed aesthetic that is bright, airy, and eclectic. You'll have some magnificent photos taken in this well-lit, beautiful space.
24. Old Point Loma Lighthouse
This historic lighthouse stands watch over the San Diego Bay at Cabrillo National Monument. It has magnificent birds-eye views of the bay and is a fantastic photo spot.
The cost to enter Cabrillo National Monument is $20/car or $10/individual on foot or a bike.
25. Sunset Cliffs Natural Park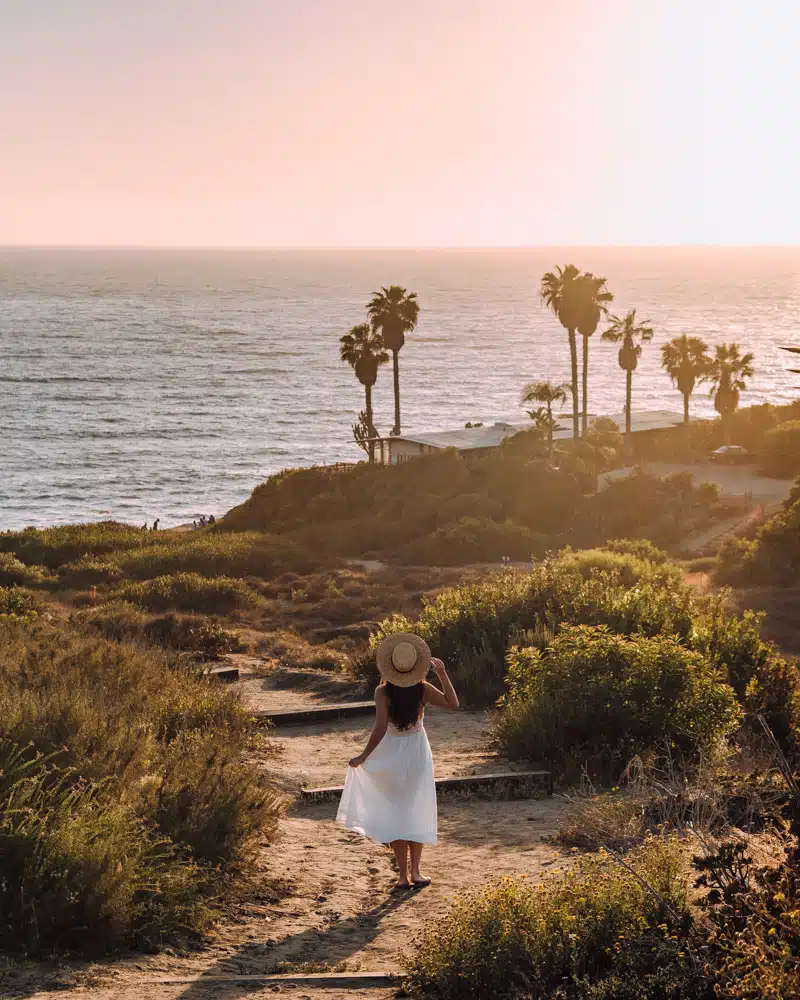 The Sunset Cliffs Natural Park is a beautiful 68-acre local treasure on the western side of Point Loma.
The park has numerous dramatic scenic spots that include coastal bluffs, arches, and sea caves. Don't forget to snap some golden hour pics and watch the incredible sunset.
26. Ocean Beach Palm Trees
Ocean Beach is a thriving seaside beach community with plenty of charm. Watching the sunset over the water at Ocean Beach is a spectacular sight to see.
It is also the perfect time to take those spectacular, perfectly-lit "golden hour" shots along the beach's palm tree-lined road.
27. Ocean Beach Tide Pools
The tide pools at Ocean Beach make for another great San Diego photo spot. You can get the pier in the background as well as the rocky cliffs in the area.
28. Belmont Park at Mission Beach
Not only is this mini theme park a ton of fun, but it is also very Instagrammable.
With old-school rollercoasters, mini-golf, cotton candy, and giant churros at your disposal, you'll have some fantastic fun-filled photo ops here.
Admission is free, but attraction passes are $30 per person. Annual passes are $89-99.
29. Rum Jungle
Located right by the beach, Rum Jungle serves up some delicious acai bowls and some serious surfer vibes.
The restaurant's most famous and Instagrammable menu item is their Hawaiian bowl. This delicious treat comes in a carved-out half pineapple. These all-natural acai bowls are both refreshing and beautiful!
30. Baked Bear
If you've got a sweet tooth and like to Instagram your desserts, try Baked Bear! They have the best ice cream sandwiches in town.
These freshly baked cookies topped with delicious craft ice cream will leave you and your followers drooling. Don't forget some extra sprinkles and toppings!
31. Hammond's Gourmet Ice Cream
Looking for smaller portions with a ton of variety? Let Hammond's Gourmet Ice Cream transport your taste buds to the Hawaiian Islands through their super Instagrammable ice cream flights.
With over 300 delicious flavors such as Lilikoi Sorbet, Peanut Butter and Guava Jelly, and Chocolate Coconut Macadamia Nut, you're sure to have a great time here.
32. Power Haus Pizza
Power Haus Pizza has the cutest wall mural, prettiest pastels, and you can have delicious pizza to top it all off!
33. Grounds Bean Bar
It's all in the details at Grounds Bean Bar. This cute coffee shop has the most adorable hummingbird and hibiscus flower-print wallpaper.
All of the design, from the barstools to the hanging light fixtures, was very well-thought-out. Even the drinks and food are colorful (and tasty) works of art!
34. Favorite Color Mural
As its name implies, this iconic mural will probably have your favorite color on it. In fact, it represents hundreds of favorite colors selected by participants.
It also serves as a trendy, Instagram-friendly backdrop for when you want a cute wall photo.
35. La Valencia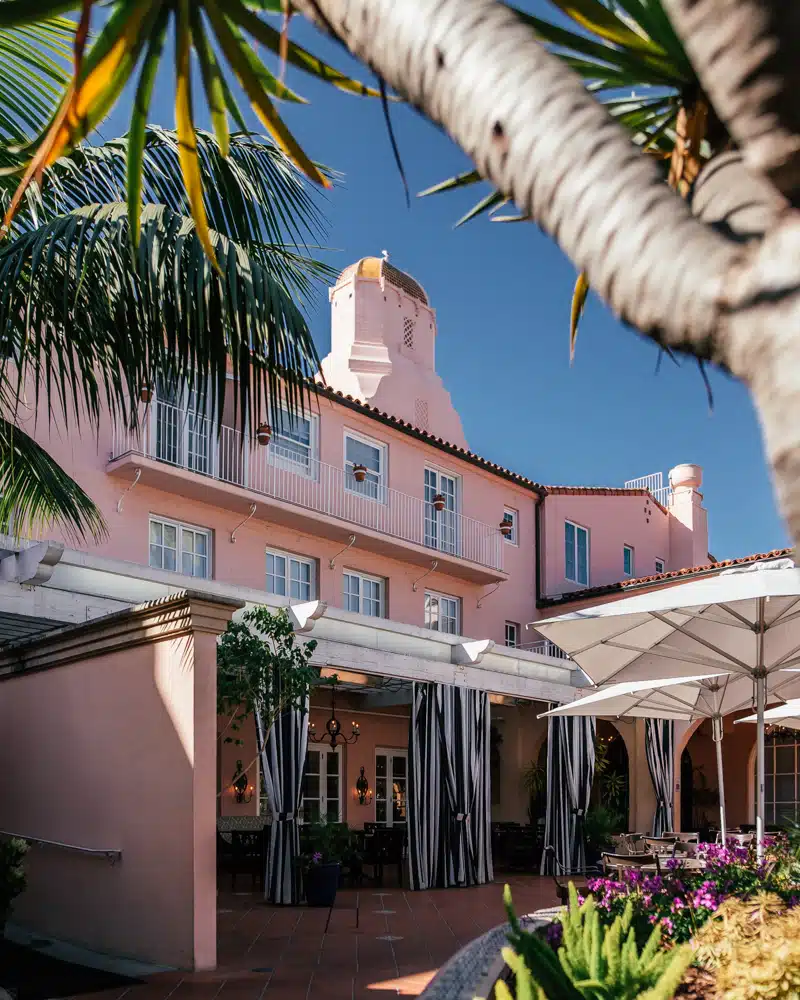 You can't miss this unique pink hotel located right on the water in La Jolla. Many famous Hollywood stars have stayed at this luxurious place.
You can either spend the night, dine, or explore the grounds at this Mediterranean-themed marvel. Almost anywhere you go here is photo-worthy with spectacular views.
36. Ellen Browning Scripps Memorial Pier
While it isn't possible to take any photos on top of the pier, you can get some fantastic shots at its base. (Trust me, it's way cooler anyway!)
The pier's posts offer excellent framing for your beach shots. Cool your feet in the pleasant blue waters and use them as the backdrop for your photos. Bonus if you go at sunset!
37. Torrey Pines Natural Reserve
Torrey Pines Natural Reserve is not just one Instagrammable spot. It is nearly 2,000 acres of photogenic coastline where you can hike and take some epic photos.
There are dramatic cliffs, stunning ocean views at this park, and iconic Torrey Pine trees that you can enjoy.
It costs $12-20 per vehicle to park and enter the Natural Reserve.
38. Torrey Pines State Beach
With dark sand and a rocky shoreline, you'll get a great dramatic landscape to photograph at Torrey Pines State Beach!
39. Saigon Trail
If you're an advanced hiker, this cliffy trail has some stunning views and photo ops. It is a short, .4-mile hike through a steep sandstone ravine that has dramatic narrow walls.
Make sure you hike this trail with some good shoes and avoid after rainfall for a safe photoshoot.
Disclaimer: this trail leads to a nude beach!
40. Salk Institute of Biological Studies
What do science and Instagram have in common?
The Salk Institute of Biological Studies brings some of the brightest scientific minds together. Its building and courtyard bring stunning architecture, the sky, and the sea together in the most dramatic fashion.
You'll have some remarkable photos if you visit Salk.
41. Broken Hill
This beautiful section of Torrey Pines Natural Reserve deserves its own mention. It is about a 3.3-mile loop that has some magnificent, camera-ready views.
You won't want to miss this spectacular hike this while at Torrey Pines!
42. Flower Child in Del Mar
It seems like every single Flower Child I go to is simply made for Instagram! From the tasty, attractive food to the cute décor, this healthy food spot is very photo-worthy.
The design has an eclectic mix of eye-popping furniture, lush indoor plants, and charming murals.
You'll leave Flower Child Del Mar with a full stomach and a camera full of fabulous photos.
43. Potato Chip Rock
No, this isn't an edible rock. But Potato Chip Rock is one of the most Instagrammable places in San Diego.
It is a potato chip-shaped rock at the end of a 7.5-mile hike with a 2,400-foot elevation gain. Bring some water and hiking gear, and enjoy the views and photos on top of the "potato chip."
44. Carlsbad Strawberry Company
Whether you want to go strawberry picking, have sunflowers as a backdrop, or get an awesome pumpkin patch fall photo, the Carlsbad Strawberry Company is the place to go!
Check their website ahead of time to see what's in bloom!
45. Carlsbad Flower Fields
The Carlsbad Flower fields are an Instagrammer's paradise. You'll have the best time frolicking through the fields, finding terrific photo ops.
The flowers are only in bloom for ten weeks out of the year, so be sure to look up their schedule! April tends to be peak season.
Admission is $10-20 for a day ticket and $22-42 for a season pass. Masks are required for the 2021 season and online reservations are required.
46. S3 Coffee Bar
There are two main parts to the S3 Coffee Bar (aesthetically speaking). There's the 2D cartoon-like setting on one side and the adorable pink and white set up you see pictured above.
47. Cordiano Winery
Cordiano Winery is the most Instagrammable place in San Diego to me! It has by far the best views in all of San Diego, as it transports you to the Italian countryside!
Better yet, the food and wine here are spectacular, so you can enjoy them as well as the view! At the time of writing, you'll need to reserve your table online ahead of time. You'll get your table for two hours, so bring friends to savor wine and the view with you!
48. Fairmont Grand Del Mar
If you want to splurge or are looking for the dreamiest hotel in San Diego, look no further than the Fairmont Grand del Mar. You can also book a meal there at their restaurant if you want to visit without staying overnight. It's the most Instagrammable hotel in San Diego! Don't forget to visit the adorable ice cream shop on the property while you're there!
49. Rancho Bernardo Inn
Looking for a more affordable hotel? The Rancho Bernardo Inn is another Instagrammable hotel in the area.
Map of the Most Instagrammable Places in San Diego
Lastly, here's a map of all of these Instagrammable spots in San Diego! That way if you're only in one area of San Diego, you can see which spots are closest to you.
In conclusion…
Do you have more recommendations for Instagrammable photo spots in San Diego? Let me know in the comments- I'd love to check them out on my trip to San Diego!
Which photo spot are you most excited to capture?
And if y