New Orleans and Savannah are two Southern favorites, with rich history, gorgeous architecture, live oak trees, and that classic Southern charm. If you're deciding between the two, it can be a tough decision to make, but you're in the right place. Here I'll cover everything New Orleans vs Savannah, from cost and walkability to natural beauty and things to do!
So if you're considering the pros and cons of visiting Savannah vs New Orleans, just keep on reading! And to get a visual sense of each of these locations, check out this video I made of my trips to both places!
Here's a recap of my trip in New Orleans:
[Also, if you don't see a video player below, you may need to disable your ad blocker.]
And here's a video from my Savannah trip!
New Orleans vs Savannah: Overall Vibe
New Orleans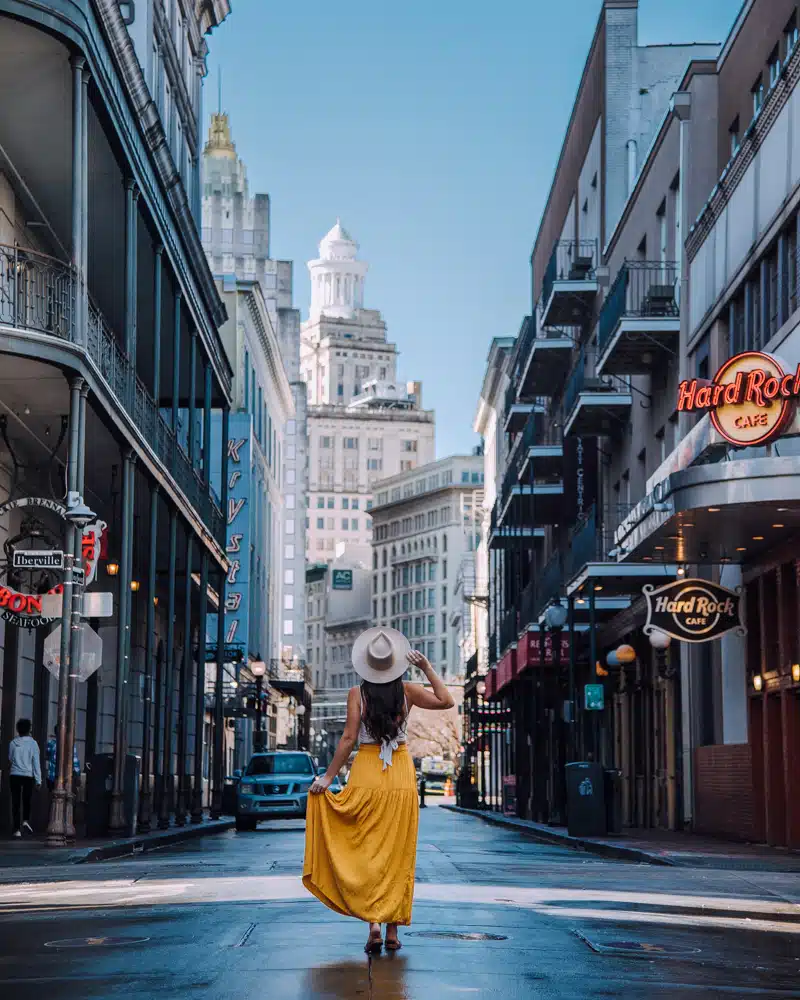 The city of New Orleans is one of a kind! It's got a vibrant, buzzing atmosphere with countless things to do any time of the day or night. The city features delicious Cajun food, the blues, unique architecture, and fascinating history.
Less than 400,000 people live in New Orleans, but it feels like a large city and has the diversity you'll find in other big metropolises in the country. That said, the people are friendly! And the whole place has a very welcoming atmosphere.
New Orleans is also one of the most international cities in the country. This is partially due to its history. French settlers founded this city. And it has a history of occupation by the Spanish as well. Plus, it is located close to Latin America and the Caribbean. This gives it a welcoming atmosphere, with lots of different cultures to learn about.
Savannah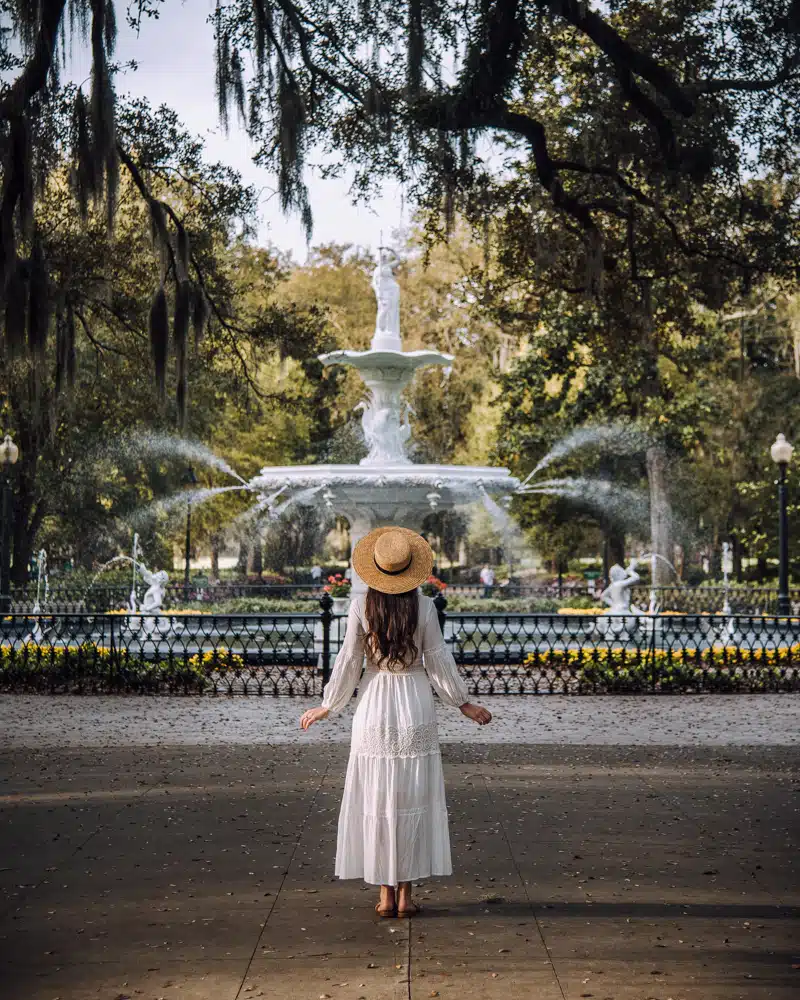 Savannah has a population of about half the size of New Orleans, making it a much smaller, community-focused city. Savannah's locals are also quite friendly, so you should feel at home here!
Plus, this city has a beautiful layout. Virtually every block has some sort of park in the middle with lots of gorgeous trees. This gives the city a laid-back, almost sleepy atmosphere. There's rarely a need to rush in Savannah!
It's also a popular city for small, local businesses. You can buy many locally-made things here, from bags to delicious chocolate. Again, this adds to the community vibe that Savannah's got going on!
While both cities are incredibly friendly and welcoming, I think Savannah has more of a community feel. On the other hand, New Orleans feels more urban, almost like multiple cities within a city!
New Orleans vs Savannah: Top Attractions
New Orleans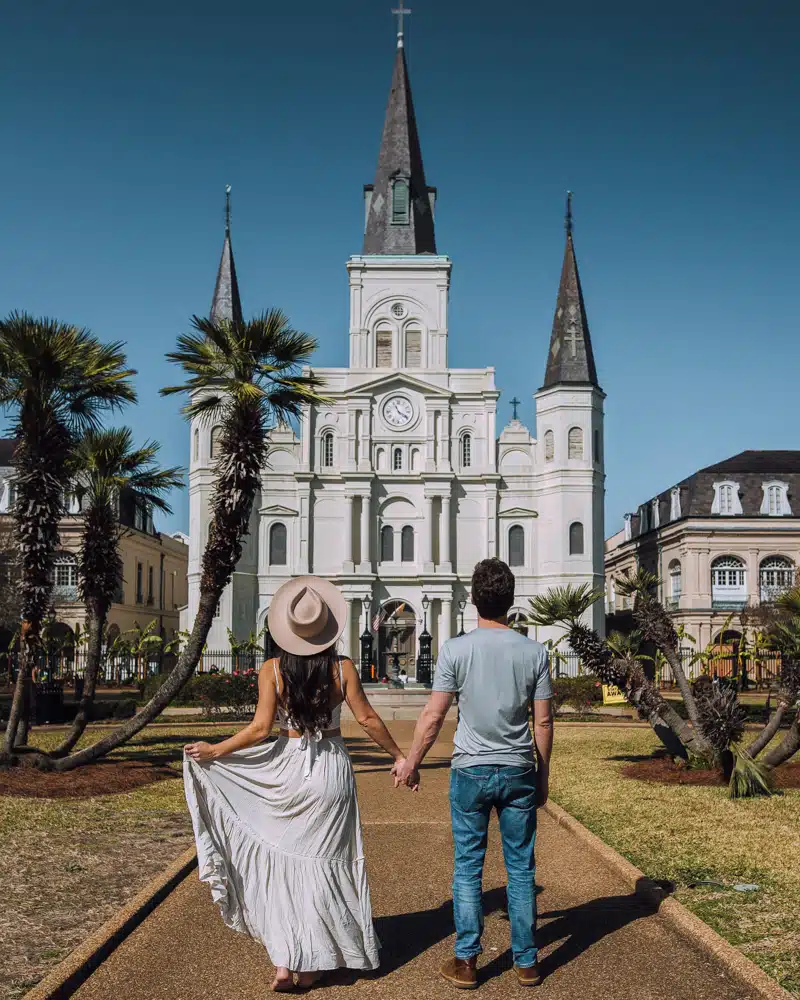 There are loads of things to do in New Orleans. You'll need much more than a weekend to see them all! Make sure that you spend some time in the French Quarter, (you can do a walking tour to see the best sites and attractions) and the Garden District.
There are also some excellent museums including the 1850 House, the National World War II Museum, and the Confederate Memorial Hall Museum. On a more somber note, you can visit plantations around New Orleans that will teach you about the horrific era of slavery in the Southern states.
New Orleans is a great destination to walk around in and admire the architecture. Due to its rich heritage, there are beautiful historic buildings all over the city. This makes strolling around the city one of the best things to do here. And strolling is completely free 🙂
One of the best reasons to visit New Orleans is that there is always some sort of party or festival going on. Whether you're in town for the Satchmo SummerFest, the Creole Tomato Festival, the French Quarter Festival, or the huge Mardi Gras festival, there will be something to celebrate while you're here! Plus, most of the festivals are free. You can just show up and enjoy the entertainment! 
Looking for the best photo spots? Check out the 43 most Instagrammable places in New Orleans here!
Savannah
Savannah is also a city that's rich in history. The 22 tree-filled squares which make up the city center were built in 1733 when the city was founded – and they are still famous landmarks of Savannah today!
Savannah is also one of the most popular places to visit for those interested in the supernatural. One of the top attractions is the Bonaventure Cemetery, the resting place of some famous Savannah residents, like Conrad Aiken and Johnny Mercer. You should take a ghost tour while in Savannah if you're up for it!
There are also plenty of museums in Savannah. Popular favorites include the SCAD Museum of Art, the Pin Point Heritage Museum, which tells the story of a fishing village established by local African Americans after being enslaved, and Flannery O' Conner's childhood home.
Another popular thing to do in Savannah is to stroll around and enjoy the architecture. You'll see plenty of historic buildings that make for great photographs – and you can also do a walking tour to learn a little more about the stories behind each building!
Both Savannah and New Orleans are incredibly rich in history. However, New Orleans has an edge for those looking to enjoy parties and festivals, while Savannah is a little more reserved, with relaxed activities. 
You can find my list of the 38 most Instagrammable places in Savannah here!
New Orleans vs Savannah: Food
New Orleans
When considering New Orleans vs Savannah food, there's no food destination quite like New Orleans. It's famous for delicious spicy food, as well as Cajun and Creole flavors. If you visit New Orleans in spring, make sure that you don't miss the tasty crawfish that the locals boil in their homes and restaurants.
There are also lots of amazing restaurants in New Orleans. Try Arnaud's for fine, French-inspired dining, Dixie Brennan's Bourbon House for local seafood, or Muriel's Jackson Square for New Orlean's own delicacies. We loved both dinner and breakfast at the restaurant at The Chloe- I highly recommend it, even if you're not staying there! They've got delicious food and serious patio goals.
And of course, the one thing every local and tourist will tell you to get is beignets from Café du Monde! They are a delicious and messy donut-meets-funnel cake treat. We loved the warm, fresh beignets from Café du Monde at their French Market location. We enjoyed them at Washington Artillery Park right next door, overlooking Jackson Square.
Savannah
While New Orleans certainly has more of a diversity of food, there are still some excellent dishes to try in Savannah. Popular dishes include Southern staples like fried green tomatoes, delicious pralines, and perhaps the most famous Lowcountry dish: shrimp and grits. This dish is actually adapted from the Native American Muskogee tribe. Also, you may want to finish one of your meals in Savannah with a hearty peach cobbler, a local favorite!
There are plenty of fantastic restaurants to try local Southern cuisine. We especially loved The Collin's Quarter and Hitch- make reservations ahead of time if you can! I've heard great things about The Olde Pink House (which is located in an 18th-century ballroom!), Husk, which serves modern cuisine, and Vic's on the River.
Vic's on the River seems especially perfect for a date night- follow it with a walk down River Street and dessert at River Street Sweets!
Be sure to also visit Leopold's Ice Cream; it's known as the best ice cream in Georgia! We waited in line for about 30 minutes for our Leopold's. I ordered peppermint and coconut ice cream and it was delicious (but perhaps not worth any longer of a wait).
New Orleans vs Savannah: Natural Beauty
New Orleans
While New Orleans is a sizable city, there is some lovely nature to enjoy just a short drive away. The bayou is a swampy river area close to the city and it was the first place where settlers to New Orleans lived. You can do a kayak tour here but don't venture out on your own as an amateur as there are alligators in the river. (Alligators won't bother you if you don't bother them, but you can't be too careful!)
There are parks like the Coliseum Square Park in the Lower Garden District and Audubon Park, which has beautiful old oak trees. City Park is a fantastic place to explore- it also has tons of oak trees and scenic bridges.
There are also both national and state parks close to New Orleans. Jean Lafitte National Park is excellent for hiking, and Bogue Chitto State Park has a lovely river to enjoy. A little further afield, you've got gems like the epic Tunica Falls.
Savannah
Nature is everywhere in Savannah. We mentioned the trees coated in Spanish moss, which are at every street corner – you can get your nature fix just by walking around the city! Forsyth Park has the best Spanish moss display in downtown Savannah. However, there are countless other nature spots close to Savannah too. The Wormsloe Plantation has an epic Live Oak tree tunnel (you've got to pay before driving down it), and the Bonaventure Cemetery is full of beauty as well!
Want a bit of a beach vacation? Savannah is the city for you! The ocean is only around a 25-minute drive from downtown Savannah.
To enjoy its epic coast, visit Tybee Island, which is a popular favorite for Savannah locals, with a few beaches. There is a shuttle to Tybee Island, but we ended up renting a car and tackling Tybee Island, Wormsloe Plantation, and the Bonaventure Cemetery all in one day. It ended up being way cheaper than Uber and Lyft.
You could also venture across the border into South Carolina and check out Hilton Head Island, which is a gorgeous island with jaw-droppingly beautiful beaches.
Non-beachy nature spots in Savannah include the Savannah National Wildlife Refuge, which is home to alligators and snakes as well as hiking trails, Oatland Island Wildlife Center which is also an excellent spot for animal spotting, and Cumberland Island which is really out in the wilderness!
Because Savannah is so close to the beach and other wildlife, it does win in terms of nature – although there's plenty of natural spots to enjoy around New Orleans as well.
New Orleans vs Savannah: Family-Friendliness
New Orleans
While New Orleans is famed for its nightlife, there are actually lots of things to do in the city with kids. Some attractions are especially for kids such as the Louisiana Children's Museum, which has interactive exhibits that are both fun and educational for kids. There's also the French Quartour Kids, which is a kid-tailored tour around this historic part of the city!
There's also a zoo and an aquarium within the city, as well as the Audubon Louisiana Nature Center and the Audubon Butterfly Garden and Insectarium.
New Orleans does have a reputation for being a bit of a party central, but as long as you avoid the main nightlife areas and aren't out too late, you'll find that it is also kid-friendly!
If you happen to be visiting New Orleans with kids in Mardi Gras season, it's best to stay away from the city center and instead celebrate in one of the suburbs.
Savannah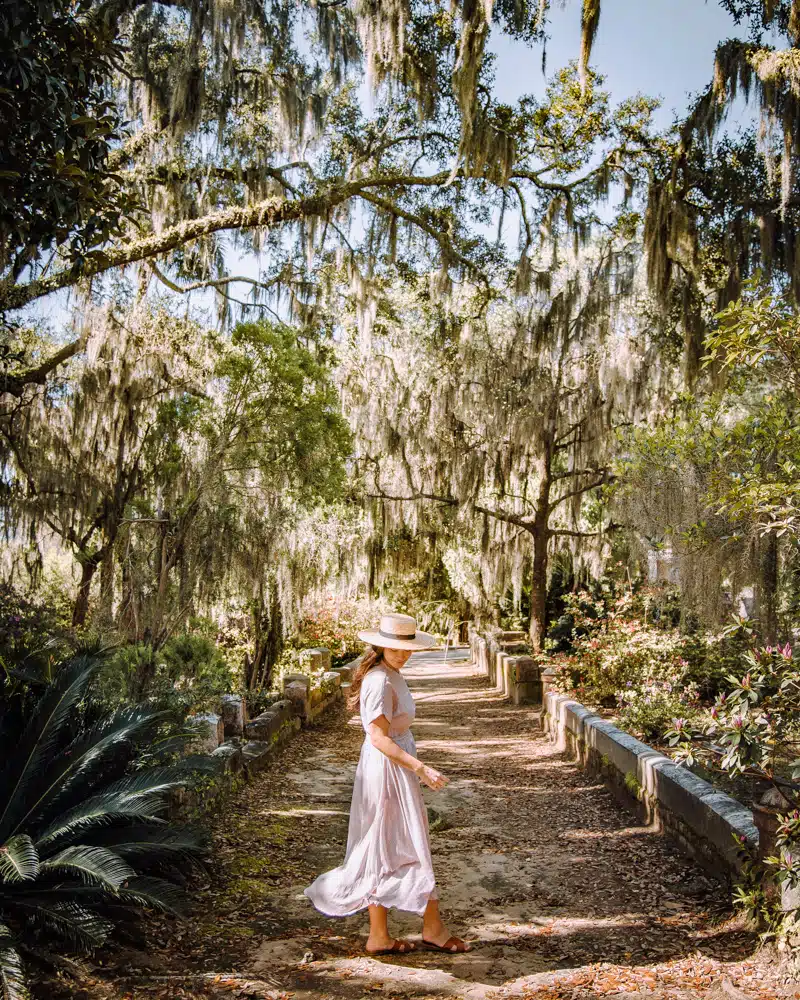 Savannah has a wonderful family-friendly atmosphere. There are countless museums and art galleries in Savannah that are kid-friendly, including the Savannah Children's Museum and the Georgia State Railroad Museum. Older kids will also find Savannah's many historical sites interesting.
Once you've had a few days in the city, you could also have a family beach day or explore one of the fantastic nature parks in the area. Your kids will love hiking, mountain biking, and looking out for different native animals!
Because Savannah has a lovely relaxed vibe, it is perfect for families. You might end up returning as a family time and time again!
While New Orleans has many attractions for all ages and is certainly worth visiting as a family, Savannah wins this round because the atmosphere is more kid-friendly.
New Orleans vs Savannah: Walkability & Transportation
New Orleans
While New Orleans' most popular area, the French Quarter, is extremely walkable, the other attractions such as City Park, Audubon Park, the Garden District, and Magazine Street are pretty spread out. While the Charles Streetcar takes you from a lot of major points of interest, it can take some time getting from place to place.
But if you plan on staying in the New Orleans area and not venturing out to the plantations or state parks around it, you can easily Lyft or Uber around town. If you're on a budget, you'll want to be strategic though, since prices can add up. Instead of hopping all over town throughout the day, plan your trip so that you're in one area at a time.
Savannah
Savannah is more walking-friendly, but that's mainly because the downtown area is much more condensed. Downtown Savannah is about 1 square mile, packed with gardens, houses, shops, churches, and restaurants.
You can take the public bus for a cheap way to get around town. Fares are $1.50 one way, $3 for an all-day pass, $14 for a week-long pass, etc. We did that one day, and it was very timely and easy to use with Google maps and the Token Transit app (which lets you pay your bus fare on your phone).
But we found that when we did want to take a Lyft/Uber, the wait times were pretty long and prices were very high for Uber (Lyft prices were cheaper but the wait times were longer). Here's a crazy and completely true experience I had when calling a ride to the airport: an Uber was going to cost over $80, while the Lyft ended up being under $40. For a 25 minute ride to the airport at 10am. Crazy!
If you want to visit the surrounding area like Tybee Island, you can use the town shuttle or book a rental car for just a day to save on costs.
My conclusion is that both of these cities are walkable, though I'd say downtown Savannah is more walking-friendly. A rental car could make exploring easier, though is not necessary for either location. And from my experience, Uber and Lyft are generally more expensive in Savannah, with longer wait times.
New Orleans vs Savannah: Safety
New Orleans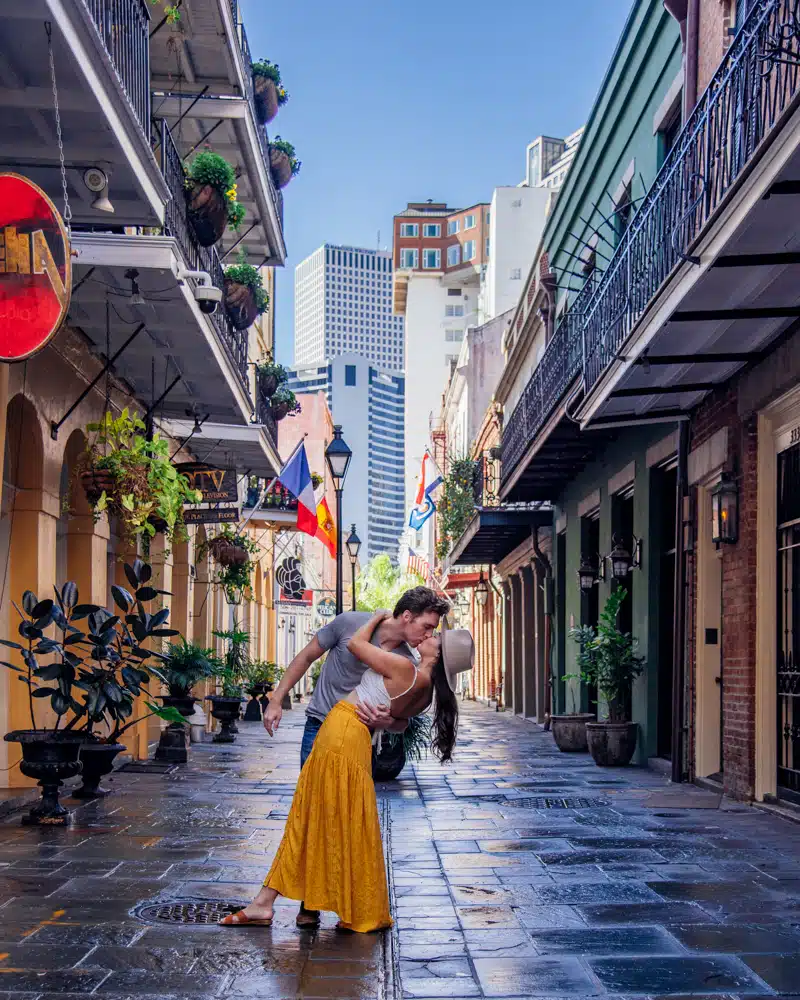 When thinking about New Orleans vs Savannah crime rates, know that New Orleans has a higher violent crime rate than the national average. This shouldn't put you off visiting. But do be aware that violent crime is a problem here, and take steps to avoid it.
If you are out at night, don't walk around alone. Take a cab or stay in a group. Even if you are in a group, it's best to stick to well-lit streets, like those in the French Quarter. Don't go down any alleyways or poorly lit roads. It is much safer to take a Lyft or Uber to your destination at night.
Savannah
Savannah has similar problems in some areas. Most people consider the historic district to be very safe, but violent crime does happen in other areas. Take similar precautions here as you would in New Orleans. Stick to brightly lit, busy areas, and don't walk around in areas you haven't researched.
Savannah is generally safer than New Orleans. It has a much lower crime rate and fewer violent crimes. However, it is wise to take safety measures in whatever city you choose!
Much of this area of the country is prone to hurricanes; however, New Orleans definitely experiences more of them than Savannah. Most people will be able to recall the devastation of Hurricane Katrina, which really impacted New Orleans and Louisiana. If you're concerned about hurricane season, avoid New Orleans from June to November.
Savannah doesn't get hurricanes on the same scale, but they are still possible in the same months. However, if your vacation time falls during hurricane season, Savannah is definitely the safer bet.
New Orleans vs Savannah: Cost
New Orleans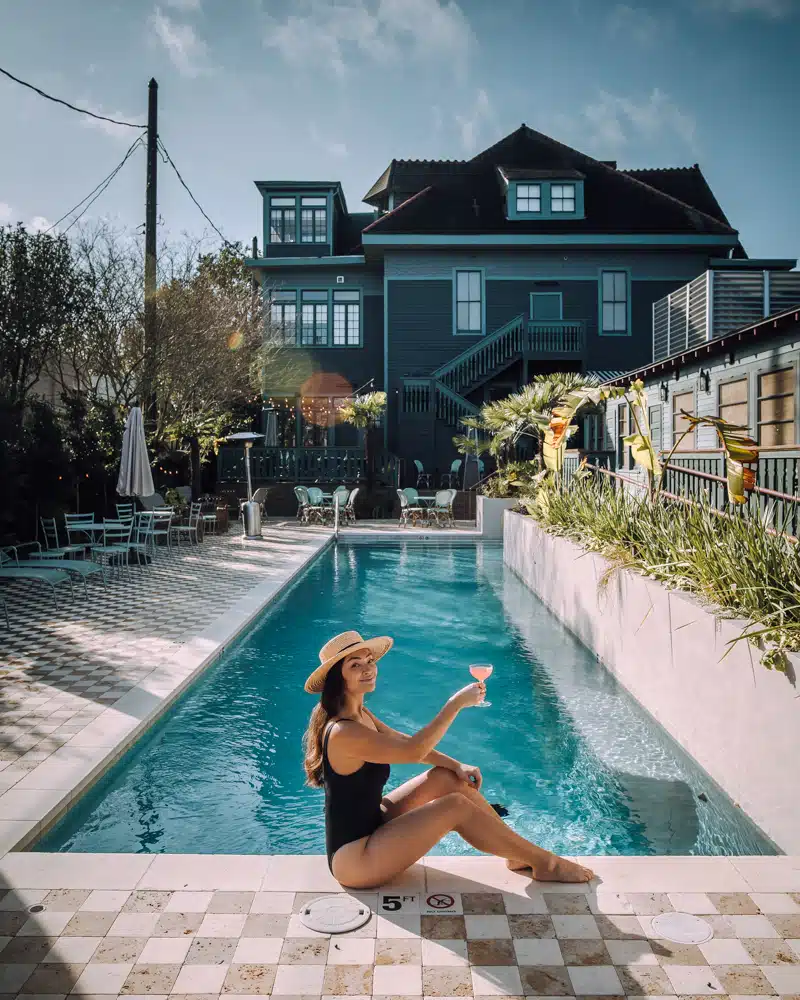 To get a sense for travel expenses besides flights or otherwise getting to these cities, you can check out Budget Your Trip's widget below.
This tool aggregates data from real travelers to help you get a ballpark estimate for the sort of costs you may have when traveling to a city or country.
Generally, New Orleans is much more budget-friendly than other famous US cities, like New York, Los Angeles, and San Francisco. Expect to pay around $100 for a basic hotel room, more for more luxurious quarters, and less for hostels. Although, if you are visiting during Mardi Gras, you will find that accommodation prices skyrocket! Make sure that you have some extra budget for accomodation, food and transport if you are visiting during Mardi Gras.
In New Orleans, you will generally pay around $14 per person for dinner if ordering from an average restaurant (fancy restaurants will obviously cost more). A pint of beer costs from $4-$6.
You can easily get around New Orleans by public transport, which helps to cut costs.
Savannah
Here is Budget You Trip's widget for Savannah:
In Savannah, you can get a basic hotel room for anything from $90 per night. An average meal will cost around $15, and you can get a beer from about $4.
Savannah is a very walkable city which automatically cuts your costs! You will find that you can walk to most attractions around the city. There is also a bus network, should your feet get tired.
Savannah and New Orleans have similar prices for hotels, food, and meals. However, if you are a budget traveler, you will probably find more of a range of accommodation in New Orleans. There just aren't as many hostels in Savannah!
New Orlean also has more dining options. So New Orleans is probably the most budget-friendly city (outside of Mardi Gras!).
In conclusion…
Both cities are fantastic places. New Orleans is a much more famous destination, but don't overlook Savannah! While New Orleans has more notable food and unique culture, Savannah wins when it comes to natural beauty and family-friendliness.
Both are incredibly beautiful; these two posts will show you just how photo-worthy they are:
So, which would you choose?
And if you have any questions, let me know in the comments below!
Safe travels!
Jasmine
PS. If you found this article helpful, please share it to Pinterest! You can use either image below for easy pinning!