My husband and I visited the gorgeous city of Paris in February and had a wonderful time in the City of Love.
But since I'm such a Type A person, it probably wouldn't have been nearly as incredible had it not been for meticulous planning beforehand.
When it comes to international travel (or any kind of travel for that matter), a plan can make all the difference.
It can save time, allow you to visit everything you want to visit, and eliminate some stress.
Especially because there is just so much to see in Paris.
If you head to Paris without an general schedule, I feel like you could easily miss out on all that this city has to offer.
But no worries- I've done the research for you!
Map of Locations
You can use this map to see the locations of all of the places that I recommend or that were recommended to me.
If you open up the map, the pins are grouped by areas that make sense so that you're traveling within a small distance each day (instead of walking all over the city).
The pins are color coded as follows:
Dark blue– main points of interest
Light blue– less famous points of interest
Yellow– great photo spot
Purple– restaurant/creperie/bakery
Green– parks
Dark red– carousel
Customize Your Paris Itinerary
Each day revolves around a main point of interest, which is where the titles for each day come from.
The places within each day are in an order that makes sense (ie. one thing is close to the next), but feel free to take this Paris itinerary and make it your own.
If you want to see the Eiffel Tower every day that you're in Paris, don't let me stop you!
And keep in mind that the beauty of being in a new place is feeling the freedom to travel, make friends, and explore.
So be sure to leave wiggle room for unexpected cafes, relaxation time at a park, or anything else that might steer you off course.
Go with a plan and use this Paris itinerary, but give yourself the freedom to explore.
I think that that's the best way to get to know a new place!
How to use my Paris itinerary
I'd recommend copy and pasting my daily "At A Glance" lists somewhere, then highlighting the places that you really want to visit as you read through the in-depth descriptions.
Once you have your favorites picked out, you can follow the itinerary and skip the places you're not as excited to see if you start running out of time.
That way you can linger at places that really blow you away without feeling like you're on a time crunch.
Without further ado, here's my week long Paris itinerary!
(Note that we didn't visit Versailles because it was the dead of winter, but I'd definitely recommend fitting it in if you have time!!)
Day 1: Arrive and Decompress
You've just arrived in Paris!
Chances are, you've been on a long flight and are jet-lagged.
If you need a nap, I don't blame ya.
I usually am pretty gung-ho about staying up until a normal early bedtime in my new time zone, but when Harrison and I arrive in Paris, we were bone-tired!
We arrived right around noon and went out for lunch to pass some time before our AirBNB check in time.
Once we arrived at our AirBNB, we almost immediately took a nap- that accidentally lasted a few hours.
We used the rest of the day to groggily explore the area around us and eat some incredible Korean food from the place under our AirBNB.
Then hit the sack early.
I have no regrets about our "wasted" day- the next day we were up bright and early, completely re-energized, and ready to explore!
Now the "real" Paris itinerary starts!
Day 2: Arc de Triomphe & Grand/Petit Palais
L'Arc de Triomphe
Go up to the top of the Arc for a spectacular view!
Hours (last entrance is 45 minutes before closing):
April 1- September 30: 10AM-11PM
October 1- March 31: 10AM-10:30PM
Cost:
Adults- 12 Euros
18 and under- free
Champs-Élysées
This iconic shopping street is adjacent to L'Arc de Triomphe. It's a must on any Paris itinerary!
Ladurée Paris
While you're on the Champs Elysées, stop at Ladurée for their famous macarons!
Chez Francis
Walk (or metro) to Chez Fracis for lunch. It is a famous Parisian restaurant with a patio view of the Eiffel Tower.
Plaza Athénée
Stop at this gorgeous hotel to take a look at some neat architecture. You can also enjoy a meal or tea here.
If you have money to spend (this hotel is not cheap!), book your stay here.
Grand Palais
** From December 2020 until estimated Spring 2023, the Grand Palais will fully close for a complete remodel. **
The Grand Palais is a famous exhibition hall and museum built at the turn of the 20th century.
Hours: open daily except Tuesday from 10am to 6pm.
Cost: $12-$15. Admission is free on the first Sunday of every month!
I hope you get your visit in before the Grand Palais closes for its transformation to the New Grand Palais!
Once it reopens, this will definitely be a site to see! Check their website here for most up-to-date information.
Petit Palais
This art museum is directly across the street from the Grand Palais. You've probably seen it's gorgeous golden gate on Instagram!
Hours: daily from 10am to 6pm. (Note that the ticket office closes at 5:15 pm).
Cost: free admission to permanent collections
Check here for ticket info directly on the Petit Palais site for the most current information.
Pont Alexandre III
This is a beautiful bridge that offers a great view of the Eiffel Tower.
Rosa Bonheur sur Seine
Snack time! Stop in to Rosa Bonheur sur Seine for cheese and charcuterie!
Les Invalides
Les Invalides refers to a complex of buildings, made up of military museums and monuments.
Hours: Daily from 10am-6pm
Cost: 11-14 Euros, get full ticketing information here.
Rodin Museum
Whether you're an art fanatic or not, this art museum dedicated to Auguste Rodin is worth a visit!
Hours: Open daily except for Mondays from 10am to 6.30pm. (Note that the ticket office closes at 5.30pm).
Cost: 9-12 Euros, get full ticketing information here.
Day 3: Sacré-Cœur
The Sacré-Cœur
The Sacré-Cœur is by far my favorite iconic place in Paris. You'll certainly want to add it to your Paris itinerary!
Definitely pay to go up to the top, it offers incredible views over the city.
(Please note that there are around 300 steps to climb and no elevator!)
Hours:
The church itself is open every day from 6am to 10:30pm, and entrance is free.
To climb up to the dome:

May-September: Daily from 8:30am to 8pm
October-April: Daily from 9am to 5pm
Cost: 5 euros to go to the top of the Sacré-Cœur.
Sacré-Cœur Carousel
While you're at the Sacré-Cœur, check out the Sacré-Cœur Carousel!
Montmartre
The Sacré-Cœur is in Montmartre.
Montmartre is my favorite neighborhood in all of Paris!
When you think of the charming, quintessential, cobblestone streets of Paris, you're probably envisioning Montmartre.
Filled with cafes, shops, and art, Montmartre is a must when visiting Paris!
(Fun fact: this is the neighborhood where the movie Amelie was filmed.)
La Maison Rose
This iconic, gorgeous pink shop is one of the prettiest cafes in Paris, in my opinion.
Here are two more options for cafes in Montmartre:
Cul de Poule
For an unassuming, laid back cafe in Montmartre, Cul de Poule serves up great food at a great price.
Le Consulat
We stopped in to Le Consulat for mussels and fries, and it was so good! I highly recommend it!
The outdoor patio is so charming if you have the option to sit outdoors.
Moulin Rouge
The Moulin Rouge is a photo-worthy Paris icon!
You can book dinner and a show at the famous Moulin Rouge here.
Parc Monceau
Grab a pastry and take a leisurely stroll through Parc Monceau.
Musée Jacquemart-André
Visit this private museum to see the notable works of art that Édouard André and his wife, Nélie Jacquemart, collected in their lifetime.
The mansion is stunning, with genuine nineteenth-century rooms, salons, gardens, and the museum to explore.
Hours: daily from 10am to 6pm (open until 8:30pm on Mondays when showing exhibitions). Last admission is 30 minutes before closing.
Cost: normal price is 15 Euros.
Day 4: Eiffel Tower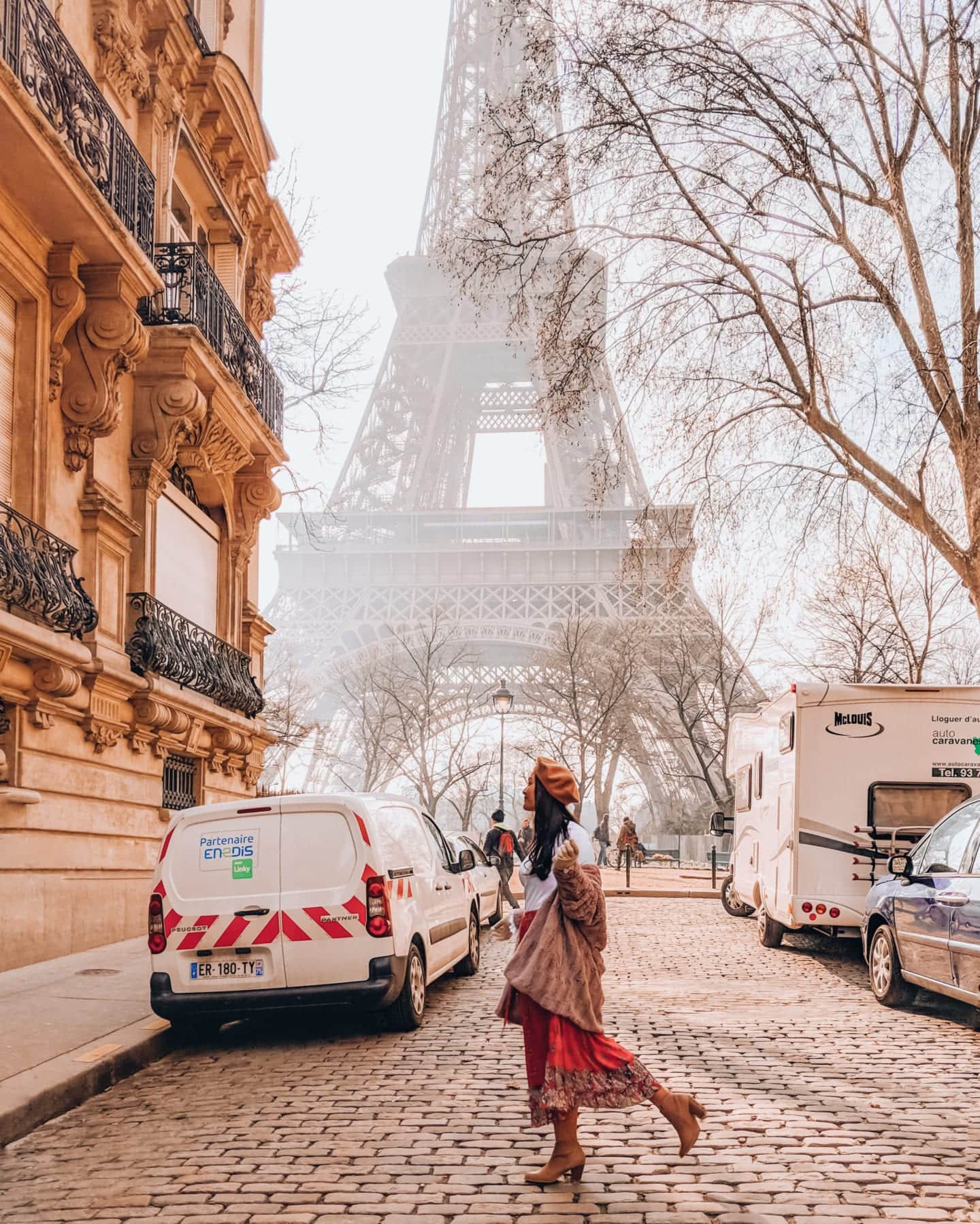 222 Rue de l'Université
This street offers a great photo-worthy view of the Eiffel Tower.
Eiffel Tower
Did you visit Paris if you didn't visit the Eiffel Tower??
The most iconic structure in Paris (and some might say in the world!!), this is absolutely a must for your Paris itinerary.
If you want to go up to the top, here's a bit of information:
There are several options for getting to the top of the tower: some that involve mostly stairs, some that do some stairs, some escalator, and some that do only escalator straight to the top.
Pricing and times vary based on which option you choose; get the full details here.
Eiffel Tower Carousel
While you're at the Eiffel Tower, check out the Eiffel Tower Carousel.
Trocadéro
The Trocadéro Gardens offers arguably the best & most classic view of the Eiffel Tower. I'd say this is another must on any Paris itinerary. Come at sunrise for an epic shot with the Iron Lady!
Trocadero Carousel
Grab a pic with the Trocadero Carousel and the Eiffel Tower while you're here.
La Gare
Grab a meal at La Gare: a gorgeous restaurant in the old La Muette metro station.
The decor here is beautiful, and chef Gaston Acurio, who studied at Le Cordon Bleu, compliments it with his carefully planned menu.
Day 5: Luxembourg
6th arrondissement of Paris
On today's Paris itinerary, you'll be mainly in the 6th arondissement.
Here you'll find some notable places, like Luxembourg Gardens and Montparnasse.
But while you're here, keep your eyes open for pastry shops- there are so many good ones in this lovely arrondissement.
Montparnasse
This is the tallest building in Paris with a view of the whole city. More than just that: Europe's fastest elevator takes you to the 56th floor in just 38 seconds!
Once you get off the elevator, panoramic views of the city greet you.
Hours:
Sunday-Thursday: 9:30 am to 10:30 pm
Friday and Saturday: 9:30 am to 11 pm
Cost: normal price is 18 Euros. Check rates and book your ticket here.
Le Plomb du Cantal
This traditional French restaurant serves up food out of Frace's Auvergne region. They dole out large portions, so keep that in mind when ordering.
Tip: order the Saturnian salad and a truffade!
Jardin du Luxembourg
Built in 1612, Luxembourg Garden spreads out over almost 62 acres of land, divided into French and English gardens.
These famous gardens are best to visit from the spring until fall.
Hours: the garden hours vary based on season. Typically they open between 7.30am and 8.15am, and close between 4.30pm (winter) and 9.30pm.
Cost: it is completely free to explore Luxembourg Garden.
Luxembourg Carousel
While you're visiting the gardens, check out yet another Parisian carousel!
Pierre Hermé
Ladurée is known for its macarons, but Pierre Hermé has arguably the best macarons in Paris!
Café de Flore
This cafe features a gorgeous store front.
Saint-Germain-des-Prés
This is a classic Parisian neighborhood that is perfect for a leisurely stroll.
Les Deux Magots
This cafe is famous in Saint-Germain-des-Prés.
While they serve up all sorts of food, I recommend stopping at this cafe for its wonderful pastries.
Day 6: Le Marais & Notre Dame
Paperboy Paris
Stop at this popular brunch spot for some tasty food.
Le Marais
Le Marais is a historic district that is home to a lot of important buildings.
Two notable places in this area are Musée National Picasso-Paris and Places des Vosges, a gorgeous park/square.
This area has a ton of nice bars and high-end jewelry and clothing stores.
Marché des Enfants Rouges
Looking for another option? Marché des Enfants Rouges is perfect for lunch or brunch on a weekday.
Due to its popularity, it gets super crowded on the weekends, so try to visit on a weekday if possible.
Museum of National Archives
Created as a result of the French Revolution, this state museum of French history was built for the people.
It is operated by the Archives Nationales and is perfect for anyone interested in learning about French history.
Don't write it off as a boring 'ol museum- there are really neat exhibits and gorgeous gardens here!
Hours:
Open daily except for Tuesdays
Weekdays: 10am to 5:30pm
Saturdays and Sundays: 2pm to 5:30pm
Cost: 5-8 Euros for adults depending on the exhibition. Check here for ticketing information.
Rue des Rosiers
This is a really neat street in the 4th Arrondissement.
To give you an idea of what to do in this area, L'as Du Fallafel is a great falafel shop close to Metro Saint Paul.
There are also a lot of thrift stores nearby if you're interested in finding cool, retro French fashion.
Rue des Barres
This short street in the Marais has been around for a long time- it shows up on a map from 1550 (source). Walk down and let your mind go back in time!
Not only does it have a lot of history, but it's also a gorgeous street in Paris.
Hôtel de Ville
Hôtel de Ville translates to City Hall. And this city hall has some gorgeous architecture worth checking out.
Île de la Cité
Adjacent to La Marais you'll find Île de la Cité. This natural island in the Seine is home to Notre Dame, Sainte-Chapelle, Au Vieux Paris d'Arcole, and Rue Chanoinesse (the next 4 items you'll find on this list).
Keep your eyes peeled for the famous Flowers and Birds Market, a flower market that is a bird market on Sundays, and has been around since 1808!
Sainte-Chapelle
This famous church features stunning stained glass and church interiors.
Over 1,000 stained glass windows adorn this chapel, built in the 13th century!
Au Vieux Paris d'Arcole
Stroll down Rue Chanoinesse where you'll find Au Vieux Paris d'Arcole.
This cafe has a gorgeous storefront- especially when the flowers bloom in the spring!
Notre Dame
Now it's time for the most notable Parisian spot of the day: the glorious Notre Dame.
Construction on the Notre Dame started in the 12th century, and it has become the most famous gothic cathedral in the world.
Just how famous? Notre Dame attracts 13 million visitors every year!
Unfortunately after the April 2019 fire, you can no longer go up, but you can still admire Our Lady of Paris from the outside.
Île Saint-Louis
This little island is the only other natural island in the Seine. It is adjacent to Île de la Cité, and is surrounded by gorgeous bridges.
Bonus: it has a great view of the Notre Dame.
Quai de la Tournelle
While you're in the area, cross over the Quai de la Tournelle, where you'll get a spectacular view of the Notre Dame and the Seine.
If time and your itinerary permits, visit at sunset for a perfect spot to watch the sun go down.
Rue Crémieux
This road is very popular on Instagram because of how cheerful and colorful this road is.
Pastel-colored houses line Rue Crémieux.
Day 7: Louvre & Palais Royal
Le Printemps Hausmann & Galleries Lafayette
Head to these luxury department stores for some high-end shopping.
There used to be a cafe called Deli-Cieux at Printemps, but it has since been closed and replaced with Perruche, a rooftop bar.
Stop into Perruche for a cocktail and enjoy the epic views!
And for a complete list of the best rooftop bars in Paris, check out this list!
Les Fils à Maman Paris
This cafe serves up home-style foods among their warm and eclectic ambiance.
Portions are generous, so if you're stopping in for a snack, consider sharing a dish!
Le Bouillon Chartier
This is one of the oldest brasseries in Paris!
Go for the cultural experience and yummy food. Since this restaurant is so popular, you will probably be seated with strangers, so don't be alarmed.
Get there around 11:30am if you don't want to wait in line.
(But if you do have to wait in line, they offer 1 Euro Sangria while you wait!)
Palais-Royal
Built in the 17th century, this palace is a remarkable work of art and has breathtaking gardens to boot.
The classic black and white Daniel Buren columns on the exterior of the Palais-Royal are too cute not to photograph while you're there!
It is free to visit.
Hours:
October-March: Daily from 8am – 8:30pm
April-September: Daily from 8am – 10:30pm
Louvre Museum
The Louvre is probably second to the Eiffel Tower in regards to famous places in Paris.
Definitely make sure you stop for a visit, whether you just want to catch a glimpse of the famous Mona Lisa (be warned: it is tiny!), or want to spend hours wandering though its many halls of art.
The museum is closed on Tuesdays, and is open from 9am to usually 6pm (on Wednesdays and Fridays it stays open until 9:45pm).
Cost: 17 Euros if you purchase online here (it gives you quicker entry), or 15 Euros if you buy tickets at the Louvre.
Musée d'Orsay
The Musée d'Orsay contains some incredible works of French art, most dating between 1848 and 1914. From sculptures and paintings to antiques and photography, you'll find it all here.
My favorite photo spot here? There is a stunning, giant clock inside!
Hours: Daily except for Mondays, from 9:30am – 6pm. The museum is open late on Thursdays, until 9:45pm.
Cost: normal price for adults is 14 Euros.
Tuileries Garden
The Tuileries Garden is located between the Louvre and the Place de la Concorde.
Originally commissioned by Catherine de' Medici in 1564, this French-formal style garden became a public park following the French Revolution.
It has stayed public and is free to enter.
Hours:
Last Sunday in September to the last Saturday in March: 7:30am – 7:30pm
Last Sunday in March to the last Saturday in September: 7am – 9pm.
Musee de L'Orangerie
Located in the southwestern corener of the Tuileries Garden, you can head to the Musee de L'Orangerie to see some spectacular Monet paintings.
Hours: Open daily except for Tuesdays, from 9am-6pm (last admission is 5:15pm).
Cost: 6.50 Euros for adults, free for 18 and under.
Place de la Concorde
Measuring almost 19 acres (7.6 hectares), Place de la Concorde is the largest square in Paris.
Notably, it has a 3,300 year old Egyptian Obelisk, the Luxor Obelisk, in the center of the square!
For some gruesome history, this was an execution site during the French Revolution- the list of names of around 1,200 guillotine victims include Louis XVI and Marie-Antoinette.
Nowadays, the square is named as a place of peace, and you'll find fountains, the obelisk, and even a ferris wheel on the square!
Place Vendôme
This octagonal shaped square (don't overthink it!) is located to the north of the Tuileries Garden.
The teal Vendôme Column stands in the center of the square. It actually has a staircase inside that takes you to the top, but it is no longer open to the public.
While you're here, many luxury designers have store fronts around Place Vendôme, so you can do some (window) shopping or stop in the Ritz bar for a drink!
Chanel Cambon
Chanel is too classically French to not stop in or do some window shopping!
There are actually two Chanel stores around Place Vendôme, but 31 Rue Cambon is the original location.
Gabrielle Chanel (known by her nickname, Coco), built her first store- a hat shop- at 21 Rue Cambon. By 1918, she had acquired the whole building at 31 Rue Cambon.
Fauchon Paris
Now for the last thing to do on your Paris itinerary: pick up some souvenirs if you haven't already.
Stop in to Fauchon Paris for some gourmet foods- it is perfect for finding a classy souvenir from Paris (think teas, chocolates, gift boxes, etc.).
The location at 24 Place de la Madeline (marked on the map) is Fauchon's flagship store.
In conclusion
There you have it!
I hope you found this Paris itinerary helpful!
For more Paris inspiration and planning guides, check out these articles:
Safe travels!
Jasmine
PS. If you found this Paris itinerary helpful, please share it to Pinterest! You can use one of the images below for easy pinning!
(Or click on the Pinterest button to choose any image from this post!)