Paris winter fashion can be a tough nut to crack. It's one thing when it's nice out but throw cold weather into the mix and packing for Paris is ten times harder.
I visited Paris in February and let me tell you… it was FREEZING. I've also visited in October when the weather is chilly- though not nearly as cold as February!
Most Parisians get around without the many layers that tourists require. Yes, they get used to the cold weather. But, more importantly, they are also not spending a large portion of their day outside as tourists do.
I remember the coldest I ever was in Paris was waiting in a long, long line to go up to the top of Notre Dame (that was in 2017; at the time of writing it is closed for repairs). Most locals never have to wait in line since, let's face it, they avoid the touristy things.
So, I hope that this article will give you the best tips for staying warm while exploring the City of Love- while still looking cute for photos.
Don't let the cold ruin your vacation or your style. Follow these Paris winter fashion tips and brave the outdoors!
Here I'll include some Paris winter fashion inspiration, the ultimate Paris winter packing list with all your winter essentials, and 20 tips and hacks for what to wear in Paris in the cold.
20 tips on what to wear in Paris in the winter
Here are 20 tips/items that will help you ace Paris winter fashion when it's freezing cold outside.
1. A hat or earmuffs
Keeping your ears and head warm is KEY. Go stylish with a cute beret or a cute beanie with a big pom on it.
2. Thermals under your clothes
Wearing some fleece-lined thermals underneath your clothes keeps your body so warm. I got mine (which contain a shirt and leggings) from amazon for under $30. You can also wear nude leggings if you plan on wearing them underneath any sheer fabrics.
3. Layers, layers, layers
Layer it up because you never know how warm it can be in the sunshine!
4. Want to wear a skirt? Add tights
If you want to wear a dress or skirt, nude tights make a HUGE difference. Even though they are sheer, they perform miracles against cold winds.
5. Knee-high boots
This is an easy style tip for keeping your legs warm with some tall boots. Better yet- pair with some knee or thigh-high knit socks for added warmth.
6. A thick jacket
I don't mean to state the obvious but get a good warm winter jacket. Faux-fur, boucle, down-filled- the style is up to you. Just make sure that it can tackle freezing temperatures!
7. Length matters
On a further note, opt for a long coat! Not only are long coats stylish, but they'll keep more of your body warm.
8. Gloves
Invest in a good pair in a neutral color that goes with all of your outfits. Bonus points if they are texting gloves– you won't need to take them off to use your phone!
9. Bring an umbrella
You never know when it's going to rain! Opt for a compact, windproof umbrella that will fit in your purse or backpack.
10. Sunglasses
On the other hand, that winter sun can shine through, and when it does, you'll want some stylish eye protection.
11. Double socks
Or thick socks, because cold toes are not pleasant.
12. Hand warmers
Hand warmers aren't just for skiing! Bring them with you when you're spending a lot of time outside in the cold- they truly will make a huge difference! You can put them in your gloves, pockets, etc.
13. Moisturizer
Don't forget to moisturize! Cold weather is usually synonymous with chapped lips and dry skin. Don't forget to put a small bottle of lotion in your bag in addition to a moisturizing lip color or chapstick.
14. Scarf
Not only are scarves practical, but they are stylish, too! Grab a plaid scarf or a cashmere (or this cashmere look-alike for under $20) scarf for extra softness and warmth.
15. Chunky sweaters/cardigans
Not only are these super cute, but they're super practical as well! Just keep in mind that you'll want to make sure your sweater fits underneath your winter coat! Alternatively, you can wear a bunch of insulated layers under your chunky sweater and have it act as a jacket.
16. Maxi dresses make for great photos
If you're wearing a maxi skirt or dress, you can easily wear some thermal leggings underneath!
17. Avoid cotton and opt for wool
If you're a hiker, you're probably already familiar with this tip. But it applies in all cold-weather fashion situations! Wool is a much more weather-resistant fabric than cotton is, and is great at insulating your body. If it's a wet day- whether it's snowing or raining- this especially applies as wool pulls moisture away from your skin!
18. Wear tight-fitting clothes
If you're considering packing loose jeans or skinny jeans, opt for skinny. Having fabric pressed against your body will prevent wind from blowing into your clothes. But if you're a big fan of loose jeans, don't worry! Tip #2 applies here- loose jeans are great candidates for some thermals underneath.
Same goes for tops- if you've got a chunky sweater on and it's not quite warm enough, you can easily wear a thermal shirt underneath it.
19. Choose shoes with tread
Snow or rain in the forecast? Opt for a boot or any type of shoe that has a good tread. You don't want to ruin your Paris trip by slipping!
20. Get a warm drink
If you've forgotten some of the cold weather essentials that I've mentioned above, here's a great last resort! Stop into one of Paris' many cafes for a hot drink like coffee or hot chocolate. Not only will holding a warm drink keep your hands and mouth warm but holding a cup of coffee makes for a great photo prop!
Paris Winter Packing List
Here's an idea of a capsule wardrobe that you can bring with you to Paris. This winter packing list includes your essentials- but you might want to add extra items if you're going to be there for more than a week.
Clothing
Jeans
Dark jeans or black pants
Thermal longsleeve top
Fleece-lined thermal leggings
2 chunky sweaters
Black/gray turtleneck
White longsleeve shirt
Beige cashemere shirt
Winter coat (thick and long)
Maxi dress if you want it for photos
Maxi skirt
Mini skirt
Tights
Wool socks
Undergarments
Scarves (neutral prints to pair with as many outfits as possible)
Other Items
Beret, beanie, and/or earmuffs

Gloves
Umbrella
Sunglasses

Hand warmers

Knee-high boots (and knee-high socks)
Fashionable white sneakers (comfort is key when it comes to long walks around Paris!)
Booties with good tread
Moisturizer
Chapstick
Make up
Toiletries
Passport
Camera
Chargers
Here's a helpful grid that you can shop to find some of my favorite cold-weather outfit items!
Paris Winter Fashion Inspiration
Here are some of my outfits from my cold-weather trips to Paris. I hope these give you some good ideas for what you can wear on your Paris trip! Keep in mind that if you don't see a jacket in the photo, it's almost certainly right next to the camera! Also, if you see bare legs- they're not… I've got tights on!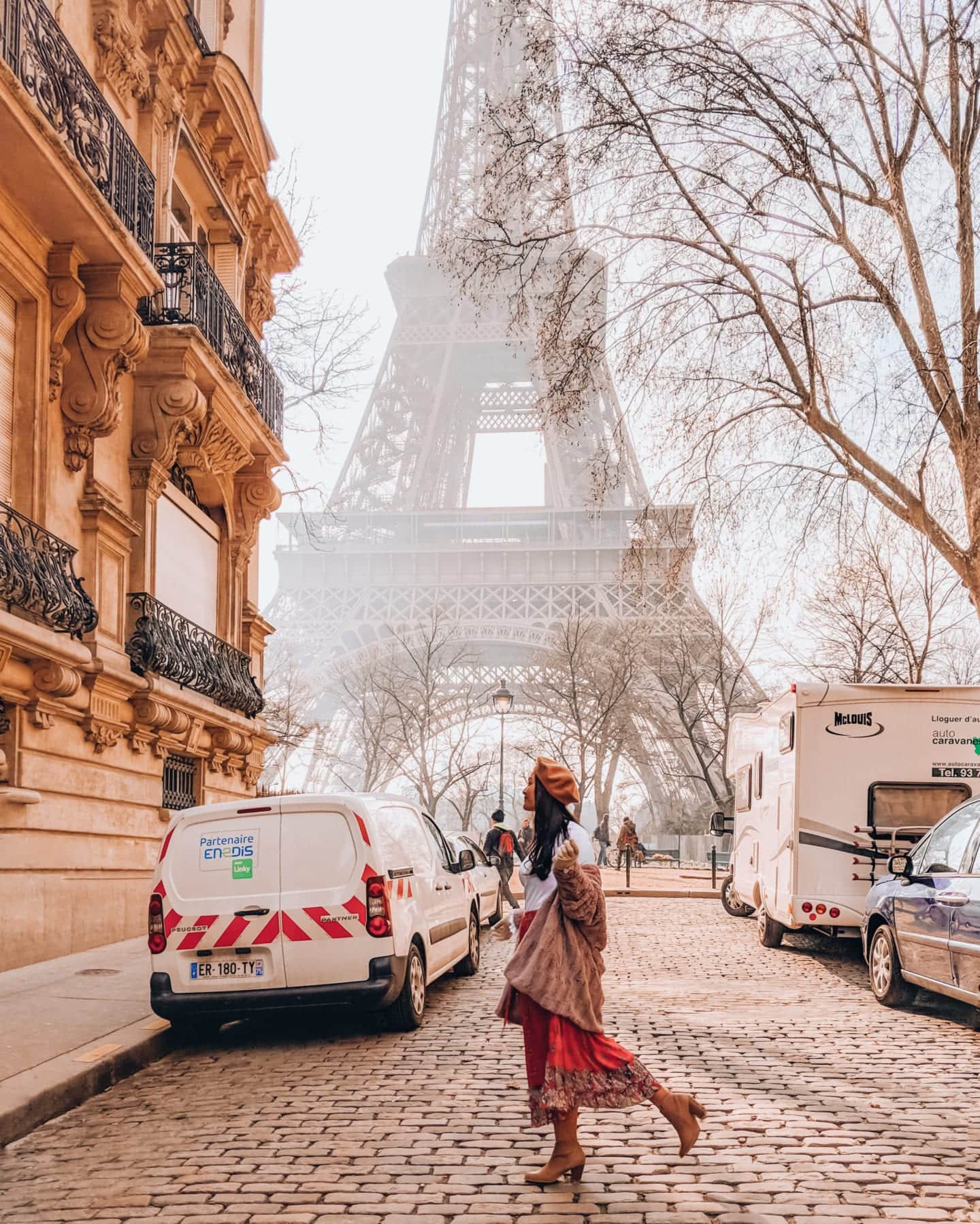 I hope these tips help you out when figuring out what to wear! And if you need ideas on what to do, head over to my one-week Paris itinerary post!
XO,
Jasmine
Heading to Paris? Check out these helpful posts!
And if you found this post helpful, please share it to Pinterest! You can use the images below for easy pinning!