After exploring the ins and outs of Paris, I'm so excited to share what I believe to be the most Instagrammable places in Paris! I'm talking about the best Paris photo spots, the cutest cafes, the most photo-worthy streets in Paris, and so much more!
Like most travel bloggers would be, I had been dying to capture the beauty of Paris on camera for so long.
So before my first trip to Paris in 2017, I put together a list of photo locations that I compiled from other Instagram influencers, Pinterest lists, Google searches, and spots recommended by my Parisian friends.
I ended up with a list of 30 spots I knew would be some of the most Instagrammable places in Paris.
Harrison and I had a blast exploring the city, capturing its beauty on camera, and experiencing first-hand the city of love!
As we explored, we realized Paris is the type of city that is surrounded by Instagrammable spots – almost every corner seems to be Instagram-worthy in its own right.
When we got back (and in the subsequent years), I realized we'd definitely need to visit Paris more. Not only did this magical city capture my heart, but I kind of wanted a do-over.
Why? Well, we went on this trip before I had my professional DSLR camera (check out exactly what's in my camera bag here!).
Also, since we were there in the wintertime (it was absolutely freezing), we didn't spend time at Jardin des Tuileries, Luxembourg, or other gardens.
So after this trip, we decided we HAD to go back, this time with a longer/better list of places to take photos and a higher quality camera to do this city justice.
Fast forward to now- we just got back from our second trip to Paris!
I've been wanting to update this blog post for years, and now it's finally done! You'll still see some photos from our trip in 2017, but the majority of photos are new!
So without further ado, here is my list of the 72 most Instagrammable places in Paris!
Map of Instagrammable Places in Paris
I've separated these Instagrammable spots in Paris by location on the map so you can see which spots are in which area. Within the actual post, I've separated them by category (Eiffel Tower views, iconic spots, cafes, etc.).
Eiffel Tower Views
1. Eiffel Tower (The Most Instagrammable Place in Paris)
Okay, I had to put this one first just because it's the Eiffel Tower. There are so many viewing spots for the Eiffel Tower, which you can read on my post about exactly that. In it, I list the best places to take photos with the Eiffel Tower! (Isn't that what I'm doing in this section? you might ask. Well, yes, but my Eiffel Tower photo spots post is more detailed, has more photos, and includes other spots than are in this section!)
2. Trocadero
The Trocadero has the best views of the Eiffel Tower, hands down. That easily makes it one of the best Paris photo spots. You can get some incredible straight-on shots of it. Whether you take a photo at the stairs, on the main area, framed with some statues, sitting on a ledge, or whatever shot you get here, know that the possibilities are seemingly endless here! Unfortunately, when we visited in October 2021, there was a plywood wall (I think the sign indicated that it was an art installation?) blocking almost every single "Instagram" spot, but at least we got this one and the one above it!
3. 22 Rue de l'Universite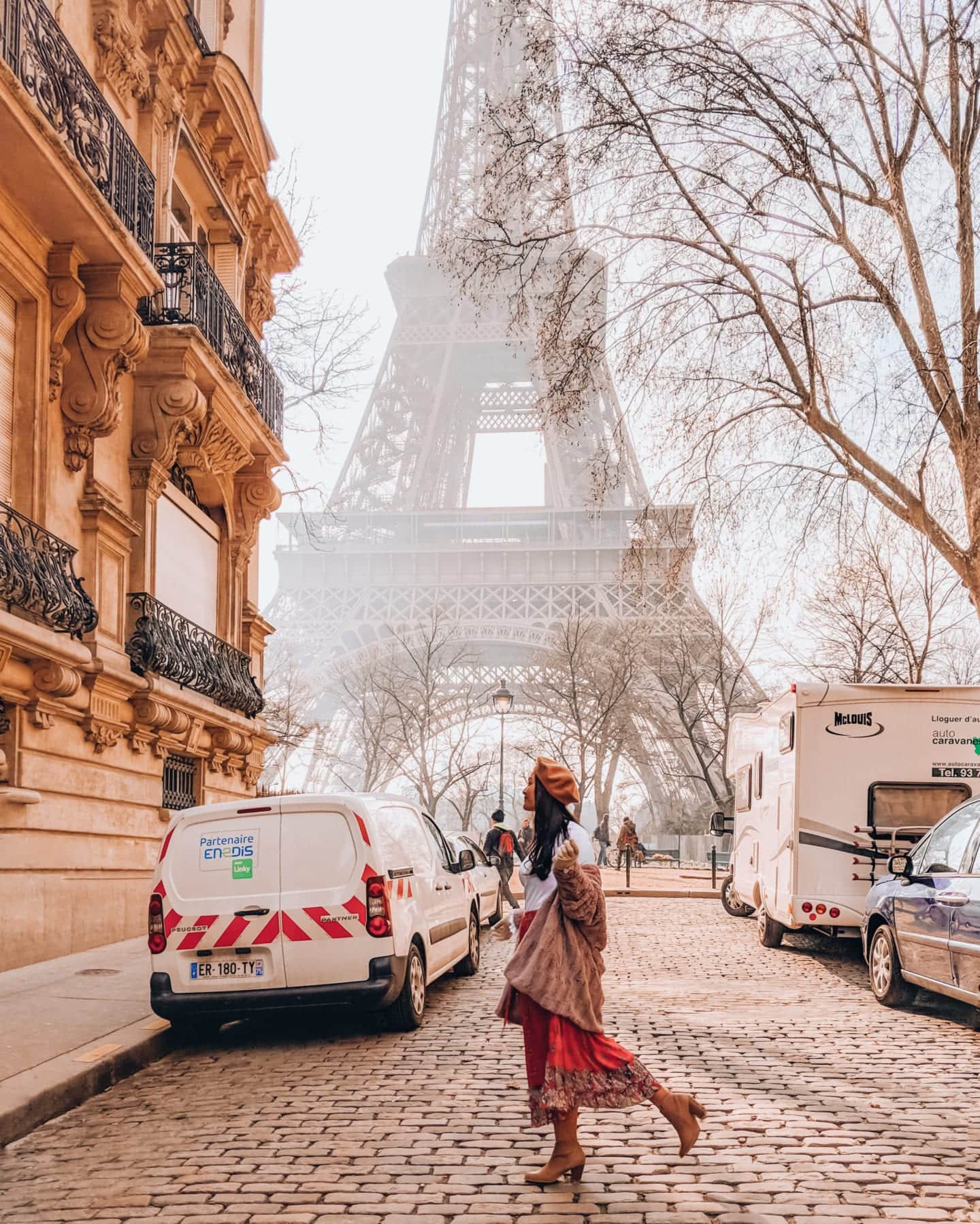 If you want an incredible close-up view of the Eiffel Tower, 22 Rue de Universite is the place to go. But don't be surprised when you find a bunch of people taking photos here- it has become a very popular spot. The good news is that the street is blocked off to cars now (this photo is from 2017 when it wasn't). So you shouldn't have any cars in your shot if you go now!
4. Banks of the Seine
In general, this area is beautiful and has plenty of Instagram-worthy spots for you to get a photo. But I think that the best view is right next to Pont d'Iéna, the bridge that connects the Trocadero to the Eiffel Tower.
5. Au Canon des Invalides Brasserie
This is another great spot to get a photo of the Eiffel Tower! This cafe on Rue Saint-Dominique gives you an urban feel, looking down a long road with the tower at the end! Just be careful and watch for cars!
6. Avenue de Camoëns
This street dead-ends into one of the most Instagrammable spots in Paris: a pretty railing with a stunning view of the Eiffel Tower. I especially love how the architecture and beautiful steps give it an especially romantic feel!
7. Square Rapp
This view of the Eiffel Tower frames the Iron Lady perfectly between two classic Parisian-style buildings. While you used to be able to enter Square Rapp and take a photo behind the pretty iron fence, you are no longer able to. They've posted signs on the gate that say "no photography" and "private property." You can still get a photo like the one above, though!
8. Pont Alexandre III
This bridge offers a double view- a pretty bridge with a view of the Seine, as well as the iconic tower. It's one of the best Paris photo spots! Come here at golden hour for a truly breathtaking photo!
Iconic Architecture & Buildings
9. Arc de Triomphe
There are multiple views you can get of the famous Arc de Triomphe. It stands in the middle of a busy street intersection, so you've got 360 degrees around it to work with. One thing you definitely don't want to miss out on, though, is the view you can get from the top of the Arc- there's an incredible view of the city from the top.
10. Louvre
Here's yet another iconic Paris photo spot! Did you know that the Louvre is the largest museum in the world? It has over 380,000 pieces of artwork and has existed for 8 centuries! Mind-blowing!
11. Palais-Royal
These black-and-white striped columns are too cute not to photograph! There are a lot of different angles you can work with here, as well as a huge garden next to this area that is great for photos as well!
12. Musee d'Orsay
This is one of the coolest and most visually striking Paris photo spots to me! Most notably, there's a gigantic clock inside on the fifth floor way in the back of the museum that makes for a really neat photo here! The Musee d'Orsay is an art museum across the Seine from the Louvre, so you can visit both art museums in one day if you want.
13. Hotel de Ville
Check out all of the details of the Hotel de Ville, near Notre Dame. The architecture is just gorgeous!
14. Pantheon
Home to the largest mausoleum in Paris, the Pantheon is the final resting place of Voltaire, Victor Hugo, Marie Curie, and other famous French. You can actually go up the dome for a remarkable view over the city!
15. Arc de Triomphe du Carrousel
Did you know that there are actually four famous arches in Paris? Not just the Arc de Triomphe! This one is located at the Louvre, so be sure to capture a photo here while you're at the museum.
16. Sinking house of Montmartre
This Parisian optical illusion is right next to the Sacre Coeur. When going up the stairs, you can view it on the right and understand how it's an optical illusion! (The building is actually straight and the grass is on a hill, so the camera is tilted here).
17. Les Invalides
Les Invalides is right across from Pont Alexandre III. It contains museums and monuments, all relating to military history.
18. Grand Palais & Petit Palais
Unfortunately, the Grand Palais has been closed for renovations, so we weren't able to go inside. But it has an incredible dome glass ceiling inside that makes for great photos! Fortunately, the exterior view of the Petit Palais has absolutely stunning golden gates! Definitely photo-worthy in my book!
19. Moulin Rouge
Get sassy in front of the Moulin Rouge!
20. Palais Garnier
The Palais Garnier is certainly beautiful from the outside, but the interior features a staircase that's to die for! If you're visiting this Instgrammable spot in Paris, get photos of both the exterior and interior! Did you know that the Phantom of the Opera is based on this opera house? Totally swoon-worthy.
Churches
21. Sacre-Coeur
This is one of my favorite spots in all of Paris. Not only is this church magnificently beautiful, but it is situated in the most charming neighborhood in Paris, in my opinion. Also, I think that the Sacre Coeur has some of the best views of Paris- this photo shows the view from the top!
22. Notre Dame
While you can no longer go into the Notre Dame while it is under repair, you can still get a photo of the iconic exterior. Here's the catch: you'll want to get a bit creative with it. There are construction barriers up when you go right up to it, so try capturing the famous church from further away to avoid seeing them.
23. Sainte-Chapelle
This church is absolutely stunning both inside and out. If you're able to go inside, you'll get to see its fabulously high ceilings and amazing stained-glass windows.
---
---
Instagram-Worthy Cafes
24. Le Consulat
After you're done shooting the front of this iconic cafe, step inside for a meal! Their fries and mussels are so good!!
25. La Maison Rose
We originally got a photo here in the winter, when there were just naked vines on the building. I have to say that it's much prettier when the vines are covered with greenery! But regardless of the season, this classic pink Paris photo spot is a must!
26. Laduree
This famous macaroon shop makes some very instagrammable treats- macarons and chocolates! Don't just stop here for the photo- be sure to pick up a few (or a dozen) macarons! You can find their shops throughout Paris; this one here is at the Champs Elysees and actually has a tea room inside as well!
27. Au Vieux Paris d'Arcole
Au Vieux d'Arcole is especially beautiful when greenery covers the vines on this storefront. And while you're there, don't forget to explore the rest of Rue Chanoinesse! The rest of the street has gorgeous pops of greenery!
28. Odette Cafe
I love Paris's cafe culture and Odette is no exception! Not only do they have great macarons, but they have that oh-so-Parisian outdoor seating and a quaint atmosphere just begging to be photographed. Add this place to your list of Instgrammable places in Paris if it's not on it already!
29. Pink Mamma
From beautiful staircases to glass window ceilings, this gem of a restaurant has it all! Plus, its food is delicious and its service impeccable. Pink Mamma should definitely be on your list of Instagrammable cafes to eat at in Paris- make a reservation ahead of time!
30. Cafe de Flore
With a plant-covered awning, this is yet another totally Instagram-worthy Paris photo spot! Plus, this cafe has a rich history of frequenters like Camus and Picasso. You can tell how popular this cafe still is today from the outdoor seating almost entirely filled up! Definitely add this to your list of Instagrammable places in Paris!
31. Berthillon
This place is wonderfully Instgrammable and has absolutely delicious ice cream. What more could an Instagrammer want? Berthillon has multiple locations; this one is at 2 Quai d'Orléans on Ile Saint-Louis.
32. Vrai Paris
This spot has amazing food and drinks along with a super cute, flower-covered Instagrammable entrance.
33. L'Oiseau Blanc at The Peninsula Paris
A hotel with a Michelin-rated restaurant inside, the Peninsula Paris has a beautiful interior and amazing food. L'Oiseau Blanc is definitely an Instagram-worthy restaurant spot in Paris, but know that this is fine dining at its finest. (Aka it's pretty pricey and you'll need reservations well in advance.) Worth it for the epic views? I'll let you (and your wallet) be the judge of that!
34. Carette Cafe
This is another pretty Parisian cafe that so many people love! You can opt for a pretty food shot, capture their pretty interiors, or get a shot of their storefront. You've got all the photo options here!
35. Restaurant Le Train Bleu
This restaurant is so dreamy! While we personally haven't dined in, apparently it has amazing food and drinks! Make sure to make a reservation in advance if you want to stop into this spot! (Tip: it's much easier to get a lunch reservation here than a dinner one!)
Neighborhoods & Areas
36. Montmartre
Montmartre is a quintessential French town to a tee- it's so quaint and charming! It's by far my favorite neighborhood in Paris (and perhaps in the whole world!). You'll find cobblestone roads, a bunch of cute shops, colorful buildings, artists galore, and so much more!
37. Île de la Cité
Home to Notre Dame, Île de la Cité is another charming area in Paris! Be sure to grab a shot on the bridge to Île de la Cité while you're in the area.
38. Latin Quarter
The Latin Quarter is my second-most favorite area in Paris, behind Montmartre. You've got so many restaurants, shops, bookstores, and cute streets here. Keep your camera handy- there are endless Paris photo spots here!
Streets
39. Rue Saint-Julien le Pauvre
Paris is one of those rare cities where even the streets can be beautiful. Here are several streets you've got to include on your list of Paris photo spots to visit, starting with Rue Saint-Julien le Pauvre. This might look familiar, and that's because we covered Odette in the "Restaurants/Cafes" section of this article, but it's worth mentioning that this whole street is photo-worthy!
40. Rue Galande
When looking at Odette in the previous photo, simply turn to your left and you'll find this gem! Rue Galande makes for a great photo from this direction or at the end of the street in the opposite direction- your choice!
41. Rue Valette
Rue Valette perfectly frames the Pantheon with some classic Parisian buildings. Even with cars lining the street, it still is so pretty!
42. Rue du Chevalier de la Barre
The incredible architecture, cobblestone street, and most importantly, the unique angle of the Sacre-Coeur make Rue du Chevalier de la Barre a totally Instagrammable spot in Paris!
43. Rue de l'Abreuvoir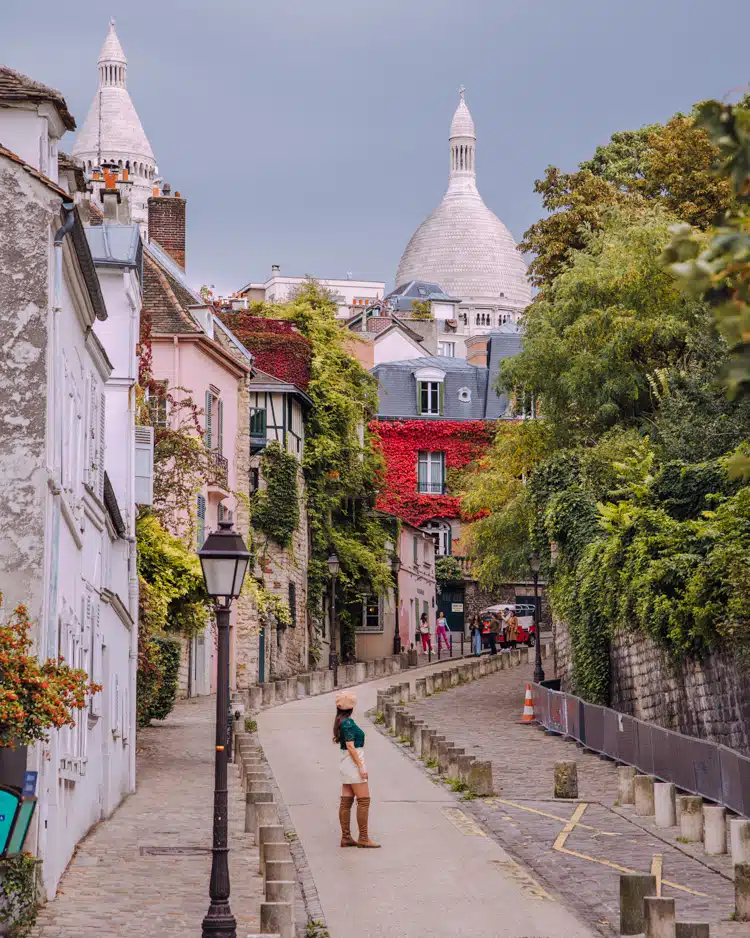 There are just so many streets in Paris worth photographing and Rue de l'Abreuvoir is certainly one of them! It's home to La Maison Rose and so many ivy-covered walls!
44. Rue des Barres
This street goes way back in history, which adds to its charm and makes it ideal for capturing the beauty of its shops and architecture.
45. The Champs Élysées
It's easy to forget about photographing the Champs Elysees on the way to the Arc de Triomphe. But it's an iconic street and there are many Instagrammable shops and places along it that you don't want to miss!
46. Rue Cremieux