Before heading to Paris in February, I compiled a list of the most instagrammable places in Paris.
This list is the culmination of a ton of research: from other Instagram influencers, Pinterest lists, Google searches, and spots recommended by my Parisian friends.
With a list this in depth, I spent less time planning while in Paris and more time taking shots! That's the benefit of having all of my photo spots ready.
Paris is the type of city that is surrounded by instagrammable places- each corner seems to be instagrammable in its own right.
That being said, this list contains my favorite 30 spots that I find to be truly the most instagrammable.
Since we were there in the wintertime (trust me- it was absolutely freezing), we didn't spend time at Versailles, Luxembourg, or other gardens. But even without these notable spots, the beauty in Paris makes for a ton of photo opportunities.
Without further ado, here's the list in no particular order!
1. Eiffel Tower
Okay, I had to put this one first just because it's the Eiffel Tower. There are so many viewing spots for the Eiffel Tower, which you can read on my post about exactly that. In it, I list seven of the best places to take photos with the Eiffel Tower!
2. Pont Alexandre III
This bridge offers a double view- a pretty bridge with a view of the Seine, as well as the iconic tower.
Come here at golden hour for a truly breathtaking photo!
3. Les Invalides
Les Invalides is right across from Pont Alexandre III. It contains museums and monuments, all relating to military history.
4. Arc de Triomphe
There are multiple views you can get of the famous Arc.
It stands in the middle of a busy street intersection, so you've got 360 degrees around it to work with.
One thing you definitely don't want to miss out on, though, is the view you can get from the top of the Arc!
There's an incredible view of the city from the top.
5. Laduree
This famous macaroon shop makes some very instagrammable treats- macarons and chocolates! Don't just stop here for the photo- be sure to pick up a few (or a dozen) macarons!
You can find their shops throughout Paris; this one here is at the Champs Elysees and actually has a tea room inside as well!
6. Plaza Athenee
This hotel offers incredible balcony views if you are staying there!
(Note my Lauderee bag- I toted these macaroons all over Paris that day!!)
7. Grand Palais & Petit Palais
Unfortunately the Grand Palais was closed for renovations, so we weren't able to go inside. But it has an incredible dome glass ceiling inside that makes for great photos!
Fortunately the outside view of the Petit Palais has absolutely stunning golden gates!
Definitely photo-worthy in my book!
8. Sacre-Coeur
This is one of my favorite spots in all of Paris. The Sacre Coeur has the best views of Paris in my opinion!
Here's the view from the top!
9. La Maison Rose
It gets even prettier when the vines are covered with greenery in the spring time!
Here's another angle of the cafe:
10. Montmartre
Montmartre features a quintessential French town- so cute and quaint!
Just how cute is this store front?
11. Moulin Rouge
Get sassy in front of the Moulin Rouge!
12. Trocadero
The Trocadero has the best views of the Eiffel Tower, hands down. You can get some incredible straight on shots of it.
13. Le Consulat
After you're done shooting at this iconic cafe, step inside for a meal! Their fries and mussels are so good!!
14. Rue des Barres
This street has no cars on it, which makes it ideal for capturing the beauty of its shops and architecture.
15. Notre Dame
Beautiful both inside and out!
16. Hotel de Ville
Check out all of the details of the Hotel de Ville, near the Notre Dame. Just gorgeous!
Along the way, don't forget to stop and check out this bridge view:
17. Rue Cremieux
Rue Cremieux is an iconic colorful street in Paris. We ran out of time, but this is definitely one of the most picturesque streets in Paris if you want a pop of color!
18. Le Printemps Hausmann
The 9th floor of this department store has a wraparound balcony with pretty views of the city.
Here's a shot of the Eiffel Tower from this spot:
19. Palais-Royal
These black and white striped columns are too cute not to photograph!
And while you're grabbing lunch in the area, don't miss out on all of the adorable patios!
20. Louvre
Here's yet another Paris staple!
Photo tip (pun intended): have fun with it!
21. Musee d'Orsay
We also ran out of time here, but there's a gigantic clock inside that makes for a really neat photo here!
22. Place Vendome
Photos at Place Vendome become especially colorful when they feature the pretty teal sculpture in its center.
23. Chanel Cambon
You can't forget this French fashion icon!
24. Quai de la Tournelle
This area has really pretty views of the Notre Dame.
25. Au Vieux Paris d'Arcole
This shop is especially beautiful in the spring when greenery covers its vines.
And while you're there, don't forget to explore the rest of Rue Chanoinesse! In the spring, the rest of the street has gorgeous pops of green!
26. Montparnasse
Montparnasse is the tallest building in Paris, and for a hefty fee you can go up to the top for an epic view of Paris.
27. 22 Rue de Universite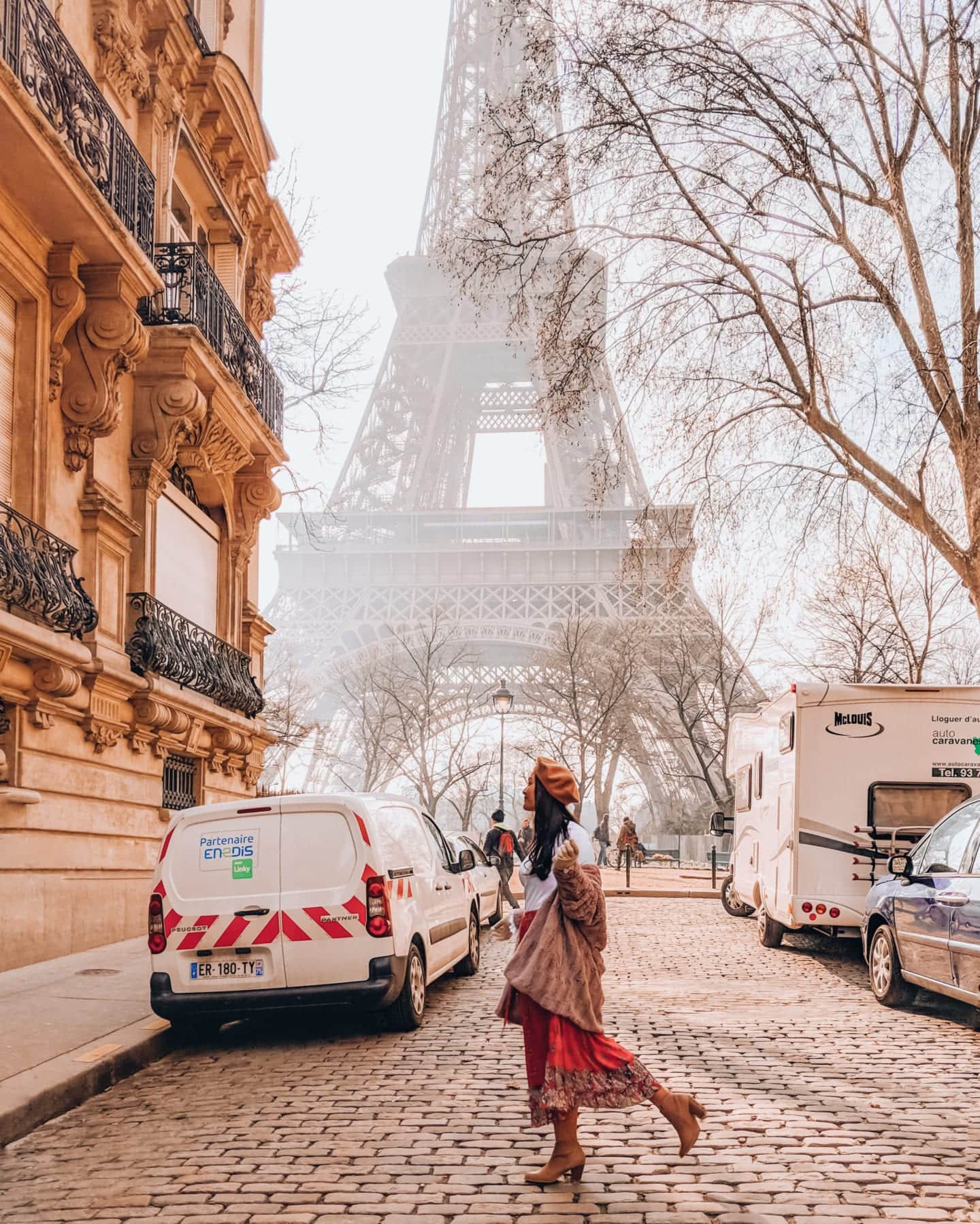 If you want an incredible view of the Eiffel Tower, 22 Rue de Universite is the place to go.
28. Place de la Concorde
The fountains and ferris wheel make Place de la Concorde incredible photo-worthy.
29. Sinking house of Montmartre
This Parisian optical illusion is right next to the Sacre Coeur. When going up the stairs, you can view it on the right (and understand how it's an optical illusion!).
30. Carousels- Trocadero, Eiffel Tower, Sacre Coeur
There are so many carousels in Paris that it's hard to keep track of them all! This one below, by the Trocodero, offers a gorgeous shot of the Eiffel Tower.
What are some of your favorite spots in Paris?
Safe travels!
Jasmine
PS. For more Instagrammable Photos in Paris, check out this post by a fellow travel blogger!