If you're heading to Cabo, you're in for a treat! Whether you're staying in Cabo San Lucas or somewhere else in Los Cabos, there are so many Instagrammable places in Cabo just waiting for you!
Here I've compiled a list of the top 24 most beautiful places in Cabo so that you can capture the perfect photo!
From Cabo activities and water adventures to photo-worthy restaurants and hidden gems, you'll find them here!
So without further ado, here are the 24 most Instagrammable places in Cabo!
1. Mission del Cabo
One of the most iconic landmarks in Cabo, the Mission de San Jose del Cabo is a Catholic Church established during colonial Mexico. This place is rich with history, Spanish and English navigators were early visitors here, and it was the setting of the 1734 Rebellion Pericúes.
Today, its tan exterior and white detailing make it a remarkable place for photos! Take a photo from down up, whether you're perched on the stairs or not, so that the twin towers are in the shot. The open plaza in front of it is also a nice photo-taking area if you don't plan on scouting out the interior.
2. Fox Canyon Waterfall (Maya del Sol)
The Maya de Sol waterfall in Fox Canyon is more than just one of the most Instagrammable places in Cabo- it's also a hidden gem!
You'll find this stunning photo-worthy spot 1.5 hours away from Cabo San Lucas.
Take a hike through the beautiful Fox Canyon, a relatively easy trail with a steep end. Ropes and wooden banisters are put up to ensure safety in more exposed areas, but I recommend wearing shoes with a good grip.
The waterfall itself is utterly gorgeous! The falling water is relatively calm, making it safe for you to wade right under it. Not only is it refreshing after the hike, but the pool is a great place for photos too. There's also a jump-off spot if you're feeling adventurous.
Head just a bit further downstream into the canyon and you'll find gorgous pools like the one pictured at the very beginning of this post.
There's an entrance fee; check before you go as the price fluctuates. You can drive up the trailhead which is a parking lot. The hike itself is only around half a kilometer.
Alternatively, you can book a tour like this one that we did! I highly recommend that tour- our guide, Maury, was incredible!
3. Arch of Cabo San Lucas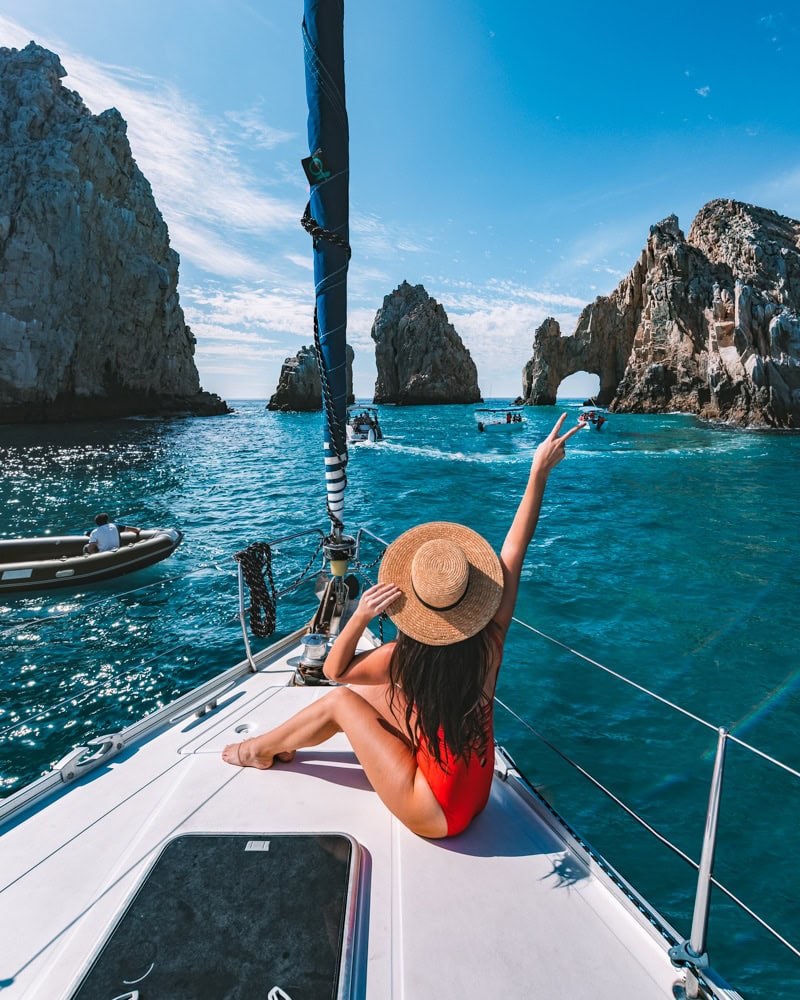 Perhaps the most photographed place in Cabo, this stunning rock formation is au natural. The Arch of Cabo San Lucas sits at Land's End, showing off a beautiful doorway to the Pacific Ocean.
What makes it such a pretty backdrop is the sweep of color! Make sure you capture the azure waters, the tan limestone colors of the rocky arch, and the soft clouds in the sky. For the perfect Instagram shot, rent a yacht charter and set sail right before sunset. The arch glows under the orange setting rays.
The two sides of the arch also showcase very different waves, so try to get photos from both ends if you can!
This is the tour that we did, it made for an epic adventure! Just note that you'll want to snap your photos quickly when you reach the arch, as we weren't there for long!
Since the arch is the most popular and well-known Cabo landmark, it definitely is one of the most Instagrammable places in Cabo San Lucas. You won't want to miss it!
4. The Baja Desert
Unbelievable views wait at the Baja Desert – all 77,700 square kilometers of it. This region sweeps up the Baja California Peninsula with mountain ranges on one side and the Pacific Ocean on the other.
To look extra cool, climb on a Jeep Wrangler or ride an off-road bike. Just imagine the photos you'll get; you flaunting your motor ride and the desert spreading wide around you. You'll definitely enjoy the lack of crowds too.
The lack of light pollution also means stunning aerial shots at night! If you have time, stay until the stars blanket the sky.
5. The Santiago Oasis
Sometimes, humble spaces give us the best stories. Santiago, a small community located in a lush valley filled with palm trees, is such a place. From its run-down telegraph office to the rustic museum, it is rife with photo opportunities.
And beyond these everyday sights is the beautiful Santiago Oasis! The hike through this oasis is full of lush scenery, so packing a camera is a must. Make sure to get the mountains in the background if you can!
If you're on a time crunch like we were, you can simply take this shot from the pull off on the road!
6. The Cabo San Lucas Marina
Nothing says "living the best life" like a photo of the Cabo San Lucas Marina. Not only do you see hundreds of boats and colorful houses down along the marina, but you can also pose right by the docks for a wind-swept aesthetic.
It's also at the heart of Cabo's nightlife! Slip into a slinky dress or open dress shirt and mingle with the vibrant crowd. Bright lights and late-night hype provide you with endless photo opportunities. You can easily get there via taxi, and wander around on foot.
7. The flags in San Jose del Cabo
Gorgeous rainbow flags line the streets around San Jose's gallery district! The charming town of San Jose del Cabo is definitely worth a visit while you're in Cabo. Shopping, dining, art galleries, and more await you!
You'll find these flags just down the street from the Mission listed above.
Colorful flags, cobblestone streets, and pretty architecture make this one of the most Instagrammable places in Cabo!
(Looking for things to do in Cabo? Check out the 50 best things to do in Cabo!)
8. Get an underwater shot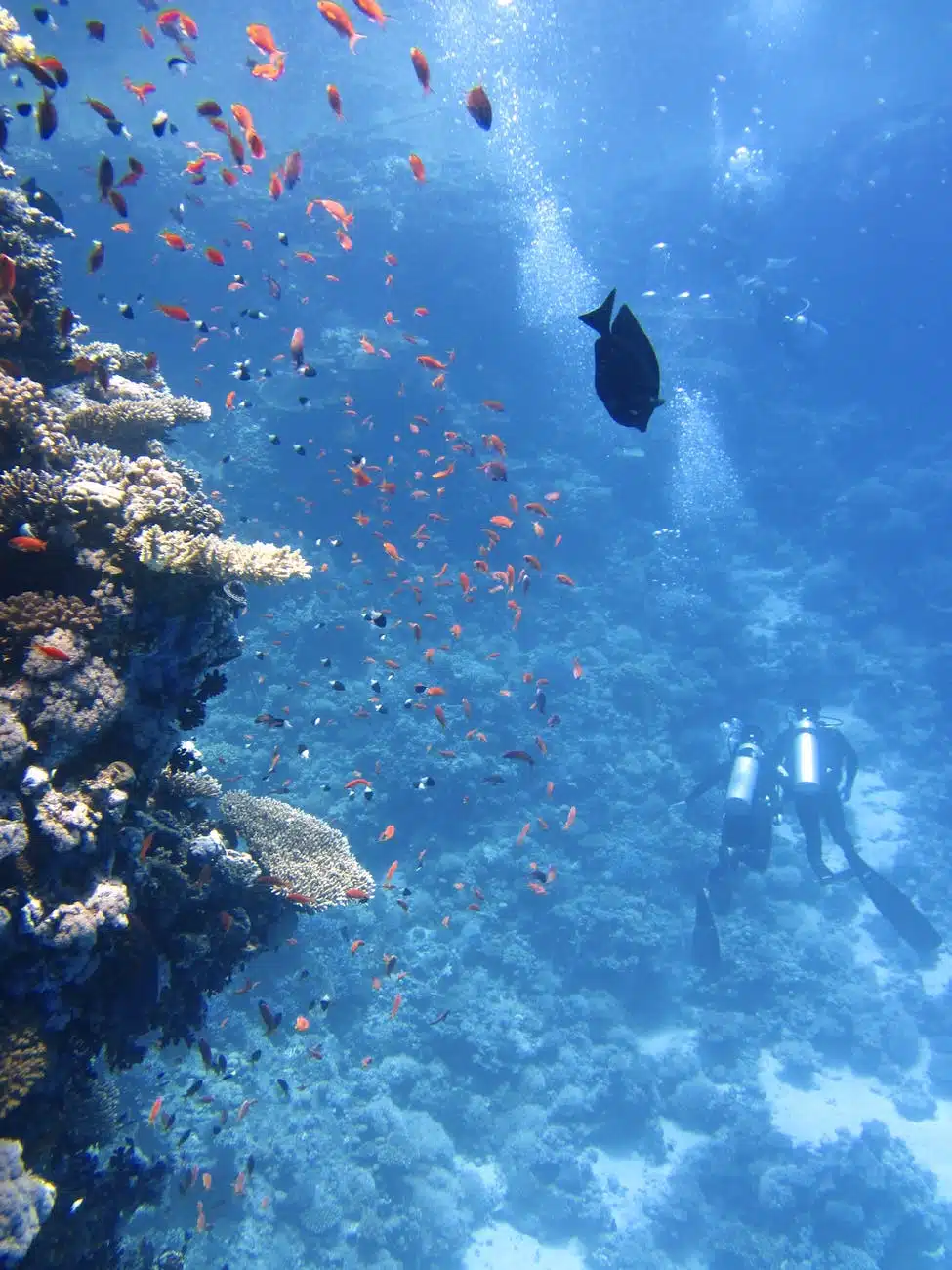 Cabo is famous for its underwater beauty, so don't miss out! Cabo Pulmo National Marine Park has been protected since 1995, home to over 800 marine species. It's the only live coral reef in the Gulf of California and is considered the "Aquarium of the World". If you scuba dive, definitely make a trip down!
Santa Maria Bay is another great spot for underwater photos. Relative secluded and a marine sanctuary, you are free to swim among colorful schools of fish. There are plenty of snorkeling tours that lead you to the most dynamic parts.
Good news- you don't have to be a pro to scuba dive here! This tour is perfect for beginners!
9. Swim with Sharks
Along those lines, how about an epic shark photo?
Apart from getting amazing photos to brag about, how many people can claim to have swum with sharks? While scuba divers can sink low to where the sharks lurk, those who snorkel can still get close-ups of these majestic creatures.
These cageless interactions are led by experienced teams so don't worry. Your guides will tell you how to handle the sharks safely and comfortably.
Bonus points if you go swimming with whale sharks, as these enormous sharks make for an extra beautiful Instagram photo!
Whale sharks are only in the area from October to March, book your whale shark encounter here!
10. Lover's Beach/Divorce Beach
Separated by the Arch of Cabo San Lucas – or should I say connected – are Lover's Beach and Divorce Beach.
They're like two sides of the same coin. Lover's Beach is small and cozy, backed by rock formations with unique designs. On the Pacific Ocean-facing side is Divorce Beach, named for its rouge waves and rip tides.
Mix up your photoshoot with two different backdrops! You'll get plenty of photos on your way to this strip of sand as well.
Get there by a glass-bottom boat or a yacht and let people see what kind of on-water adventure you're experiencing in Cabo.
11. A Camel Safari
If you're going to do a desert trip – do it right! Sign up for a camel safari for a gentle nature walk towards the ocean. The soft sand, the muted colors of cacti and desert flora, and the slice of blue ocean in the distance all combine into a beautiful picture.
You can pose with these gentle animals first; sitting on their backs or receiving a camel kiss. Or, hold them by the harness and take a wider angle shot! Let me just say that there's more greenery than you expect out among the dunes.
12. A Room With a View
One easy photoshoot idea is to book a room with a view! Whether you're facing the mountains or the ocean, Cabo spoils you with a range of views. Look longingly (or excitedly) out of the window so that everything is framed in the shot.
Better yet, book a room with a balcony. What better Instagram photo than one where you're enjoying the sights in a fluffy robe, chilled drink in one hand?
We stayed at Dreams Resort, which provides an awesome all-inclusive package. You can see our balcony view in the photo above!
13. Get a Luxury Massage on the Beach
You haven't experienced the true magic of Cabo's beaches without a luxury massage out in the open.
Fiesta Americana Hotel is one of the accommodations that offer this relaxing experience. Comfortable massage chairs are set up with side tables, snacks, and wine to match. If you've signed up for an evening massage, you get a blazing bonfire to complete the package.
With the hazy smoke of lighted torches, decorative dining table, and patterned throws, this luxury experience is one for the camera rolls.
We had ours done at Dreams Resort, where we stayed, and loved our experience! You can see the exact palapa set up that we had in the video above!
14. Poolside at a luxury hotel
Cabo resorts are designed to be chic and effortlessly luxurious; everything you need for that perfect getaway. Of course, this means that they come with a pool.
Our stay at Dreams Resort was outstanding and one of the reasons was its massive swimming pool. Not only was the pool right beside the beach (meaning gorgeous sunset photos), it also came with a poolside bar.
Sip at your cocktail or chilled beverage with the camera angled up to capture your afternoon out in luxury, or take over the lounge chairs for a more relaxed shot.
Not fancy enough? If you're looking for the epitome of luxury, Cabo is full of world-class resorts. Montage Resort and One & Only Palmilla are two of many ultra-luxurious retreats!
---
Love photography? Check out what's in my photo bag! A great camera makes a world of a difference on Instagram!
---
15. Lunch at Los Agaves
Kill two birds with one stone by photographing your lunch. Mexico is known for delicious, homey cuisine with a spice-flavored kick – Los Agaves doesn't disappoint! Turn your tasting menu into a colorful table spread. Those traveling in groups can make their photos more fun by ordering different drinks and positioning them in a row.
Don't just take portrait shots when you can turn your account into a foodstagram! 😉 This is definitely one of the most Instagrammable places in Cabo if you like food photography!
(PS. Here are my tips on how to take the perfect Instagram photo!)
16. Flora Farms
One of the most unique Instagrammable places in Cabo is the stunning and serene Flora Farms. Nestled at the base of the Sierra de la Laguna Mountains, it is 25 acres of working farm, kitchen, spa, and luxury homes.
Wander out onto the freshly mowed lawns and bask in the peaceful environment. Maybe your feet will take you in the direction of the farms, where caretakers cultivate over 100 varieties of plants by hand. Bend down and feel the leafy tendrils or smile beside sunflower beds.
Overlooking these amazing gardens is Flora's Field Kitchen, complete with wooden furnishing and cute glassware. Every corner is a photo waiting to happen!
17. Mount Solmar Hike
One of the most unique, Instagrammable things to do in Cabo is climbing Mount Solmar.
The strenuous hike leads you up a steep rocky cliff with stunning views up top. Do wear shoes with good grip because you have to use both hands to get up certain parts. Up top, it is blue sea for as far as the eye can see.
Note that the Mount Solmar Hike entrance is actually through private property. You'll have to contact the guide, Enrique (who is actually a dog trainer), and he'll bring you safely to the top. Sometimes the dogs come along too! You can hike for free but consider leaving a tip for the excellent service.
18. Stand Up Paddle Boarding
An easy way to look cool is doing stand-up paddleboarding. To add to the cool factor, do it at one of Cabo's beaches!
For calmer waters suitable for paddle boarding beginners, head over to the main safe swimming beach, Medano Beach. With luxury resorts and cabins lining its length, you can get some great "I'm in Cabo!" proof shots for Instagram.
19. ATV ride
Stand on top of your sharp orange ATV with Cabo's dramatic desert landscape in the background. There's no limit to what you'll see during your ATV tour through the Baja Desert with G-Force Adventures.
Their new route takes you through the beaches of Margaritas, past the desert's collection of cacti, and towards the mountains. You might even see whales during whale watching season at some of the rest stops. We saw three on our tour!
The tour is 2 hours long, led by a bilingual guide. You'll be given safety gear, bottled water, and round-trip transportation. Note that the starting fee of USD 100 doesn't include collision insurance (USD 25 per vehicle), and you can opt for a professional photo package.
20. Horseback riding
Or maybe the romantic in you would prefer a horseback ride? Also offered by G-Force Adventures, this ATV and horse riding combo tour that we did departs from a Margaritas ranch to trail along the Pacific Ocean.
Take photos with your sweet horse companion, with the sweeping sea behind you! You can walk right up to the water edge as you cross the beach. Experienced guides will help you hold the horses still – maybe even take the photo for you!
Cappuccino, the horse I rode, was so well-behaved! She's pictured in the photo above!
I find that anytime I post a photo with a beautiful animal my Instagram engagement goes up. So that definitely makes this one of the most Instagrammable activities in Cabo.
Starting at USD 90, you can choose between a 1.5 hour and 2.5-hour tour. Round trip transportation will be arranged for you, or you can hire a private driver as well.
21. Todos Santos
Take a day trip and visit the site of the historic Hotel California!
But this town is more than just that- Todos Santos is also an incredibly Instagrammable place near Cabo San Lucas!
An hour away, this charming town is full of Insta-worthy shops, flag-lined streets, colorful buildings, flowers, and cacti!
Don't forget to capture a shot of its beach while you're here- the views from the rocky cliffs are stunning!
22. La Coyota
This shopping area is unlike most!
With its beautiful architecture and wares, you're bound to find a pretty corner in La Coyota!
Don't forget to buy some souvenirs while you're here- they sell everything from dinnerware to home decor!
22. Hot Springs
Hot springs in Los Cabos? Yup- there are two!
Santa Rita Hot Springs and Los Churros Hot Springs (in Agua Caliente Canyon) are two stunning places!
Check their open status before visiting as unfortunately they were closed when we were there due to the pandemic!
You'll need to bring pesos with you for the entrance fees ($20 pesos for El Chorro and $180 pesos for Santa Rita at the time of writing).
Get detailed information about visiting Santa Rita and El Chorro Hot Springs here!
23. Cactus photo
While in Los Cabos, you'll notice an abundance of cacti in the area! Good news- cacti make for Insta-worthy photos!
Cabo is famous for the Cardón cactus- it's the largest in the world and it's all over Los Cabos! While on our Jeep tour, our driver stopped at this cactus on the side of the road so we could get a shot!
On the cactus note, don't forget to try a cactus cocktail while you're in the area. I had a pitaya colada and it was amazing! You'll also find shops selling cactus ice cream along the sides of the road!
24. Beach shot