As a Dallas transplant, I've heard so much about Houston- and most of it hasn't been great. Here's the thing (as explained by my native Texan friend): Dallas thinks it's better than Houston and Houston thinks it's better than Dallas. But, as a non-native Texan, I wanted to see Houston for myself. So I dragged my Dallas-born-and-raised husband to Houston with me, and together, we were amazed by Houston and how many Instagrammable places in Houston there are!
Simply put, Houston really impressed us! Despite my low expectations because of what I had heard from Dallas locals, I now see that Houston is a fantastic place to visit. (Don't tell other Dallasites, but I think it has much more to offer than Dallas!)
From incredible parks and beautiful manmade waterfalls to delicious (and highly aesthetic) cuisine and neat architecture, you'll find it all in Houston. It's also an hour away from the beach (yes, it's the gulf, but it's still a beach!).
You can get a quick sense of Houston from this video I made from my visit:
[If you don't see a video player below, you may need to disable your ad blocker.]
So, let me convince you of Houston's beauty! I've compiled the best photo spots in Houston and the prettiest places in Houston to give you a list of 50 spots!
And if you want Instagram or photography tips, check out these posts:
Now let's get into it. Here are the most Instagrammable places in Houston!
1. Buffalo Bayou Park
Houston views, access to Buffalo Bayou where you can go kayaking, and green spaces are part of what make Buffalo Bayou Park popular for locals. And all of those things make this one of the most Instagrammable places in Houston! This exact spot is at the Nau Family Pavilion off of Allen Parkway.
2. Dandelion Fountain
Located at Buffalo Bayou Park, the Dandelion Fountain just begs to be photographed! It's also a great place to cool off a bit from Houston's humidity as the mist from the fountain keeps you cool. It's one of the prettiest places in Houston to me!
3. McGovern Centennial Gardens
This manmade waterfall is such a cool Houston photo spot. We got a drone shot from above which was so cool- the mound you see behind me has a path on it that spirals up! McGovern Centennial Gardens are free to enter.
4. Marvin Taylor Exercise Trail
Located just next to the McGovern Centennial Gardens, the Marvin Taylor Exercise Trail has picturesque benches and a dreamy live oak tree tunnel. Visit in the morning or on a weekday for fewer people in your photos! As far as parks go, it's located in one of the prettiest places in Houston.
5. Hermann Park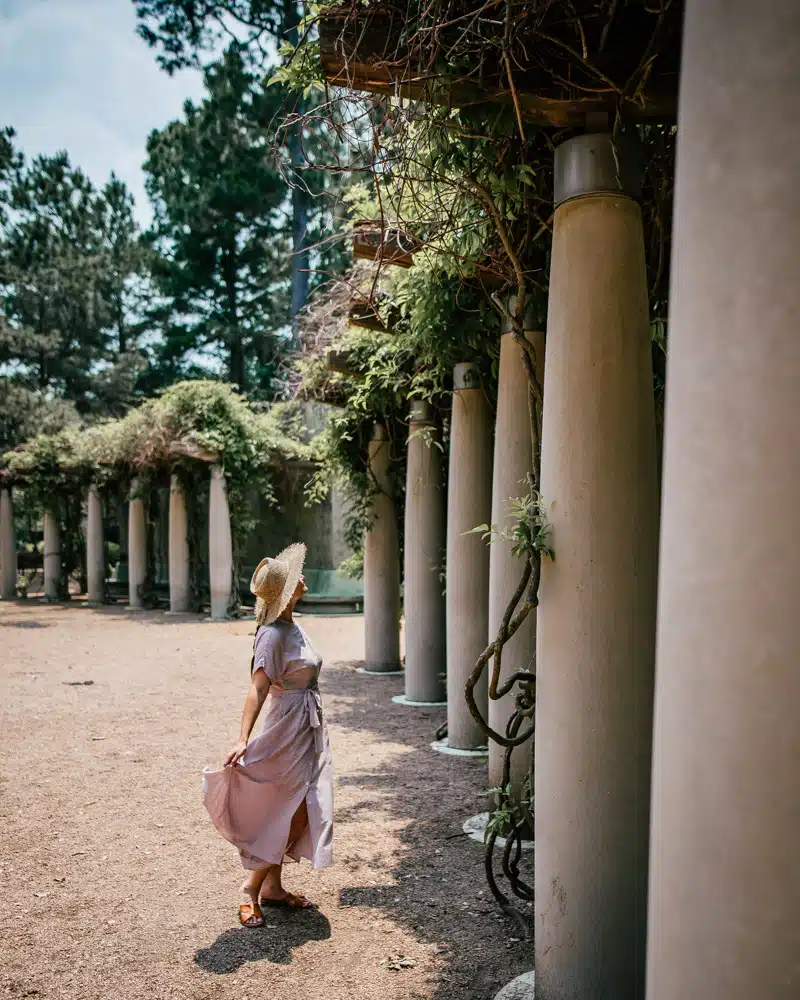 Hermann Park contains the Marvin Taylor Exercise Trail; it's a large park with an obelisk (looks like a mini Washington Monument), reflecting pool, Japanese garden, and more. But most notably for photos, I think that the columns you see here are the most photo worthy thing in Hermann Park.
6. Mecom Rockwell Colonnade
The Mecom Rockwell Colonnade is in this same area, adjacent to Hermann Park. With its European flair, it's one of the best photo spots in Houston!
7. Gerald D. Hines Waterwall Park
This is one of my all-time favorite Instagrammable places in Houston! Not only is this waterfall wall incredibly beautiful, but it will cool you off, too! Yup, if you get this close to the fountains, expect to get misted on. If you're bringing a DSLR and plan on spending time photographing this place, I recommend bringing a waterproof camera jacket with you. Our camera got quite wet, and so did we! It was fine, but next time I'm definitely bringing my camera's jacket so we can spend longer shooting here. Hands down one of the prettiest places in Houston in my book!
8. Bayou Bend Garden
This is the first thing on this list that has an admission fee. Part of the Museum of Fine Arts Houston, $7.50 per adult will get you into the beautiful 14-acre garden at Bayou Bend. If you want to tour the art collection in the house as well, it costs $12.50, which includes access to the gardens.
9. Mercer Arboretum
This arboretum is about 30 minutes north of Houston, making it the perfect stop if you're driving down from Dallas (like we were). It is free to enter and has multiple great Houston photo spots. My favorites are the columns pictured above and the Cypress tree pond.
10. Southampton Live Oaks
It took me quite a bit of digging and research to find this spot. And about a half hour scouring Google Maps! But it worked! You'll find this stunning live oak tree archway in the Boulevard Oaks neighborhood next to Rice University. Specifically, this sidewalk is right where South Blvd meets West Blvd. You really don't want to miss this spot, it's another of the prettiest places in Houston!
11. Cockrell Butterfly Garden
The Cockrell Butterfly Garden will transport you to the jungle with a three-story rainforest and waterfall. There are butterflies everywhere and an iguana named Nacho! It's located in the Houston Museum of Natural Science but is in a separate area, so you can go here without having to enter the HMNS admission area. Tickets are $12 per person, but you can get 25% off here!
12. Houston Museum of Natural Science
While you're already at the Houston Museum of Natural Science for the Cockrell Butterfly Center, it's worth checking out the science museum itself. It's one of the best in the United States and is full of incredible exhibits. Whether you want to explore Pompei, see thousands of carats of gems, or buy tickets to the planetarium, there is so much to explore here. For great photo ops, check out the dinosaur exhibit.
13. BAPS Shri Swaminarayan Mandir
I think this Houston photo spot speaks for itself! BAPS Shri Swaminarayan Mandir Houston is hands down one of the most Instagrammable places in Houston! In fact, I think it's not just one of the prettiest places in Houston but all of Texas (see more Texas gems here!)! This temple will transport you to India in seconds! It was closed for all of 2020 once the pandemic started, but reopened its doors on an appointment-only basis just a couple of weeks before we visited in May. (It's still free, just requires scheduling a time to visit). Hopefully, soon, it'll go back to normal, where visitors can take in its beauty anytime they're open. Check their website here for up-to-date information.
14. Teen How Taoist Temple
Asia, or Houston? This unique temple is located just a few minutes east of the business district in Downtown Houston.
15. Friendship Pavilion
Don't be misled by the architecture here- while it is in the Hermann Park area, the Friendship Pagoda is not in the Japanese Garden at Hermann Park. Instead, it's all the way to the left when you enter the McGovern Centennial Gardens. We tried finding this place in the Japanese Garden after seeing it posted on Instagram under the wrong location tag. Luckily, we ran into some gardeners working at the Japanese Garden who pointed us in the right direction. So we ended up walking in the extreme humidity (that humidity is no joke, y'all!) for about ten minutes to the Centennial Gardens.
16. Rice University
Rice University boats one of the prettiest campuses in Texas! With stunning architecture and live oak trees everywhere, it makes for one of the most Instagrammable areas in Houston! This building, Lovett Hall, is one of the best on campus for photography. If you're coming here for a couples or graduation photoshoot, I recommend coming on a weekend morning, or before classes start during the week.
17. Cloud Column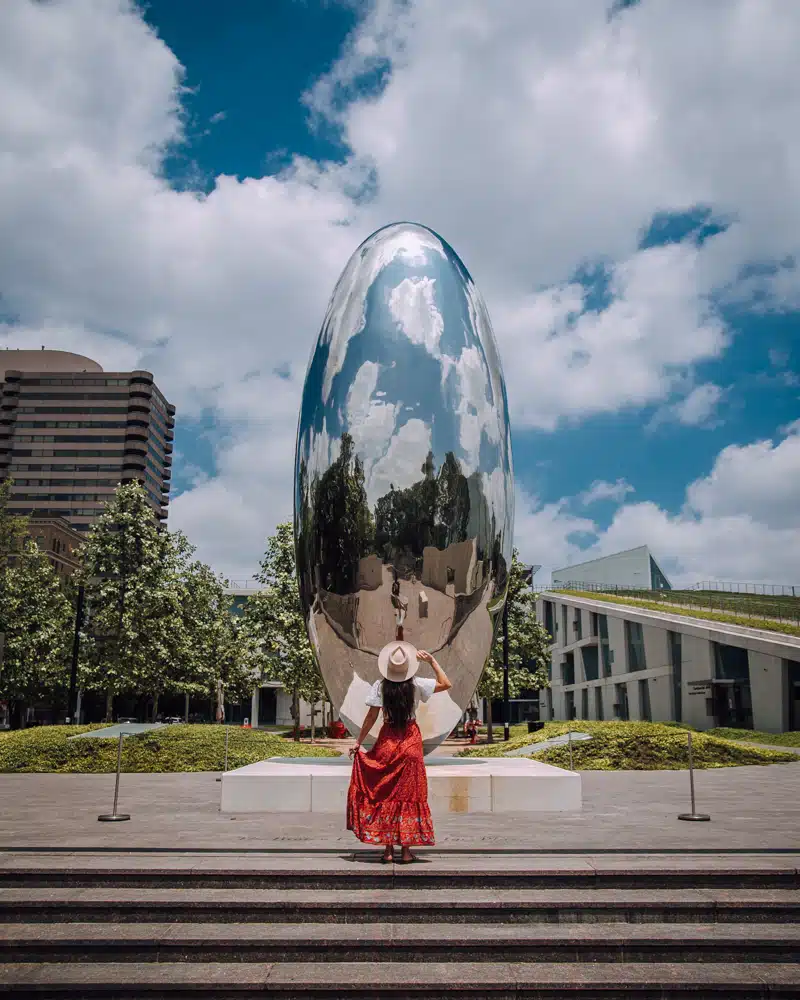 Houston has its own spin-off of the Chicago Bean: The Cloud Column! I absolutely love how it reflects the clouds in the sky, hence its name. Located at the Museum of Fine Art Houston, this is just located on the Glassell School of Art's grounds, so no tickets are needed to see this cool sculpture.
18. Color Factory Houston
Color Factory Houston is just begging to be photographed! In fact, you're given a photo chip that you insert into their cameras as you walk through the museum. So, by the time you leave, you have a bunch of photos! Of course, you can also take your own photos. The museum is organized room by room, with a specific story, theme, or activity in each room. There are also treats to collect throughout (I'm talking candy, macarons, mochi, and frozen yogurt to name a few!). Weekdays are best if you want to avoid the lines! I'd block off at least an hour for this experience. This Instagrammable photo spot in Houston is perfect for couples, families, and friends. Get your tickets here.
19. Rainbow Sidewalk
To add more color to your Instagram feed, how about photographing the rainbow sidewalk right by El Tiempo's Westheimer location? Obviously, this is a drone shot that we got, but you can get some very cool shots from ground-level while walking on the sidewalk. This Instagrammable spot in Houston is located at the intersection of Taft St and Westheimer Rd.
20. Elephant Mural and El Gato Coffeehouse
We initially visited El Gato Coffeehouse to check out if they actually have cats roaming around their coffee shop. But, alas, it was closed! Fortunately, we found something just as cool: this epic elephant mural in their parking lot! How sweet are these two elephants?
21. Paint Wall
Another cool mural that you'll find in Houston is the paint wall at Biscuit Home on Westheimer. It's located in their parking lot, so you can't miss it!
22. Houston is Inspired Mural
This is one of the most Instagrammable murals in Houston. This colorful wall has a huge mural that reads "Houston is Inspired," surrounded by intricate colors and patterns. The parking here is for designated street working crews only, so you'll have to find street parking nearby.
23. Graffiti Park
Graffiti Park is your one-stop-shop for murals galore. The "Sky's the Limit" mural is my favorite one here, but there are so many options for you here!
23. Pink Wall
Disclaimer: I have no idea what shop used to be here, and I'm not sure if this adorable pink storefront is coming or going! But it's worth checking out if you're in the area and if you want a pop of pink on your Instagram! It's located at 609 Richmond Ave, next to the Ono Poke. We took this photo in May 2021, so if you do end up visiting later on and see that it is still there or that it has been removed, please let me know in the comments!
25. We Love Houston Sign
When in Houston, you've gotta get a shot with the "We <3 Houston" sign!
26. Wings Above Water
This cool sculpture is located in a fountain and is surrounded by downtown buildings, giving you both city and artsy vibes.
27. Smither Park
This is one of the most unique art-themed parks I've visited. I'd describe it as Gaudi's mosaics meets Nightmare Before Christmas. The tiled path you see here could make for a very cool flat lay backdrop, or you could take a photo inside the pavilion, surrounded by tiles.
28. The Menil Collection
There's definitely no shortage of art in Houston. The Menil Collection is free to enter and puts some remarkable art collections on display. Since photography is only allowed in the hallways, it's worth noting that even the hallways are Insta-worthy!
29. Skyspace by James Turrell
I love James Turrell's masterpieces because of how they often incorporate nature into their design. Skyspace at Rice University does just that. Whether you get a shot like this from the inside or step outside for a whole new perspective, this work of art is one of the prettiest places in Houston.
30. Kinder Building
Now we're getting into the cool architecture section of this list of Instagrammable places in Houston. The Nancy and Rich Kinder Building is home to this cool lobby, complete with curved hallways and hanging art mobiles.
31. Glassell School of Art
The architecture at the Glassell School of Art gives you more industrial vibes with its hard lines and concrete and metal materials.
32. Main Street Square
For a cool view of the architecture in Downtown Houston, look no further than Main Street Square! You'll be surrounded by towering downtown buildings- it's definitely an Instagrammable spot in Houston!
33. Rosemont Bridge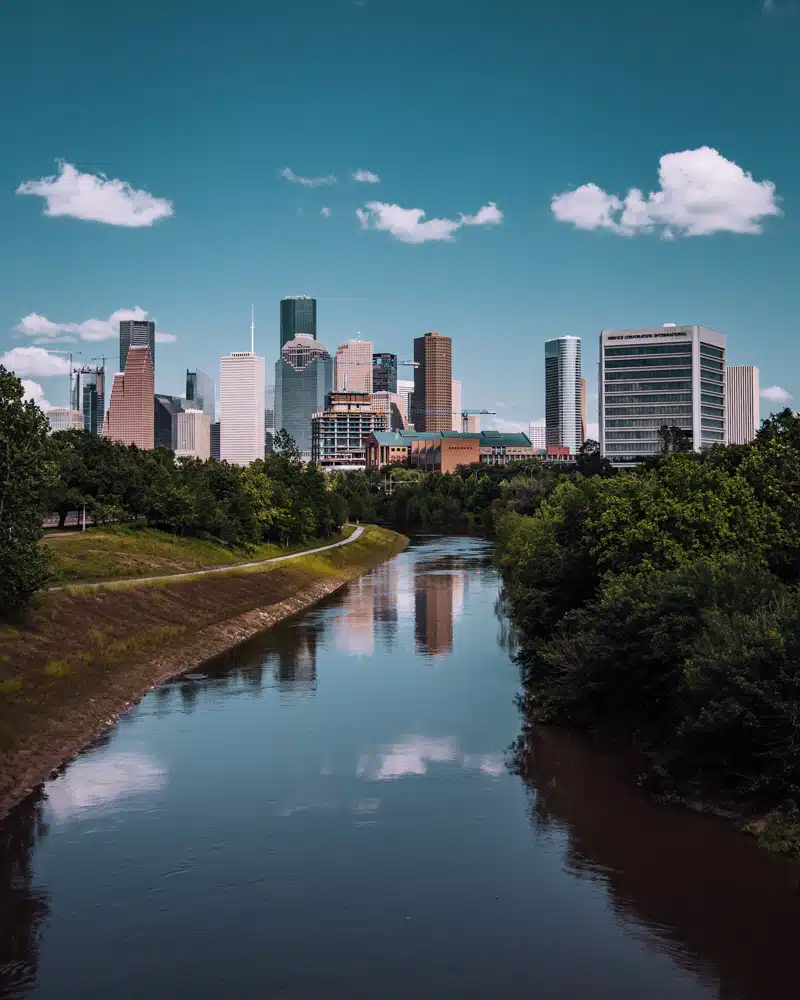 For more great city views, how about this downtown view from the Rosemont Pedestrian Bridge? You'll find it at Buffalo Bayou Park.
34. Love Lock Bridge
The locks on Love Lock Bridge frame downtown Houston perfectly! The bridge crosses over Allen Parkway, giving you remarkable views of downtown.
35. Le Colonial
When in Houston, you can't miss out on all the great food Houston has to offer! First up on the list is Le Colonial, located in River Oaks. Le Colonial blends Vietnamese and French cuisine perfectly- their food is absolutely delicious! Try their Cha Gio appetizer- it's a crispy shrimp & pork roll that I could literally eat every single day. Other than their yummy food, you've got to go here for the decor, as well! Their patio is stunning, with gorgeous tiles and french-style bistro tables.
36. Amorino
Amorino is located in the same shopping area as Le Colonial, so don't forget to stop here, too, while you're in the area! This chain serves up the prettiest gelato cones. I don't know if there are many foods out there that are more Instagrammable than a flower-shaped ice cream cone!
37. Bebidas
Pink walls, plants, southwestern-patterned booths, white marble tables, and a cursive neon sign- the owners of Bebidas knew what they were doing when they decorated! That combo makes for the perfect Instagram shot!
38. Tiny Boxwoods
Tiny Boxwoods is a very trendy, popular brunch spot- the number of people who have recommended it to me is very, very large. After visiting, it's easy to see why! How charming is their ivy-covered patio? You feel more like you're in a garden than at a restaurant in the city.
39. EggHaus Gourmet
EggHaus Gourmets wins most Instagrammable breakfast spot in Houston if you ask me! With their gorgeous croissants, floral wallpaper, white marble table tops, and overall vibe, you won't want to miss this place!
40. Tiny's Milk and Cookies
Remember Tiny Boxwoods? (Hint: I just mentioned it.) Well, Tiny's Milk and Cookies is a Houston Staple, located right next to the Rice campus. And it's a must for their chocolate chip cookies! The decor is cute, as well, so come for both! We also had ice cream here, and the milk chocolate coconut ice cream was amazing.
41. Fiori
Normally Fiori features gorgeous plants along its white facade and ivy creeping up its fence, but I think the 2021 snowstorm affected those poor vines we photographed here. (Also a result of the 2021 snowstorm: it seemed like almost all of the palm trees in Houston suffered from it, unfortunately. I don't think we saw a single healthy palm tree when we visited in May 2021! But hopefully, they'll regrow or get better over the next few months!) Anyway, when it's at its best, Fiori is one of the prettiest restaurants in Houston!
42. Matcha Cafe Maiko