Heading to Vegas and hope to get some great photos? You're in luck! Between the themed hotels and surrounding nature, there are so many Instagrammable places in Las Vegas.
Here I'll share the best photo spots in Las Vegas, along with location-specific photo tips to help you get the perfect shot.
You'll find a variety of places here, from hotels and cafes to art and nature. (I should mention that the hotel shots I share here are ones you can get without having to stay at the hotels, so you won't find pool shots or interior shots.)
Also, you can get a sense for many of these photo spots from the video I made from my trip there!
[If you don't see a video player below, you may need to disable your ad blocker!]
How to Get to These Photo Spots
I'm organizing these photo spots in order of location. That way, if you are in one area and want to see what's around you, you have a good idea of where to go.
Logistically speaking, the Vegas Strip is very walkable. It's 4.2 miles long and as you're walking there is so much to see. Bridges cross over the street at certain points so that you can easily walk from one side to the other.
We walked everywhere out of necessity. We quickly learned that Vegas was not our type of city, since we like to avoid big crowds and smoke. You'll notice many people on the sidewalks smoking weed since they legalized it here.
Oftentimes, we tried to order a rideshare, but both Lyft and Uber would have 20+ minute-long wait times. It ended up being faster just walking 1.5 miles here and there.
In the end, we just walked everywhere along the Strip. In total, we walked 27 miles in three days! But we were exploring more than your average Vegas tourist. Regardless, be sure to bring comfortable shoes when you're in Vegas.
If you do order a rideshare, plan ahead and leave buffer time in your schedule for long pick up times. Also, know that there are designated pick up points at each hotel- they won't just pick you up anywhere.
As far as rental cars go, you only really need one if you're planning on exploring the surrounding state parks or places like the Hoover Dam. We rented one for our last day in Vegas and explored from sunrise until evening. If you have a rental car the whole time, hotel parking is easy but can get pricey.
If you have questions about how to get to each spot, let me know in the comments!
Photography Tips
If you're looking to improve your Instagram photos or up your Instagram game, here are some posts you might enjoy:
Now, let's get into it! Here are the top 50 most Instagrammable places in Las Vegas!
1. "Welcome to Fabulous Las Vegas" Sign
First things first: when in Vegas, you've got to get a shot at this iconic sign! It's one of the more popular Las Vegas photo spots, but here's a major tip to help you avoid the line.
When we went at 9am on a Friday morning, there were so many people lined up to take a photo in front of the sign. (Probably 30 people!) But no one was taking photos at an angle! If you go off to the side like this, you won't be in anyone's photo and you get to skip the line!
Logistically, you can have an Uber/Lyft drop you off, then call one to pick you back up with no problem. (You can also walk, but it's about a mile away from the edge of the Strip.) The sign is in the middle of the road in a huge, fenced-off median area, and there's a small parking lot right in front of it.
2. The Luxor Walkway
This walkway is connected to the hotel drop off area at the main entrance to the Luxor Hotel. Be sure to frame it so that you get the Sphinx and the Pyramid in your shot!
3. The Luxor Sphinx
After you get the previous shot, walk up the side of the sphinx to the tram area. Here you'll be able to get a neat close up shot of the Sphinx!
4. Excalibur Hotel
Add some castle vibes to your Instagram feed at this Las Vegas photo spot! Excalibur hotel is a camelot-themed hotel with red and blue towers.
To get to this spot from Luxor, head next door to Excalibur, then take the stairs up onto the walking bridge that leads to the main bridge crossing over the Strip. You'll stay on the bridge portion that's still on property to get this shot!
You can also get a cool shot of Excalibur right from the sidewalk as well.
5. New York, New York
Once you've gotten your Excalibur shot, this Las Vegas photo spot is almost immediately next! You simply cross over the pedestrian walking bridge that connects Excalibur and New York, New York. That is exactly where I got this shot.
For more photo ideas at the New York, New York hotel, you can snap pics in front of the Statue of Liberty and the Brooklyn Bridge!
6. The Paris Hotel Eiffel Tower Entrance
Get ready to add some Parisian vibes to your Instagram at the Paris Vegas. I consider this hotel to be one of the most Instagrammable places in Las Vegas because of its half-size replica of the Eiffel Tower!
This spot is at the entrance to the hotel right next to Mon Ami Gabi (which I highly recommend for brunch!). Have your photographer crouch and angle upwards to capture more of the Eiffel Tower in your shot!
7. The Paris Hotel's Arc de Triomphe
Also at the Paris Vegas, you'll find a two-thirds-sized replica of the Arc de Triomphe! It's located at the main drop off area of the hotel.
It's also worth mentioning that there is another Instagram-worthy photo spot inside the hotel- a flower wall that says "From Paris, with love." We completely forgot to get a photo there, but I hope you check it out!
8. Eiffel Tower View From The Bellagio
Next stop: head to the Bellagio, where you'll get this epic view of the Eiffel Tower from across the Bellagio fountains. This spot is definitely one of the most Instagrammable places in Las Vegas- it gives me serious Paris nostalgia!
9. The Bellagio Fountains
Speaking of the Bellagio fountains, make sure to capture a shot of this iconic Las Vegas photo spot! I especially love the fountains at nighttime when they light up like this!
At the time of writing, the Bellagio fountain show happens from Monday-Friday every half hour from 3pm until 8pm and every 15 minutes from 8pm until 11:55pm. On Saturdays, Sundays, and holidays, the show schedule starts earlier, at 12pm.
10. Bellagio Conservatory & Botanic Gardens
The Bellagio is another gorgeous hotel in Las Vegas that is perfect for photos. Notably, the Bellagio Conservatory and Botanical Garden is free to enter and contains gorgeous plant and art displays.
11. Mayfair Supper Club Entrance
Also inside the Bellagio is the Mayfair Supper Club. You'll find the rose-covered Mayfair entrance indoors next to one part of the casino. We all know how everyone loves flowers on Instagram, so you'll want to get a shot at this pretty entrance!
We had dinner here one night and enjoyed a live performance with our meal! The meal was quite expensive (our most expensive meal in Vegas) but the music here was fantastic. We also had a great view of the Bellagio fountain show with our meal as well.
12. The Steps at Caesar's Palace
Here's a lesser-known Las Vegas photo spot: the stairwell by Caesar's Palace. It's one of the pedestrian bridge exits that people rarely go on, since there's a main exit right before these stairs. If you're looking at Las Vegas Blvd from Caesar's Palace, you'll find it immediately to the left of the covered outdoor bar.
13. Trevi Fountain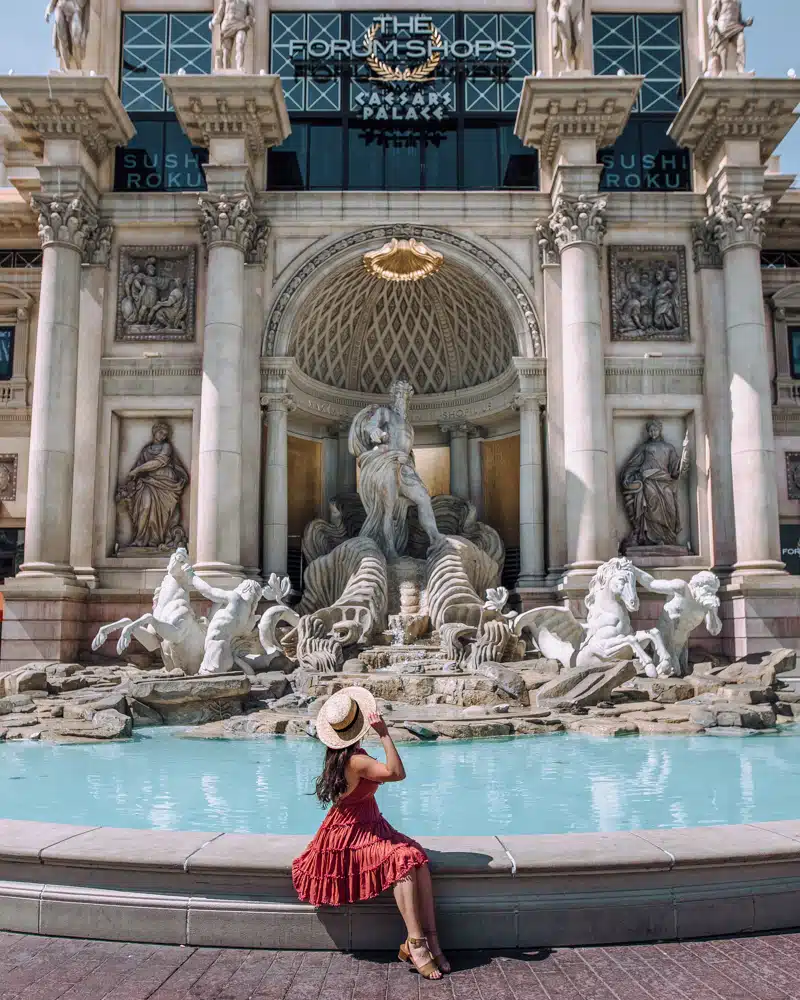 When in Vegas, you've got to add a Trevi Fountain photo to your Instagram! This Trevi Fountain replica is located at The Forum Shops right on the main sidewalk, so you can't miss it!
Did you know there's actually an aquarium inside The Forum Shops? You'll find the Atlantis Aquarium, a 50,000 gallon salt water aquarium, here. And with over 160 shops and restaurants in the heart of the Vegas Strip, it's definitely worth checking out if you love to shop!
14. High Roller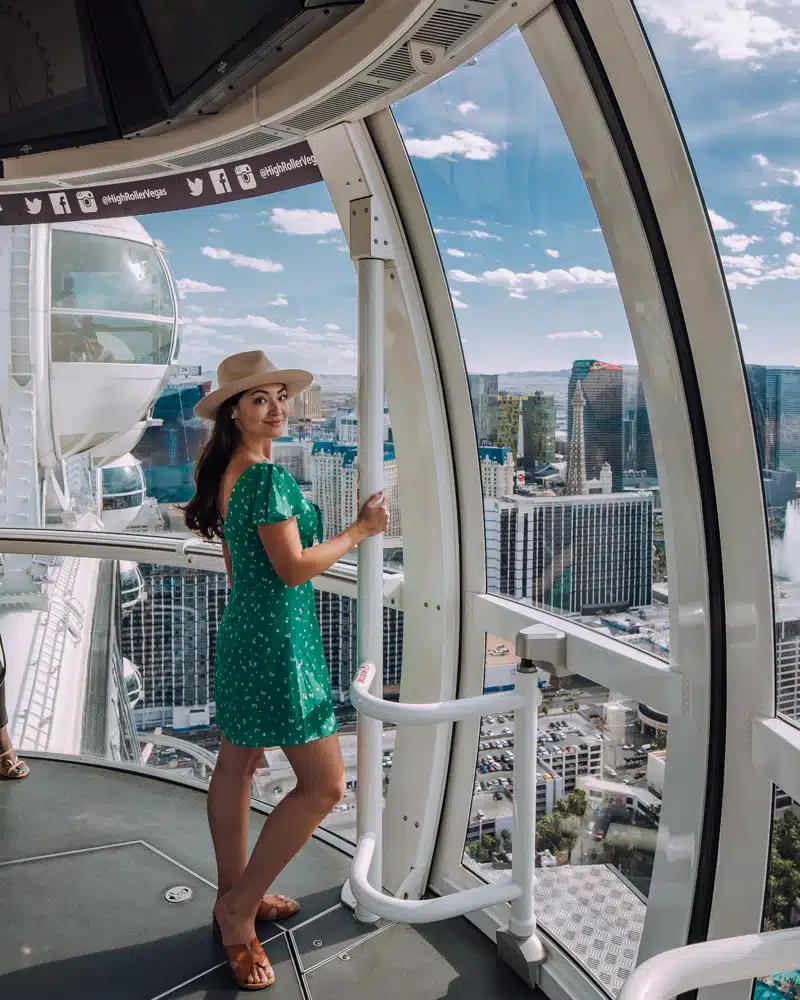 You better believe that the tallest Ferris wheel in the world is one of the most Instagrammable places in Las Vegas! Yup, the High Roller is the world's tallest, at 550 feet tall. Tickets start at $25 per person for general admission on a daytime ride.
Photo tip: You'll share your pod with other people, so if you want the best seats in the pod, try to sit on the closest right-hand side when you enter your pod. It'll give you the best views of the Strip while you're up in the air!
15. Linq Promenade
You can also get a photo of the High Roller from the outside! The best and easiest spot to do so is behind the In N Out on the Linq Promenade.
16. Flamingo Las Vegas
Neon pink cursive letters are definitely Instagram-worthy! You'll find some at the Flamingo Hotel. This spot is on the Linq Promenade right by I Love Sugar.
17. The Venetian Stairs
The Venetian is another one of the most Instagrammable places in Las Vegas, mainly because of its intricate details and Italian architecture. This spot gives you a combination of all of that! It's located on the Rialto Bridge that connects Madame Tussauds to the second story of the Venetian Hotel.
18. The Venetian Lobby
Once you're inside the Venetian, the perfect photo spot is right in the lobby! The Venetian Colonnade here feels like a palace or museum, not a hotel! If you prefer less people to be in your photo, visit in the morning- but with some patience, we were able to get this shot here around 2pm.
19. Black Tap's Milkshakes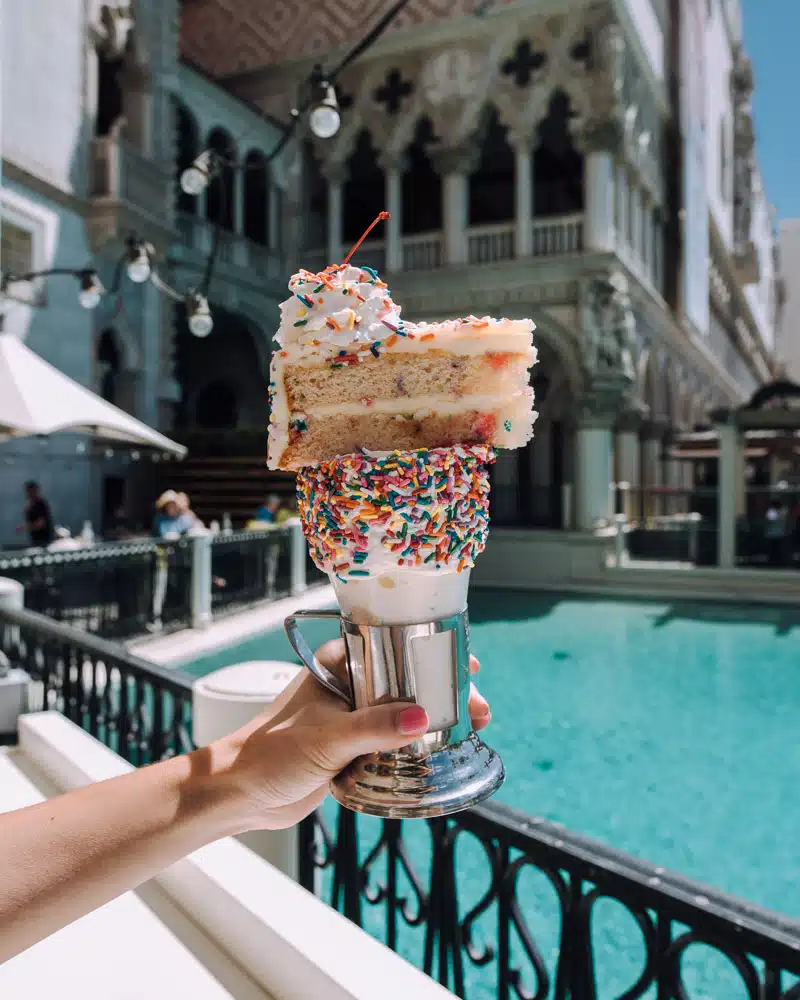 On a scale of 1-10, how badly do you want this milkshake?!
Black Tap has the most epic milkshakes, and you can photograph them over the Venetian canals here! They come in all sorts of cool flavors. This one is the Cakeshake, and yes, that is a whole piece of funfetti cake on top of it!
We had lunch and split a shake at Black Tap before heading on the next photo spot activity on this list. I got the house cobb salad and added crispy chicken on it- the whole lunch was delicious!
20. Gondola Ride at the Venetian
Ready to be serenaded on a romantic boat ride around the canals? Head to the Venetian for this perfect photo opportunity! They offer indoor and outdoor gondola rides.
Here's the catch: it's a very short gondola ride, which I knew in theory, but didn't completely realize until the ride was over. We did the outdoor gondola ride, which consisted of one tiny loop around the bridge before we were right back where we started.
They say the rides are about 12 minutes long, but I swear it felt like it was less than 5 minutes! So get your photos as quickly as you can!
21. The Venetian Bridge
Since the Venetian Vegas is designed after Venice, there are a lot of pretty bridges to photograph here. This spot is right by the casino entrance (coordinates 36.122190, -115.170836).
22. Wynn Las Vegas
We didn't have time to stop by the Wynn, but it's definitely worth mentioning on this list of Instagrammable places in Las Vegas! With so much color and whimsy, the Wynn will add pops of color to your Instagram feed. It looks like a cross between a circus and Alice in Wonderland to me!
Their lobby is just as whimsical with trees with colorful, hanging globes.
23. The Neon Museum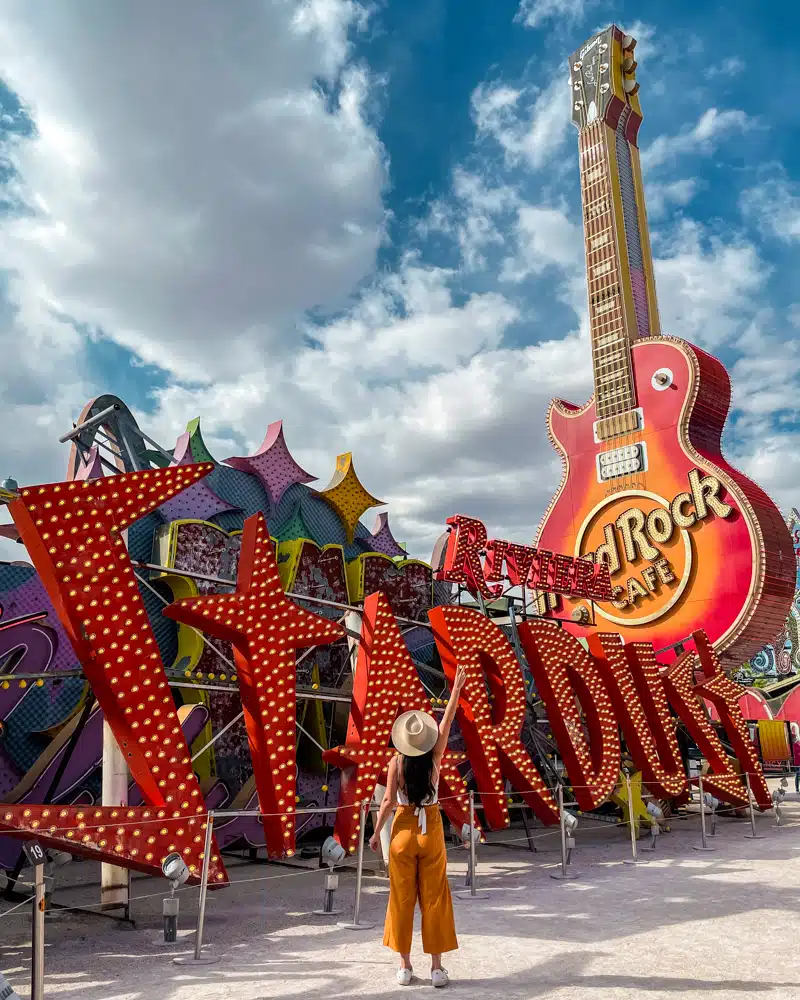 For the rest of the spots on this list, we are leaving the Vegas Strip.
The Neon Museum is about 15 minutes north of the Strip, near attractions like the Mob Museum and the Las Vegas Natural History Museum. The Neon Boneyard features an outdoor walking loop of a bunch of iconic neon signs from Vegas's history!
Here's the catch: you're not allowed to bring a physical camera here- only your phone. And you're also not allowed to take any videos with your phone.
24. Freemont District East Sign
Because it was going to take too long to get an Uber/Lyft, we walked from the Neon Museum to the Fremont East District. It's about 1.5 miles in not the best part of town, so stay vigilant.
Once you're on East Fremont Street, you'll find this fun sign as well as the next few spots on this list!
25. Retro Vegas Sign
You'll find this retro Vegas sign right next to Corduroy's on East Fremont Street.
26. Abbey Road
Though this Abbey Road sidewalk needed quite a bit of TLC when we visited, hopefully it'll get a paint job soon so you can add it to your list of photo spots when you're in Vegas. It's right in between spots 25 and 27 on this list, so you can just pass by and see how this sidewalk looks on your way!
27. The Empty Club
This is such a random Las Vegas photo spot, but it's pink, so I had to include it here! The Empty Club once was a gas station that has since been preserved. It's the oldest surviving station in town, and in 2014 DTP bought it and invited an artist to paint it pink in 2018! It's located at the intersection of Fremont and 8th Street.
28. Freemont District Murals
While you're in the Fremont area, keep your eyes peeled for neat art and colorful walls in the area!
29. Symphony Park
For more color on your Instagram feed, check out these rainbow columns at Symphony Park. They're located right where the park backs up to South City Parkway.
30. Red Rock Canyon
It's time to get out into nature! Red Rock Canyon is the closest park of its kind to Las Vegas.
We did a Pink Jeep tour of Red Rock Canyon and got to see some incredible rock formations here! The tour picks you up directly from your hotel and takes you on an epic tour of Red Rock Canyon.
As he drove us on the Red Rock Canyon Scenic Loop, our guide, John, taught us so much about nature and history here. My favorite thing we saw here was a bunch of iron oxide handprints on the rocks that are ancient pictographs!
31. Red Rock Canyon Joshua Trees
While you're at Red Rock Canyon, be sure to take a photo with the Joshua Trees here! These trees give me all the California desert feels, and are incredibly photo-worthy! This spot in particular was up the hill at the Red Rock Canyon Overlook (you'll see a lone path that leads up a hill).
32. Valley of Fire State Park- Mouse Tank Road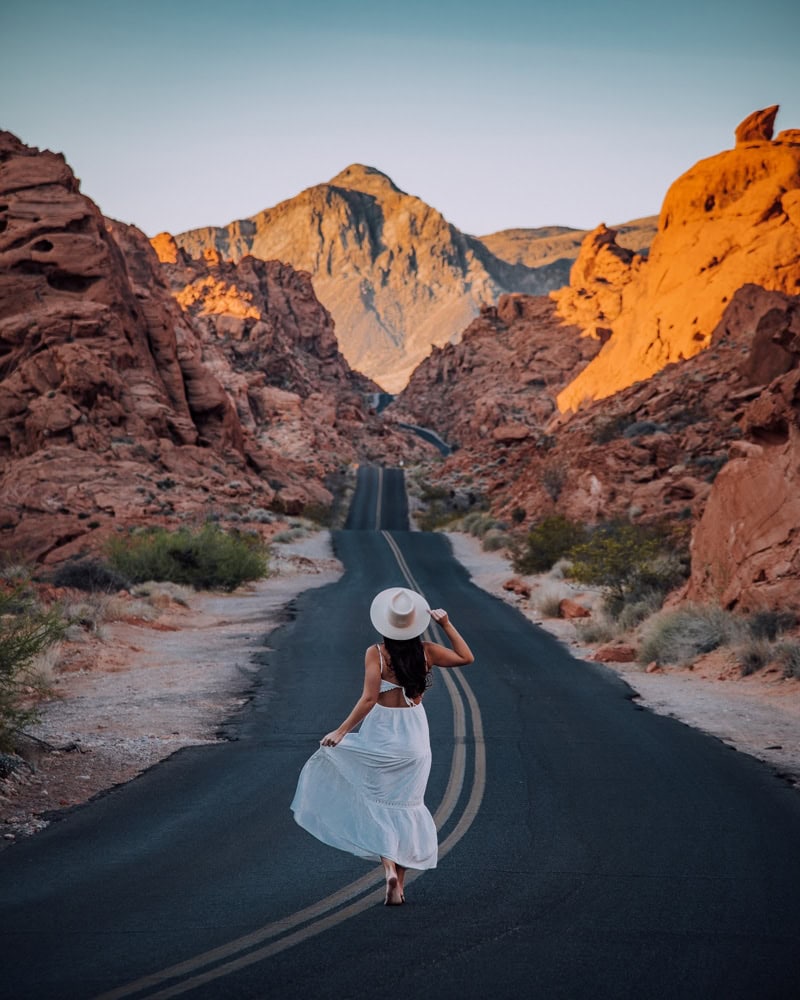 This road is one of the coolest roads I've ever photographed. With the winding road and the epic mountains, you won't want to miss this photo spot! I list exactly where it is on the map at the bottom of this post, but you can also learn more about it on this post of best photo spots in Valley of Fire State Park.
If you don't have a rental car and prefer to go with a tour, Pink Jeep Tours offers this tour, and you can also do this photography-specific tour of Valley of Fire. We visited on our own and didn't do either of those tours, so I can't guarantee that either tour would stop at this spot on Mouse Tank Road, since it's probably a liability issue. You could ask, though!
33. Valley of Fire State Park- Fire Wave
The Fire Wave at Valley of Fire State Park is another incredible Las Vegas photo spot! With pinks and oranges in a zebra-like pattern, it's definitely Instagram-worthy! It just requires a 1.5-mile hike. I list hiking specifics on my Valley of Fire post.
34. Valley of Fire State Park- Slot Canyon
You'll find this slot canyon on the White Domes Trail loop at Valley of Fire State Park. Once again, you can find all the details of this place on my Valley of Fire photo spots post!
35. Valley of Fire State Park- Pastel Pink Canyon
This is the easiest Valley of Fire photo spot- it only requires a quick five-minute walk to get to! You simply pull off on the side of the road and you'll find this spot. (I include more info and 10 additional Valley of Fire photo spots here!)
36. Seven Magic Mountains
The Seven Magic Mountains are a very cool art installation about 25-30 minutes southwest of the Vegas Strip. If you want fewer people in your photos, try to come in the morning. We visited around 2pm on a Sunday afternoon and this place was packed!
Even so, we managed to find spots where there weren't people immediately around me.
Photo tip: I saw a lot of people taking a picture standing in front of just one colorful stack. Instead of just doing that, I'd recommend finding a spot where you've got multiple stacks behind you, to give balance to the photo. Try multiple angles to find the right lighting, as well!
Location tip: if you take a rideshare here, ask your Lyft or Uber driver if they'll wait for you while you take a quick photo (and don't forget to pay them for their time). If not, it could be very difficult to get a ride back to Vegas! Also, you should know that this long of a ride in Vegas could end up being very pricey- even $100+ with tip! It'll probably end up saving you time and money if you rent a car for the day, instead. That way, you could check out some of the other photo spots that you can't Uber/Lyft to.
37. Ethel M Botanical Cactus Garden
The Ethel M Cactus Botanical Garden is about 15-25 east of Las Vegas (depending on traffic) and is free to visit. It's the largest garden of its kind in Nevada and there are over 300 plant species in the garden. Cacti are extremely photo-worthy, and here you can take your pick of many photo locations!
Also home to Ethel M Chocolates, you can also do a free self-guided tour of their chocolate factory, too! When you're done, finish off your stroll through the gardens and factory with some chocolates in the gift shop!
38. Mrs Coco
I don't think I've ever seen a cafe more perfect for Instagram! Unfortunately, this spot was out of our way, so we didn't have time to visit. But if you've got the time, Mrs Coco's is definitely one of the most Instagrammable places in Las Vegas! It's about 35 minutes east of Las Vegas.
Besides this adorable table, there's a flower-filled tub surrounded by giant heart cut-outs, flowers hanging down from the patio ceiling, a gorgeous flower arch, and more!
39. The Hoover Dam
Did you know that there's enough concrete in the Hoover Dam to build a highway that stretches across the United States? It's pretty incredible to see in person!
There are two awesome viewpoints at the Hoover Dam; this is one of them. In this photo, I'm standing on the dam itself in a little overlook pocket.
Photo tip: Make sure your photographer holds your camera up high, angled downwards so that you can see more of the water.
The other very cool photo spot here is of the dam from the Mike O'Callaghan–Pat Tillman Memorial Bridge. It'll require you to walk on the bridge you see in the photo behind me, so if you're afraid of heights, you should probably skip this. We skipped this photo spot simply because we were all walked out by the time we visited the Hoover Dam. My body simply isn't used to 27 miles in three days!
40. Grand Canyon West
While the Grand Canyon National Park is over four hours away, Grand Canyon West is much closer. Though it's still just over two hours away from Las Vegas, it'll give you views of some remarkable nature.
Grand Canyon West is not a part of Grand Canyon National Park, but it is the Grand Canyon! So you'll get to tick off one of the seven natural world wonders off your list!
At Grand Canyon West you'll find the Grand Canyon Skywalk, pictured above, where you can walk over the canyon on glass!
Map of Instagrammable Places in Las Vegas
I've put these locations in order on a map so you can see where each spot is. To use this map, open it in Google Maps and save it to your maps. That way, you can open it on your phone in the Google Maps app.
I hope you're excited to check out these Las Vegas photo spots!
If you know of more great Instagrammable places in Las Vegas, let me know in the comments!
Happy exploring!
Jasmine
PS. If you found this post helpful, please share it to Pinterest! You can use either image below for easy pinning!