At the beginning of a new year, I like to come up with a word that will inspire the year.
My word for 2019 was DREAM, and boy did I see that word come into play.
I let myself dream, dreams were made, my dreams fueled my actions, and dreams were ultimately realized!
Long story short, I became a full time travel blogger in 2019, and that made it the best year of my life.
The transition to full time blogging
In April of 2019, Harrison and I made our last student loan payment.
We realized that with the huge burden of paying off loans lifted off our shoulders, that could open the door to job changes!
We re-evaluated our finances and realized that without the over $1,000 in student loan payments each month, and without the combination of other medical expenses that we had opted into (Lasik, Invisalign, Laser Hair Removal), we could live on Harrison's income alone!
Of course, I was earning income from my Instagram, but we wanted to play it on the safe side and just live off of Harrison's salary.
Why go full time? In short, I didn't want to turn down trips due to limited vacation days and I wanted more time to focus on my website.
I also was excited to "let go and let God." To see where He would take me on this journey! Also to depend on money less, as we'd have to learn to budget more.
So on June 4th, 2019, I started my first day as a full time travel influencer/ travel blogger!
At that point, I was earning roughly $2400 a month, mostly from Instagram campaigns.
Later that summer, I signed up for Mediavine, an ad service that monetizes your blog traffic through ads, and my blog started earning income.
By the end of 2019, I had earned over $37,000 from my blog and Instagram!!
You can see my full income report here!
2019 Travel Recap
After going full time with my career as a travel blogger, I now had time to do WAY more traveling!
I visited 13 states/countries, and here's a fun summary of what 2019 travel looked like!
10 hotel collaborations
9 sponsored trips
8 days not posting on Instagram (348 posts in 2019)
7 months of full time travel blogging
6 islands
5 days living on a boat
4 new US states
3 new countries
2 Hawaiian islands
1 new continent
Here are the places I visited in 2019
Ruidoso, New Mexico
For our first trip of the year, we visited Ruidoso with Discover Ruidoso.
It was Harrison's first time skiing, which went really well because they gave us an awesome ski instructor at Ski Apache!
Check out these two posts from our time in Ruidoso:
Texas Hill Country
My next trip of 2019 was a road trip throughout the Texas Hill Country with Toyota.
Harrison joined me on a weekend getaway to Fredericksburg, where we did some vineyard hopping, chased wildflowers, and stopped at some incredible springs.
Scottsdale, Arizona
Our first warm weather trip of 2019 was to Scottsdale Arizona!
It was actually our time in Arizona that got us thinking about if I could go full time with blogging or not.
(We paid off our last student loans on the day we flew to Scottsdale!)
One thing I learned about Arizona is the sunlight there is ideal for photos!
I wrote this blog post after getting advice from Angie (@thelovelyescapist) and other Arizona natives:
Exuma, The Bahamas
Visiting the Exumas was my first trip after becoming a full time blogger!
Angie had invited me to be her plus-one on a trip with The Moorings, and let me tell you, living on a catamaran for five days in the Bahamas was a dream!
I celebrated my birthday there, and it was the happiest time of karaoke and dancing at a little restaurant on Rose Island!
Other highlights included seeing the cool iguanas and playing with the pigs at Staniel Cay.
Bellevue, Washington
In July, I visited Bellevue with Visit Bellevue, and got to explore this gorgeous town adjacent to Seattle.
One of the most memorable things about this trip was my first experience flying in a hot air balloon!
Check out this post to see what else there is to do around Bellevue!
Leavenworth, Washington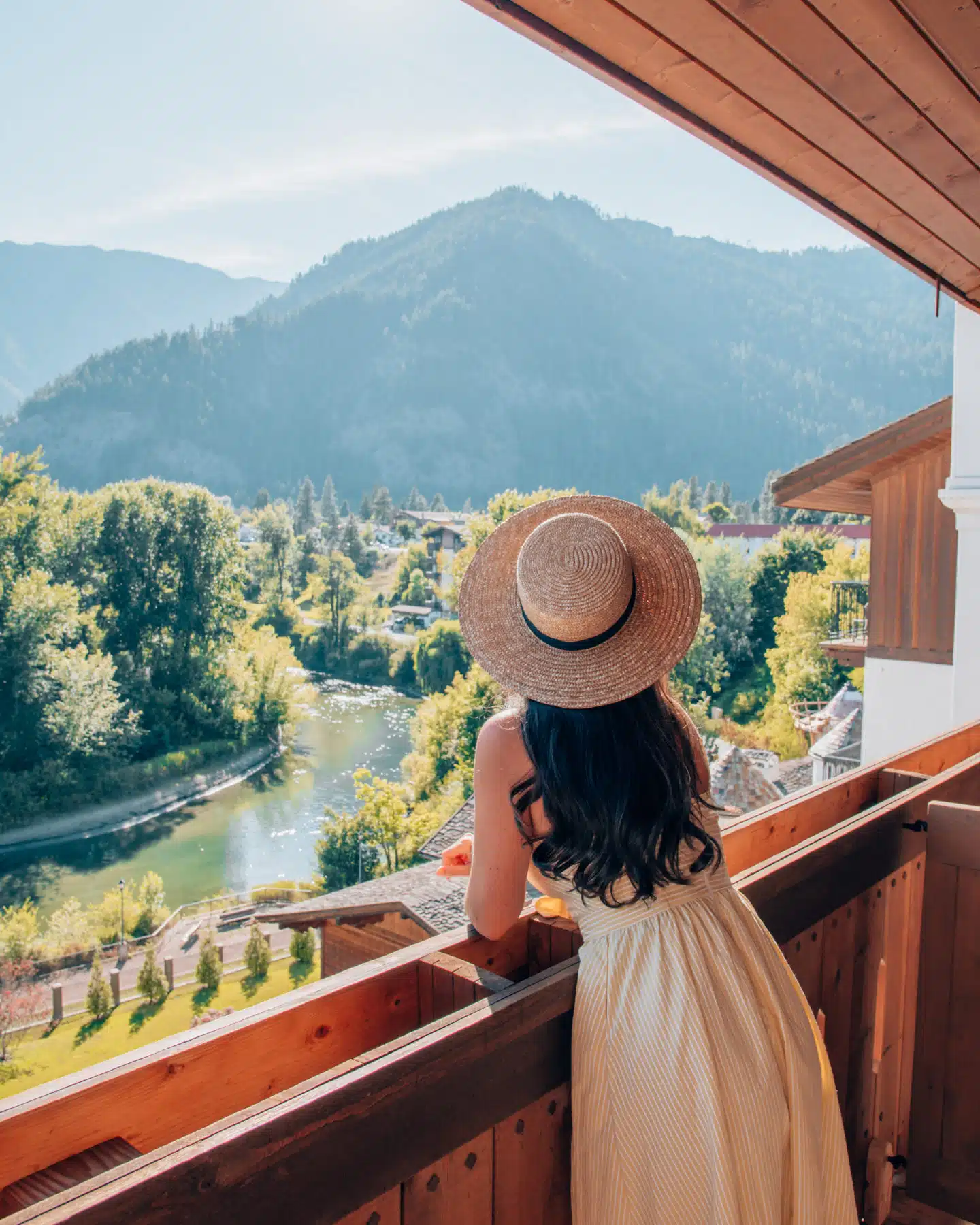 After our Bellevue trip, Harrison and I drove to Leavenworth, Washington, which is a gorgeous little Bavarian town two hours away.
We stayed at the PostHotel, which is my favorite hotel I've ever stayed in so far!!
That's a bold statement, I know, but there is unlimited access to the spa (it's an incredible spa!!!), you can walk around the hotel in your robe and slippers, and the decor is Restoration Hardware meets Bavarian town.
Here's a blog post on why Leavenworth needs to be on your bucket list!
Santa Ana Pueblo, New Mexico
Immediately after my Washington trip, Angie and I did a hotel stay at the Hyatt Regency Tamaya, which provided a fascinating look into Native American culture!
We were there for Feast Day, which is a big celebration for the Santa Ana Pueblo.
We felt so much love, welcome, and generosity from the locals (one family actually invited us into their home for the feast!) and it was incredible.
It was my first real experience with Native American culture, and it did not disappoint!
Another highlight was hot air ballooning for a second time in one week! We rode across the Rio Grande and it was magical!
Sundance, Utah
This was my first trip as a Southwest Storyteller!
I had won a Southwest Airlines contest in 2019 which gave me the opportunity to partner with Southwest for a full year!
Since I love Southwest and always have, of course I jumped on that opportunity!
In August I headed to a Rapids Rewards Event to the Sundance Mountain Resort in Sundance, Utah.
(A Rapid Rewards Event is an event that any Southwest credit card holder can attend, and they purchase the experience with points!)
Three highlights:
Riding on the second longest zipline in the USA
Listening to an awesome Bluebird Cafe concert
Getting a private concert from Claire Bowen, who plays Scarlett on the TV show 'Nashville.'
Maui, Hawaii
In September, Harrison and I headed to Maui and the Big Island for a wonderful two weeks in paradise!
Maui became my favorite Hawaiian island because of the incredible beauty and variety in things to do on the island!
Here's our itinerary if you want to see exactly what we did:
The Big Island, Hawaii
My highlight from the Big Island was night snorkeling with manta rays!
Harrison and I met up with Angie and her friends to do a nighttime excursion with these gentle giants.
Unfortunately Harrison got really sea sick, but if it weren't for that, this would've been one of the best experiences in Hawaii!
It was, in a word, magical.
There are lights glowing to attract plankton. The manta rays then do slow back flips right underneath you to eat the plankton!
They get so close to you and they are absolutely beautiful!
For more fun Big Island activities, check out this blog post:
Singapore
As amazing as 2019 was, it did come with some sadness when my Singaporean grandmother passed away while we were in Hawaii.
We decided to fly out to Singapore so that Harrison could meet the rest of my family there, including my grandfather!
I spent three weeks in Asia (Harrison came for two weeks and worked remotely).
After this trip, I had spent a total of 5 months of my life in Singapore, so figured it was time to write a fun blog post about my mother's country!
Check it out here:
Myanmar
This was a family trip and the only trip this year where I did absolutely NO planning.
It was great, but I realized I like having control over my itinerary!
We spent five days in Myanmar and visited Yangon, Bagan, and Mandalay.
Bagan and Mandalay were my favorites by far! They feature the most beautiful pagodas I've ever seen!
The most memorable experience from Myanmar was finally getting to see Hsinbyume, the white pagoda of Mingun, in person! (pictured above)
It's even more stunning than you can see in photos!
Sydney, Australia
Australia is one of those countries that I just never had on my radar because it seemed too far and too expensive to be able to visit.
But then in 2019 I was offered the trip of a lifetime!
Destination New South Wales invited me out to experience a week in Sydney and Lord Howe Island, and I instantly fell in love with Australia!
I was partnered with Haley (@readysetjetset) who I had never met yet, but turns out we'd end up traveling together again later in 2019!
Check out this post to see just how gorgeous Sydney is!
Lord Howe Island, Australia
Lord Howe Island was my favorite trip in 2019! The island features dramatic landscapes, promotes sustainability, and only allows 400 tourists at a time!
It also made it on Lonely Planet's Best in Travel Regions list for 2020, so you know exactly how amazing it really is!
But beyond the beauty, the people I met on Lord Howe Island made it incredibly special.
Two of the bloggers I met actually taught me how to do star photography, which most certainly was a highlight for me!
Here's a nighttime photo from Lord Howe Island:
Read more about this magical place and see why you need to add it to your bucket list!
Costa Rica
This was my second trip as a Southwest Storyteller, and it was beyond incredible!
I invited Angie (@thelovelyescapist) with me on this trip and it was so much fun!
We spent the first half on the Pacific coast on the Papagayo Peninsula, then headed inland to Arenal.
Let me just say, Costa Rica totally exceeded my expectations!
Volcanoes, beaches, and lush jungles are all welcome in my book!
Aruba
I squeezed in this trip the weekend before Christmas!
Haley (who went to Australia with me) and I partnered with the Hilton Aruba, who invited us out to spend three days in paradise.
The sand was stunningly white, the water a gorgeous shade of blue.
But honestly, the most memorable moment from Aruba was getting a cactus needle wedged into my left Achilles tendon!
It was so painful and sore (basically felt like I got a ginormous shot in my ankle), but it healed within a few days!
Hopes for 2020
My word for 2020 is BELIEVE.
Why believe?
My faith in Jesus is the most important thing to me, and I hope to see it grow in 2020.
Also, I want to believe that the work I'm doing can continue just as strong in 2020, and hopefully even stronger.
Financially, in 2020, I hope to get my blog to a place where it is making full time income.
Currently, it makes anywhere from $500 to $900 per month, depending on how my traffic is doing.
When I think about getting it to full time income, I can feel anxiety or think that it's impossible!
2019 was SO perfect, I think to myself. I find myself waiting for the other shoe to drop, thinking, it can't continue being this way.
I don't want to associate fear with something I love doing!
And that's where belief comes in.
I've got to believe that what God has in store in 2020 is for my good, whether that means earthly successes or failure.
So here's to believing in 2020!
Tell me your favorite thing about 2019 and what you're hoping for in 2020!
Safe travels!
Jasmine
** I was inspired by Helene In Between to write this post as part of her 2019 Year in Review and Link Up! Check out her amazing year here!**